Peaches and Blueberry Coffee Cake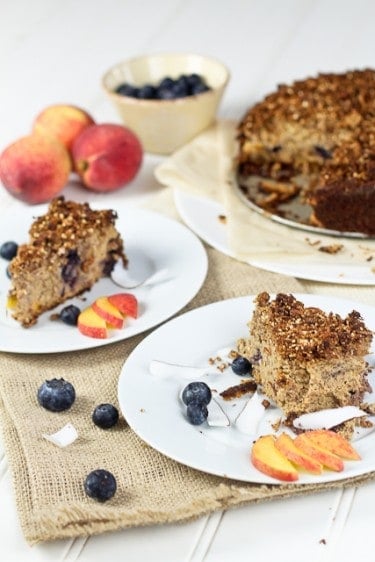 First off… I need to rant!
It looks like I'm NOT having much luck with my ahem "supposedly" non-stick spring form pan…
I think I might have to invest in a new one.
Seriously, this one seems to cling to whatever I bake in it as if its very existence depended on it.
NOT what I would call ideal for a cake pan. I tend to like my cakes to make it out of the pan in one piece, you see?
Granted, when I made my Upside Down Pineapple Cake, I had to take "some" of all the blame, but this time, I swear it was not my fault.
It was the bottom that plain refused to let go.
Gah!
Still, I somewhat managed to save my latest creation.
This one came to life after commenter Fahreen made this special request, asking me to create a healthy coffee cake using almond meal and berries.
I was more than happy to oblige, for this would be the kind of challenge that I absolutely love and just can't resist!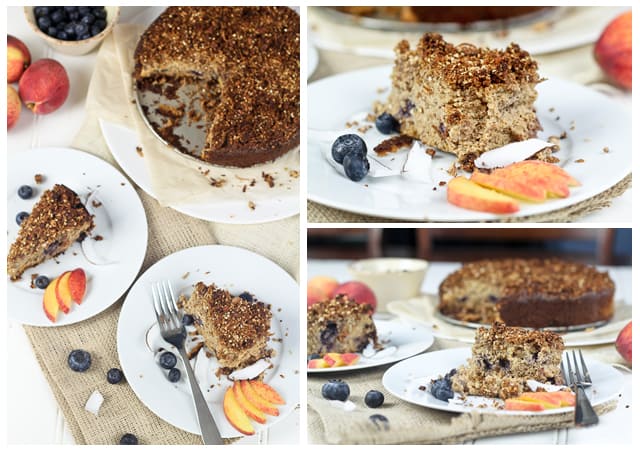 Or is it the resulting cakes that I really can't resist?
I think it's a little bit of both.
Now, I can't say that I am was 100% happy with this one… It DOES have a little bit of weirdness to it…
When I first cut into it, I found that the texture was a little bit off… The cake still looked like it was a tad undercooked, even after spending well over an hour in the oven. Plus, it was reallly crumbly and didn't cut into nice, clean wedges. But hey, isn't that what coffee cakes are all about?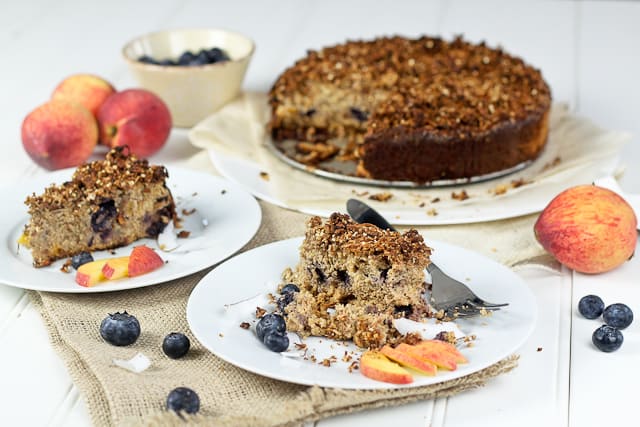 Still, in view of these facts, I came *this* close to filing the whole experience as a "FAIL", especially after the "cake clinging to the bottom of the pan" incident. I took it as a sign.
But then something magical happened: I tasted it.
I just TOTALLY changed my mind.
Not only does this coffee cake taste absolutely, amazingly good, it's also super fresh and light, and the seemingly undercooked batter confers the most incredibly moist and almost creamy texture to this wonderful crumbly dessert. Or is it a snack? Or perhaps it's breakfast…
No matter when, where or what you decide to eat this cake for, I can guarantee you one thing: you WILL be enjoying the experience.
A suggestion, perhaps, if I may?
This would make for an absolutely glorious  mid-afternoon snack, on a hot, sunny summer day, with a nice cup of warm green tea…
Can you picture it?
I know I can… and I'm loving it!
Peaches and Blueberry Coffee Cake
Servings: 12
Ingredients
Add-ins
1½ cup fresh blueberries
2 peaches, peeled and diced
Instructions
Preheat the oven to 350 F. Generously coat a 9" spring form pan with cooking spray

In a large bowl, whisk together the dry ingredients.

In a separate large bowl whisk together the wet ingredients. Set aside.

In a third bowl, mix in the ingredients for the crumble. Set that aside.

Add wet ingredients to dry ingredients and stir delicately with a wooden spoon or rubber spatula until well incorporated. Fold in the blueberries and diced peaches.

Pour the batter into your prepared spring form pan. Drop half the crumble on top and press it down slightly so it sort of sinks into the batter. Add the rest of the crumble and spread loosely on top.

Bake in the middle of the oven for 70-75 minutes or until the top is nice and golden brown and a skewer inserted into the cake comes out somewhat clean.

Turn the oven off and allow cake to cool for about an hour, then transfer to cooling rack and cool to room temperature.

Refrigerate for at least 4 hours before unmolding.
Notes
Gluten Free, Grain Free, No Added Sugar
If you've tried this recipe, please take a minute to rate the recipe and let me know how things went for you in the comments below. It's always such a pleasure to hear from you!
You can also FOLLOW ME on PINTEREST, FACEBOOK, INSTAGRAM and TWITTER for more delicious, healthy recipes!