Apple and Cabbage Oven Baked Chicken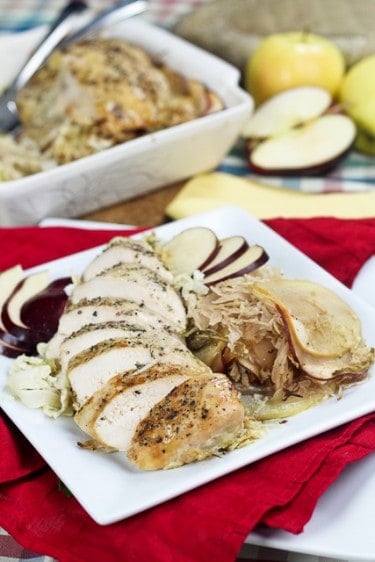 OMG, I did it!
I dared give you yet another chicken recipe.
Yes, again.
Told you I was on a major chicken kick…
But hey, let me ask you. Unless you're a vegetarian, can you really have too many chicken recipes? Is there really such a thing?
Yeah, I thought not.
This one is actually sort of an old classic in this household. For some reason, though, I hadn't had it in a very long time.
In fact, it was my first time making it myself. Some of you might remember that I haven't been cooking for all that long, really.
The kitchen used to be my ex's kingdom, and this chicken dish happened to be one of his very few healthy creations.
So I guess you could say I stole it from him.
I had every reason to, though. It's just sooooo good!
And besides, I didn't really steal it, for he never gave me the actual recipe. He NEVER did share recipes.
I had to recreate this one from "flavor memory".
I think I did a fairly good job!
You might find that, again, this is a strange combination, but it's in fact extremely palatable.

Very delicate and mild in flavor, subtly sweet and slightly tangy, this is a dish that will undoubtebly please even the pickiest of eaters.
The chicken gets unbelievably moist and tasty, for it infuses in the fragrant steam of the apples and cabbage as it cooks…
Yummers!
Hmmmm…. Now I'm thinking that, next time, I might want to throw a few pecans into the mix.
And despite looking rather extensive to make, you will probably find that this dish comes together fairly easily… providing that you have a mandolin.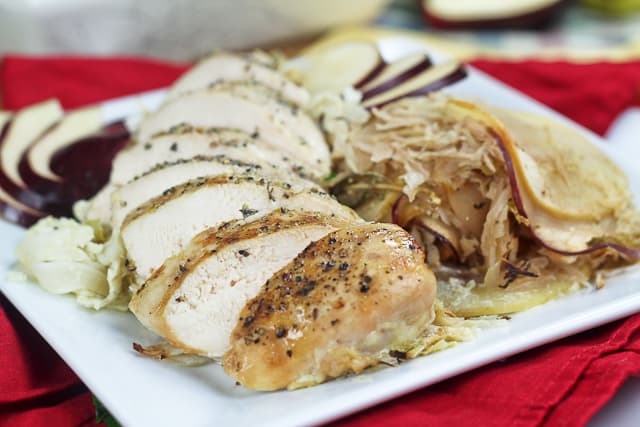 For indeed, you do need to slice everything very, very thinly. Getting the job done with a knife alone might prove to be a tad… tedious! But still, very well worth it.
You know what else I really, really like about this particular dish? You can actually prepare it the previous night and cook it the next day, or even the day after.
Just put in it the fridge after you've covered it with foil, and you're all set.
Very convenient for those busy week nights!
Apple and Cabbage Oven Baked Chicken
Servings: 2
Ingredients
2 boneless skinless chicken breasts
1 small onion, thinly sliced
½ small Savoy cabbage, shredded
1 Red Delicious apple, thinly sliced
1 Golden Delicious apple, thinly sliced
½ cup all natural unsweetened apple juice
2 tbsp apple cider vinegar
1 tbsp Dijon mustard
2-3 sprigs fresh rosemary, finely chopped
½ tsp salt
½ tsp black pepper
Instructions
Preheat oven to 375F

Thinly slice the onion and apples and shred the cabbage as finely as possible. The use of a mandolin is strongly recommended here.

In an oven safe dish (mine was about 7" x 7") add about 1/3 of the shredded cabbage, followed by ½ the onion and ½ the apples.

Continue layering by adding another 1/3 of the cabbage, the rest of the onions, the rest of the apple slices and finally, the rest of the cabbage. Set aside.

Place your chicken breasts on top of the cabbage and add another sprig of rosemary, if desired.

In a small mixing bowl, add apple juice, apple cidar vinegar, Dijon mustard, rosemary, salt and pepper and mix until well combined. Pour over chicken and cabbage mixture.

Cover with aluminum foil and cook in the oven for about an hour, until chicken is cooked through.

Remove the chicken breasts and slice them on a diagonal

Divide cabbage/apple mixture between 2 serving plates and place sliced chicken breasts on top.

Serve immediately.
Nutrition
Calories: 419kcal, Carbohydrates: 52g, Protein: 43g, Fat: 5g, Saturated Fat: 1g, Cholesterol: 112mg, Sodium: 941mg, Potassium: 1496mg, Fiber: 13g, Sugar: 32g, Vitamin A: 2398IU, Vitamin C: 81mg, Calcium: 111mg, Iron: 2mg
If you've tried this recipe, please take a minute to rate the recipe and let me know how things went for you in the comments below. It's always such a pleasure to hear from you!
You can also FOLLOW ME on PINTEREST, FACEBOOK, INSTAGRAM and TWITTER for more delicious, healthy recipes!