So you're stuck with 3 million apples… what do you do?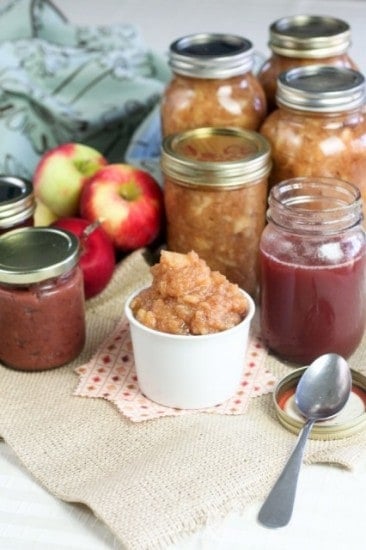 I'm afraid I don't have a recipe to share today…
Wait, wait… I might still inspire you, though! In fact, I am truly hoping that I will.
I, myself, was inspired for this one by Heidi, over at Food Doodles. Greatly inspired, to be honest.
You see, I had gotten up that morning with the firm intention of making apple compote out of the 3 million cooking apples that I got when I went to the orchard. I figured I would do what I usually do, which is peel, core and slice my apples, throw them in a large pot, add plenty of cinnamon and cook them until they become soft and mushy, but still have a few chunks remaining. Then put that in jars and use in all kinds of lovely apple dishes, or recipes that call for unsweetened applesauce.
But the thought of doing something useful and yummy with the scraps had never even come close to crossing my mind. To me, peelings and cores were nothing but waste.
And what a waste it would've indeed been, if it hadn't been for Heidi that day.
As luck would have it, while I was enjoying my coffee that morning, preparing mentally to tackle the task ahead… (hey, peeling 3 million apples is no small task. Thank goodness I had my mom and daugther to help out, else I'd still be at it!) I was super excited to have received this new post by Heidi, because she hadn't been posting in a while and it felt real good to see her back in the game.
Turns out she had some great news, but also, she had been making this gorgeous apple jelly using nothing but apple scraps. Now THAT  immediately caught my attention. I had to give it a go.
I decided I was going to just cover my scraps with water, let that boil for a while, and see what would come out of it.
I must've had, oh, I don't know, about 16 cups worth of peelings and cores, maybe? I threw that in a large pot, covered with water, added about yay much cinnamon, brought that to a boil and let it simmer for as long as I felt necessary, until I was left with some sort of mush, I would say maybe a half hour.
Then I poured that mixture into a colander (the kind that you would use for pasta, with the "large" holes) and kept the liquid, of course. I pressed down on the mixture with a laddle to extract as much liquid as possible. I then poured that liquid into a fine mesh sieve and let it drain. Of course, I had to do this in several goes and help it go down with a spatula from time to time.
Once all the liquid had drained, there was quite a lot of pulp that remained in the sieve and it reminded me a lot of apple butter. It had a great, creamy texture and a superb appley taste but none of the added sugar. For sure, I wasn't going to throw that out, so in a jar it went!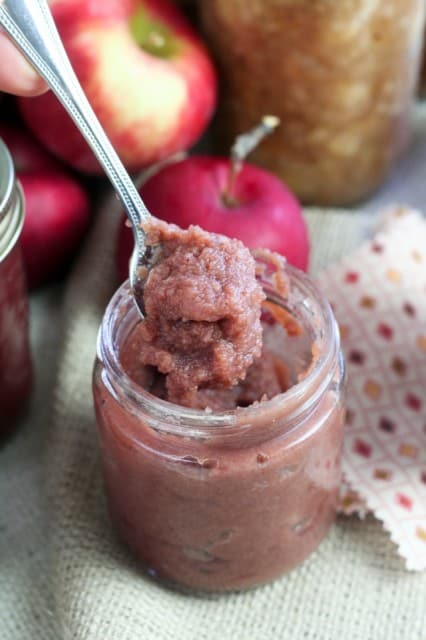 As for the liquid, I put it back in the pot, added about ¼ cup of honey (I must've had well over 8 cups of liquid), and let that simmer for an additional lenght of time, like, I don't know, 30 minutes again?, until it had reduced into a nice, thick, red syrup.
I guess that's when you'd be adding pectin or gelatin if you wanted jelly, but I what I wanted was apple syrup, so I just left it as is. I think it'll be delicious over pancakes, or oatmeal, or some sort of a breakfast bake… if I can ever stop eating it by the spoonful, that is!
Look how gorgeous!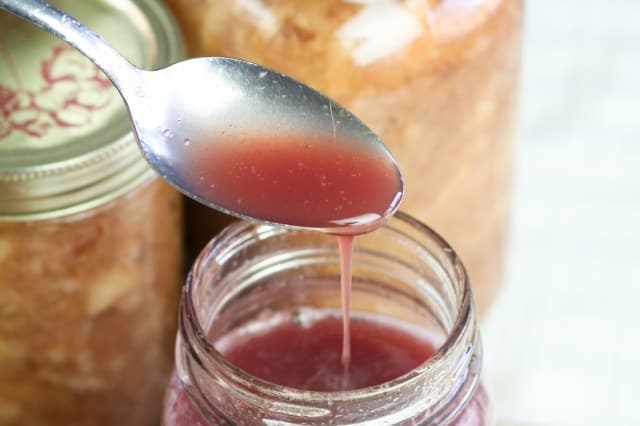 Now, unfortunately, I'm not going to tell you how to go about canning this, I am not a pro. In fact, it's a good thing none of you saw me canning these. It was my first time and it was NOT pretty!
I guess it's a good thing that these jars are not going to last long! Not sure I trust my canning techniques 😉
So hey, don't be surprised if you see one or two recipes involving apples pop up here in the next couple of weeks days!
Oh, hey, whoa, almost forgot!
It's time to announce the winners of my 1st blogiversary giveaway!
Now before I do that, I want to, again, thank each and every one of you for your unbelievably kind comments. You guys warmed my heart like you can't even begin to imagine. I am deeply and sincerely touched.
Without further ado, here goes:
Actually, I had to draw 3 numbers. First number was 96, and the winner was… ME!
Boooooh! No good! Put it back, put it back!
Darn, I knew I shouldn't have commented… but couldn't help answering questions, you know! 😉
Alright, let's get a real winner this time.
Second number was… lucky 13, which corresponds to Mike's (Stormnet Media) comment.
And the third number to come out was…18 ! This one belonged to Stephanie P.
Congrats to both of you. I will be emailing you your "card" shortly, once I figure out how to get this done!
Be sure to check your inbox 😉