Remember how, when I made this cranberry cream cheese pine cone, I said that I thought it would easily be made into a pineapple and would probably be equally fantastic?
Well, as soon as I got a chance, I jumped at the occasion and decided to give it a try! The test proved to be quite conclusive: I have to say that it worked out pretty good! Of course, I changed the ingredients to match the shape of that new spread and included some pineapple into the cream cheese mixture. To balance the sweetness, I also added some bell peppers and celery, as well as some parsley and old style mustard. I think that it made for a very interesting combination and I wouldn't change a thing, tastewise.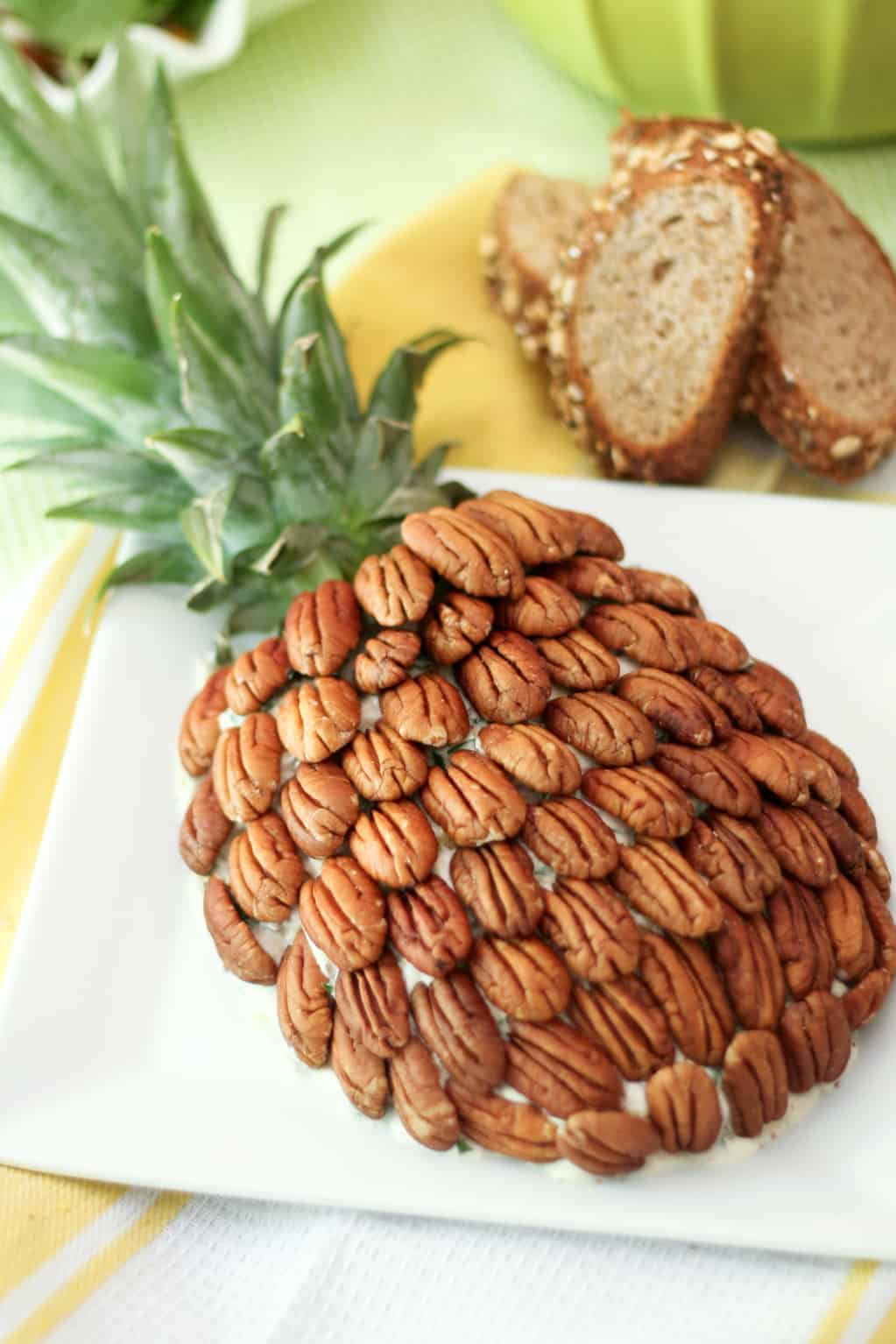 The only thing that I would change if I was to do it again would be to squeeze some of the juice out of the pineapple, as it made the cheese a little too soft and, as a result, it was a tad hard to get the cheese to hold its shape. I updated my recipe to include that step!
Also, when choosing your pineapple in prevision for this appetizer, make sure to pick one that has a rather small top, unless you want to double or triple the recipe, in which case, you better have a crowd to feed, because a single recipe is already quite generous…
Serve that spread with some nice slices of multi-grain bread, or even a walnut bread, or a variety of healthy crackers.
This is one cheese spread that your guests will remember for sure!
Pineapple Cream Cheese Spread
Ingredients
8 oz low fat cream cheese
½ cup low fat sour cream
150g fresh pineapple, finely chopped
¼ orange bell pepper, finely chopped
1 celery rib, finely chopped
¼ cup chopped pecans
¼ cup chopped parsley
1 tsp old style mustard
¼ tsp black pepper
Pinch cayenne pepper
75-100 perfect pecan halves (to make the pineapple effect)
Instructions
Cut the top off your pineapple and cut it in half lengthwise. Keep that in the refrigerator until you are ready to use it.
Using a stand mixer with the paddle attachment (an electric mixer would also work), whip cream cheese and sour cream on medium speed until well incorporated, smooth and creamy in texture, about 2-3 minutes. It might help to have the cream cheese at room temperature before you start.
Squeeze the juice out of the pineapple and incorporate to the cheese mixture, along with the rest of the ingredients. Continue mixing on low speed until well combined, about 30-45 seconds.
Turn onto final serving plate and shape into a barrel. Make sure that your plate is big enough to accommodate pineapple top, but don't place it just now. Cover with a plastic film and, ideally, refrigerate until the next day. This will allow flavours to fully develop.
You might want to wait until the last minute to cover with pecans to avoid them going soft on you. Also, you might want to take your barrel shaped creamcheese mixture out of the fridge about an hour or two before you are ready to start laying the pecans so it softens up a bit. Pecans will stick better to cheese that is closer to room temperature.
Place pineapple top at the top of your barrel shaped cheese, then start layering the pecan halves, starting at the bottom, and keep shingling until you get to the top. Make sure you keep your pecans nice and tight and use the best pecans you can find.