30 Squeaky Clean Recipes to help with your Whole30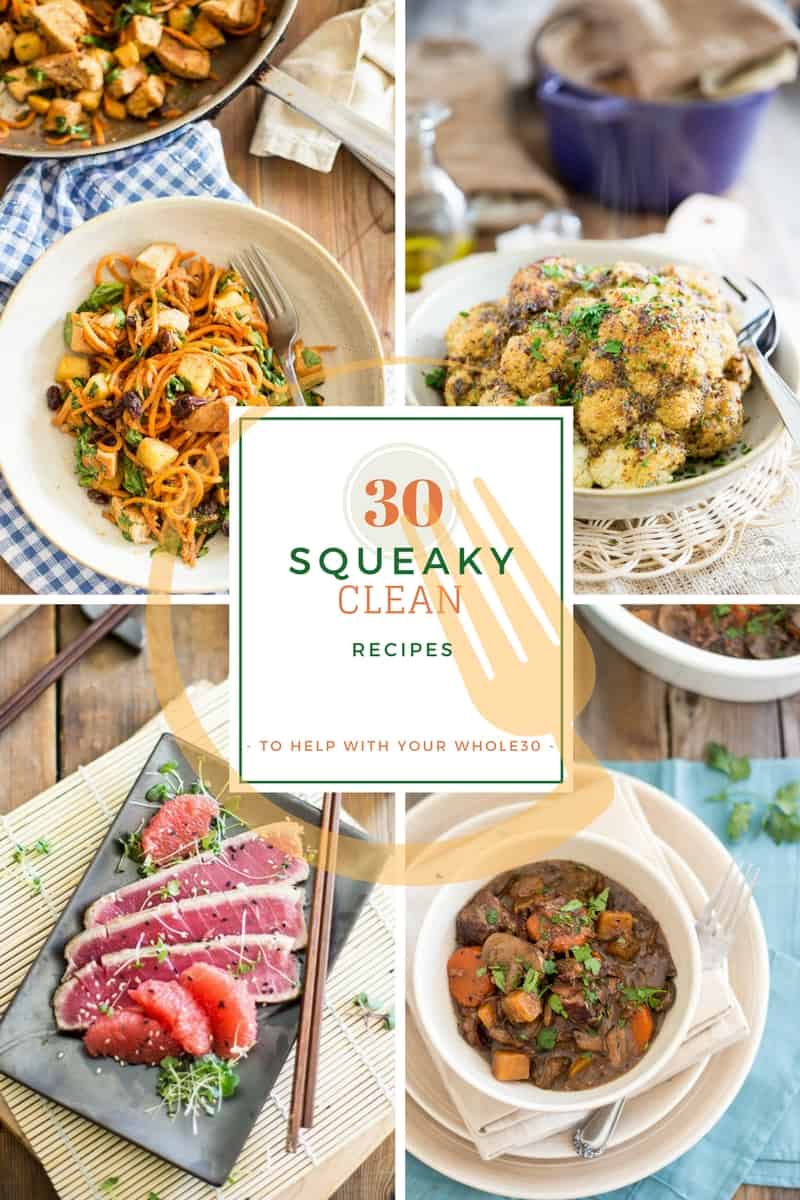 It's January!!!!
You know what that means, right? Time to get our asses back in gear and start eating right again. And also too, cleanse our bodies of all the non-optimal foods we've been treating them to these past couple of weeks…
What better way to do that than by taking the Whole30® challenge, right? I know a lot of you have probably worked up the courage to do that — if that's your case, well, huge congratulations and hats off to you! I have full confidence in you and trust that you can do that.
Like I always say: It's only food, and it's only 30 days. You totally got this! 
Sometimes, though, the hardest part about making it through this challenge is staying inspired in the kitchen, while cutting back on so many of our habitual options!
I thought I would help you stay inspired by sharing 30 of my own personal favorite Squeaky Clean recipes with you.
Oh, and even if you haven't really committed to taking the challenge per se (like yours truly) you can still check out the recipes, you know. They will definitely help you get back on the right track and keep things a bit cleaner and healthier, this January! 
---
SIDES AND SALADS
---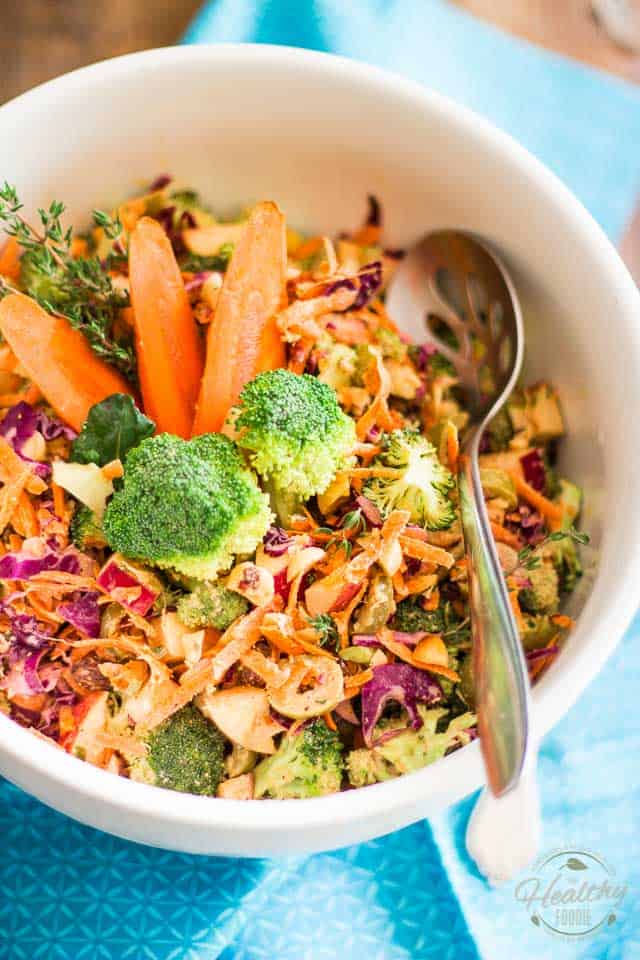 This Broccoli and Carrot Salad keeps fresh for so long and stays crisp and delicious under such "extreme" circumstances, it's almost magic!
You'll can whip up a batch on the week-end and have it ready to eat all week!
---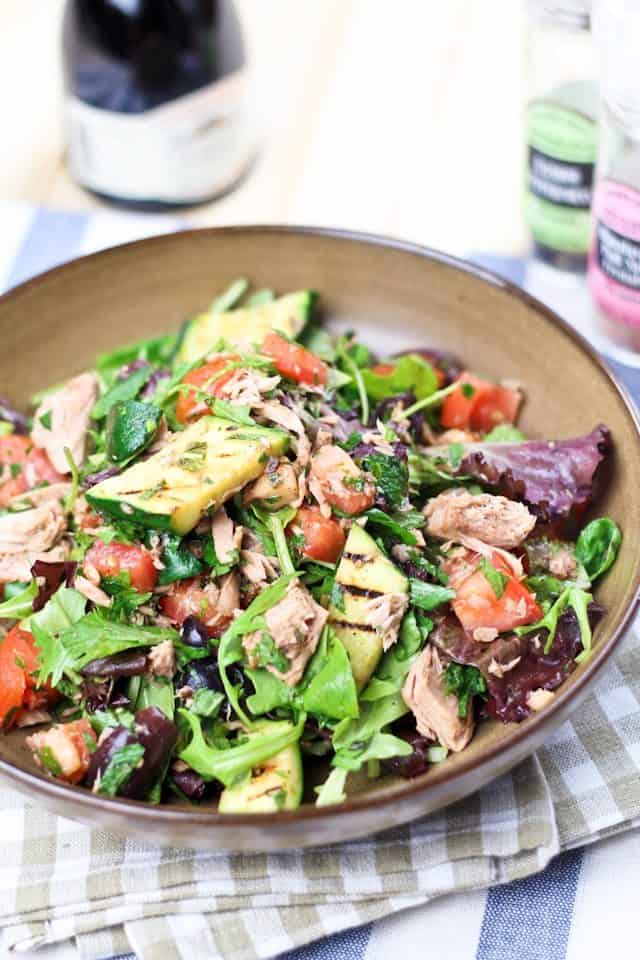 A super tasty and elegant salad that you can throw together in minutes. Perfect way to keep things healthy even when you're in a hurry or lack inspiration!
---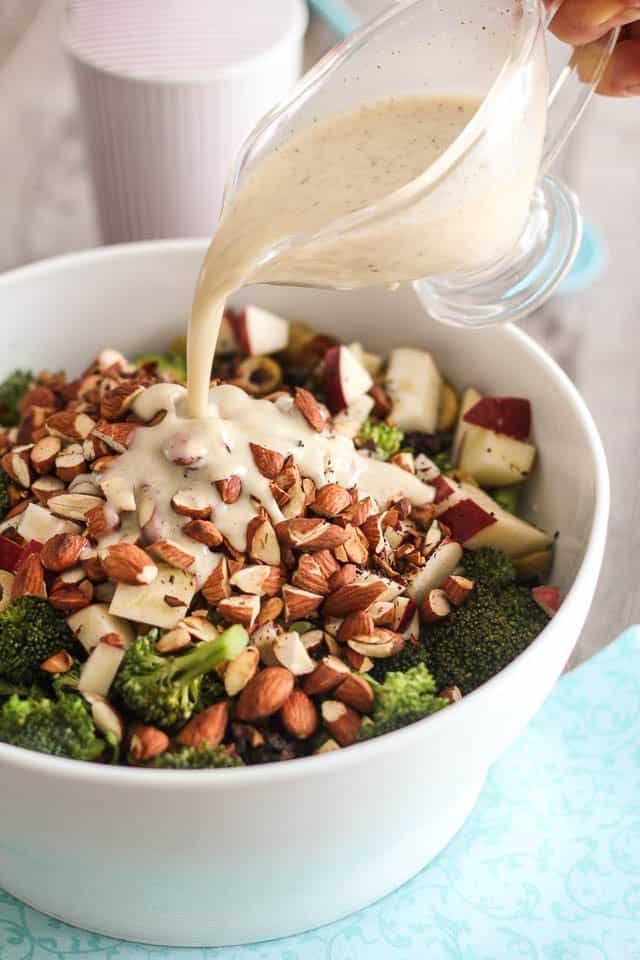 Broccoli, Almonds, Apple, Green Olives, Dates and Bacon unite with a creamy, zesty vinaigrette to create a deliciously addictive and nutritious salad.
You won't be able to stop after one bite!
---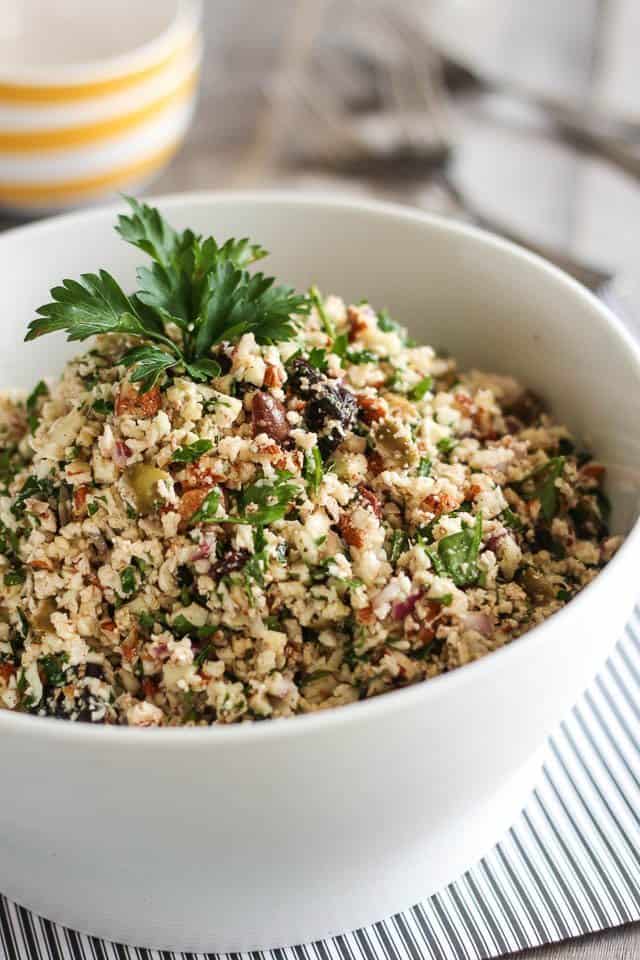 Cauliflower is an amazing alternative to bulgur for those of you who can't or do not wish to add grains to their diet. In fact, it is so good, you may end up preferring it to the real thing, even if like me, you happen to be a HUGE fan of bulgur wheat.
This cauliflower salad is a true explosion of textures and flavors: chopped almonds and dried fruits join black and green olives to create the tastiest combo!
---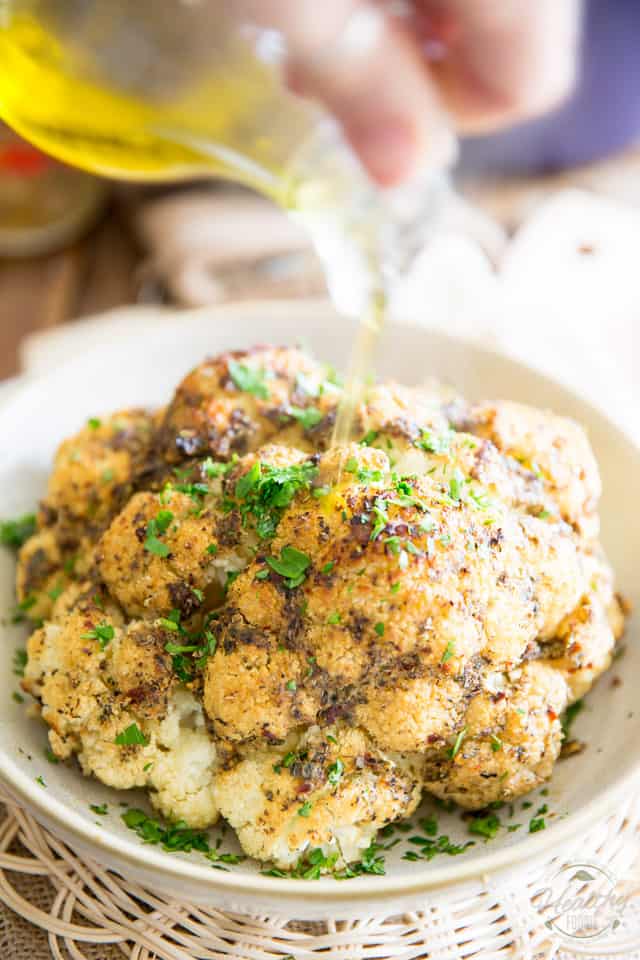 Probably the easiest and tastiest way to prepare cauliflower. It'll make you an instant fan, guaranteed!
---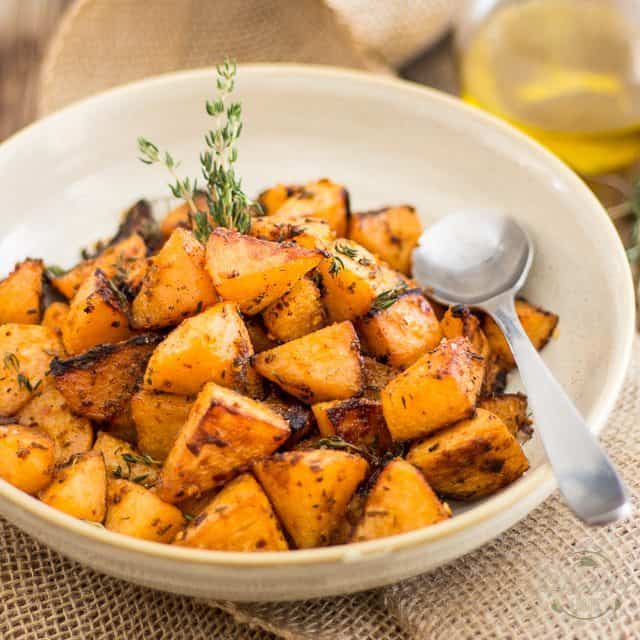 These Greek Style Oven Roasted Rutabaga are so good, so creamy, so tasty, they'll make your forget all about regular white potatoes.
And yes, that's EVEN if you're not a fan of rutabaga to start with…
---
BOWL FOOD & SKILLETS
---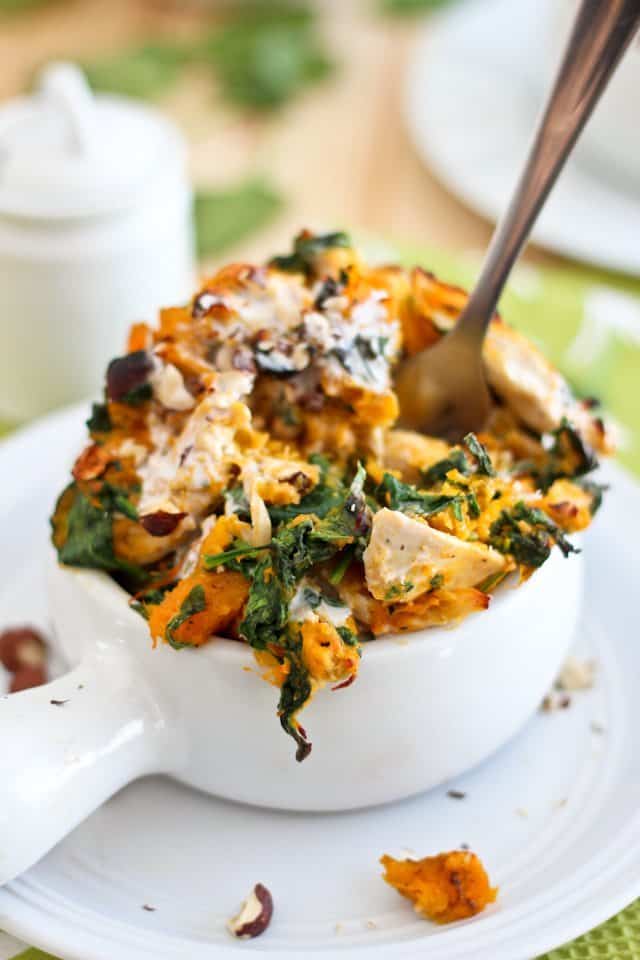 Comforting, filling, heavenly delicious… I can't think of better words to describe this creamy chicken, spinach and butternut squash casserole.
You'll want to make it over and over again and it may very well become your favorite breakfast in the whole wide world!
---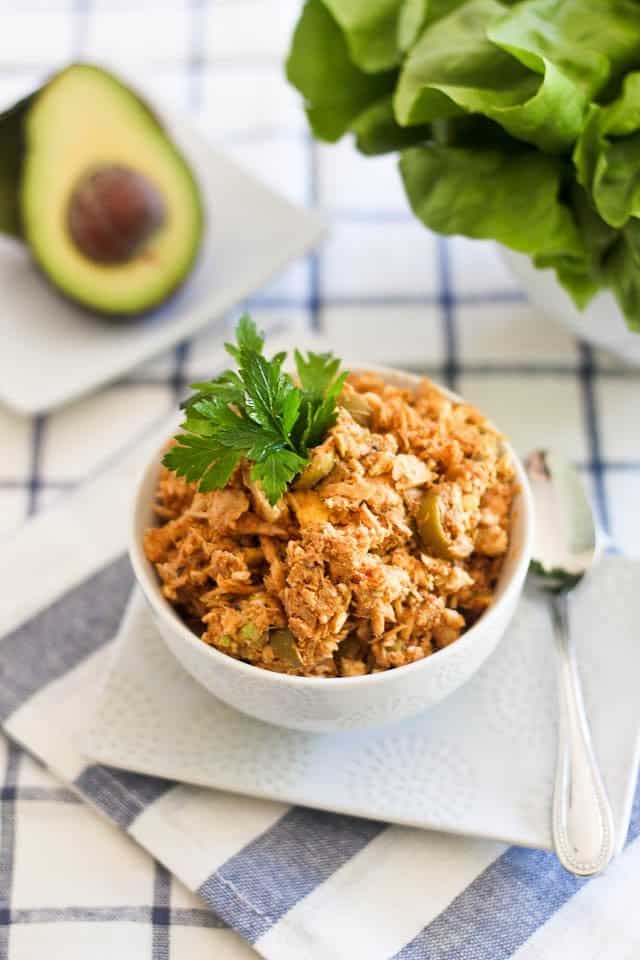 Paleo Friendly and Whole30 compliant, this Tuna Avocado Lettuce Wrap is my "ultimate-emergency-go-to-recipe" for those days when I'm in a pinch.
So simple, yet so nutritious and insanely tasty!
---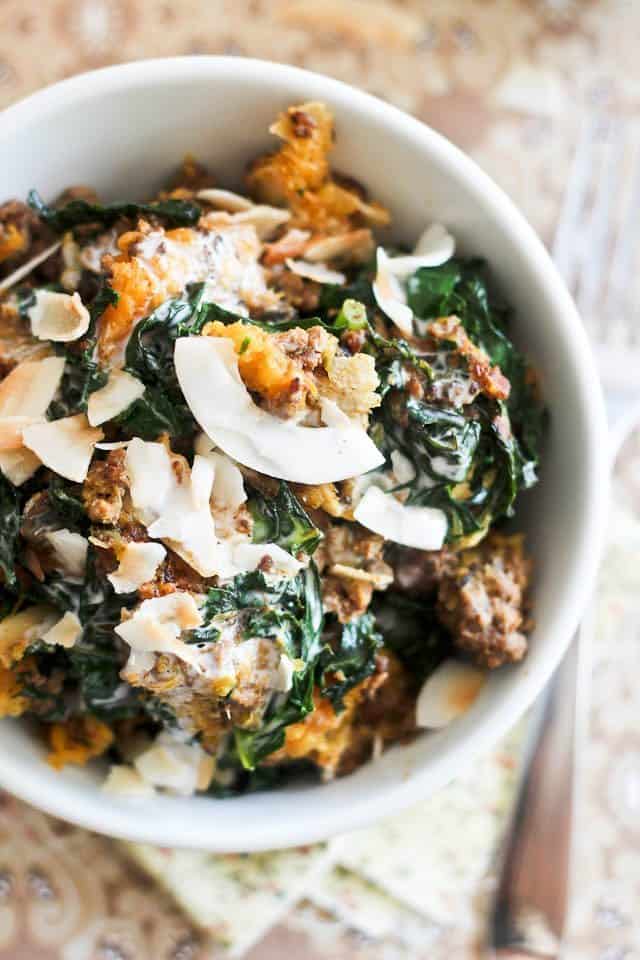 Breakfast in a bowl, paleo style! Ground beef, butternut squash and kale, combined with a touch of coconut milk. What a great and delicious way to start the day! Or continue it…or end it!
Seriously, feel free to enjoy this dish any time of day you may prefer.
---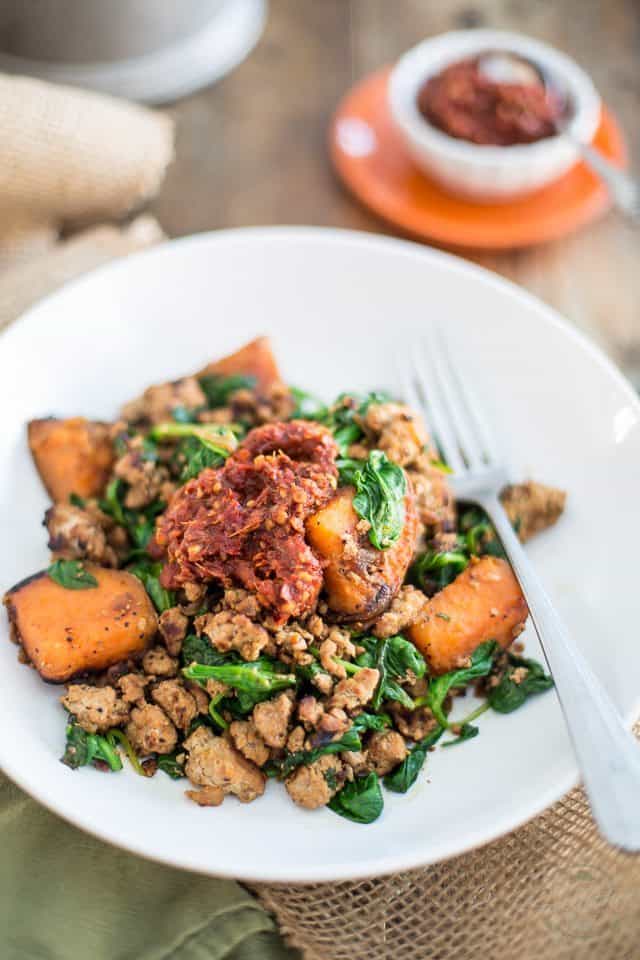 Good food doesn't have to be complicated! Mix Ground Beef with Sweet Potatoes and Spinach and you've got yourself a tasty meal ready in just minutes!
---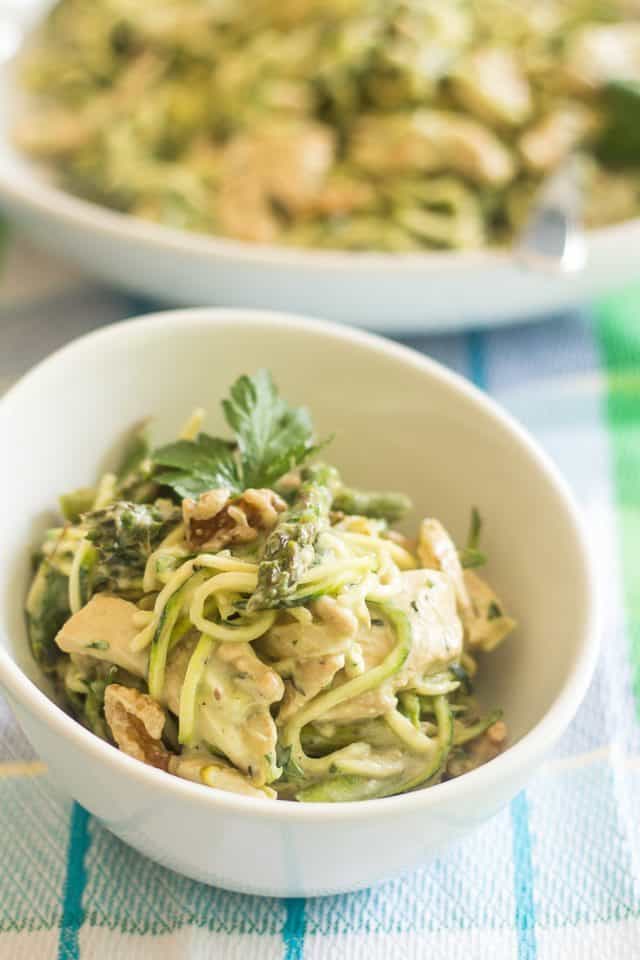 Soft zucchini "noodles" covered in a rich and creamy avocado sauce with hearty pieces of chicken and crisp asparagus. Clean eating never tasted better!
---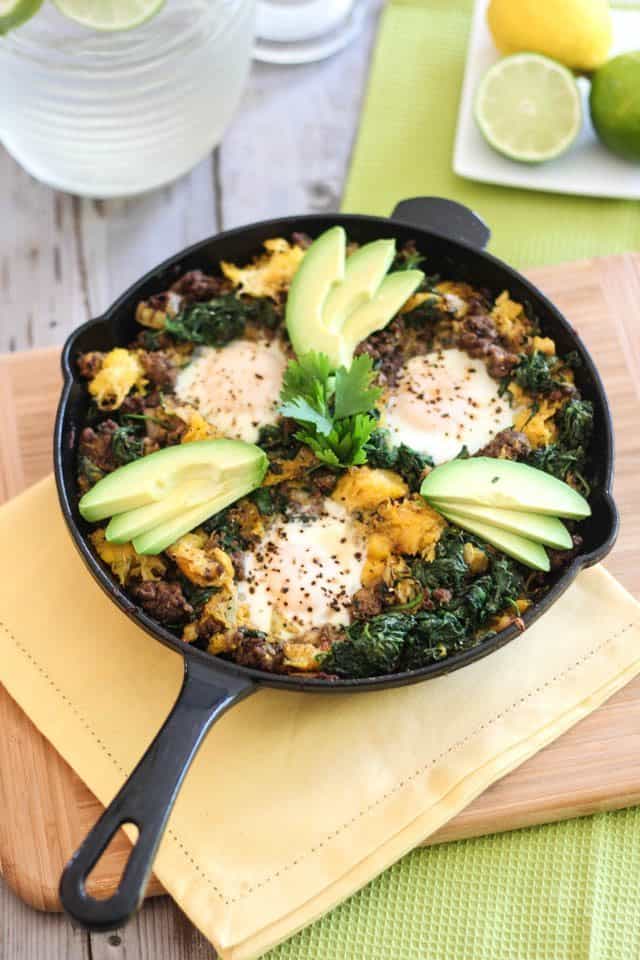 Inspired by George Bryant, this warm and comforting mixture of ground beef, butternut squash, spinach, eggs and avocado. A surefire way to start, or end, your day right!
---
FISH
---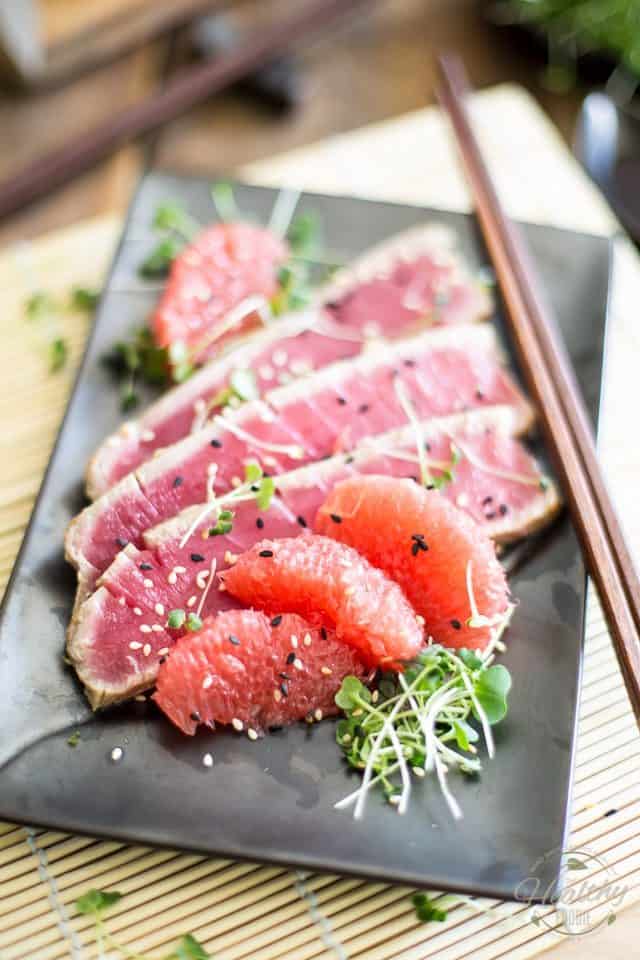 Quickly seared tuna in a sweet and tangy pink grapefruit and ginger marinade, this Grapefruit and Ginger Tuna Tataki is simple, fresh and delicious!
---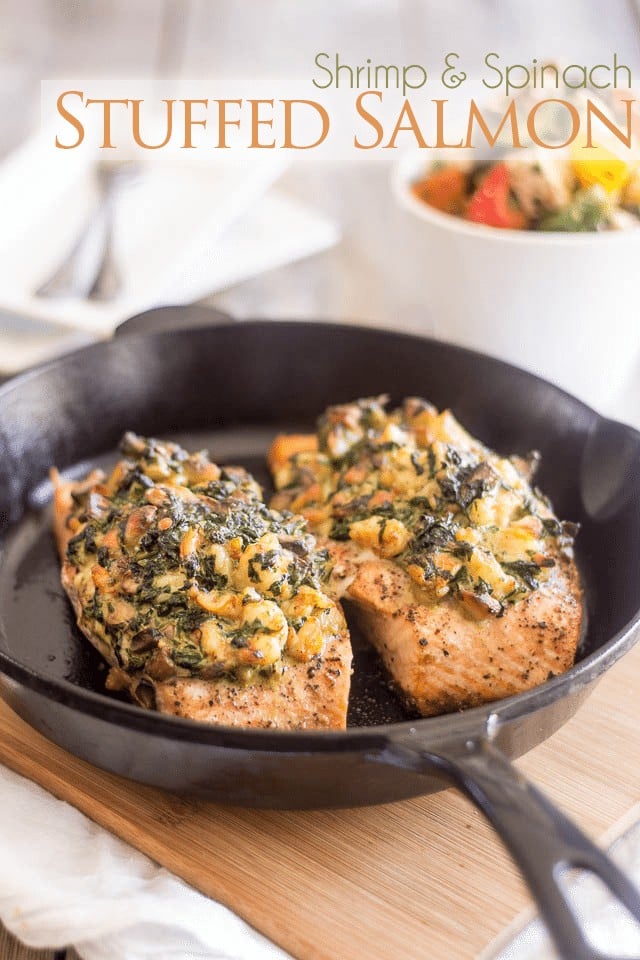 This Shrimp and Spinach Stuffed Salmon is so good and looks so elegant, it's well worthy of being served to special guests. They'll never have to know just how easy it was to make…
---
MEAT & MAINS COURSES
---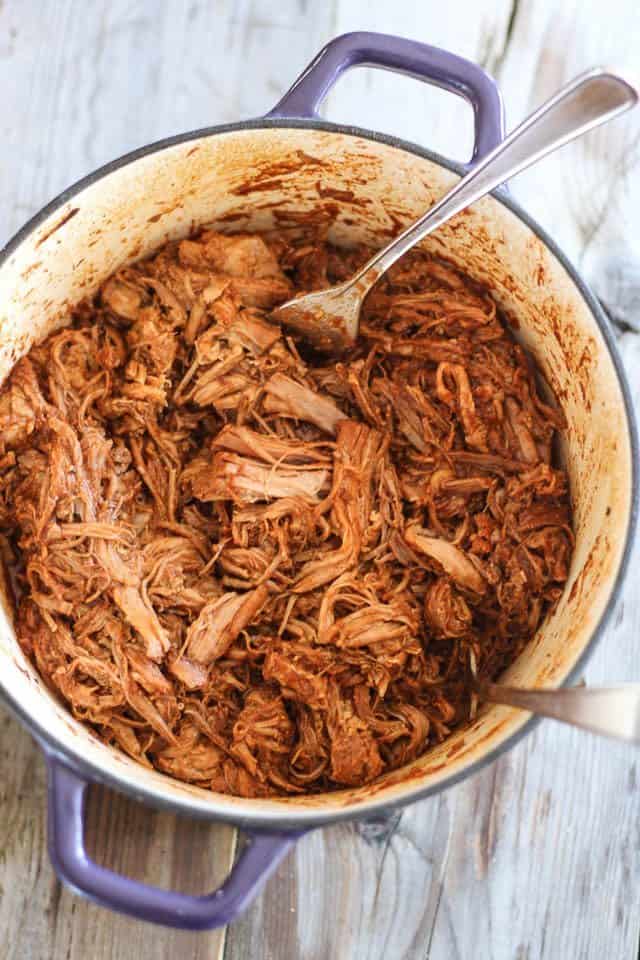 Made entirely from scratch, yes, that means the BBQ sauce, too, this pulled pork recipe is simply "throw-you-off-your-chair" delicious.
Squeaky Clean Comfort food to the 10th power!
---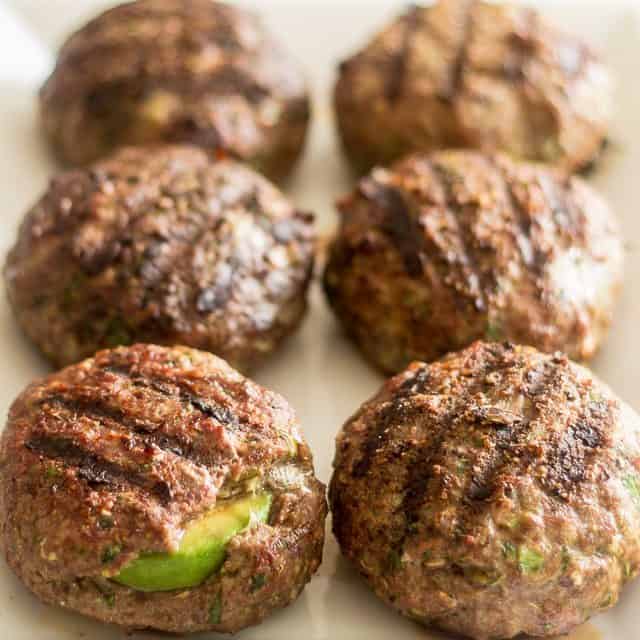 Burgers just don't get any better than this! Stuffed with creamy avocado and smooth, spicy mayo, this is a beef patty that's sure to satisfy your hunger!
---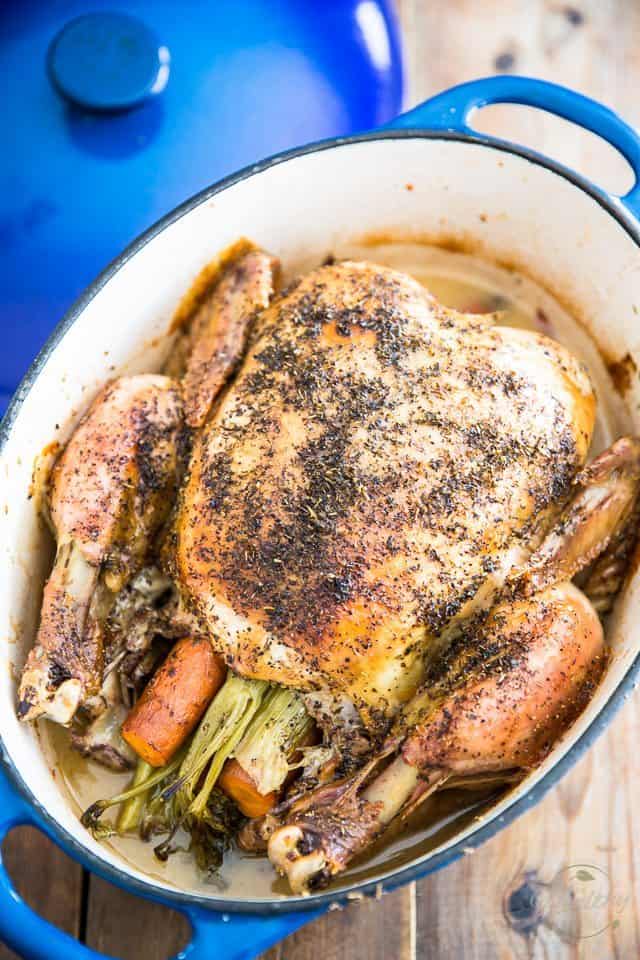 Dutch Oven Roasted Chicken might not be the prettiest, but it definitely is the juiciest, moistest, tastiest, "deliciousest" chicken I have eaten in my life.
Try it once, you'll never look back!
---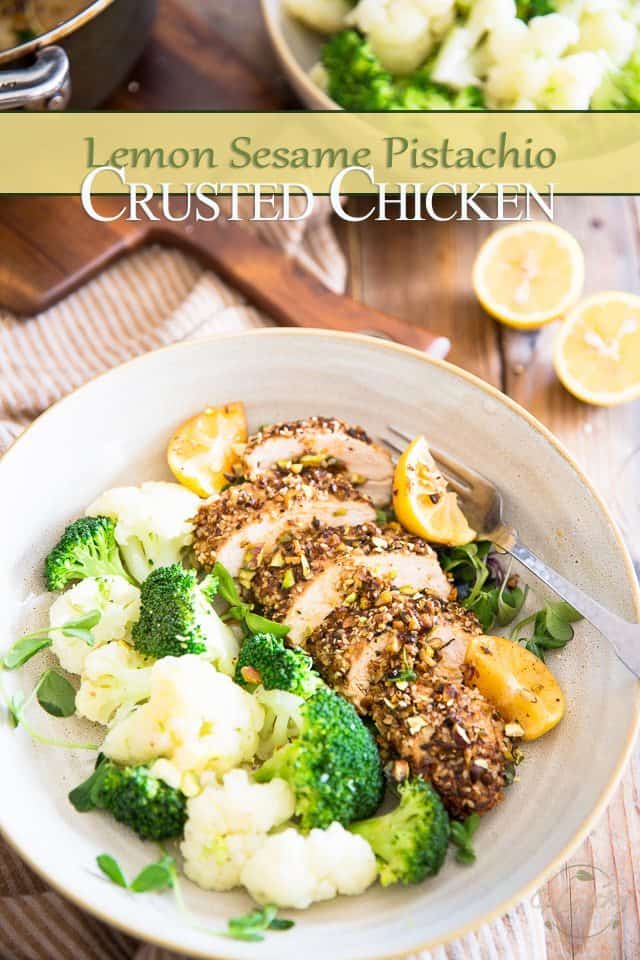 Deliciously tasty, moist and tender, this Lemon Sesame Pistachio Crusted Chicken will make you feel like you're on a trip halfway across the globe and will definitely make you forget about all the sacrifices you've been making this month!
---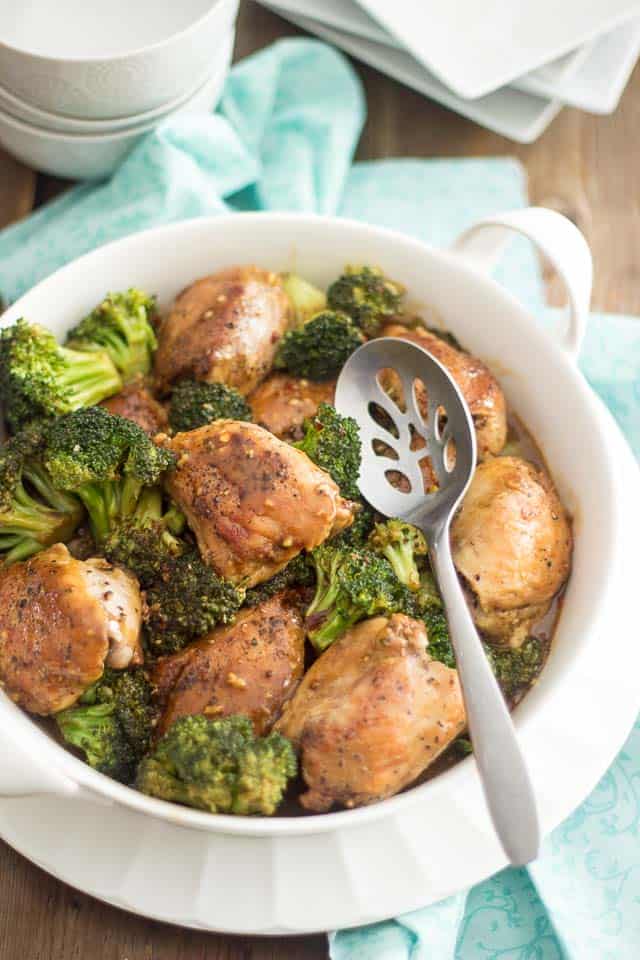 Ready in minutes, this Quick and Easy Broccoli Chicken recipe is a gustatory experience that's inversely proportional to the time you'll spend working on it.
I bet it'll end up finding a spot on your table LONG after your challenge is over!
---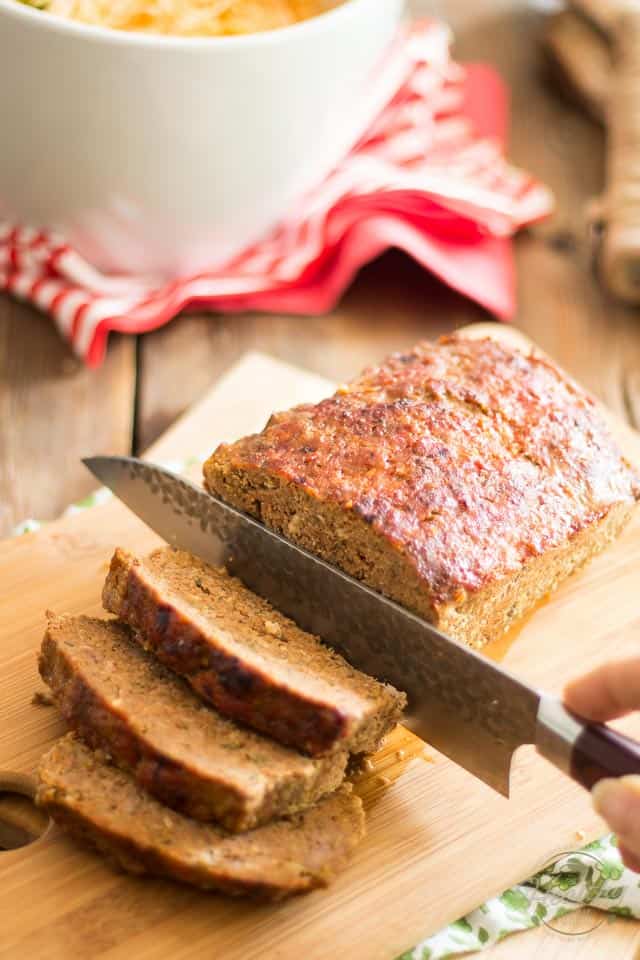 This Easy Meatloaf recipe uses cauliflower instead of breadcrumbs to keep the loaf nice and moist.
Such a tasty and healthy option, I've no doubt that you'll adopt it permanently!
---
COMPLETE MEALS
---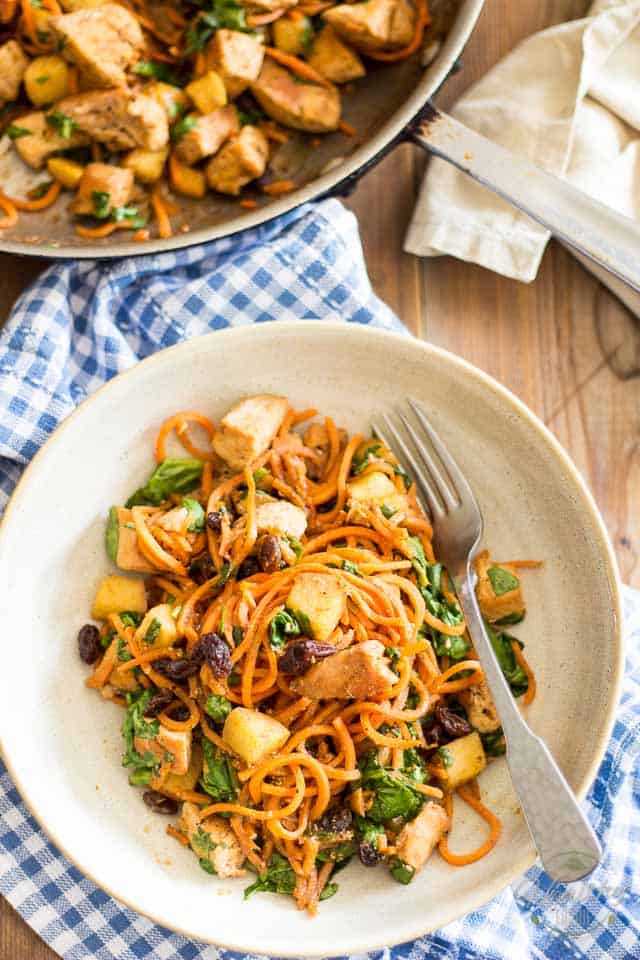 Easy on the palate any time of day, this Sweet Potato and Chicken Hash is a real treat for the taste buds; it's also super quick and easy to make!
---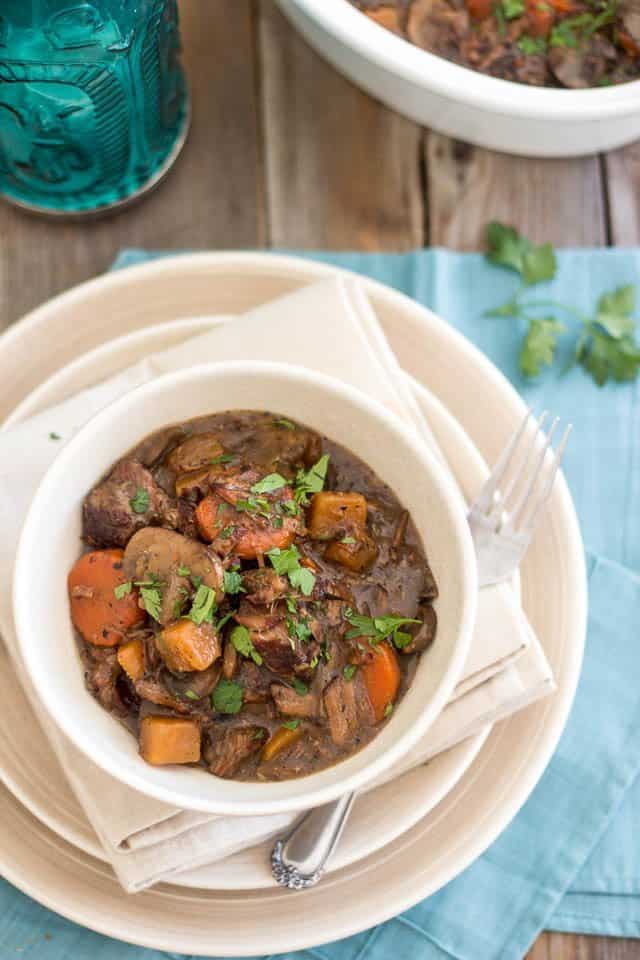 This Slow Cooker Beef Bourguignon might be Squeaky Clean, but it truly doesn't lack in the flavor department. Bound to become a regular, that's for sure!
---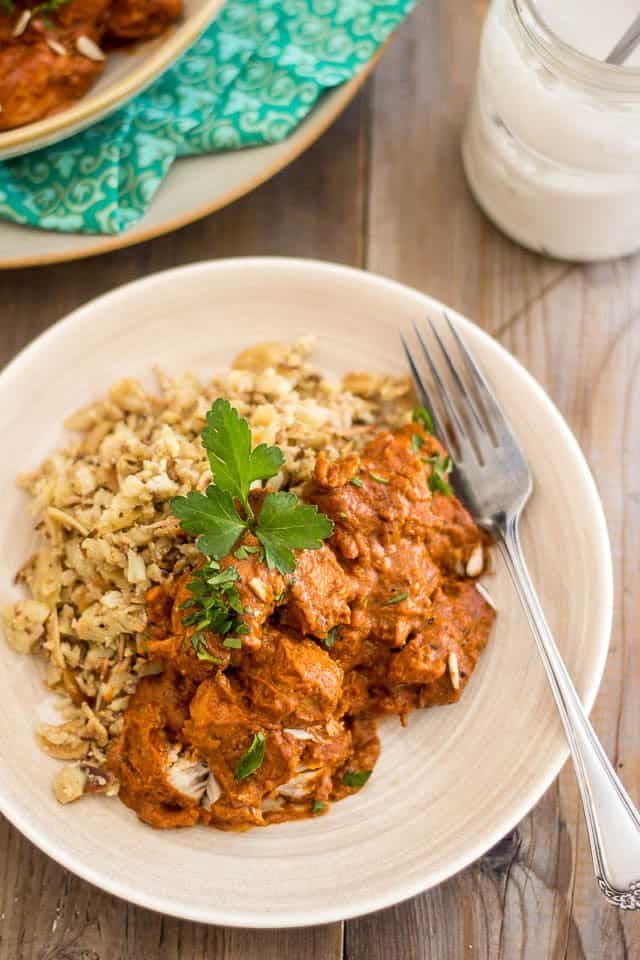 This West African Chicken Stew, inspired by the great Melissa Joulwan, has so much to offer in the flavor department, it will no doubt magically transport you to a beautiful exotic place.
---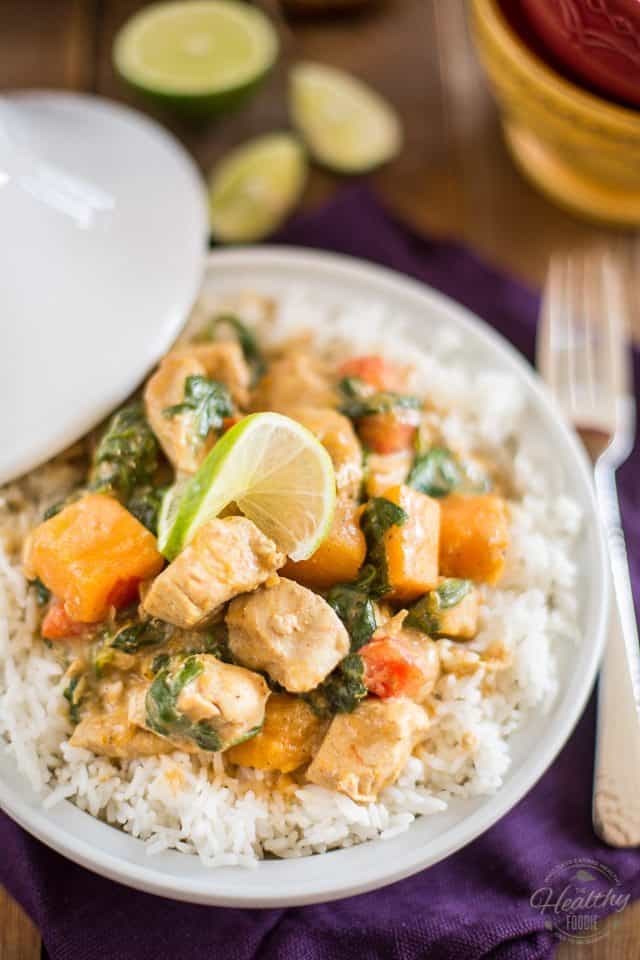 This soul-warming, highly fragrant Butternut Squash Chicken Curry will make you forget all about the fact that you're eating clean and making sacrifices. This one is all about the taste!
Of course, you'll want to leave the rice out while on a Whole30. Whip up a batch of Cauliflower Rice instead!
---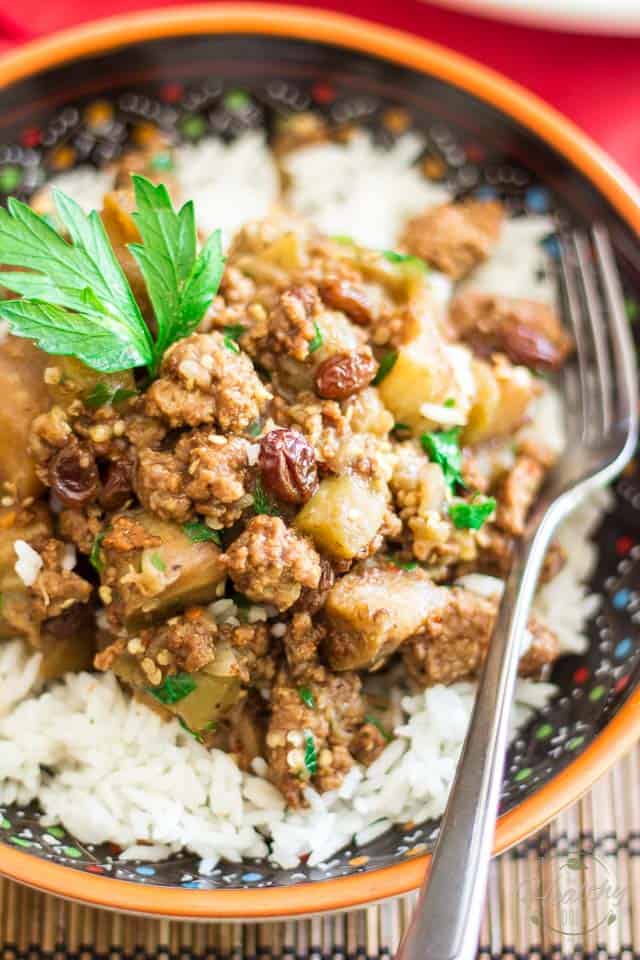 With its tasty lamb meat, creamy eggplant and subtle notes of spiced cinnamon sweetness, this Creamy Lamb and Eggplant Casserole will not doubt win you over.
Again, tough, you'll want to pass on the rice and go for Cauliflower Rice instead!
---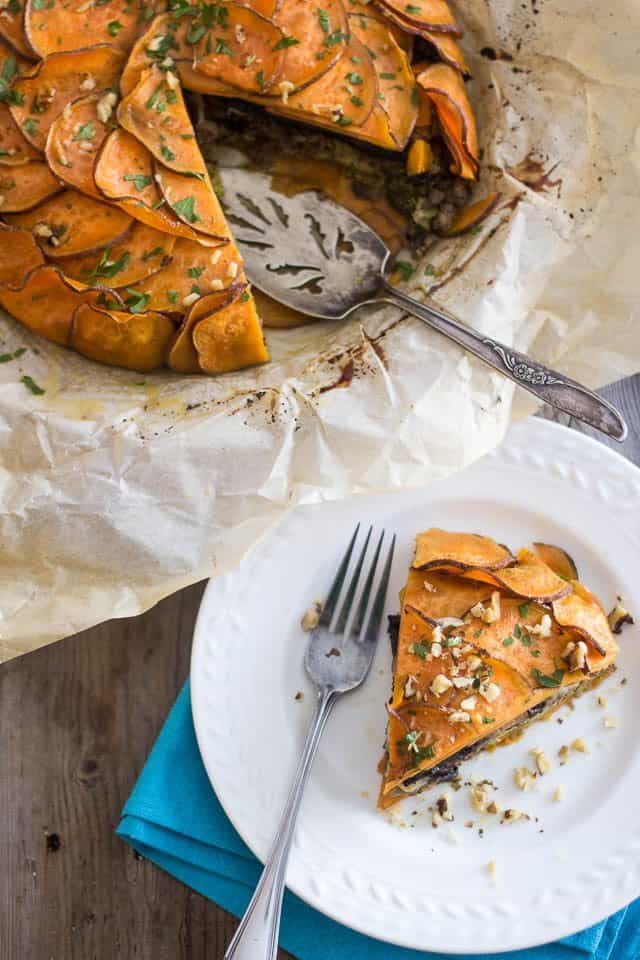 This classy, elegant looking Sweet Potato and Ground Beef Pie hides a deliciously healthy dish that is so easy to make and offers so many possibilities, it'll instantly become a favorite, clean eating challenge or not!
Of course, you'll want to omit the cheese if doing the Whole30, but I swear it'll be just as good and will make your taste buds sing just as loud.
---
BASICS
---

Bone Broth is one of the most nutrient rich and powerful superfoods there is. Make your own in a slow cooker with very minimal efforts on your part.
This month especially, you'll want to have some of that handy all the time, either to sip on, or to cook with!
---

If chicken broth is more your thing, you can make bone broth with your chicken carcass after you've made the Dutch Oven Roasted Chicken above.
This honestly makes the richest, darkest and most delicious chicken bone broth – period. In fact, it's so good, you'll probably want to use it as gravy!
---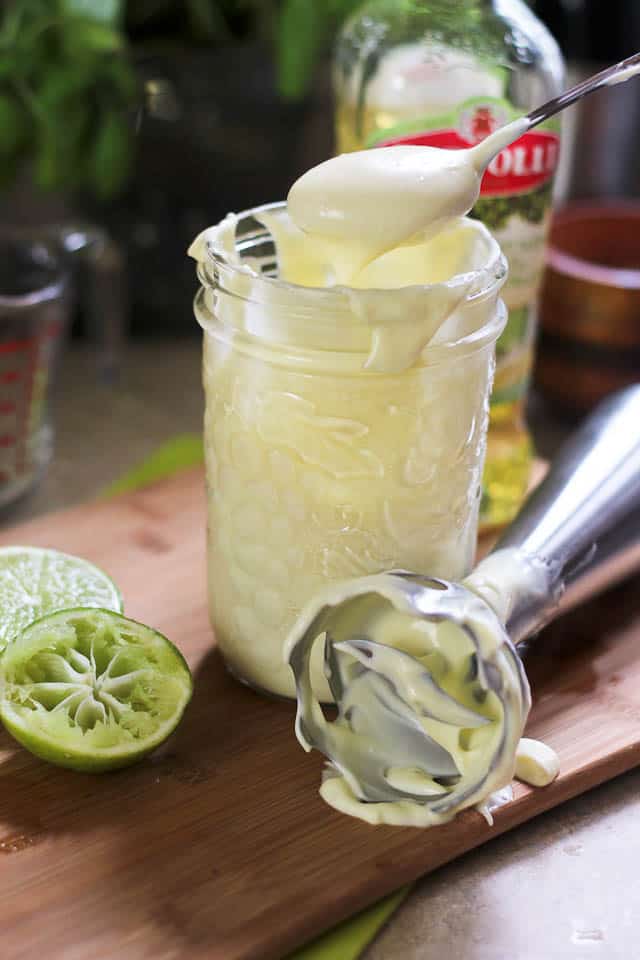 If you've never made this mayonnaise before, stop everything you're doing right now and go whip up a batch. Like seriously. RIGHT NOW!
And prepare to be amazed!
I guarantee you, Whole30 or not, you'll NEVER EVER buy store-bought mayonnaise ever again once you've tried this super easy and totally foolproof method.
---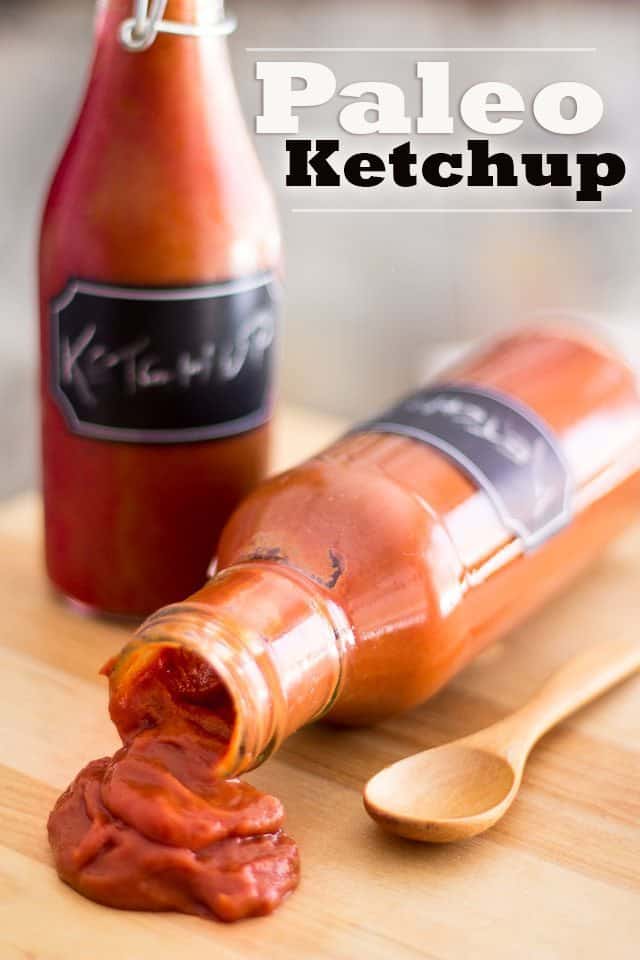 This homemade Paleo Ketchup is so easy to make and tastes so much like the real thing, I bet you're never gonna want to buy the ready made stuff ever again…