Butternut Squash Chicken Curry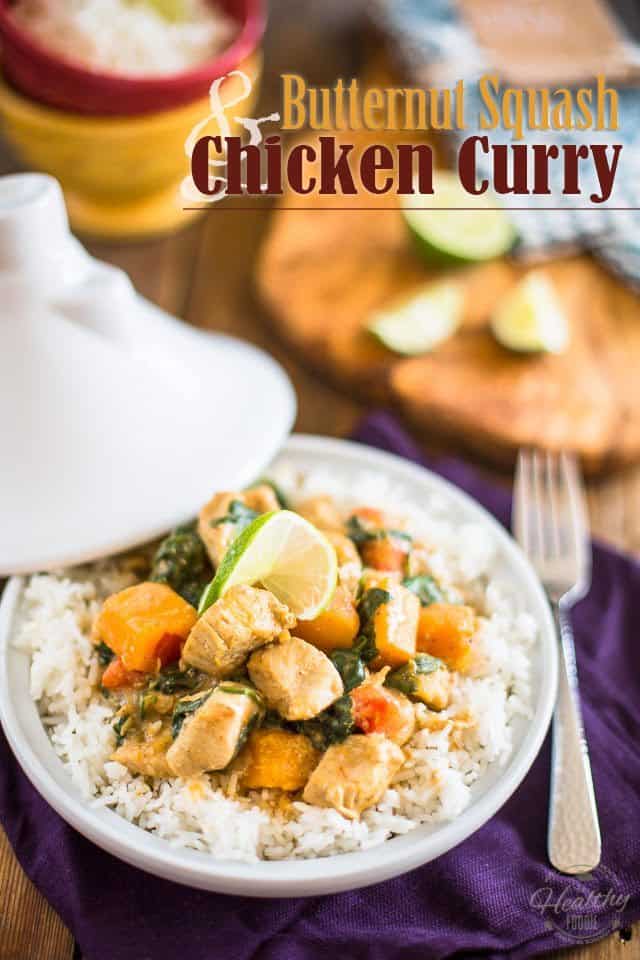 Alright, so now that I've showed you an easy way to Peel and Cut Butternut Squash, what do you say we use up some of that squash to cook up a delicious Butternut Squash Chicken Curry?
If you're a fan of stews, curries and Indian flavored foods, you're going to be all over this bowl of pure comfort. Especially now that winter seems to be permanently installed and determined to stick around for the next couple of months!
Let me tell you, just one bite from this delicious, soul-warming dish and you'll forget all about the cold, the wind, the snow and the ice…
Given how I'm not feeling all that well at the moment, I could definitely use a bowl. I certainly wish I still had some leftovers in the fridge, but alas, these didn't last very long: a couple of days and the whole thing was gone. My tummy just kept demanding more, wanted to eat nothing but that for as long as there was still some left.
Oh well, I'm afraid I'm gonna have to whip up a fresh batch.
Care to join me?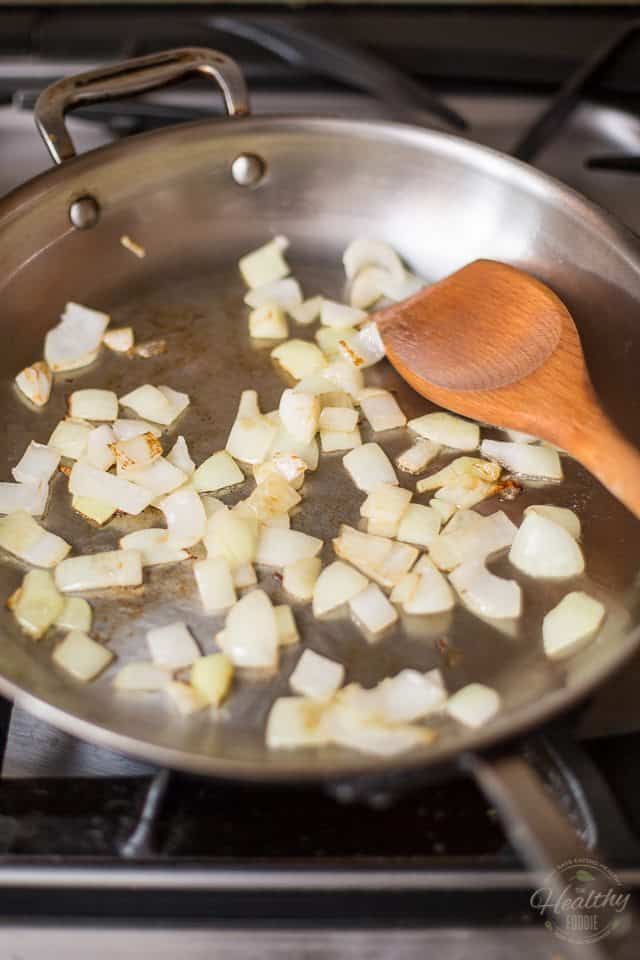 Melt some coconut oil in a large skillet set over medium-high heat. Add the onion and cook it until softened and slightly browned, about 2 minutes.
Yeah, I know… that's not the most exciting picture of all times, but I sort of wanted to include it so you get an idea of what your onions should look like before you add the chicken.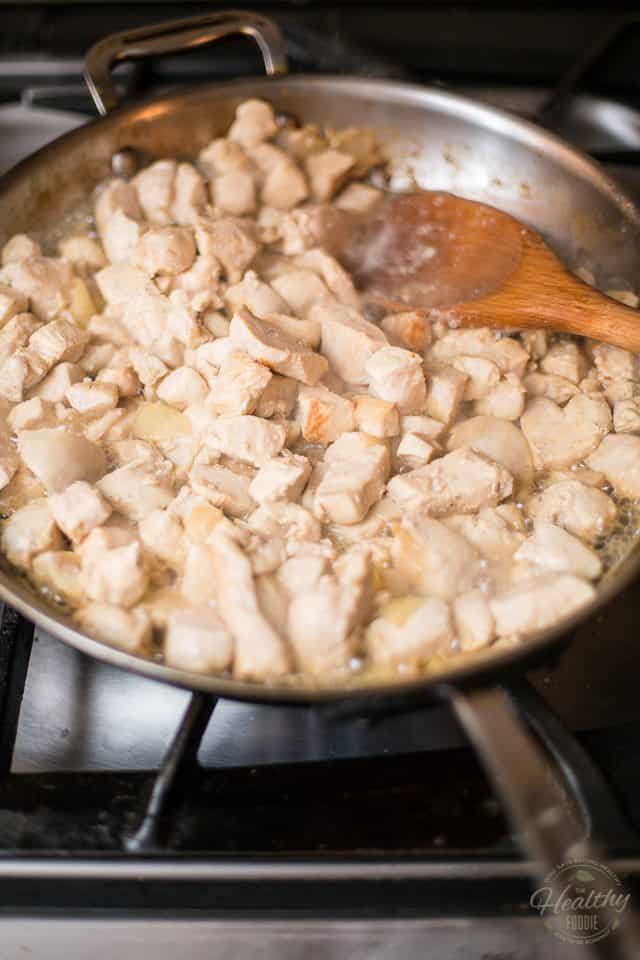 Now about that chicken. For this recipe, you don't need to worry about actually browning your pieces of chicken, so there's no need to work in batches, really.
You can just drop it all in there at once, along with the salt and pepper, and simply cook that meat until it turns completely opaque.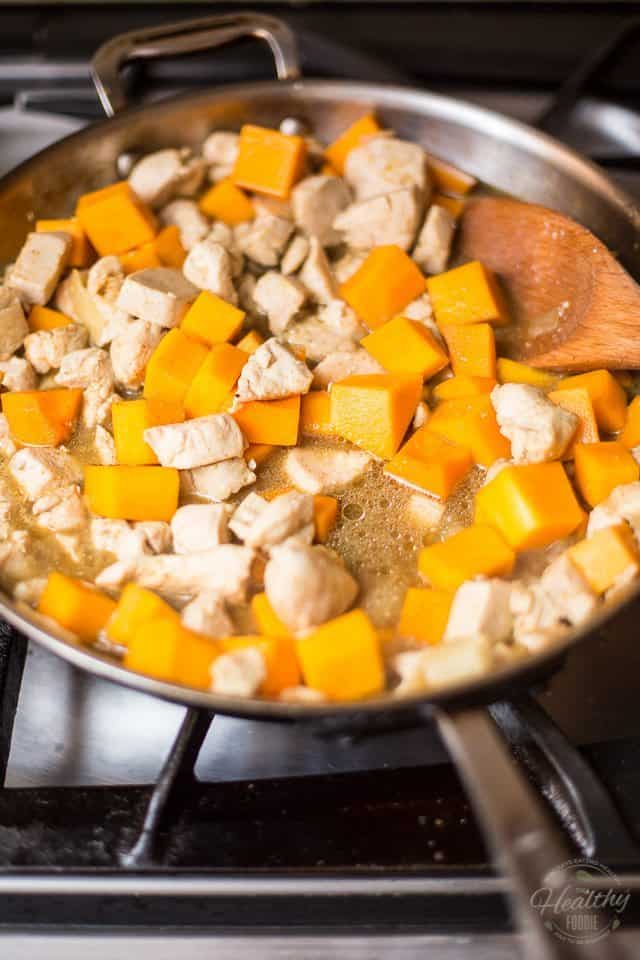 Then, you'll want to throw in the squash, chicken stock, garam masala and curry powder, cover your pan loosely and simmer until the squash is fork tender, about 25 minutes.
If you don't have a lid that's large enough to fit over your skillet, try using a pizza pan! It never fails to do the trick for me.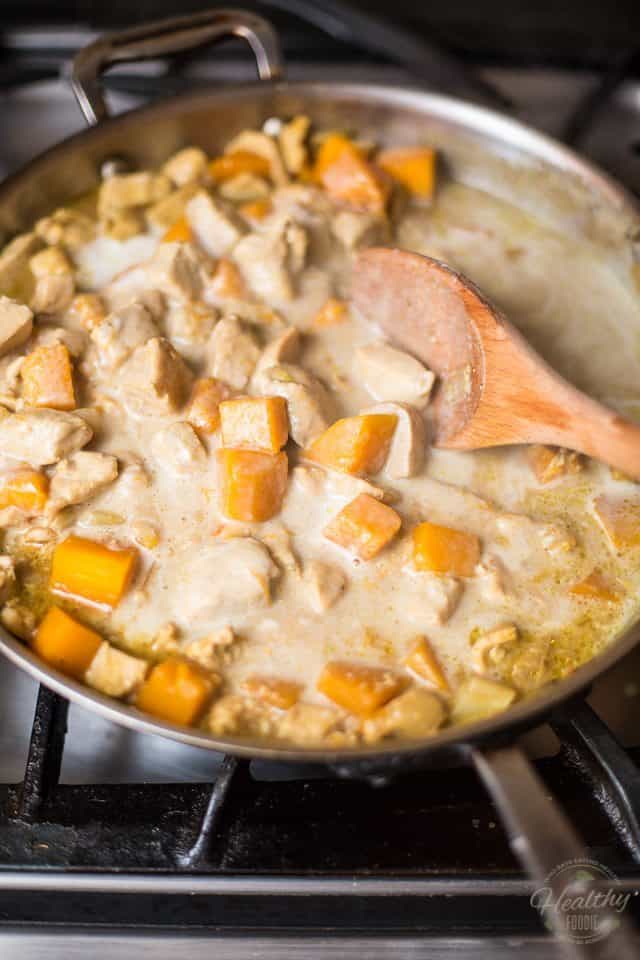 When the squash is cooked to your liking, mix the coconut milk, tapioca starch and lime juice in a small glass measuring cup; pour that right into the skillet, stir until completely incorporated, bring to the boil and continue stirring until the sauce starts to thicken, about 1 minute.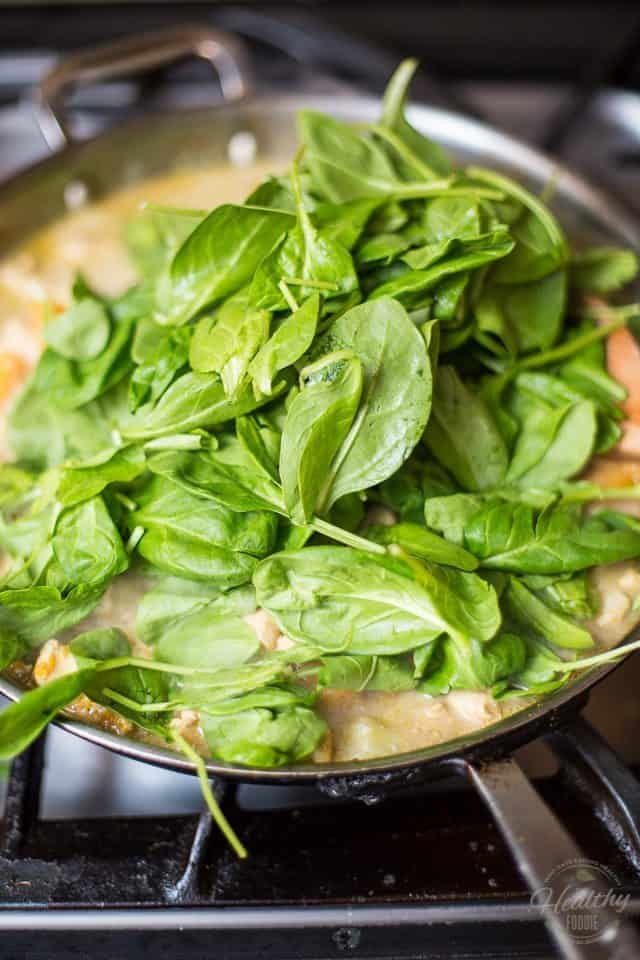 Add the spinach and delicately mix it in until completely wilted.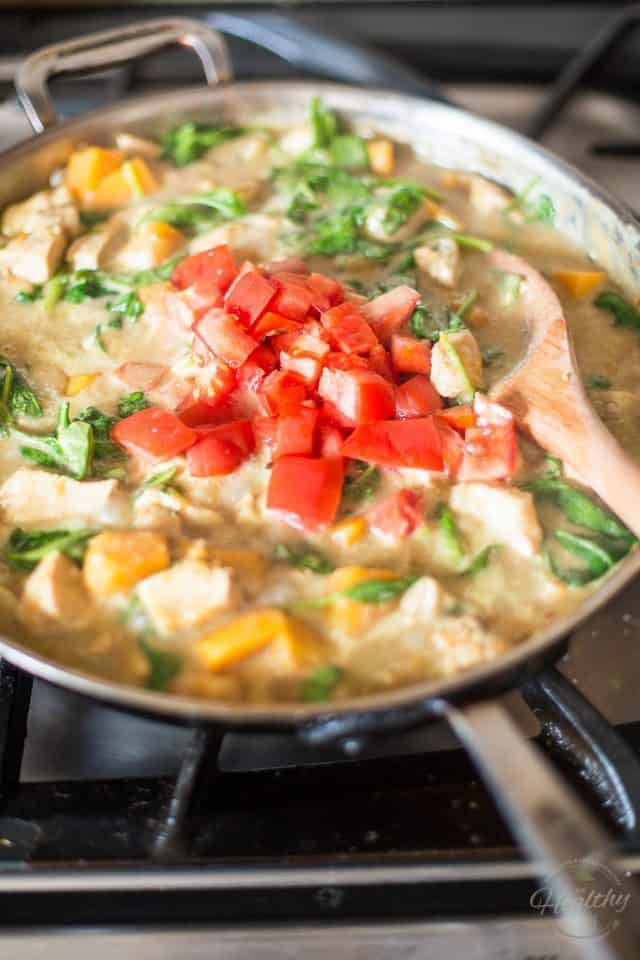 Now kill the heat and stir in the diced tomato.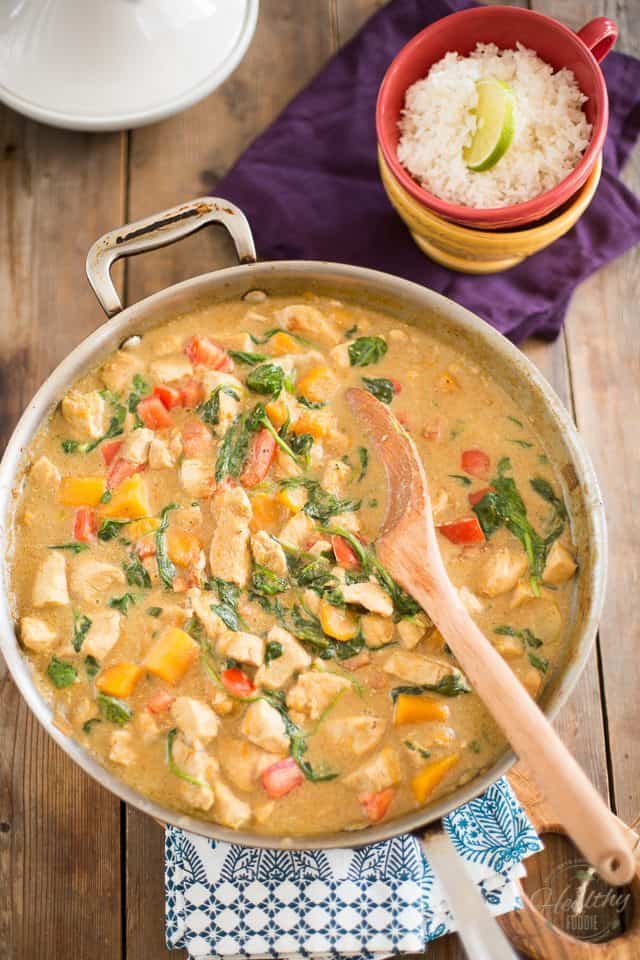 This Butternut Squash Chicken Curry is best served piping hot over cooked jasmine or basmati rice.
If you'd rather keep things squeaky clean or strict paleo, cauli-rice would be a very good option, too!
Butternut Squash Chicken Curry
Instructions
Melt the coconut oil in a large skillet set over medium-high heat. Add the onion and cook it until softened and slightly colored, about 2 minutes. Add the chicken, salt and pepper and cook until the chicken turns completely opaque.
Add the squash, chicken stock, garam masala and curry to the pan, cover loosely and simmer until the squash is fork tender, about 25 minutes
In a small glass measuring cup, mix the coconut milk, tapioca starch and lime juice and mix well; Add that to the skillet, stir until completely incorporated then bring to the boil and continue stirring until the sauce starts to thicken, about 1 minute.
Add the spinach and delicately mix it in until completely wilted, then kill the heat and stir in the tomato.
Serve piping hot with cooked jasmine or basmati rice (or cauli-rice for strict paleo / squeaky clean)

Nutrition Information
Serving size: NF based on 1 serving