25 Vegan Christmas Baking & Dessert Recipes
A roundup of 25 Vegan Christmas Baking and Dessert Recipes to help you keep things healthier and cruelty-free Holiday Season!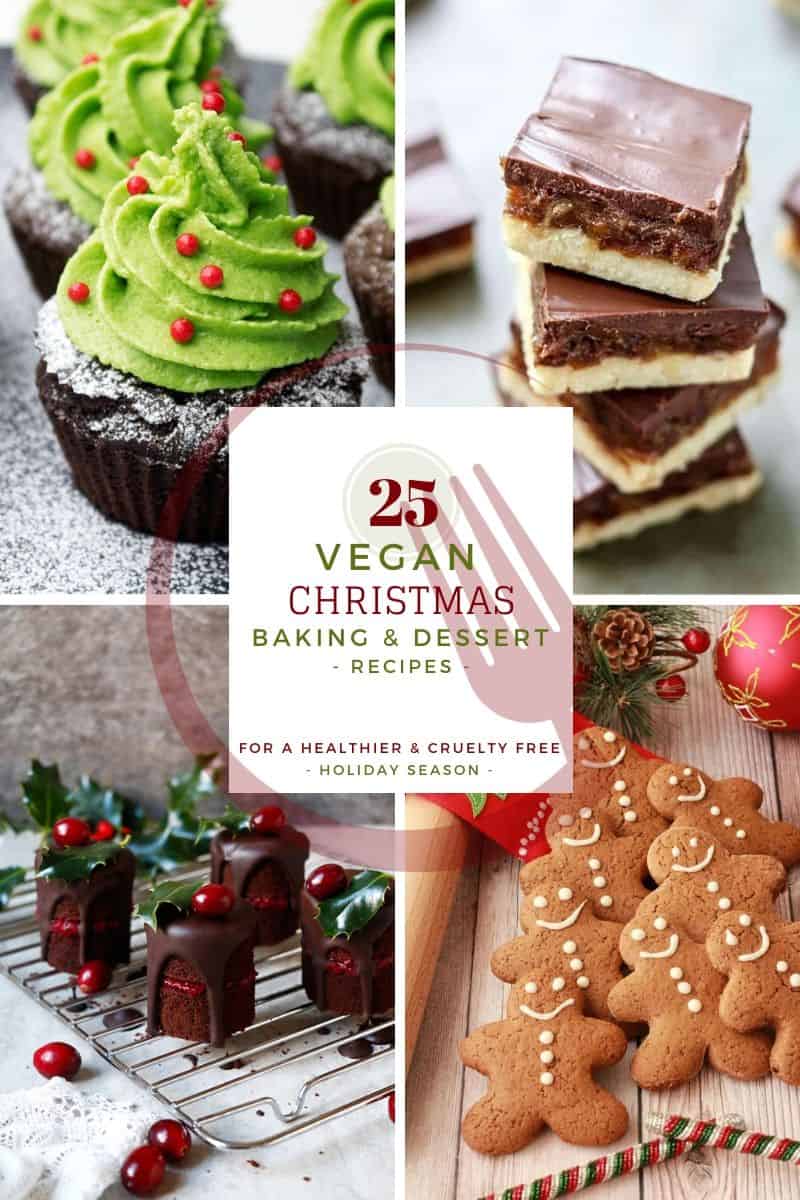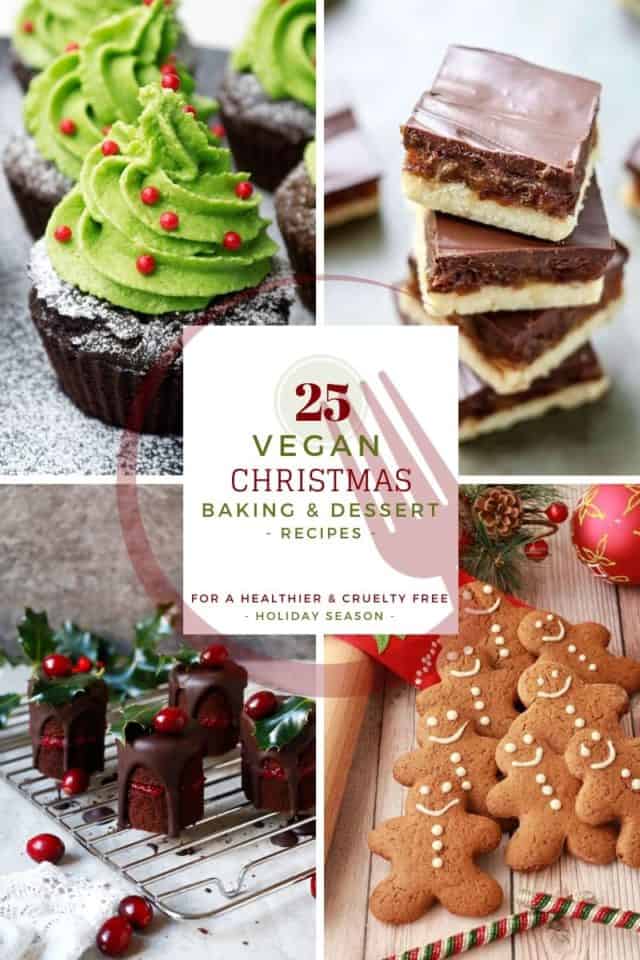 I just woke up to realize that Christmas is only 2 weeks away! My first Christmas as a vegan, too… To this day, I have no idea what I am going to put on the menu. But to be honest, my focus this year has been more on getting ready to leave for my 3-month trip to Costa Rica, right after the Holidays. So I'm afraid that my Christmas cooking has been relegated to 2nd rank.
But Christmas still has to happen… and so does vegan Christmas cooking. The one thing that is going to be the biggest challenge for me, I think, is the baking and dessert part of the menu. While there are tons of recipes for vegan cakes and cookies and pies and cupcakes and bars of all kinds out there to inspire me, I find only a minority are actually somewhat healthy. Vegan definitely doesn't necessarily always rhyme with healthy. Lots of those recipes call for all kinds of refined sugars and unhealthy fats…
Still, I managed to find quite a few healthier vegan sweet treat options that inspired me — some of them being my own, I confess — and I thought I would bunch them up in a neat little roundup and share them with you.
Hopefully you'll manage to find one or two that will inspire you, as well!
---
pies
---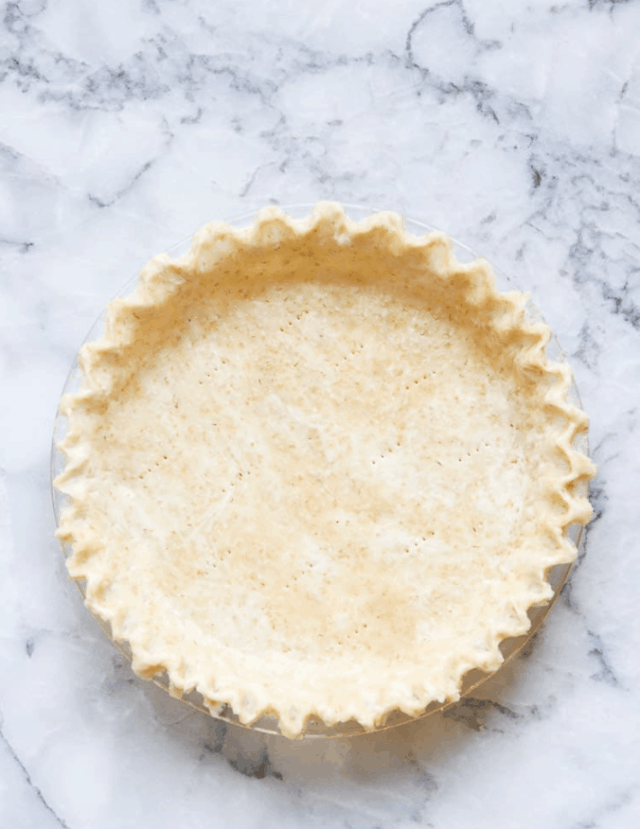 Because every good pie starts with a good pie crust… And according to Rebecca, making vegan pie crust from scratch is really as easy as 1, 2, 3 with this amazing vegan pie crust that requires only a few basic ingredients and no special tools. This fool-proof recipe takes 15 minutes or less to make and requires no butter or shortening! Whether you are pre-baking a crust or you are baking a pie with a top crust too, this simple recipe has proven itself time and again! Perfect for sweet or savory pies!
---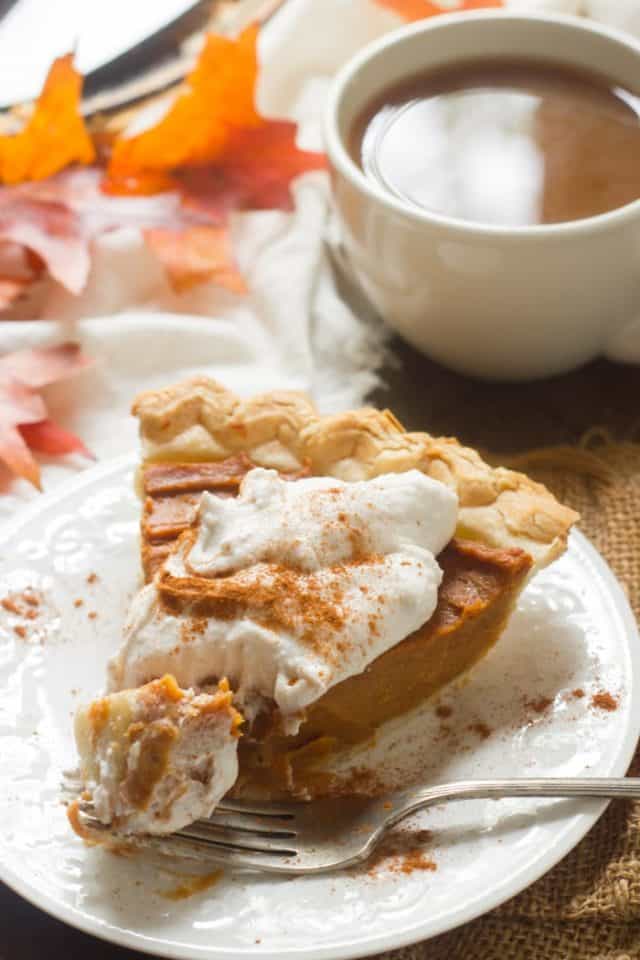 This rich and creamy vegan sweet potato pie is infused with the flavors of chai tea and and topped off with whipped coconut cream topping! The perfect dessert for such a special occasion!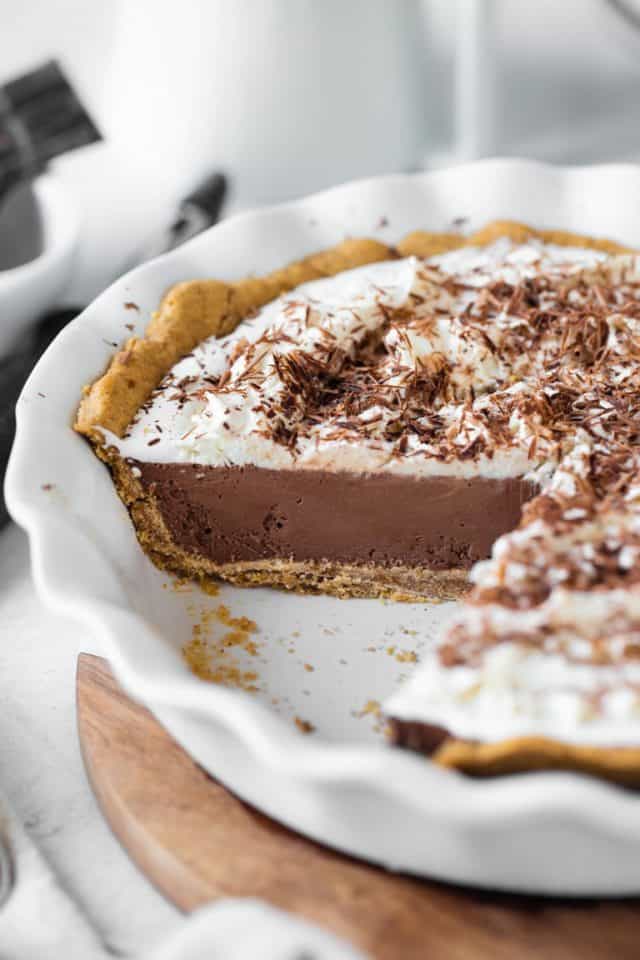 The ultimate Vegan Chocolate Cream Pie is so incredibly rich and delicious, none of your guests will ever know it's vegan! Only 7 ingredients and super easy to make! And NO tofu!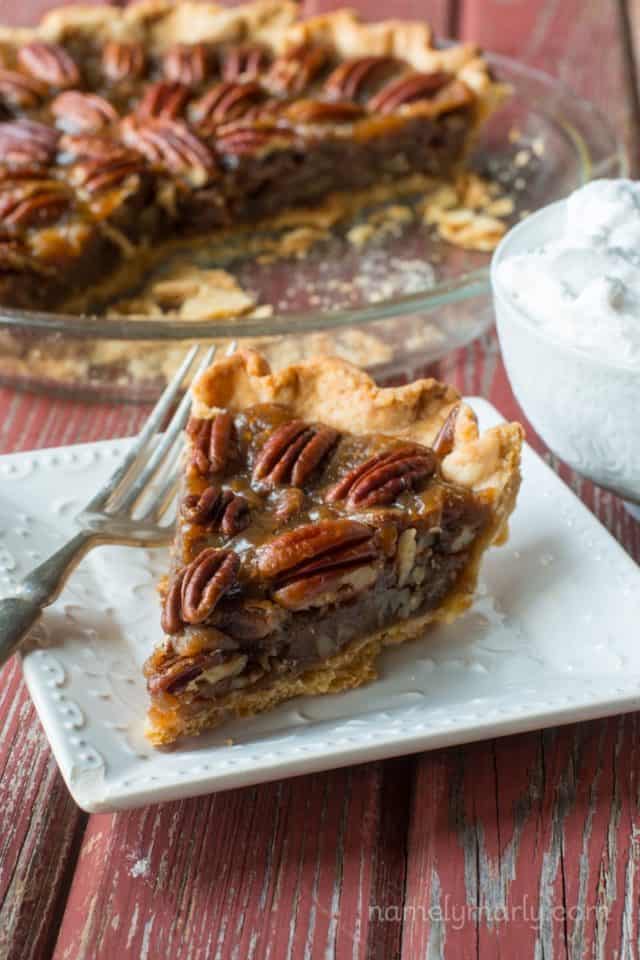 Everyone's favorite pie veganized – Vegan Pecan Pie – with simple ingredients and easy-to-follow instructions. You'll be enjoying this pie in no time!
---
COOKIES & SQUARES
---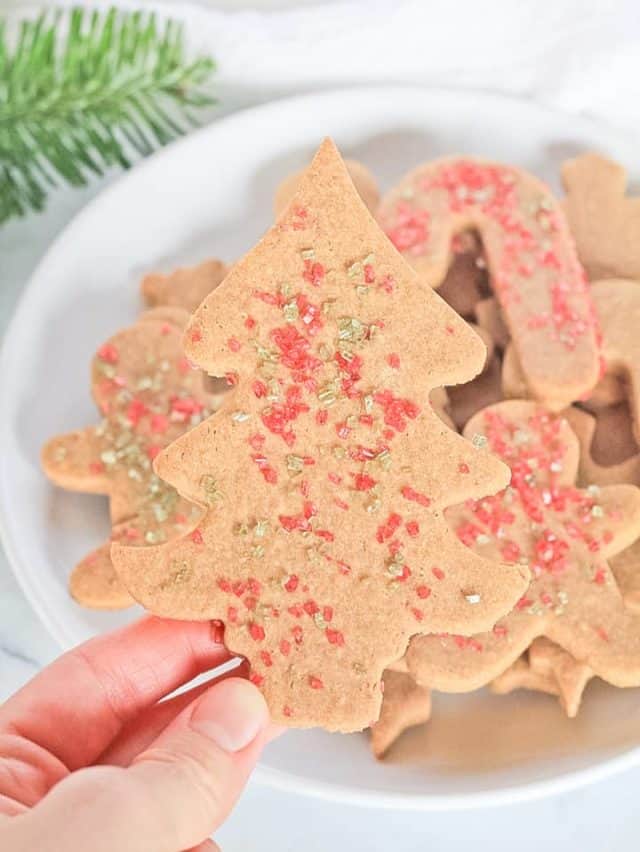 According to Nicole, these are the BEST gluten free, grain free, paleo, vegan, nut free sugar cookies around! Simple and oh so delicious! These Cassava Flour Sugar Cookies are the real deal! She forgot to mention: so pretty too!
---
VEGAN GINGERBREAD COOKIES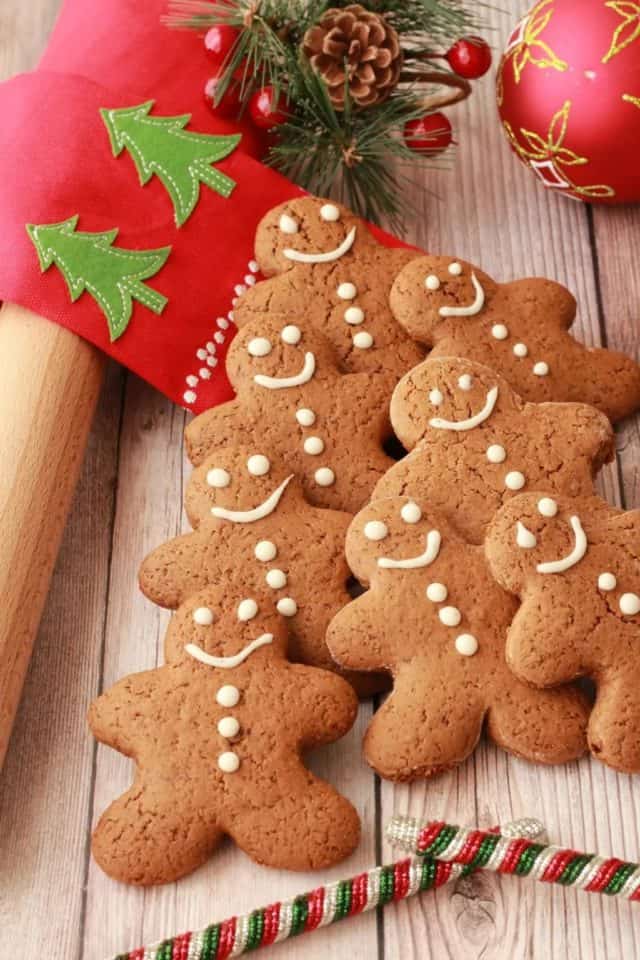 These tasty little gingerbread men are crisp on the outside, soft and chewy on the inside and packed with ginger, cinnamon and brown sugar flavor. Those festive and fun vegan cookies are the perfect project to get the kiddos involved!
---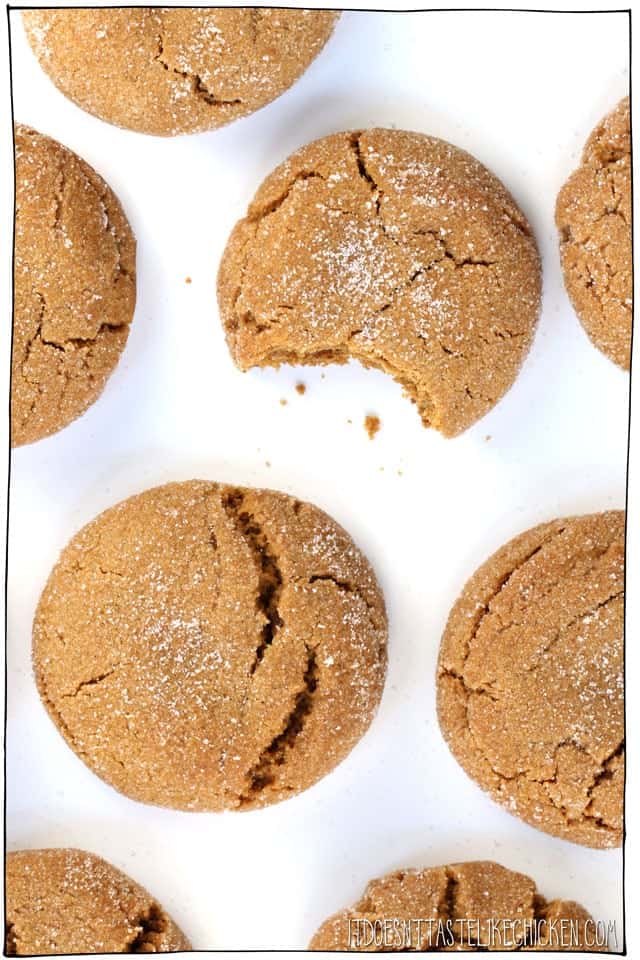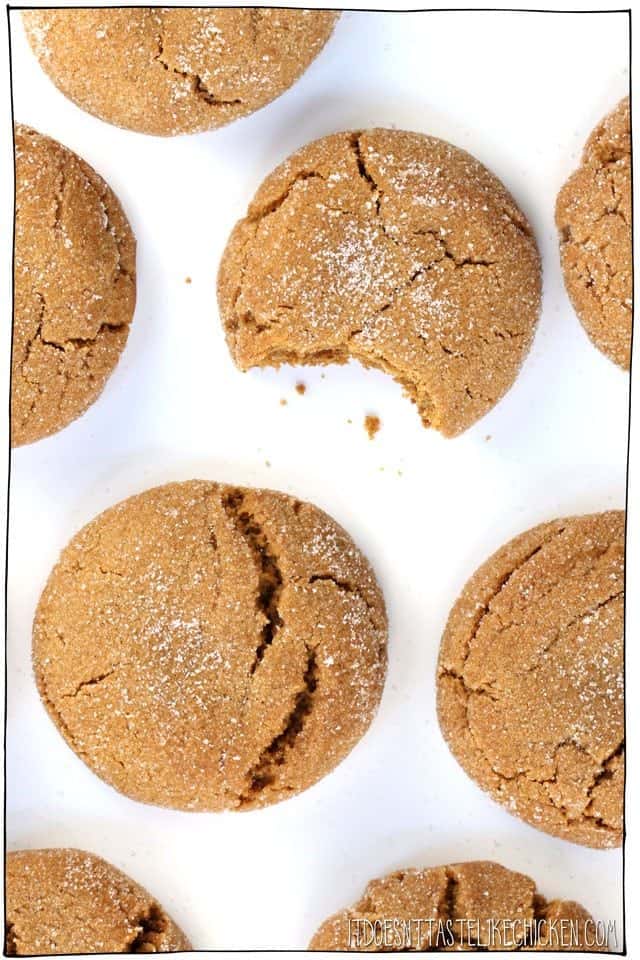 These vegan molasses cookies are a classic Christmas staple. With the combination of spices and molasses, they taste almost like gingerbread, but SO much better. Not only are these easy to make and addictively scrumptious, but they store well for up to a week or you can make them ahead of time and freeze them. If a guest pops by or you need to bring something to a party, you can have these gorgeous treats ready to go!
---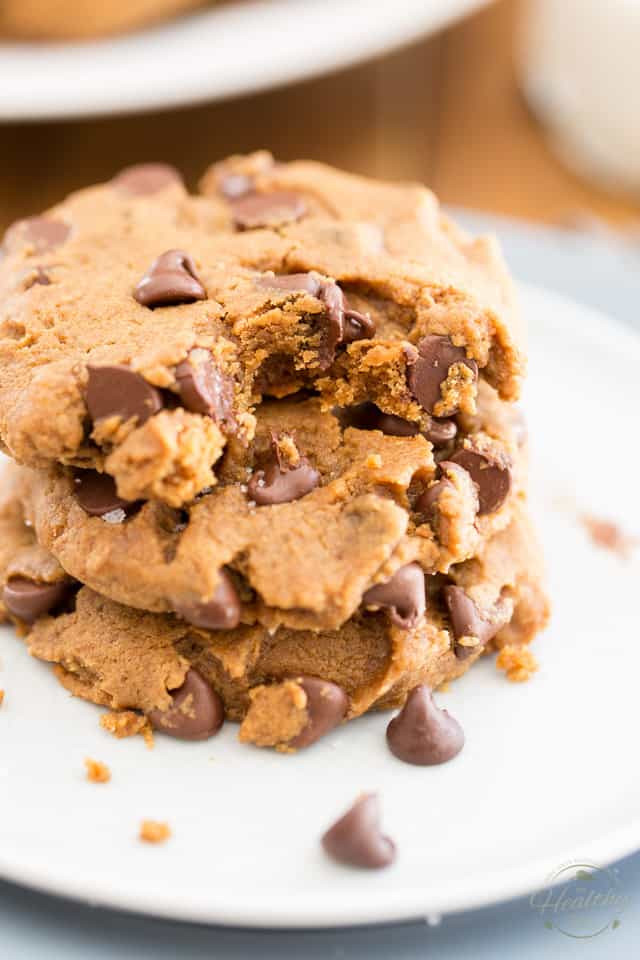 Why settle for plain chocolate chip cookies? Treat yourself to one of these Vegan Peanut Butter Chocolate Chip Cookies. They're soft and tender and filled with tons of chocolate goodness submerged in subtle notes of rich and buttery peanut butter.
---
Looking somewhat like fluffy mini snowballs, these tender, perfectly sweet, and coconut-y little cookie bites requires just 7 ingredients, 1 bowl, and less than 30 minutes to make! Yes, even Holiday baking can be that easy.
---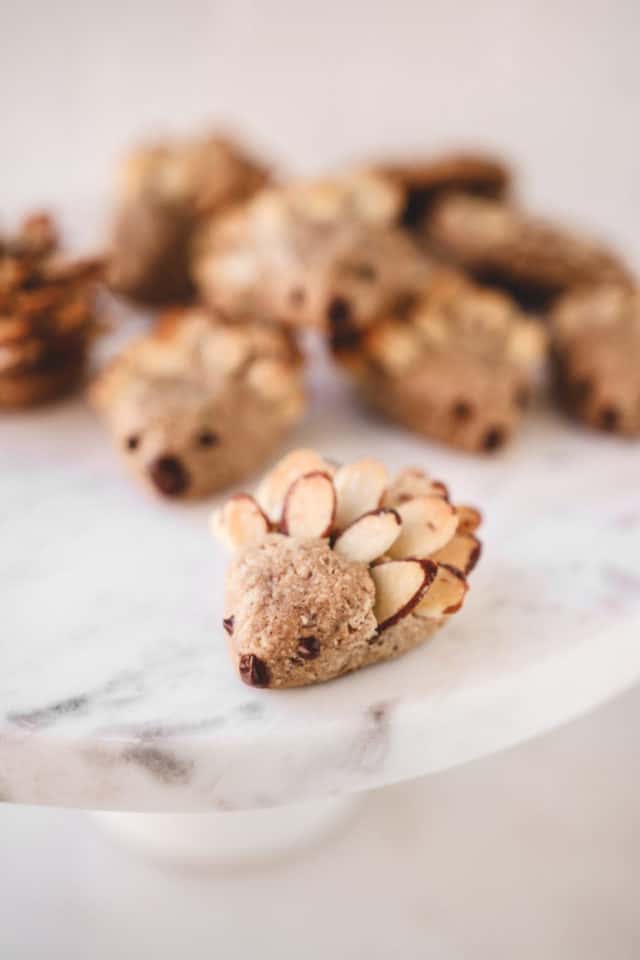 So adorable! These Holiday Hedgehogs, or Almond Cookies, are vegan, gluten-free, refined sugar free and oil free as well. They're a really fun way to jazz up your baking, great for kids parties or cookie swaps too. And Christmas, of course!
---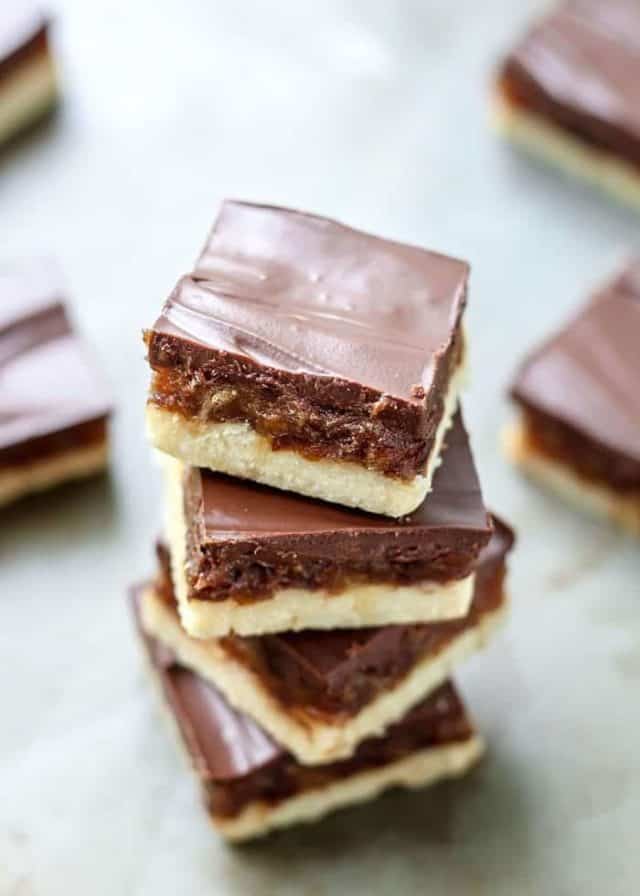 Healthy, no-bake Millionaires Bars! Made vegan and paleo-friendly with a coconut flour base, date "caramel" for the middle, and melted chocolate for the top. A desert bar truly fit for a millionaire!
---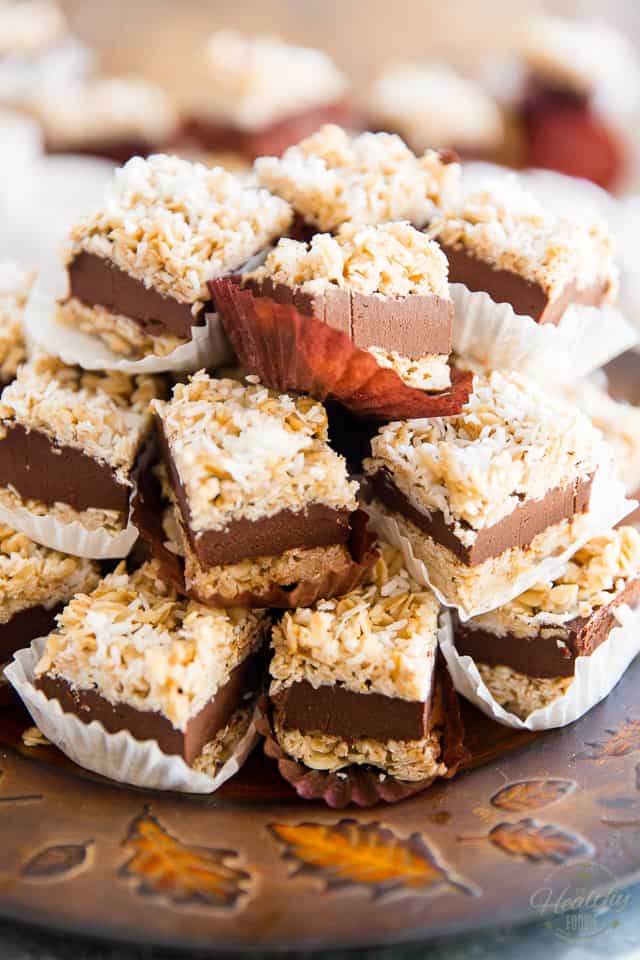 Free of gluten and of refined sugar, these indecently rich and creamy Dark Chocolate Coconut Squares are filled with nothing but wholesome ingredients. But they taste so good, no one will ever believe it. But really… who needs to know, right?
---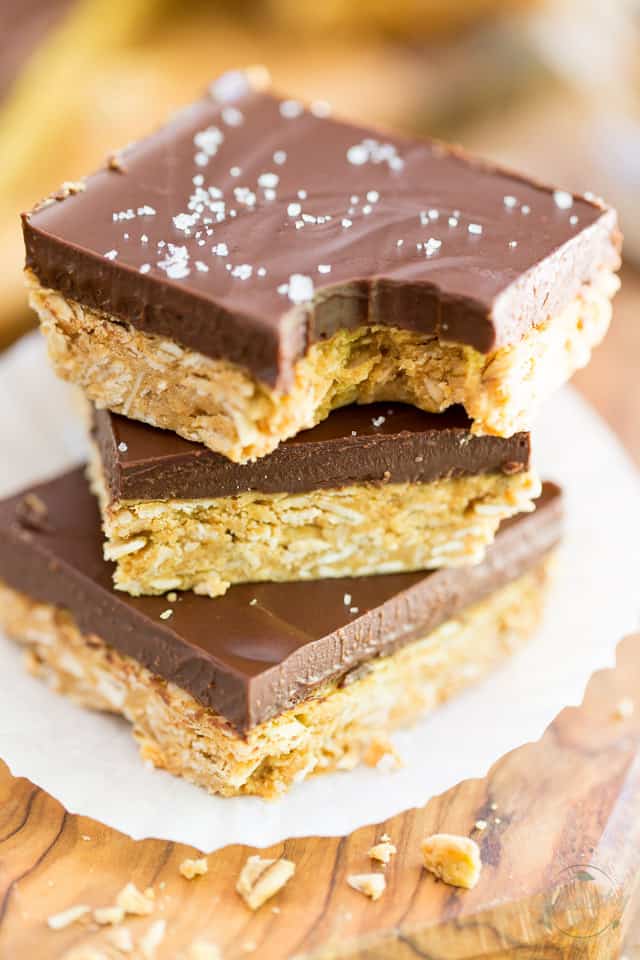 Peanut Butter Oatmeal Chocolate Squares… Need I say more? Chocolate, Peanut Butter… that's all you need to know, right? Oh, and also vegan, gluten-free, made with a bunch of wholesome ingredients, super quick and easy to make. But really, who cares? Peanut butter and chocolaaaaate! Oh yeah, I know!
---
CAKES & CUPCAKES
---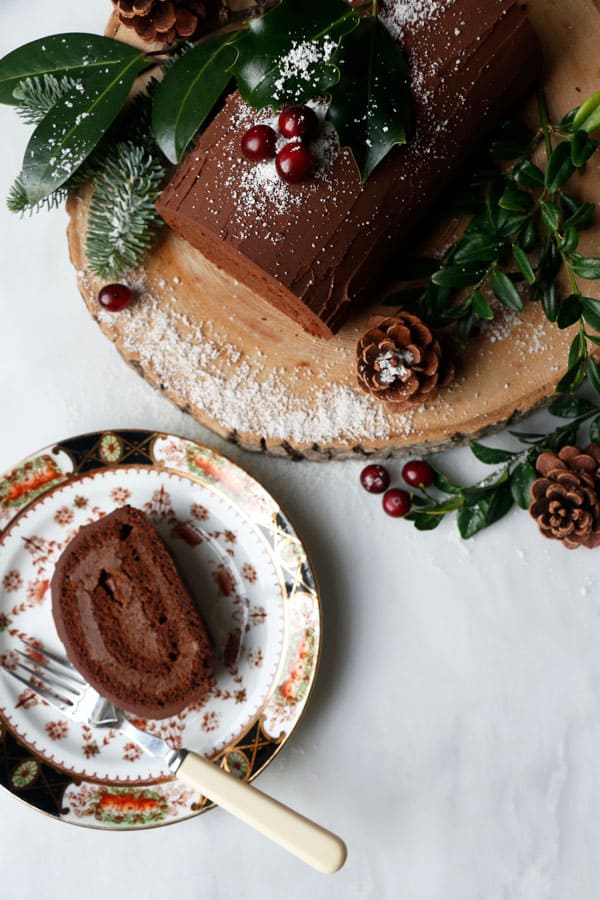 If you're looking to go all out this Christmas, this classic Bûche de Noël certainly is the one for you! Not only is this cake an absolute treat for the eyes, but according to its creator, this yule log is a real treat for chocolate lovers, whether or not they're following a gluten-free vegan diet; and the best thing is, she promises no one will ever be able to tell…
---
Another very elegant option is this Finnish Date Bundt Cake. It is super moist and filled with all kinds of christmassy flavors. Super simple yet extremely refined, it would certainly look amazing on any Christmas table.
---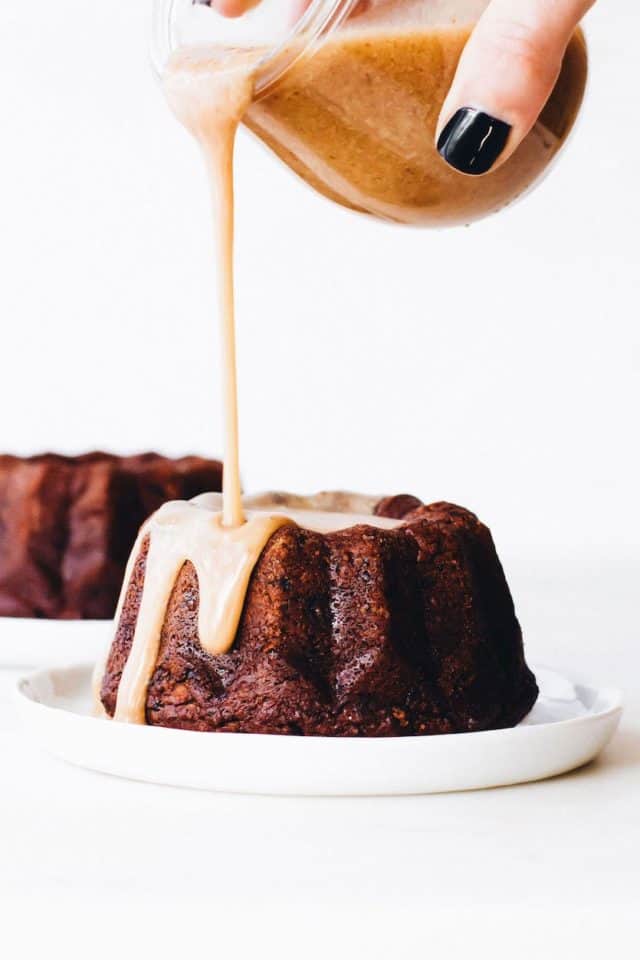 Medjool Date Sticky Toffee Pudding – a healthier spin on this sweet holiday dessert with a rich grain-free sponge cake soaked in the easiest blender toffee sauce!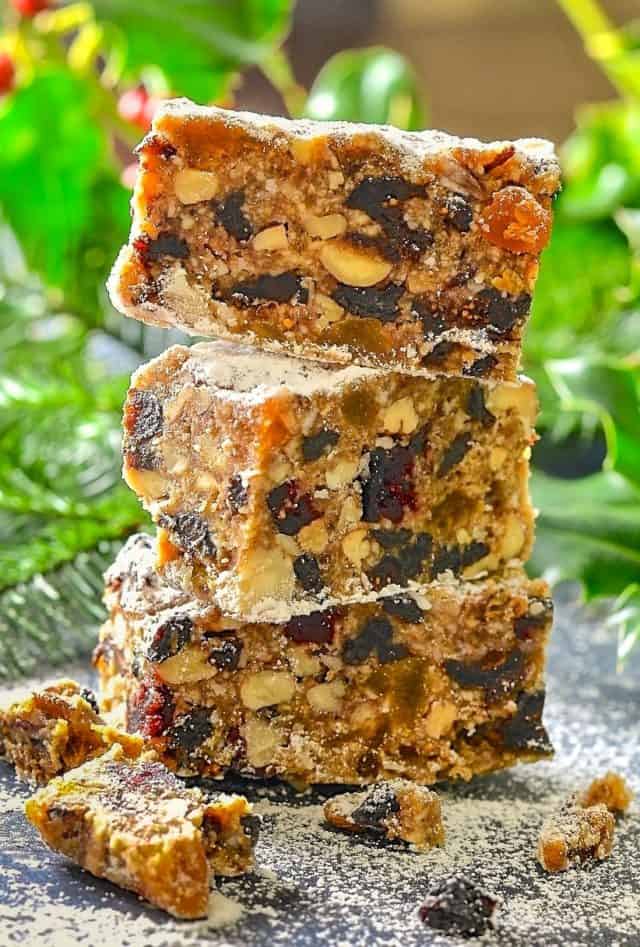 Festive fruit & nut flavors combine in this deliciously rich & moist Raw Vegan Fruit Cake. A fabulous alternative to traditional baked Christmas cake & so easy to make!
---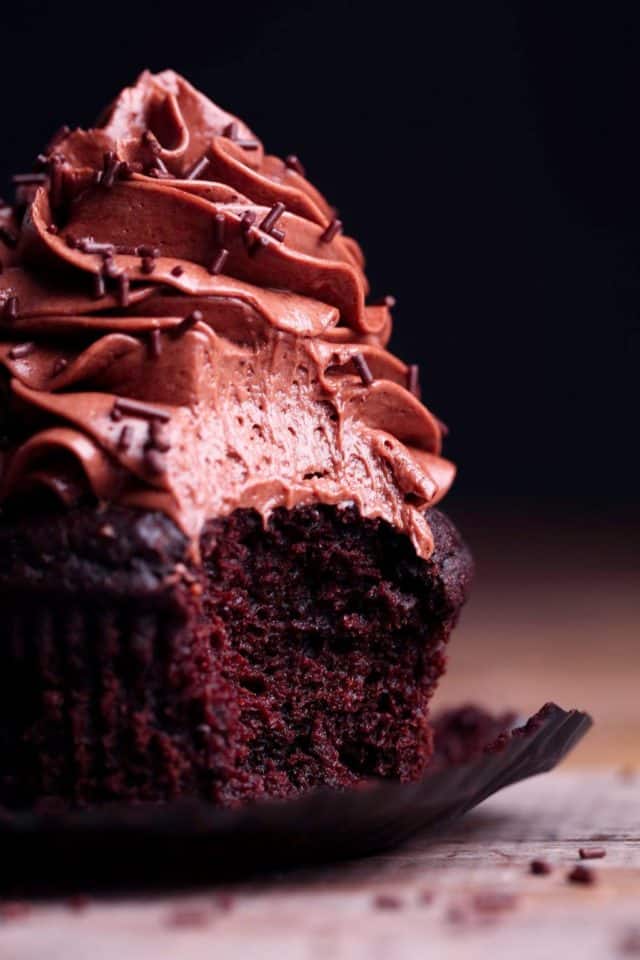 According to Joscelyn, these cupcakes are the quintessential chocolate treat. Her deliciously moist, light and fluffy, vegan chocolate cupcakes are topped with the creamiest mouthwatering vegan chocolate frosting. What a perfect combo for any chocolate lover!
---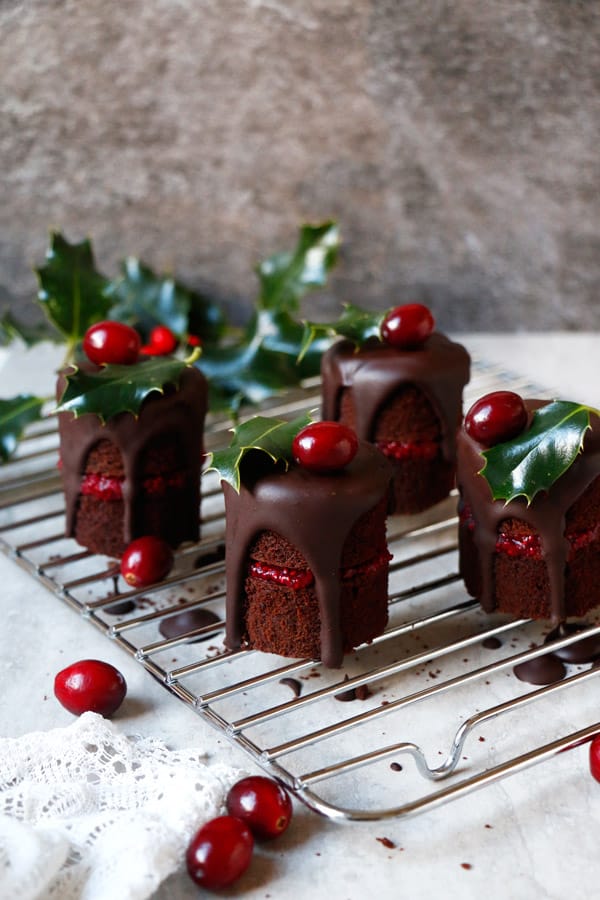 These stunning little cakes aren't all that complicated to make and would look fantastic on any festive table. You're looking at little sponge cakes filled with cranberry chia jam, topped with luscious melted chocolate and fresh cranberries. How very festive!
---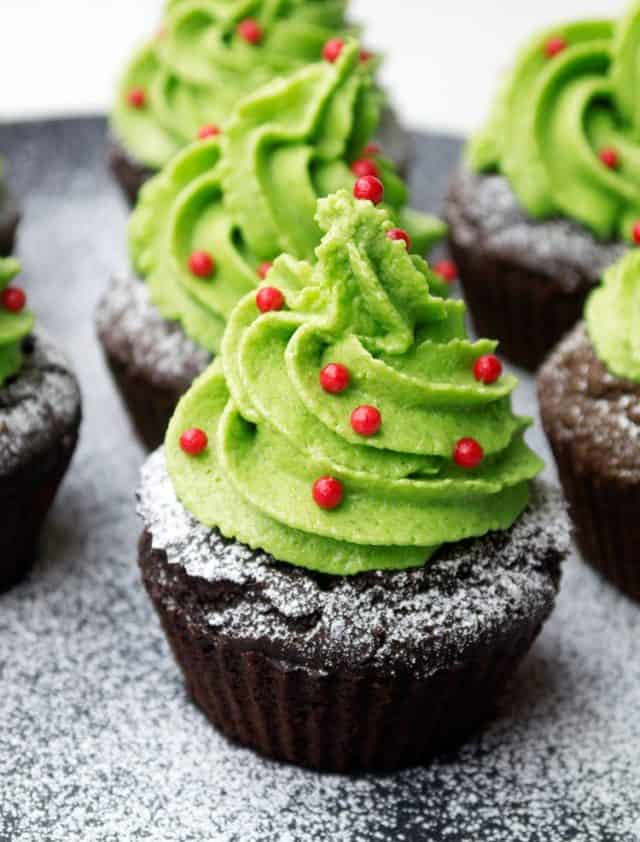 Just because the festive season is upon us doesn't mean we cant' still eat healthy! Here's a cute idea for Christmas tree cupcakes that are gluten-free, dairy-free, vegan and refined sugar-free so no one has to miss out on festive indulging. The chocolate cupcake is egg free and made using a mixture of buckwheat and ground almonds and decorated with a rich and velvety cashew matcha butter cream to die for!
---
NO-BAKE / SWEET BITES
---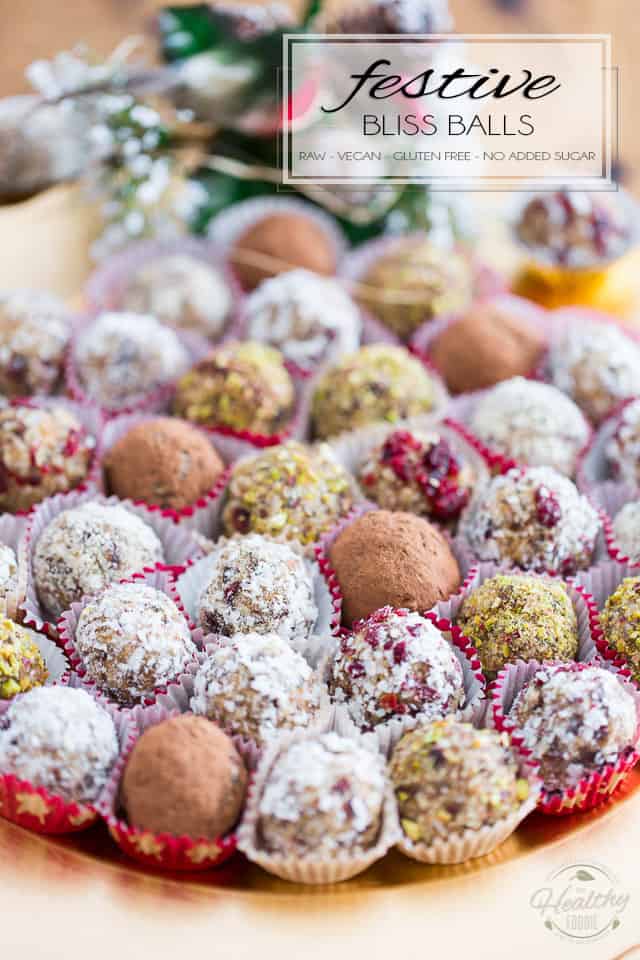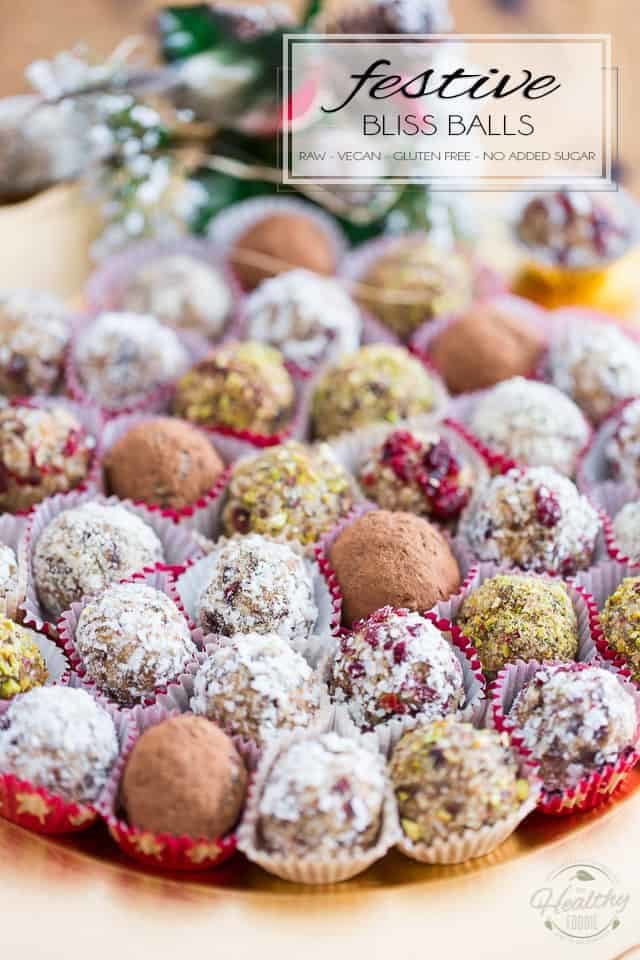 Whether you are looking for a quick little snack or cute petite sweet bites to put on the table following a good family meal – or even a Christmas feast, maybe – these adorable festive bliss balls are totally guaranteed to be a hit. It's not because they happen to be raw, vegan and paleo friendly, completely free of gluten, dairy or refined sugar and filled with nothing but superfoods and wholesome ingredients that they are not absolutely delicious and insanely addictive!
---
If chocolate is more your thing, then those Fudgy Brownie Bliss Balls are totally for you; they're like delicious little bite-sized raw brownies! Ready in minutes, they're the perfect solution to satisfy your sweet tooth and chocolate cravings in a healthy, wholesome way! They're soft and tender, moist and chewy, fudgy and dense, and oh so deliciously chocolate-y.
---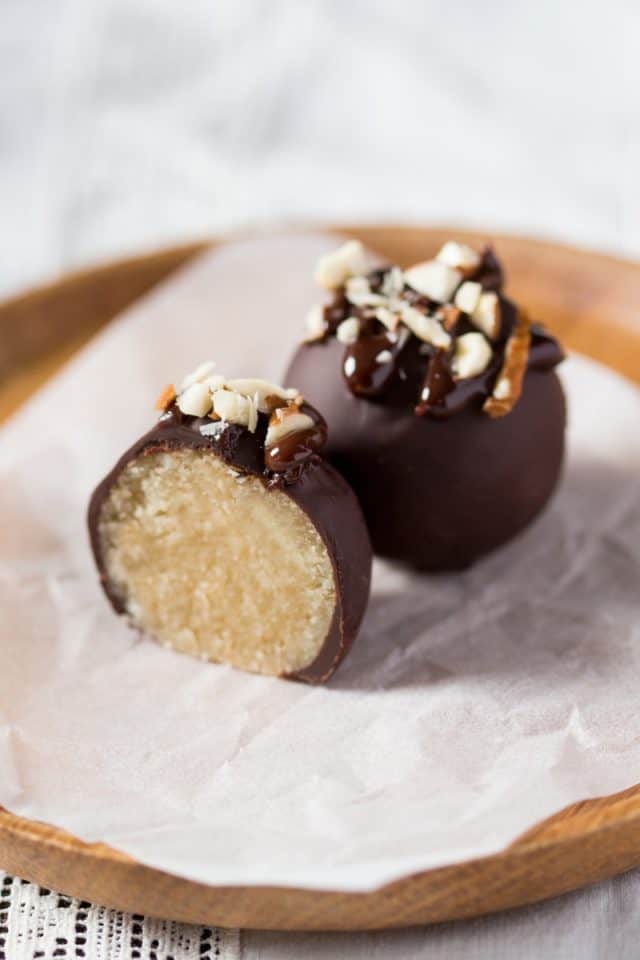 If you're a fan of marzipan but don't really care to eat loads of refined powdered sugar – which it traditionally contains – then you're in for a treat! Ania's Marzipan Truffles recipe offers a refined sugar free version that uses maple syrup instead. She even gives you the option of using unblanched almonds. Whoa! You in? I know I am!
---
Those Trail Mix Chocolate Clusters are perfect for those occasions when you crave a little something sweet — like after a good Christmas meal, perhaps? — but still want to keep things on the healthy side… Be careful, though: they are extremely more-ish, so just one cluster might not cut it!
And last but not least… a classic! This dark chocolate bark has such great crunch from the nuts and seeds, pops of sweetness from the cranberries and raisins, and that perfect balance of sweet and salty from those crunchy bits of coarse sea salt on top. And while making chocolate bark is incredibly simple, Caroline's lazy-girl method is even easier…