Welcome to my new favorite breakfast: Butternut Squash and Chicken Mash
I know, I know… I must sound pretty redundant, don't I?
It seems like every other day, I have a new favorite food.
Or recipe.
And every single time, I make it sound like it's the most delicious thing on the surface of the earth and that I want to eat noting but that particular food for the rest of my life…
Until, a few days later, I come up with a new exceptionally great dish and make that one my new ultimate favourite.
When that happens, I usually pretty much completely forget about the previous one, until maybe I stumble upon a picture of it and then start to miss it big time.
But more often than not, after the initial idyll is over, I just plain end up never making said dish ever again.
There are far too many NEW dishes to try out there for me to dwell on a few that I once found so irresistibly delicious.
Thank goodness I am not like that with men!
But I digress again!
Let's get back to this absolutely delicious mash that was just awarded the title of "favorite of the moment". This one, I get the feeling, will be moved to the pile of "regulars" after it's done its time in the favorite section.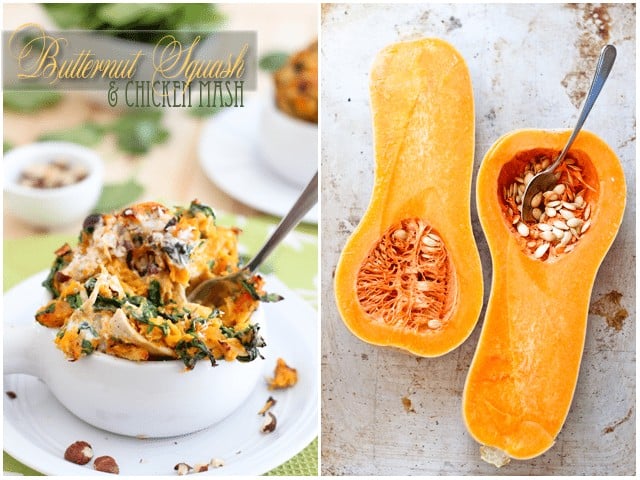 For it's just too good to let go! This, is husband material!
Not only is it absolutely delicious, it's also incredibly healthy and makes for a FAN-TAS-TIC post work-out meal, as it provides your body with a generous serving of lean protein, healthy fats as well as a decent amount of good complex carbs.
Talk about a fabulous start to your day!
And while it might look like it's pretty long and extensive to make, it's not exactly the case.
Since most of the cooking takes place in the oven, it doesn't need you to be around at all, it can very well take care of itself. (See? I told you: husband material!)
So while you're busy making your body nice and fit and supersonic beautiful inside and out, all you need to do is place the chicken and squash in the oven and set the timer to, say, 30 something minutes…
By the time you're done working out, the squash and chicken not only will be done cooking, but they will also have had time to cool down some.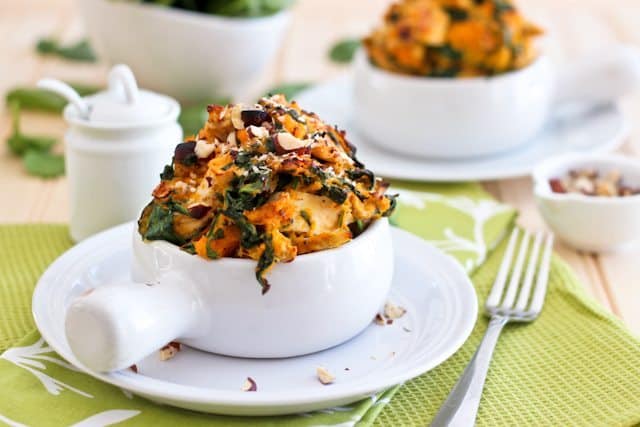 Then all that's left to do is wilt the spinach, toast the hazelnuts, mix everything together and set that under the broiler for a few minutes, if you really really want to.
If you're just too hungry, you can very well skip that part and just throw a generous dollop of coconut cream right on top, sprinkle with a few extra toasted hazelnuts and sit yourself down to replenish your precious energy.
If you sit yourself down really quietly and savor the moment, I'm almost certain that you'll be able to hear your tummy sing!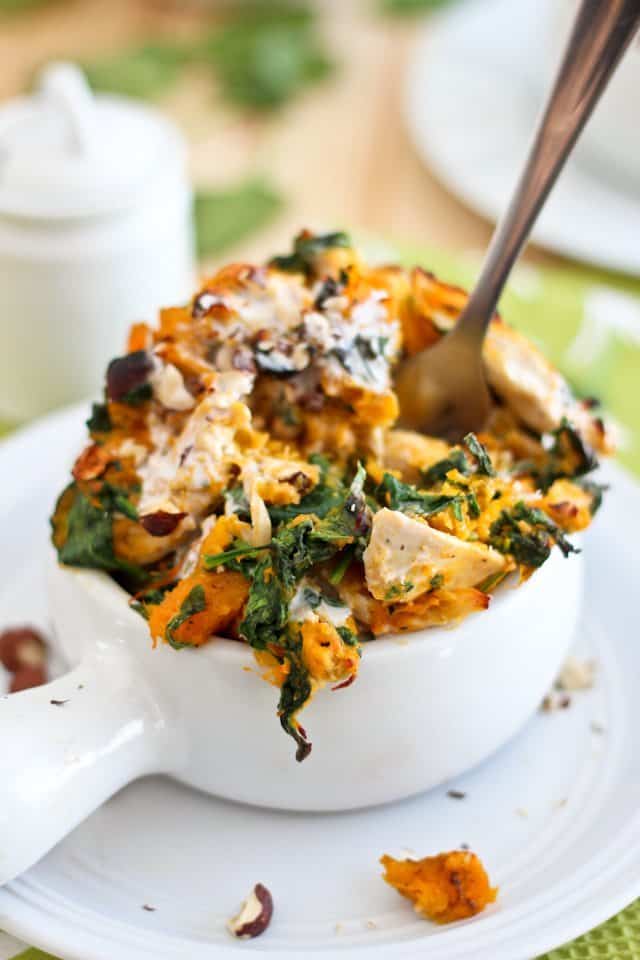 The other beautiful thing about this dish is you can use any type of winter squash, or even sweet potatoes.
And if you really are in a pinch, I figure canned pumpkin puree could also yield very similar and pretty decent results.
Oh, and one last thing… I strongly suggest that you double the recipe, for this can easily be reheated in the microwave or even a little toaster oven.
Hey, I'm all for finding ways to put REAL FOOD on the table as quickly as possible after I'm done working out.
This one most definitely fits the bill!
And I think it's here to stay…
Chicken Butternut Squash Hazelnut Mash
Servings: 2 very generously
Ingredients
1 medium, 800g butternut squash, cut in half and seeds removed
2 medium, 200g each boneless skinless chicken breasts
A sprinkle of Himalayan or fine sea salt
Few grinds freshly cracked pepper
The juice of one orange
6 cups fresh baby spinach leaves, chopped
50 g hazelnuts, crushed
¼ cup coconut milk or cream
½ tsp chai spice*
Instructions
Preheat your oven to 350F.

Sprinkle the butternut squash halves with a little bit of salt and pepper. Place them face down in a shallow baking pan large enough to accommodate both halves as well as the chicken breasts.

Place the chicken breasts in the same pan with the squash and sprinkle them too with some salt and pepper. (if you still have room available, why not take this opportunity to cook a few more breasts? That way you'll end up with some beautiful leftover cooked chicken in the fridge, and that's always SO convenient to have!)

Squeeze the juice of the orange over the chicken breasts, leave the empty orange shells in the pan and cover with foil.

Place that in the oven and cook for 30-35 minutes, until the squash is nice and soft and the chicken is cooked through; remove foil and leave out to cool for a few minutes.

While that's happening, add the spinach to a large non-stick skillet, and cook until just wilted, about 2-3 minutes. Alternatively, you could also wilt the spinach by popping it in the microwave for 1 or 2 minutes.

While the spinach is wilting, toast the crushed hazelnuts in a small, dry pan over medium heat.

By then, the chicken and squash should be cool enough to handle; shred the chicken into bite size pieces and put them in a large mixing bowl. Using a spoon, scoop out the flesh from the squash and add that to the reserved chicken. Add spinach, hazelnuts, coconut cream and chai spice and mix delicately until well combined.

Divide this mixture between 2 oven safe dishes and place under the broiler until the top takes a nice golden coloration.

Garnish with more crushed hazelnuts and coconut cream, if desired.
If you've tried this recipe, please take a minute to rate the recipe and let me know how things went for you in the comments below. It's always such a pleasure to hear from you!
You can also FOLLOW ME on PINTEREST, FACEBOOK, INSTAGRAM and TWITTER for more delicious, healthy recipes!
COOL BEANS YOU GUYS!
Check out the TOTALLY AMAZING video that the lovely people at Gastro Lab did to help you put this recipe together! It's so beautiful, I just want to look at it all day… and then eat some of that delicious Breakfast Mash!