Broccoli Apple and Almond Salad
Well here I finally am with the Broccoli Apple and Almond Salad that I'd promised to share last week, before I too caught the Thanksgiving fever.
I know, I know, most of you really don't have broccoli on their minds right now. You're probably all still swimming in visions and dreams of Sweet Potato Casserole, Roasted Turkey and Spicy Pumpkin Pie.
But hey, doesn't mean that you can't take a break from it all and enjoy a nice bowlful of refreshing broccoli salad, for a change, does it? Especially if said broccoli salad also happens to have bacon it it, right?
RIGHT!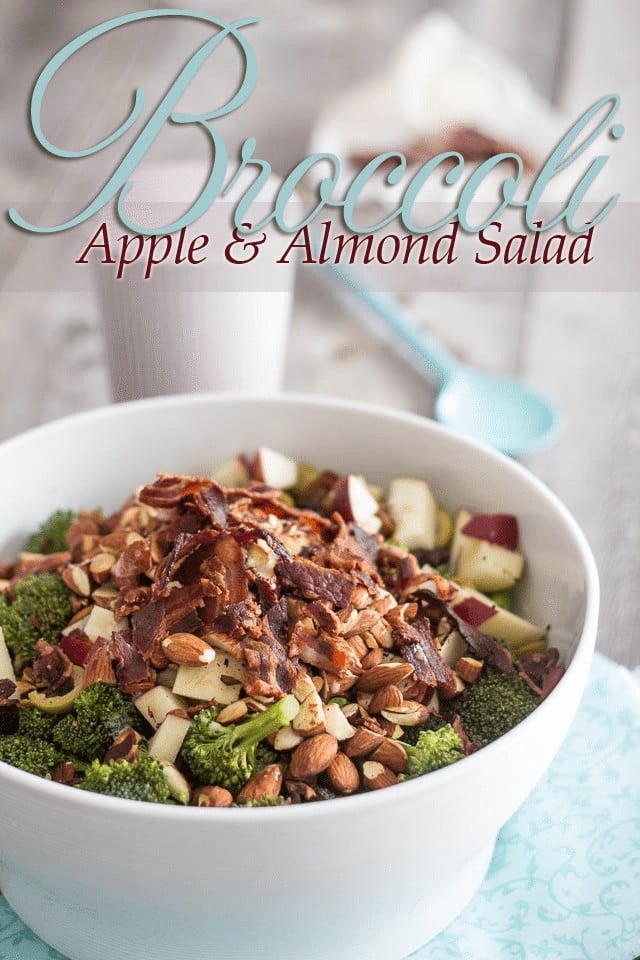 You all know just how much I like to whip up huge batches of salad on the weekend so I can take them to work with me all week, don' t you? I like to call them my "extended durability" salads. Just be thankful that I don't share them all with you because you'd basically be getting a new one every week.
When making such salads, you have to be thoughtful in selecting your ingredients, as not all ingredients do very well with soaking and comingling for an extended period of time.
Broccoli, however, would be the perfect candidate for that job, wouldn't you agree?
Not only can it withstand the extended soaking very well, that actually makes it better.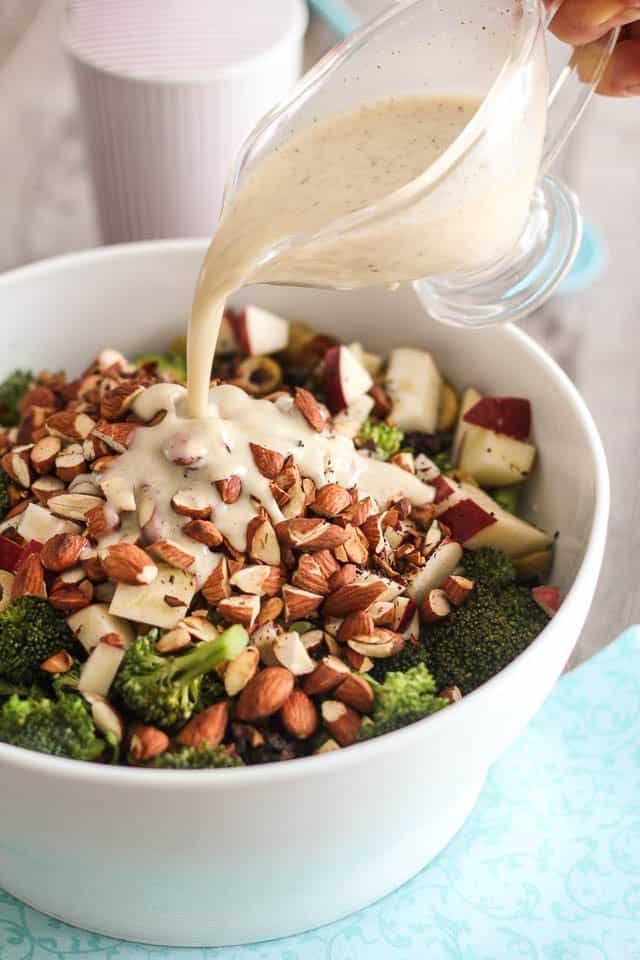 This may come as a surprise to some, but for some reason, I've never been really big on raw broccoli, unless it comes with a very tasty dip that I can completely smother it in.
In fact, broccoli would be my "am-I-really-hungry-test-food" by excellence. If I'm feeling hungry between meals, I'll ask myself if I'm hungry enough to eat raw broccoli. If the answer is yes, then it means I'm really hungry. (And yes, I'll usually satisfy that hunger by feeding on raw broccoli, sans dip!)
Truth is, I find it to be fairly dry, stiff and tasteless. And kind of crumbly, too.
But after a quick spin in the microwave or a flash steam bath, it magically turns into a super flavorful, supple yet slightly crunchy, beautiful and vibrant green vegetable.
Now, allow it to cool and soak in a tasty, zesty vinaigrette for an extended period of time? It simply becomes an entirely new food. Delicious and slightly addictive. The kind you don't really need to be hungry to want to eat.
The kind you start craving and dreaming about…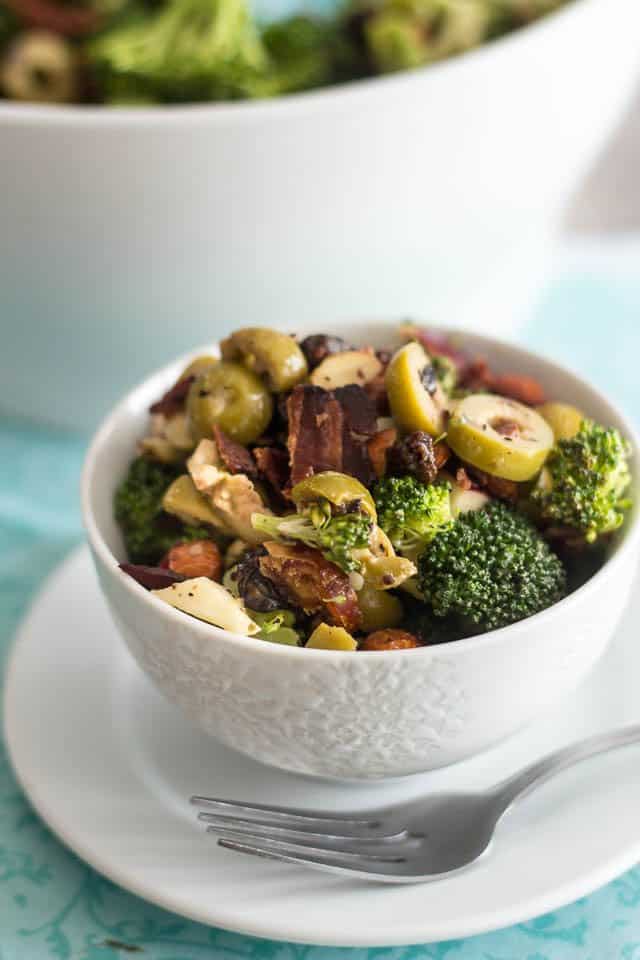 And if you push the envelope even further and add a few carefully selected ingredients to  the equation, what you get is a totally magical medley, a salad that you will want to eat until the end of time, a salad that will make you fall in love with broccoli all over again.
One that will even make you want to take a break from Glazed Carrots and Roasted Brussel Sprouts.
I swear. Give this a try, you won't regret it. Then you can go right back to your beloved Turkey.
Or hey, here's an idea: why not have it WITH your turkey? It would TOTALLY work.
Oh yeah.
Totally! 
Broccoli Apple and Almond Salad
Servings: 6
Instructions
The previous night, or at least several hours ahead of time, steam the broccoli over salted boiling water or cook it in the microwave in about a quarter of a cup of slightly salted water for 2-3 minutes, until it turns bright green and is slightly softened. Plunge the cooked broccoli in icy cold water to stop the cooking process and set it in a colander covered with a paper towel to drain and dry.

When the broccoli is completely cooled and dry, toast the almonds in a dry skillet set over medium heat, until golden and fragrant. Set aside to cool slightly.

In a separate pan, cook the bacon strips until nice and crispy. Remove to a plate lined with a paper towel to absorb excess fat. Reserve.

In a small food processor, add all the ingredients for the vinaigrette and process until smooth and creamy. Set aside.

In a large mixing bowl, add broccoli, apple, green olives, raisins, chopped dates and vinaigrette and mix until thoroughly combined. Break the bacon into pieces and mix it right in.

Serve immediately or leave in the fridge for a few hours to allow flavors to develop. This salad will keep in the fridge for 5 to 6 days in an airtight container.
If you've tried this recipe, please take a minute to rate the recipe and let me know how things went for you in the comments below. It's always such a pleasure to hear from you!
You can also FOLLOW ME on PINTEREST, FACEBOOK, INSTAGRAM and TWITTER for more delicious, healthy recipes!