Honey Mustard & Rosemary Glazed Carrots
Say, can one ever eat too many carrots, you think?
It's crazy the amount of carrots I've been eating lately… And I do mean crazy.
There was this one day last week-end when I probably ate close to 2 pounds.
TWO POUNDS PEOPLE!
To my defense, I'd been making carrot cake that day and shredded way too many carrots, so I ended up making some version of the The Best Carrot Salad Ever with the extra.
But I didn't turn orange or anything, so I guess I must be fine…
Now, with that in mind, I guess it will come as no surprise to you that Missuz Carrot would be the one and only star of today's recipe.
Well… that's IF we can call that a recipe. To be fair, this is pretty much an almost-non-recipe-recipe!
But food doesn't have to be complicated to be delicious, you know.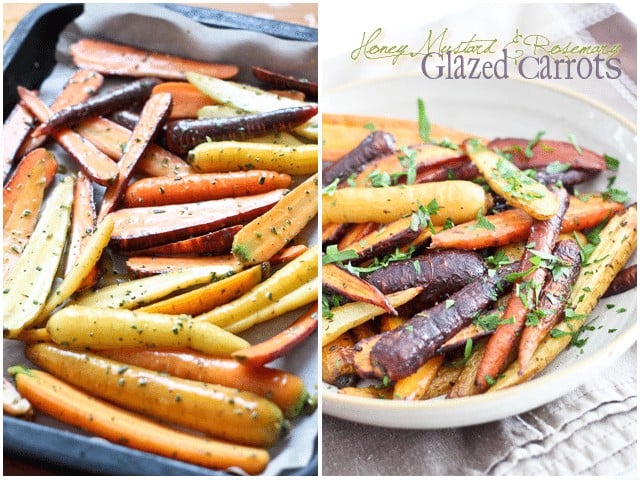 Seriously, this is sooooo easy, I think a 3 year old could do it.
And can you say pretty?
Oh my, so pretty!
I think I could eat the whole bowlful to myself. Hey, that's only about 2 pounds worth anyway! 😉
But seriously, this, along with the Smokey Bacon Brussel Sprouts that I made not too long ago, is bound to become one of my favorite side dishes… One that will find its way to my table on a very regular basis, especially when carrots are in season and I can get my hands on beautiful local carrots that have been dug right out of the dirt mere hours before making it to my plate.
Oh, I can't wait!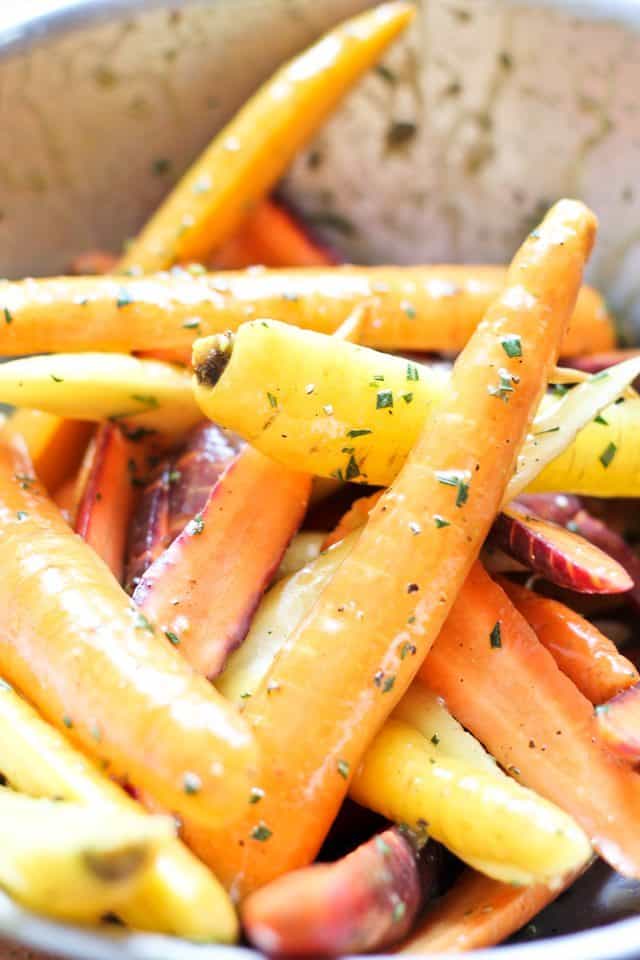 Want to make some too?
Super facile!
All you need to do is toss your carrots with some oil, mustard, honey, herbs and seasoning…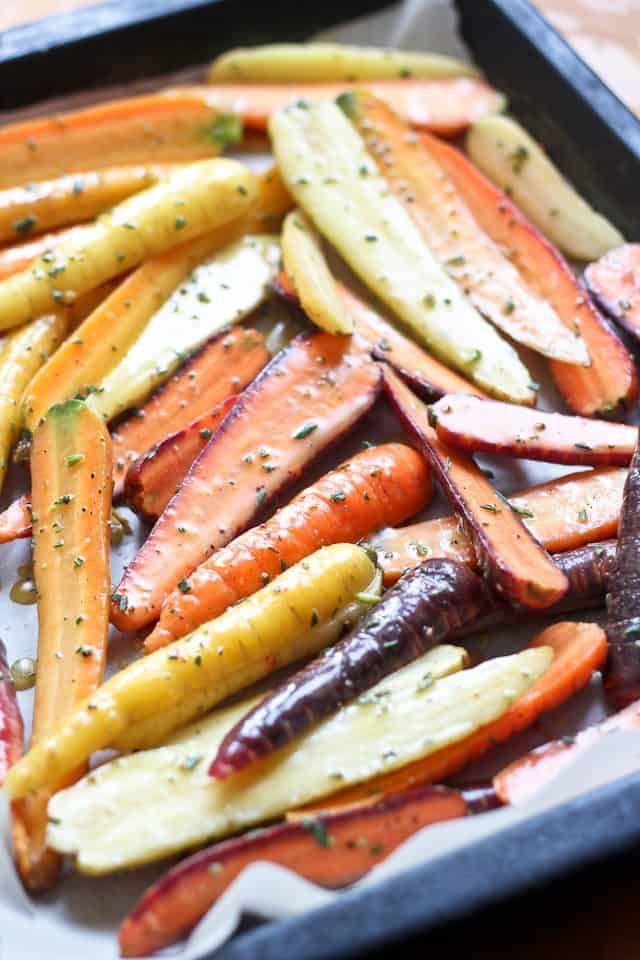 Lay them flat on a lined baking sheet…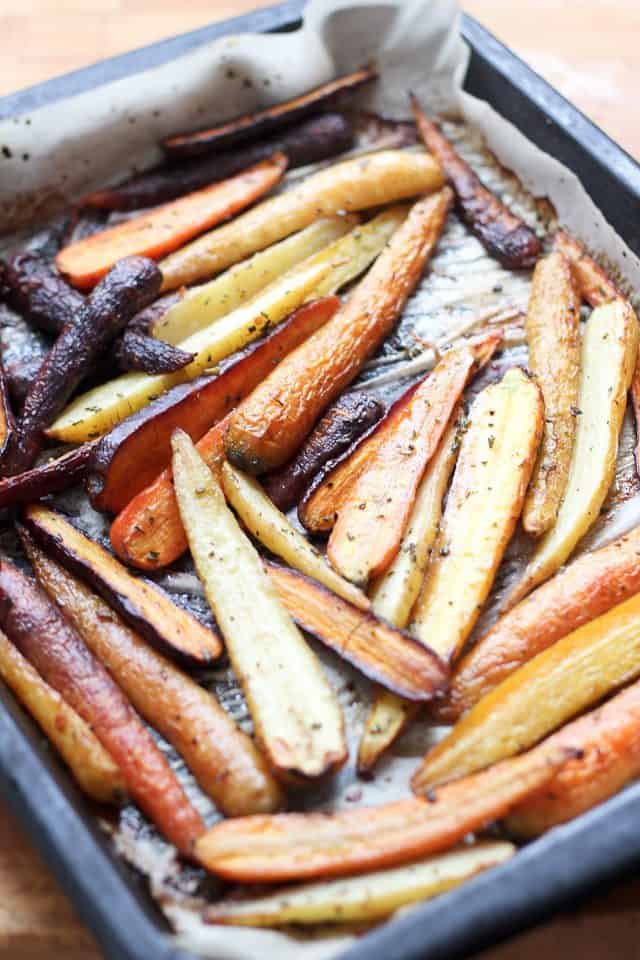 Bake in a 425 degree oven until they get all happy and beautiful and caramelized…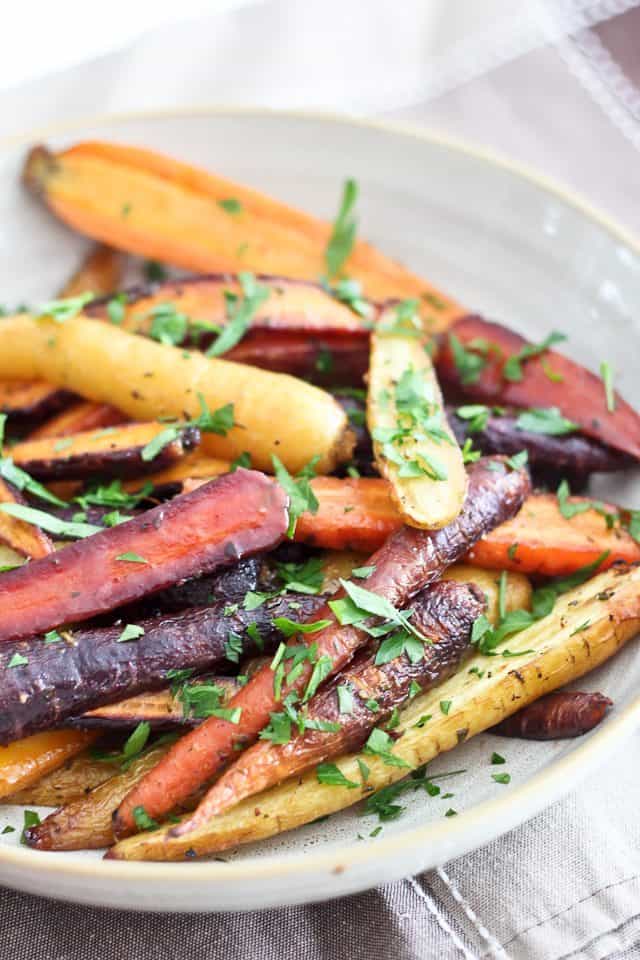 Transfer to a serving dish, garnish with parsley and voilà.
Now all you need is a juicy piece of grilled meat to go with that.
Honey Mustard Glazed Carrots
Servings: 6
Ingredients
About 1kg medium sized carrots, I used multicolor
2 tbsp extra virgin olive oil
2 tbsp unpasteurized honey
1 tbsp Dijon mustard
1 tbsp fresh rosemary, finely chopped
2 cloves garlic, minced
½ tsp Himalayan or fine salt
½ tsp freshly cracked black pepper
A handful of chopped fresh parsley to garnish
Instructions
Preheat oven to 425F

Brush the carrots under running water. Cut them in half lenghtwise and place them in a large mixing bowl.

In a seperate bowl, mix olive oil, garlic, rosemary, mustard, honey, salt and pepper. Mix until very well combined and pour over reserved carrots. Mix to coat evenly and spread in a single layer in a shallow baking sheet lined with parchment paper.

Place in the oven and bake for 20-25 minutes, turning once or twice, until the carrots are tender and have taken a nice golden coloration.

Sprinkle with fresh parsley and serve immediately.
If you've tried this recipe, please take a minute to rate the recipe and let me know how things went for you in the comments below. It's always such a pleasure to hear from you!
You can also FOLLOW ME on PINTEREST, FACEBOOK, INSTAGRAM and TWITTER for more delicious, healthy recipes!