Rainbow Trout Casserole
A few weeks ago, one of my co-workers walked to me holding a picture in his hands. It was a picture of him standing, smiling and proudly brandishing a magnificent Rainbow Trout that he'd just caught.
The guy's an avid fly fisherman, you see…
So I look at it and I'm like "WOW, AMAZING CATCH! What a beautiful looking fish. I must say I'm pretty envious!"
He goes to me: "How would you like to have it for yourself? It's still sitting in my freezer, neatly wrapped and all, but I'm not planning on eating it anytime soon, so I'd rather give it away than to see it go bad, and I thought you, of all people, would really appreciate it…"
FOR REAL? HE WAS GOING TO GIVE ME THAT FISH??? I couldn't have been more pleased. Seriously. I almost hugged and kissed him on the spot.
Care to see what that puppy looked like? Check her out right here; she is a thing of beauty, isn't she?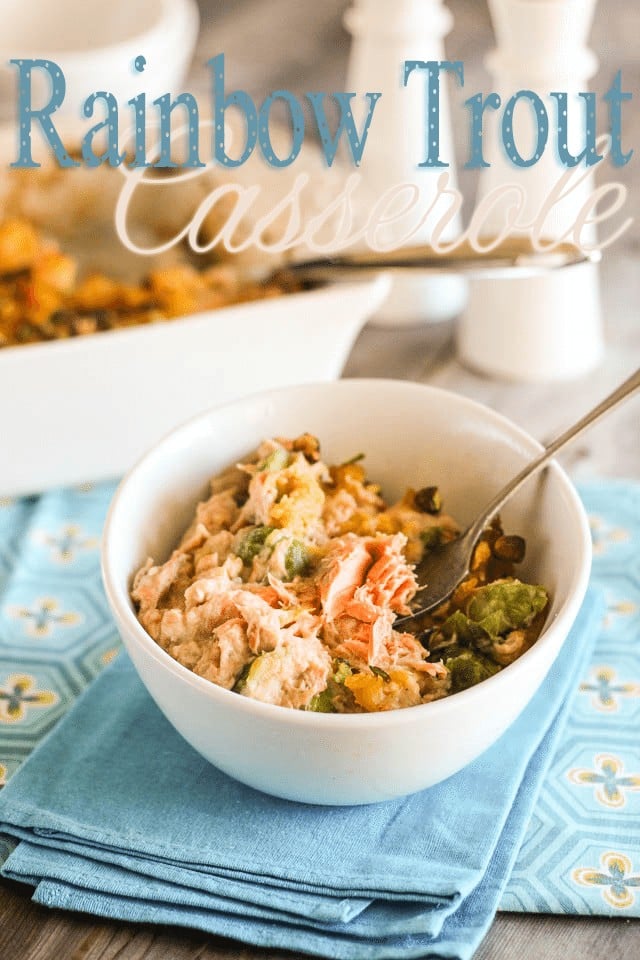 To me, the only way to cook such a beautiful fish is to simply bake it in the oven with nothing but a sprinkle of salt and pepper, as well as a few slices of lemon and a few sprigs of fresh herbs stuffed in its cavity.
So simple, yet sooooooo delicious.
But seeing as how I was alone to eat that entire fish, I obviously generated TONS of leftovers.
To be honest, though, the leftovers were what I'd really been after. I was planning on turning them into this amazing casserole. Mind you, for a wee while, I considered making a paleo version of my Rustic Salmon Pie, but I didn't really feel the crust, so I decided to stick with the casserole.
For some reason, I seem to be somewhat intimidated with the idea of making grain free pie crust. However, if you happen to have a great recipe that you truly like, I'm sure that this casserole would make an amazing pie filling.
Oh, and if you don't have any trout available, feel free to use salmon instead.
It'll be just as good.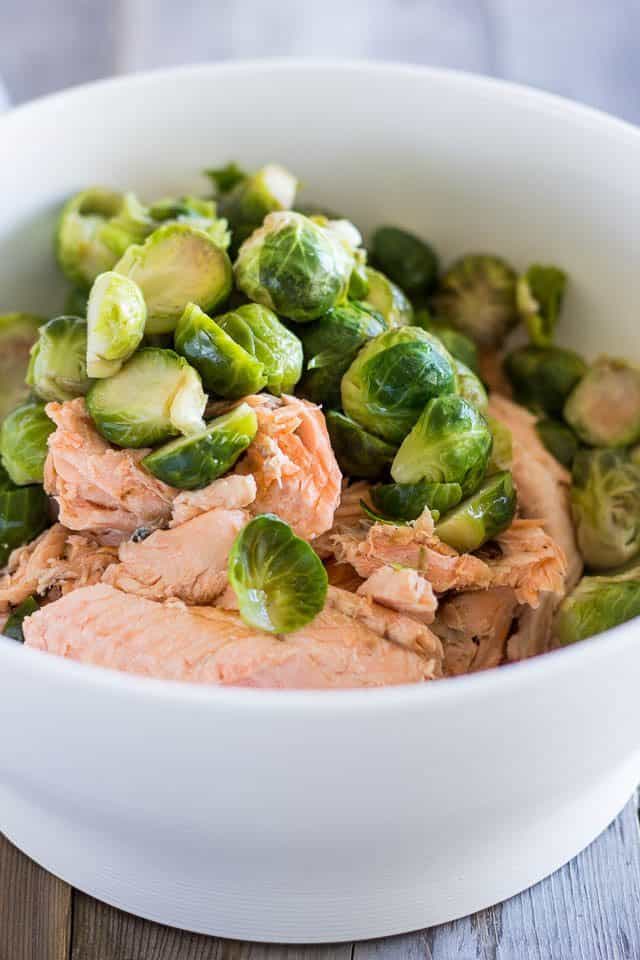 Just look at the color of that fish. I honestly could've stood there and stare at it all day. Especially after I added the Brussel sprouts to the bowl.
The two of them mixed together like that made my mouth water like no tomorrow.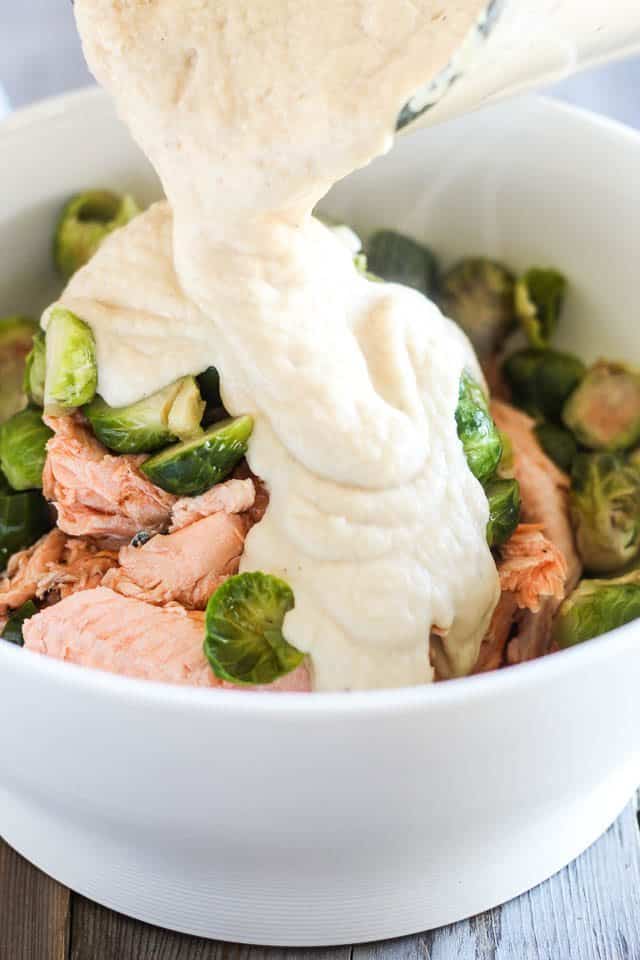 Unfortunately, I eventually had to stop staring and pour in the "bechame"l sauce…
Come to think of it, it wasn't so unfortunate after all. That's not unpleasant to look at in the least, if you ask me.
Let me stare for just a moment more!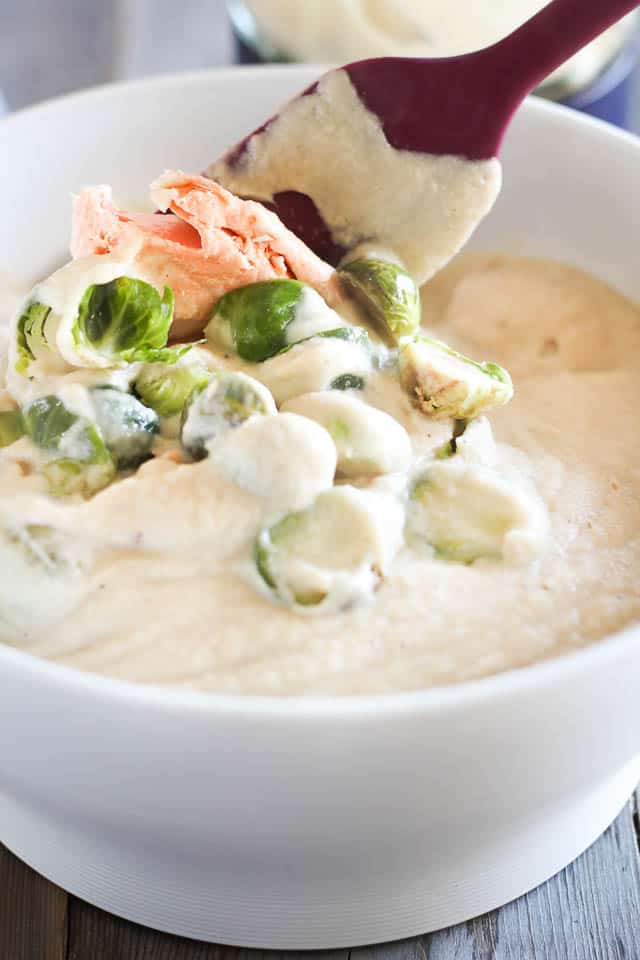 Time to burry, cover, smother everything in that creamy dreamy caulichamel sauce.
Oh, that fish… look at it sticking out, as if it wanted to be seen in all its glory for one last time before going in…
Thing of beauty, isn't it?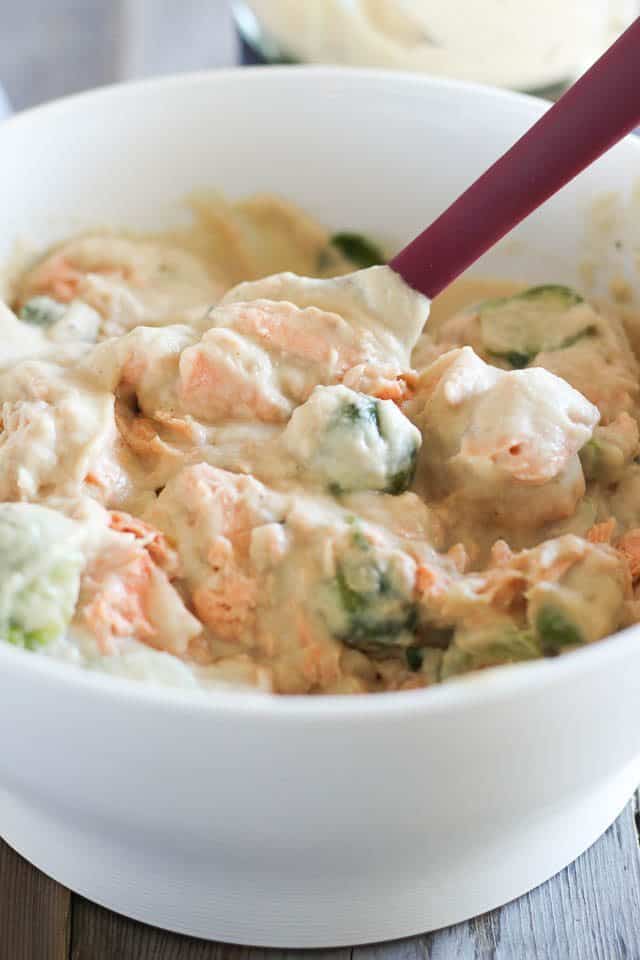 Mix all the ingredients very delicately until everything is evenly combined. Be very delicate, as you don't want to reduce that beautiful fish to mush. You want to have great big chunks in there.
Once everything is good and evenly mixed, transfer the mixture to an oven safe dish.
Or to a pie crust, if you have one…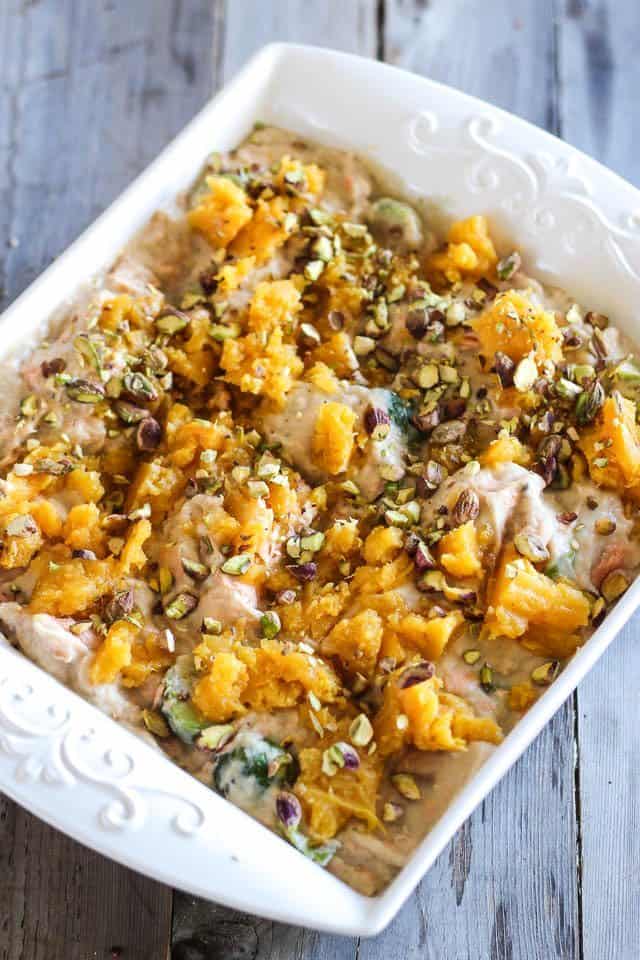 Spread dollops of cooked butternut squash over the casserole and sprinkle chopped pistachio all over.
Drizzle Extra-Virgin Olive Oil or melted ghee over the whole thing, cover with foil and in the oven it goes.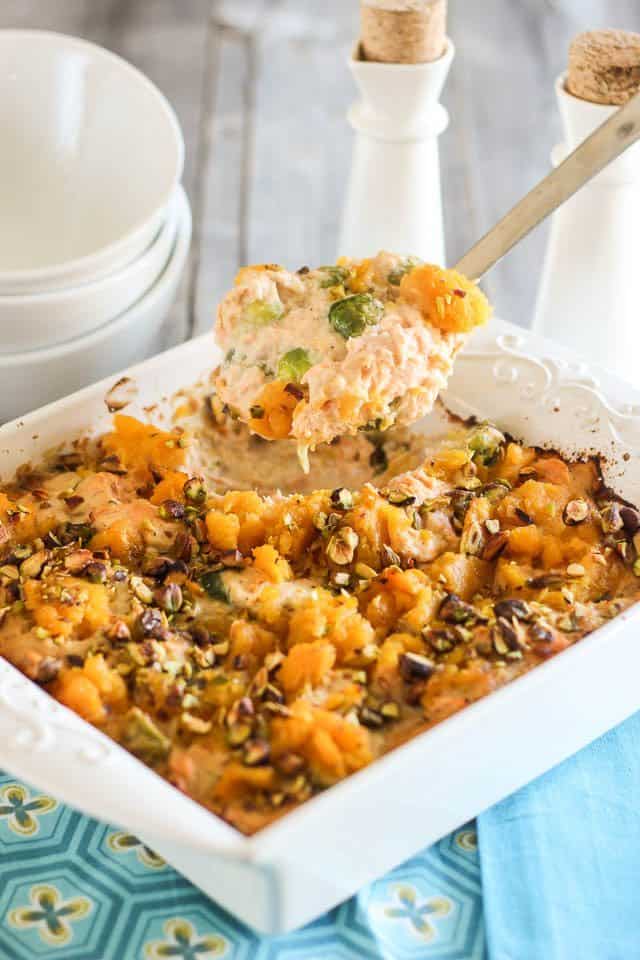 Now wait patiently for about 30 minutes, and this is what you get.
Tell me, who needs crust, really?
I don't think I do.
This casserole was plenty delicious eaten straight out of a bowl!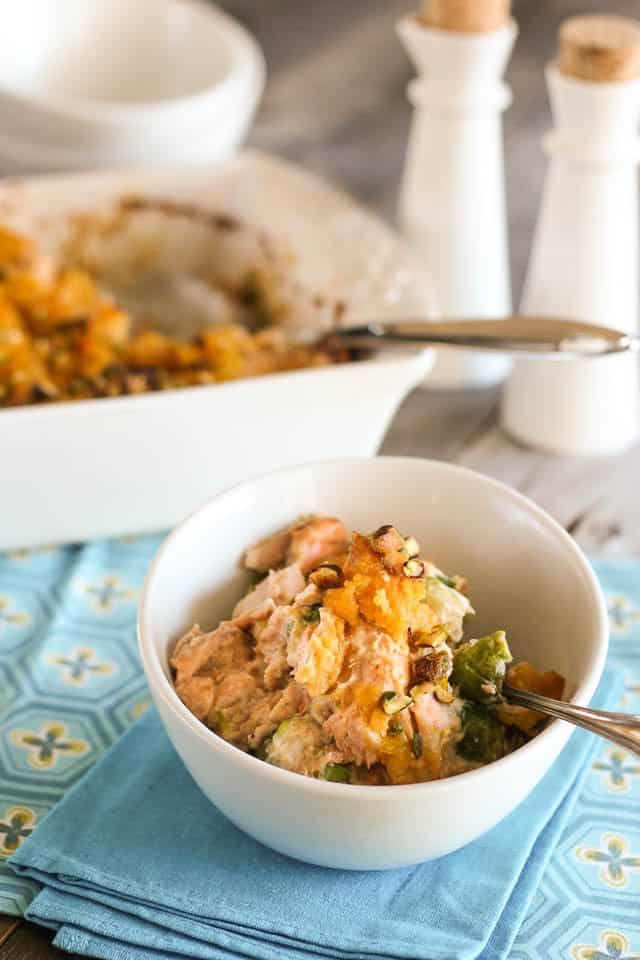 Still, part of me really wants to give that crust thing a try.
Time to leave the "intimidation" behind and start experimenting. Especially now that Christmas is just around the corner. Hey, can't do Christmas without meat pie, can you? And you certainly can't do meat pie without pie dough.
Good thing I still have plenty of lard left…
Time to put it to good use! 
Rainbow Trout Casserole
Servings: 4
Ingredients
1 small onion, chopped
2 cloves garlic, minced
½ tsp Himalayan or fine sea salt
½ tsp freshly cracked black pepper
1 large head cauliflower, roughly chopped
2 cups light chicken stock
¼ cup ghee
1 tbsp Dijon mustard
650 g leftover cooked trout, or salmon
350 g Brussel sprouts
300 g cooked butternut squash
¼ cup chopped pistachio
1-2 tbsp extra virgin olive oil or ghee
Instructions
Preheat oven to 375F

Add onion, garlic, salt and pepper to a medium saucepan. Cook over medium heat for one or two minutes, until fragrant and slightly softened.

Throw the cauliflower florets in and continue cooking for a minute or two.

Add chicken stock, cover and bring to the boil; lower heat and continue cooking until the cauliflower is tender, about 5-7 minutes.

Ladle the cauliflower mixture into your blender; add ghee, Dijon mustard and process on high speed until super smooth and silky in consistency. Set aside.

Cut the Brussel sprouts in halves or quarters, depending on size, and steam them for a few minutes over boiling salted water.

Add the cooked fish and Brussel sprouts to a large mixing bowl, followed by "Bechamel" sauce. Mix very delicately until well combined and transfer to an oven safe dish.

Drop dollops of cooked butternut squash all over top, sprinkle with chopped pistachios and drizzle a little bit of extra virgin olive oil or melted ghee.

Cover with foil and place in the oven for 30 minutes; after that time, remove the foil and set the oven to broil for a 2-3 minutes or until the top gets a slight golden coloration.

You could also make this ahead of time and place it in the fridge after you have covered it with foil (although you might want to let it cool a bit beforehand). In this case, you'll want to increase oven time to about 45 minutes.

This also reheats extremely well in the microwave and will easily keep for 2-3 days in the refrigerator.
If you've tried this recipe, please take a minute to rate the recipe and let me know how things went for you in the comments below. It's always such a pleasure to hear from you!
You can also FOLLOW ME on PINTEREST, FACEBOOK, INSTAGRAM and TWITTER for more delicious, healthy recipes!