N'Oatmeal Cookies – The Paleo Response to Oatmeal Cookies!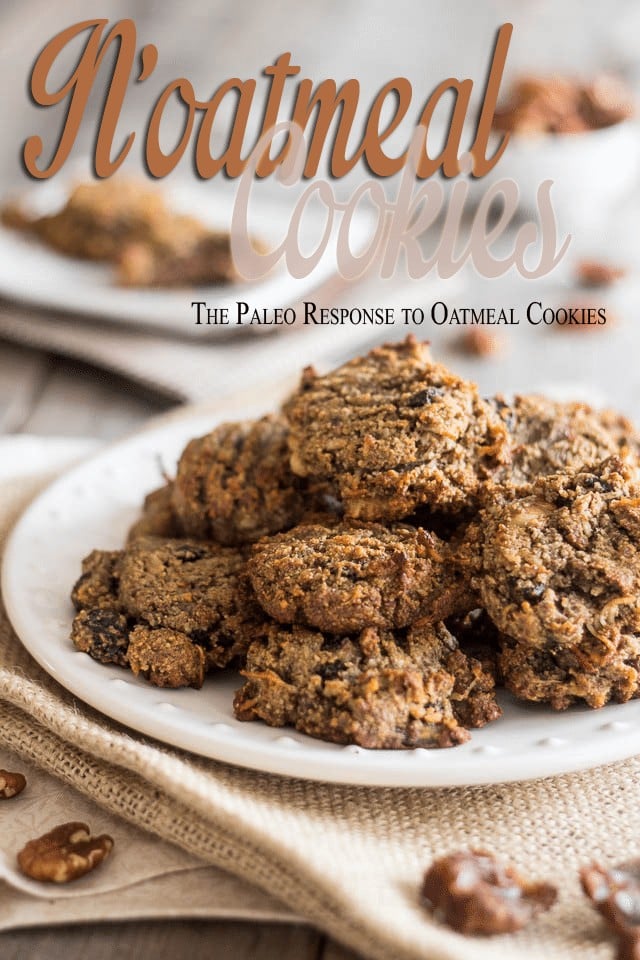 Let me start by saying this serving you this very serious warning: these cookies are absolutely DIVINE and EXTREMELY moreish! You might want to refrain from sitting yourself down within an arm's reach of the cookie jar.
In fact, you should probably take one or two, put the rest SAFELY away and get as far from them as you possibly can. Go to the other room. Or to the neighbor's house. No wait, they'll probably want their share… Get in your car and drive. That would be a very good option!
Once and only once a safe distance has been put between you an the remaining cookies should you even consider getting a taste of the precious treasure that you are holding within your fingers.
Yes, they are that good. Consider yourselves warned!
While they MIGHT look everything like what you'd imagine a flavorless, dry, and interest-less allegedly healthy cookie should look like, they taste absolutely NOTHING like it.
I think it's the flaxseed meal that's responsible for that little bit of a "hippy" look. And to be honest, I debated for a very long time as to whether I was going to include it or not in the recipe. I was afraid that it would make the cookies taste like "hay". But seeing as how the original called for it, I decided to go ahead and add it after all.
What a good call, it was!
Not only did the flaxseed meal not impart any kind of "hay" aftertaste, it greatly contributed to adding much chewiness and texture to these babies.
Leaving it out would have been a big mistake!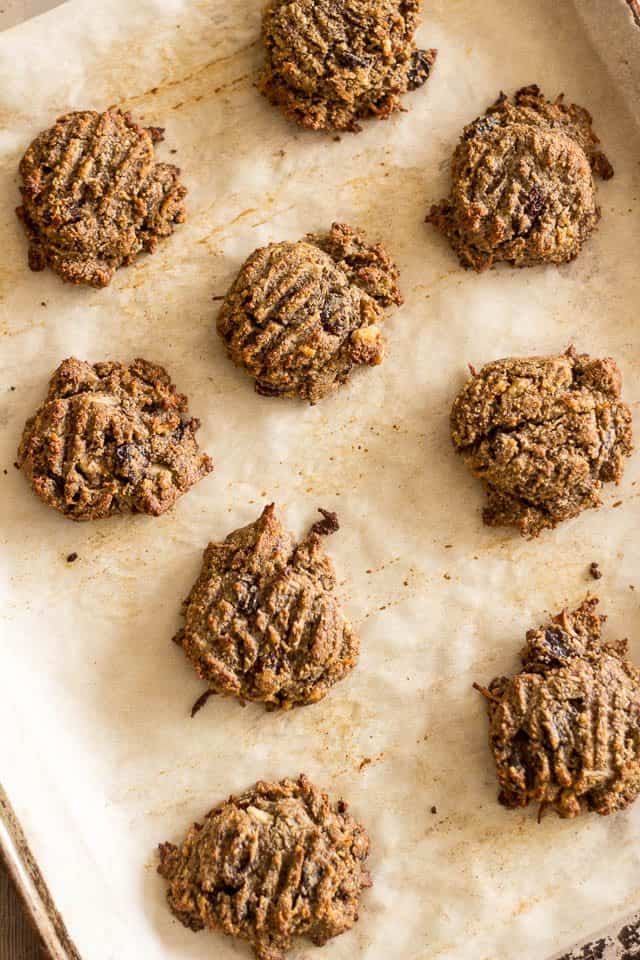 Come to think of it, I do have one more warning for you.
While the title of this post refers to these as "N'oatmeal Cookies, The Paleo Response to Oatmeal Cookies", I have to be honest and say that they taste absolutely nothing like what you have come to expect from biting into a typical sugar laden oatmeal cookie.
They're actually better. A thousand times better.
I would say they're a little bit like a cross between a fresh, tender, chewy and slightly crunchy home made oatmeal cookie and a… Bear Paw. That's right! A Bear Paw.
Or at least what my brains remember Bear Paws to taste like, for it has been years since I last had one.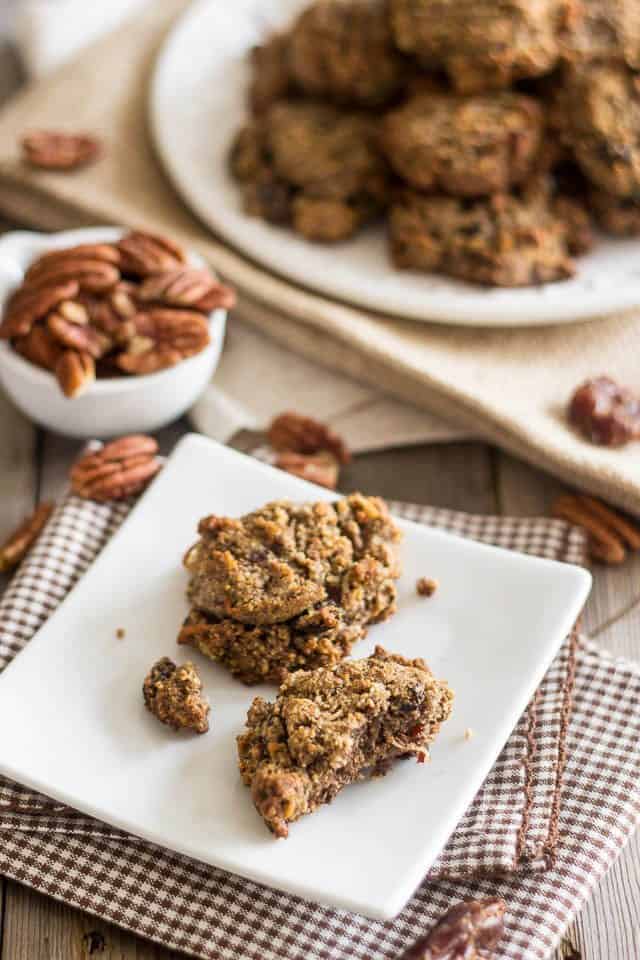 But honestly, every single person who tasted them (yes, I had several lucky samplers this time!) said that they were simply crazy delicious, highly addictive and that I should seriously consider mass-marketing them!
Personally, I thought they were one of the best cookies I'd ever eaten. It was so hard to eat only just one… at a time!
Traditional oatmeal cookies have absolutely NOTHING on this paleo version. These are super tender and chewy and sweet and delectably spicy and have this crazy intense, rich buttery flavor to them.
Do yourselves a favor and go make a batch now!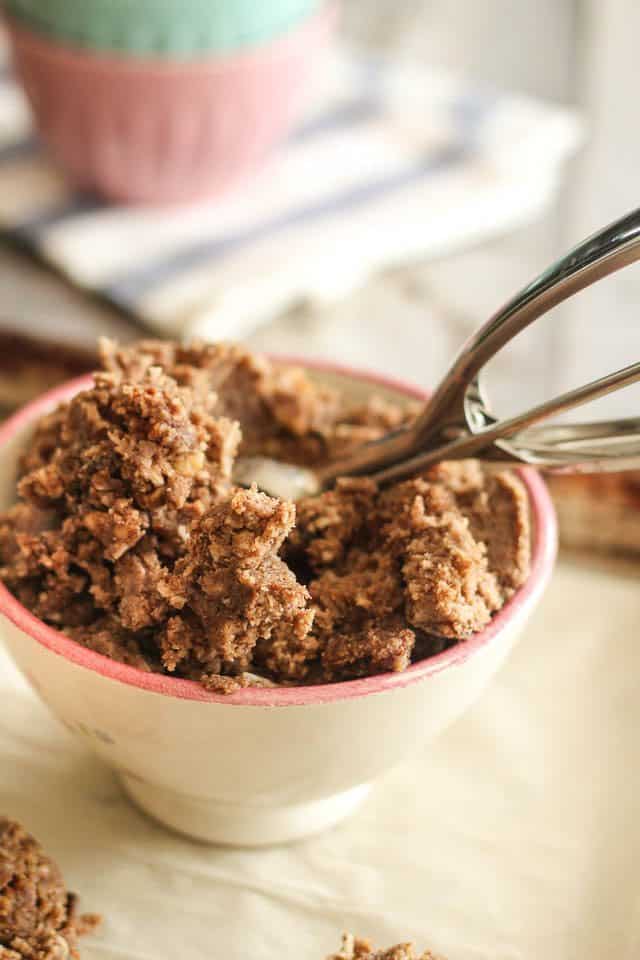 Sorry… I did it again! I've got an AVALANCHE of pictures for you. What can I say? Food turns me on!
It's not that I'm in love with the photographs that I take, it's that I'm in love with the food that I photograph!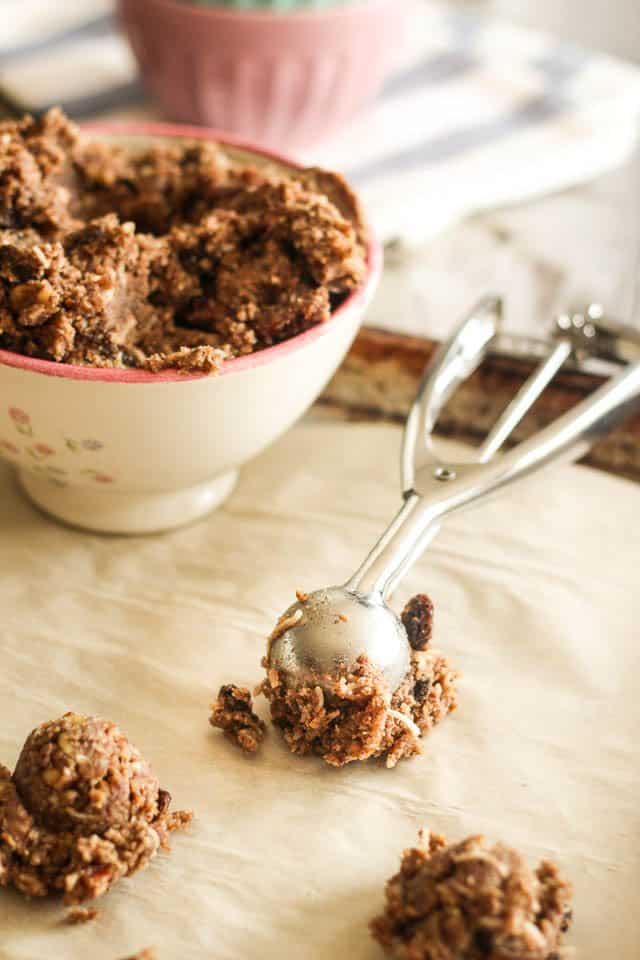 Can't say the subject isn't lovely! Oh goodness, what a beauty!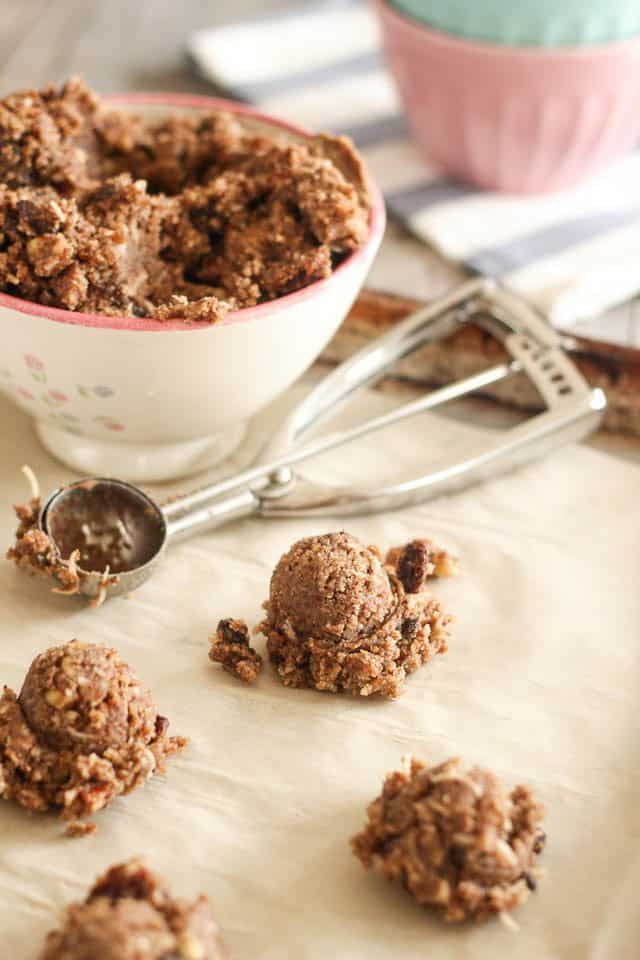 Even at that early stage of the process, those cookies are very hard to resist…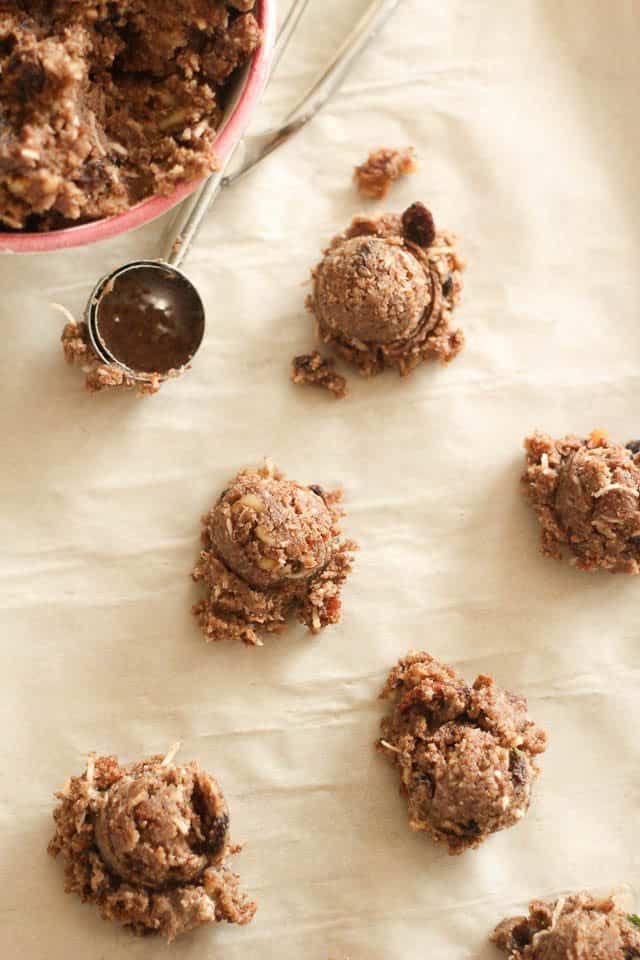 Oh! That dough! – Hurry, get them in the oven before I eat them all!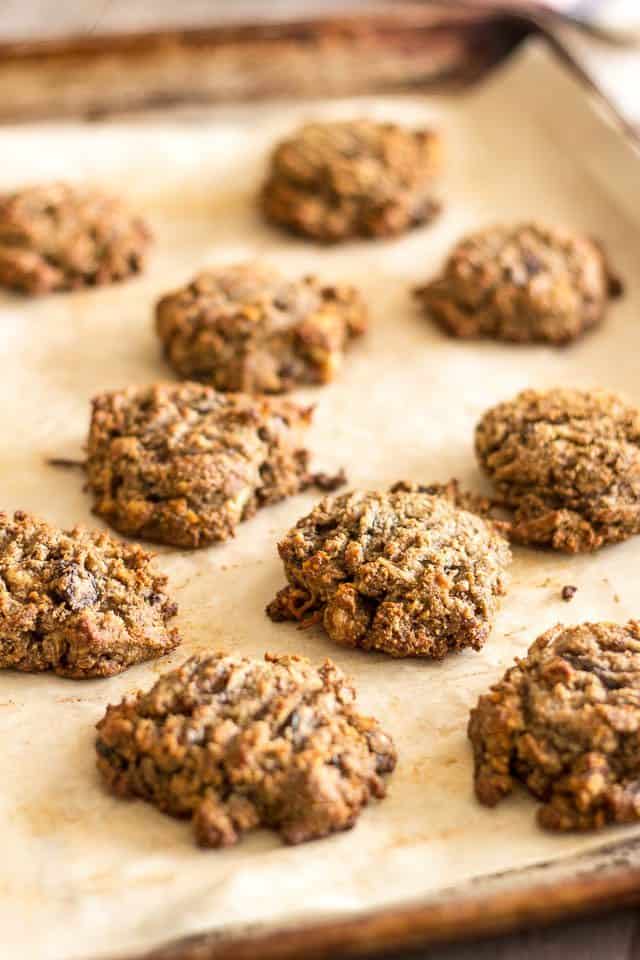 Can you see how the sun was slowly setting? I love that light…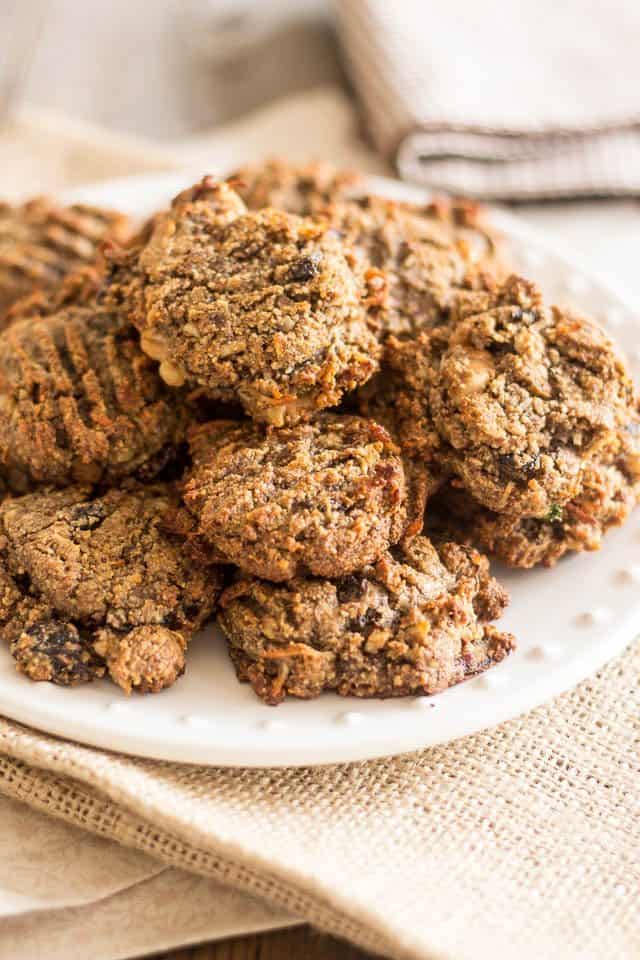 That's the plate you want to stay away from…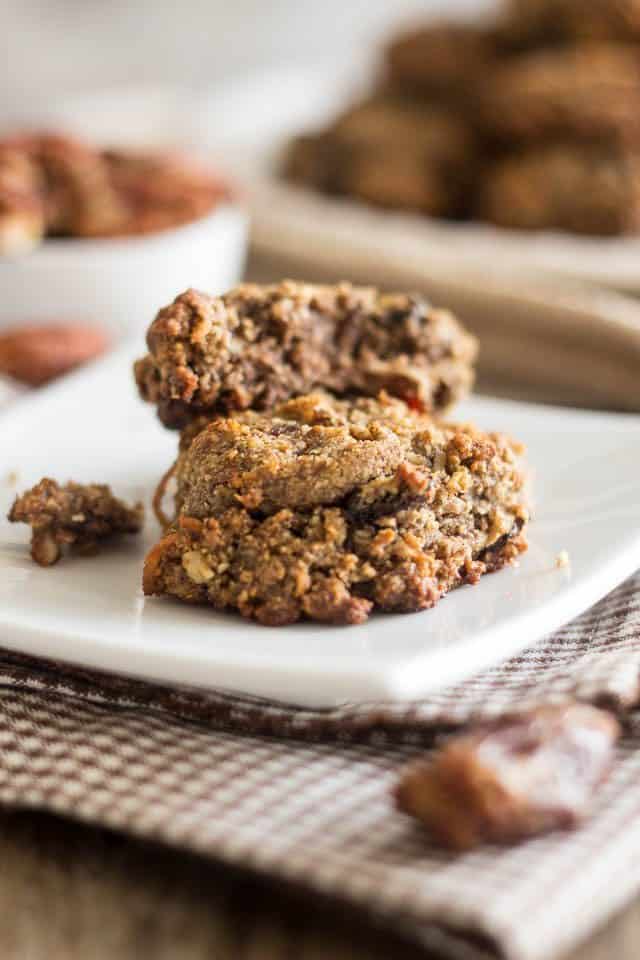 Grab one or two cookies and run! Yeah… much easier said than done!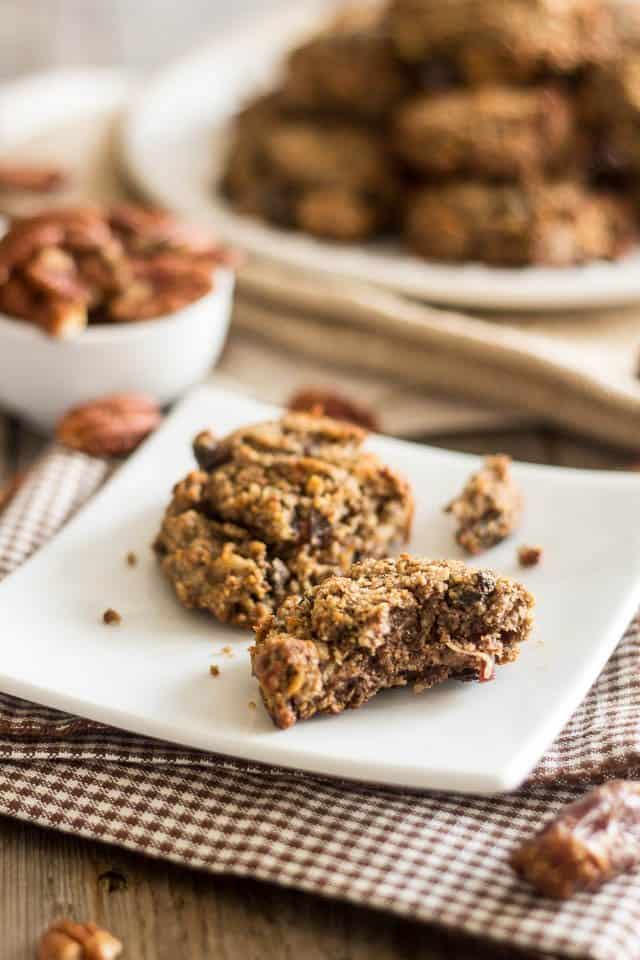 N'Oatmeal Cookies – The Paleo Response to Oatmeal Cookies!
Traditional oatmeal cookies have NOTHING on this paleo version. These are super tender, chewy, sweet and spicy, with a crazy intense, rich buttery flavor.
Servings: 24
Instructions
Preheat oven to 375°F.

In a large mixing bowl, combine almond flour, flax seed meal, unsweetened coconut, cinnamon, salt and baking soda. Mix with a whisk to ensure that the ingredients are very well distributed. Reserve.

In a separate bowl, cream lard, ghee and date paste with a hand mixer, until light and fluffy in consistency. Add eggs, one at a time and make sure it's well incorporated before adding the next one. Add vanilla extract and mix well. (you can also do this in a stand mixer with the paddle attachment)

Add dry ingredients to the wet ingredients and stir with a rubber spatula or wooden spoon until just combined, no more.

Stir in walnuts, dates and raisins.

On a baking sheet that's been lined with parchment paper, drop tablespoon-sized amounts of cookie batter; slightly flatten with a fork.

Bake the cookies for 9-10 minutes; allow cookies to cool for a minute or two before attempting to move them to a cooling rack.

Cool completely and store in an airtight container.

These cookies will keep for up to 10 days in the refrigerator. HA!HA! That was funny. They will never last that long! 😉
Nutrition
Calories: 144kcal, Carbohydrates: 10g, Protein: 4g, Fat: 11g, Saturated Fat: 3g, Cholesterol: 18mg, Sodium: 151mg, Potassium: 109mg, Fiber: 3g, Sugar: 4g, Vitamin A: 41IU, Vitamin C: 1mg, Calcium: 40mg, Iron: 1mg
If you've tried this recipe, please take a minute to rate the recipe and let me know how things went for you in the comments below. It's always such a pleasure to hear from you!
You can also FOLLOW ME on PINTEREST, FACEBOOK, INSTAGRAM and TWITTER for more delicious, healthy recipes!