Got company coming? Looking for something to serve to keep their tummies satisfied while you're busy cooking up a storm?
Or maybe you've been invited to a party and were asked to bring some munchies…
No, wait, I know: movie night is taking place right in your living room tonight, or maybe you just need something to snack on while you're watching the game…
Or it could be that you only need to take care of a sudden snack attack.
Whatever the case may be, just put that bag of potato chips right back where you found it (which should be on a shelf at the store, right?) and make room for this gorgeous platter of crudités!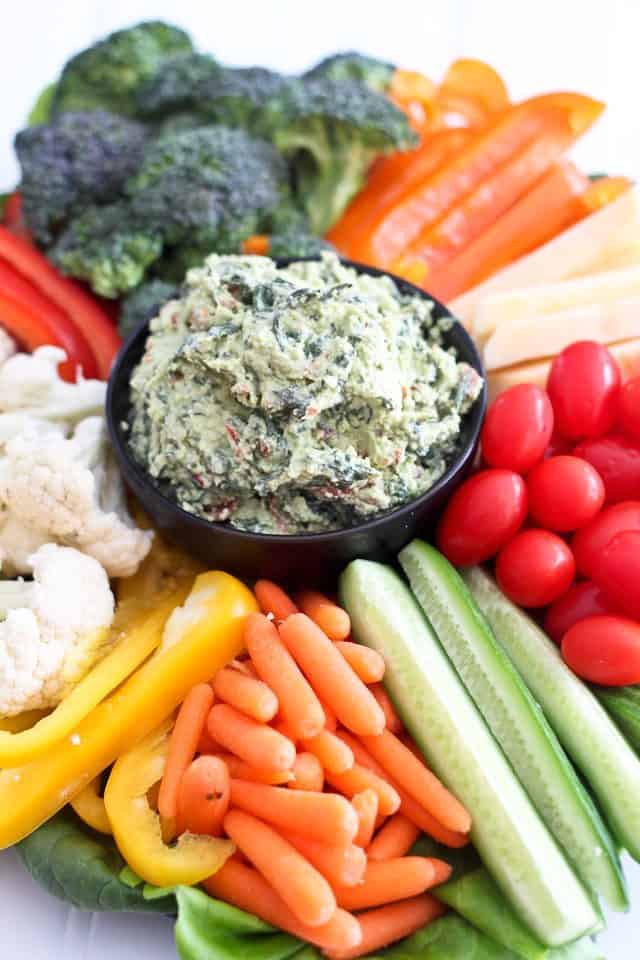 What's that you say? Crudités are boring? No way! Not when you serve them with some delicious dip
Not just any dip, though! Most dips, especially store bought, are loaded with all sorts of nasties and unhealthy fat, so you might want to leave them right next to that bag of potato chips.
Not this one, however…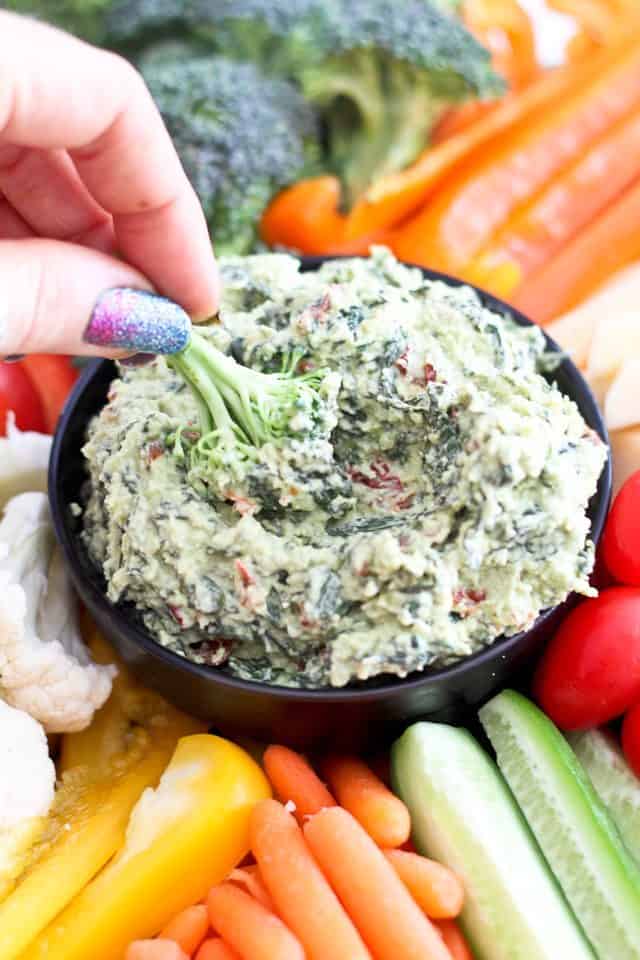 This dip right here is super healthy, nutrition packed and incredibly delicious. In fact, it's so tasty that you're gonna want to eat it by the spoonful…
And you probably should, too!
So go ahead, gather a few ingredients, take your food processor for a spin, and in less time than it took you to read this post, you'll be all set with a beautiful bowl of delicious dip.
All you need now are a bunch of crudités… or a spoon!
Avocado Spinach Dip
Serves:
Yields approx. 3 cups
Ingredients
1 ripe avocado
½ cup home made paleo mayo
The juice of ½ lime
1 tsp unpasteurized honey
1 tsp cider vinegar
Pinch Himalayan or fine sea salt
Few grinds freshly cracked pepper
300g baby spinach leaves, chopped
1 cup water chestnuts, drained and chopped
50g sundried tomatoes, chopped
Instructions
Cook the spinach for a minute or two, until just wilted. Squeeze dry and set aside.
Add avocado, mayo, lime juice, honey, salt and pepper to the bowl of a small foor processor and process until smooth and creamy.
Add spinach, water chestnuts and sundried tomatoes and process on pulse until well combined.
Chill for a few hours before serving to allow for flavors to fully develop (not absolutely necessary but preferable); to avoid discoloration, cover with plastic film placed directly on top of the dip (in direct contact with the dip)
This will keep in the fridge for a few days, so long as you keep it well covered and avoid contact with air.

Nutrition Information
Serving size:
Nutritional information is based on ⅙ recipe