Looks like I'm all over plantain and coconut, lately.
Oh, and avocados, too!
I seem to be using these in just about everything.
Even my own daughter, who doesn't get to eat with me more than once or twice a week, noticed.
And she didn't sound like she was all that impressed about it, when she noted…
But hey, what can I do? It seems I just can't get enough of them.
To make these patties, I used a bunch of boneless pork loin chops that I had bought earlier in the week.
I really wasn't in the mood for chops that night, so I decided to grind the meat and turn them into something a little more exotic instead. 
And while this new combination may sound somewhat weird to you, rest assured: these beautiful patties do not taste like savory banana bread, or anything funky like that.
Not even close.  In fact, they're super delicious.
They have an insanely dense texture (which you all know I am very much into), which makes them particularly filling and satisfying. The little hint of sweetness that the plantain brings, along with the crispy crunchy "coconutiness"  of the crust (I know, that's not a word, but I totally vote for adding it to the dictionary!) simply turns them into a spectacular experience.
Hey, even my daughter liked them, despite the presence of plantain… AND coconut!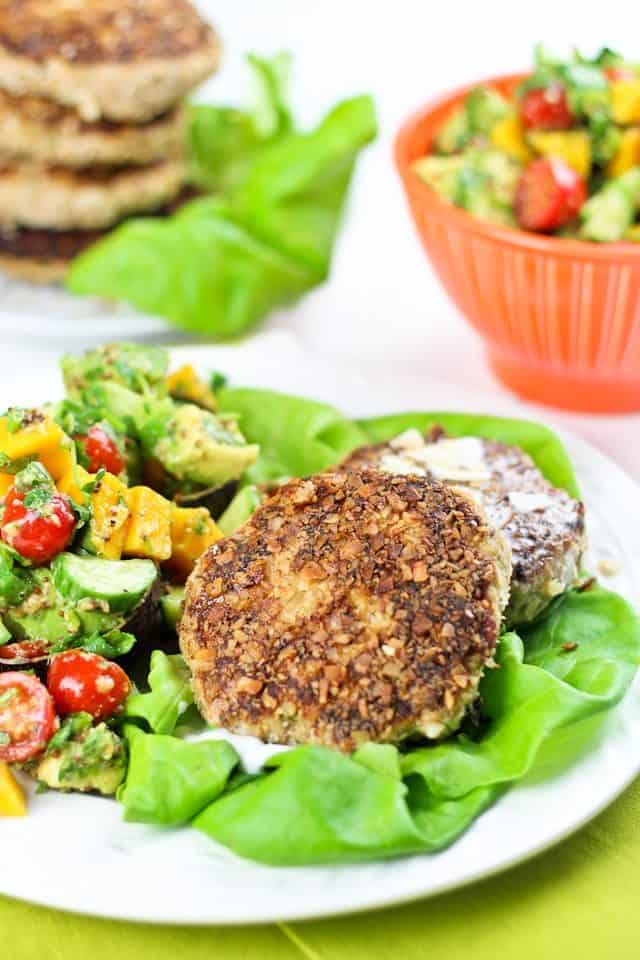 I guess you could probably make these guys with "ready-made" ground pork, although some shrinkage is likely to be expected if you do.  
Indeed, this home made ground pork is nothing like the full fat ground pork that's usually available at the grocery store. You know, the stuff that contains so much fat that by the time you're done cooking it, you're left with nothing but a teeny weeny little patty soaking right in the middle of a pool of liquid fat?
This is NOT it. These patties, they didn't even shrink AT ALL!.
Sure, grinding your own meat takes a little bit more time and effort, but I find it so rewarding and very well worth it in the end.
Plus, let's face it: pork chops tend to be a little bit on the boring side, sometimes… at least they are to me anyway, so this is one very creative and fun way to reinvent them.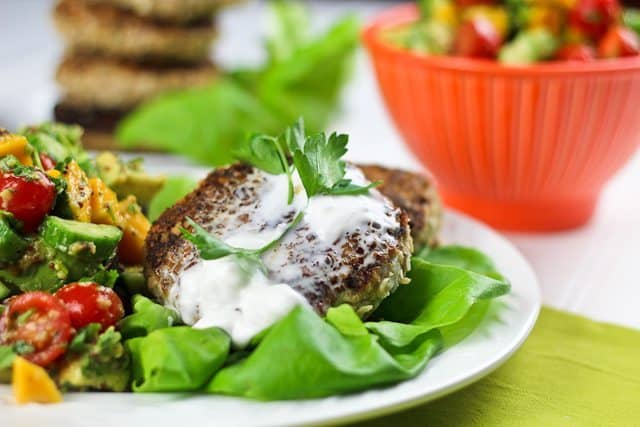 This recipe is definitely a keeper, if you ask me.
I loved EVERYTHING about it. And hitting the hot meat with a little bit of chilled coconut milk really took things to the next level!
In short, it was absolutely delectable.
Oh, and that beautiful tropical salad that I served right alongside the patties? It was the absolute perfect accompaniment.
I get the feeling that this particular patty will find its way to my outdoor grill this summer…on a pretty regular basis, too!
It's such a nice change from the eternal pork chops!
Or hamburger patty, for that matter…
Plantain and Coconut Pork Patties
Serves:
Makes 6-8 patties
Ingredients
650g pork loin, cut into 1" cubes
½ ripe plantain, sliced
1 jalapeno pepper, finely chopped
½ cup toasted organic coconut chips
2 tbsp coconut flour
1 whole egg
½ tsp Himalayan or unrefined sea salt
½ tsp freshly cracked black pepper
½ tsp chai spice (see this post for my spice mix
1 cup toasted organic coconut chips, coarsely ground (or shredded)
Instructions
Cut the pork into 1" cubes and place them in the bowl of your food processor. Process on pulse until the meat reaches the right consistency. Add the rest of the ingredients, save for the last cup of dried coconut, and process on pulse until well combined.
Divide your pork mixture into 6-8 equal portions and form into patties. Completely cover each patty with shredded coconut and set aside.
Add some coconut oil to a large skillet and heat over medium high heat. When skillet is hot enough, add patties and cook until a nice golden crust forms, about 4-5 minutes, then flip to the other side, cover and cook until golden again and patties are cooked through, about 5 minutes.
Serve immediately with a dollop of chilled canned coconut milk and more coconut shavings, if desired.

Nutrition Information
Serving size:
NF is based on 1 of 6 patties
Tropical Mango and Cucumber Salad
Ingredients
1 mango, peeled and diced
4 lebanese cucumbers, cut into bite size chunks
24 grape tomatoes, cut in half
1 green onion, finely chopped
75g fresh ginger, grated
The juice of one lime
¼ cup fresh cilantro, chopped
1 avocado, diced
¼ tsp Himalayan or unrefined sea salt
¼ tsp freshly cracked black pepper
1 tbsp whole grain mustard
Instructions
Add all ingredients to a large bowl and mix delicately until well combined.
Serve immediately.

Nutrition Information
Serving size:
NF based on 1 of 2 servings
Pile 'em up high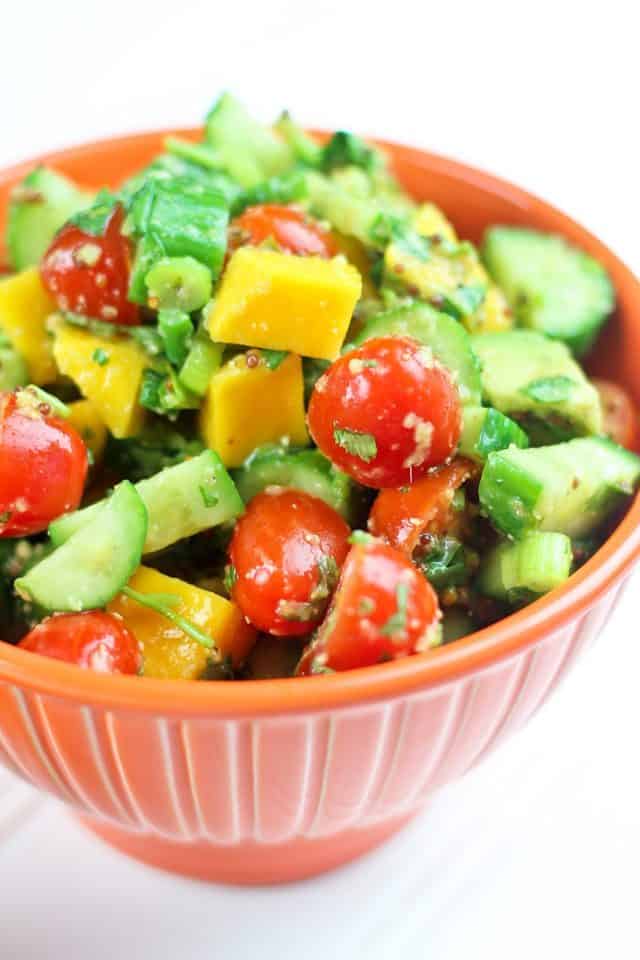 Refreshing "Tropical" Salad
Can you say colorful?
That cold coconut milk melting over the hot meat…
Oh! Heaven on earth!
See how lean and dense they are?
YUM!