Quick, Healthy and Super Simple Tuna Fish Salad
I can't believe that I'm already entering the final week of this year's Lent Challenge.
Oddly, I feel kind of sad that it's coming to an end.
And even stranger still, I sincerely don't feel like stuffing my face in "traditional" desserts and chocolate and stuff.
Can I let you in on a dirty little secret? I have a can of condensed milk in the cupboard, as well as a few bags of chocolate chips and a brand new, unopened jar of Nutella. Truth is, I was planning on making a huge batch of loaded brownies [the kind with a capital B] for my upcoming 40th birthday…
Hey, a girl's allowed having a little treat once in a while, isn't she?
But now, I'm not even sure that I really want to do this anymore…
I feel I've been eating so well for the last 5 weeks, I don't want to throw it all out the window solely in the name of taste. Plus, the "hangover" that usually results from eating such junk doesn't really appeal to me all that much…
I know all too well that I tend to completely lose any and all sense of control and go WAY overboard when I start playing with "refined sugary stuff"… Frankly, I don't want to go there.
So I'm thinking I might do a healthier treat, instead. Something like these Magic Brownie Bars! How incredible do they look?
Or maybe I'll opt for a batch of these cute little Lemon Cookie Tarts. Just looking at them makes my mouth water big time.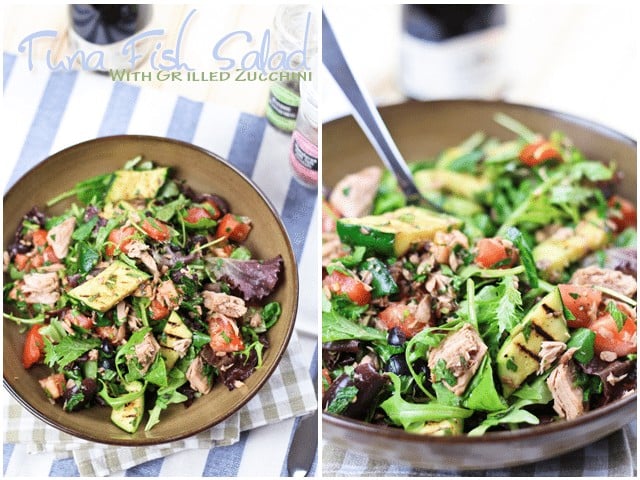 Sill, I can hear all that junk calling me from their hiding place wayyyy in the back of my pantry!
Wow, addiction to sugar sure is a hard one to overcome, isn't it?
Me thinks I need to find the courage to do a major clean-up in my cupboard soon, be done with all the junk that lurks in there…
Silence their incessant calls once and for all and make room for more of the good stuff, like canned tuna, for instance!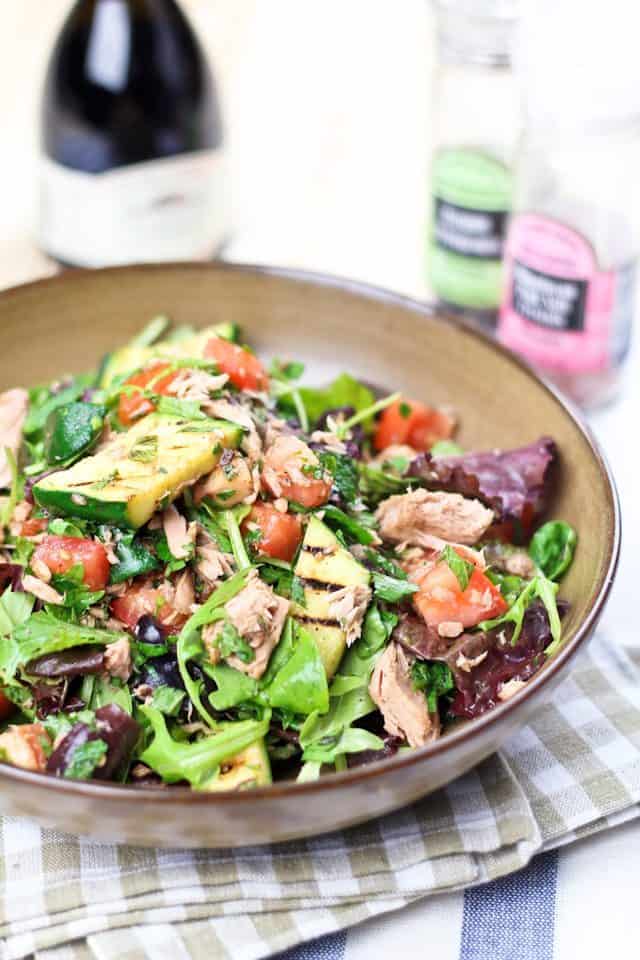 Poor canned tuna always had very little floor time in my household, as in my mind it's pretty much always been synonym with extremely-boring-and-bland-weight-loss-diet-food.
I remember eating A LOT of it when I was a young teenager desperately trying to lose a few pounds.
I would mostly eat it straight out of a can, or just dump it on top of a pile of iceberg lettuce with a few added tomato wedges, a few slices of cucumber and a HUGE squirt of low fat Italian or French salad dressing.
BAD MEMORY! So boring, and not even all that healthy…
But I recently reacquainted with this convenient little fella' and I must say I am really learning to appreciate it again.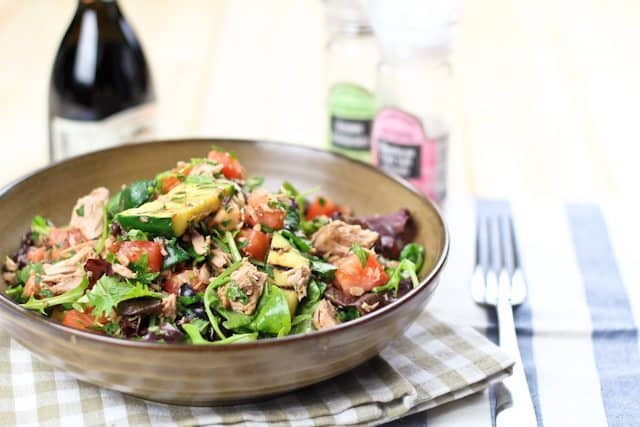 This salad right here is anything but boring… and it's incredibly healthy!
It's loaded with all kinds of greens and fresh herbs such as parsley and mint, which give the dish an overall impression of absolute freshness. The addition of grilled zucchini and kalamata olives really take this one over the top.
With so much flavor going on, one hardly even needs to add any salad dressing at all…
Plus, it looks so elegant, don't you think?
Super Simple Tuna Fish Salad
Servings: 1
Ingredients
2 cups mixed greens
1 large tomato, diced
¼ cup fresh parsley, chopped
¼ cup fresh mint, chopped
10 large kalamata olives, pitted
1 small zucchini, sliced lengthwise
½ avocado, diced
1 green onion, sliced
1 can chunk light tuna in water, drained
1 tbsp extra-virgin olive oil
1 tbsp balsamic vinegar
¼ tsp Himalayan or fine sea salt
¾ tsp freshly cracked black pepper
Instructions
Grill the zucchini slices on both sides in a sizzling hot cast iron skillet grill pan (or on a very hot grill). Remove from pan and let cool for a few minutes. Cut into bite size pieces.

Throw all the ingredients in a large mixing bowl and stir delicately until well combined.

Serve immediately.
If you've tried this recipe, please take a minute to rate the recipe and let me know how things went for you in the comments below. It's always such a pleasure to hear from you!
You can also FOLLOW ME on PINTEREST, FACEBOOK, INSTAGRAM and TWITTER for more delicious, healthy recipes!