My Emergency Go-To Recipe: Tuna Avocado Lettuce Wraps
Even the most organized people sometimes get caught totally unprepared.
You know… wake up one morning, work out, shower, eat breakfast then get all prepped up and ready to go to work… then, just as they are about to head out the door, they realize they haven't a lunch for that day.
In total disbelief, they frantically search the fridge in hopes of finding some decent leftovers that they could just grab and shove in their bag… to no avail!
And unfortunately, there's no time to prepare anything just then, 'cuz they're already running late.
Yeah. That happens to me sometimes…
And sometimes, too, I will be stuck without power for like, 45 hours, so cooking isn't really an option!
When that happens, this super simple recipe right here would be the one meal that I always turn to; what I like to call my "ultimate-emergency-go-to-recipe".
And that holds especially true when I'm doing a Whole30®.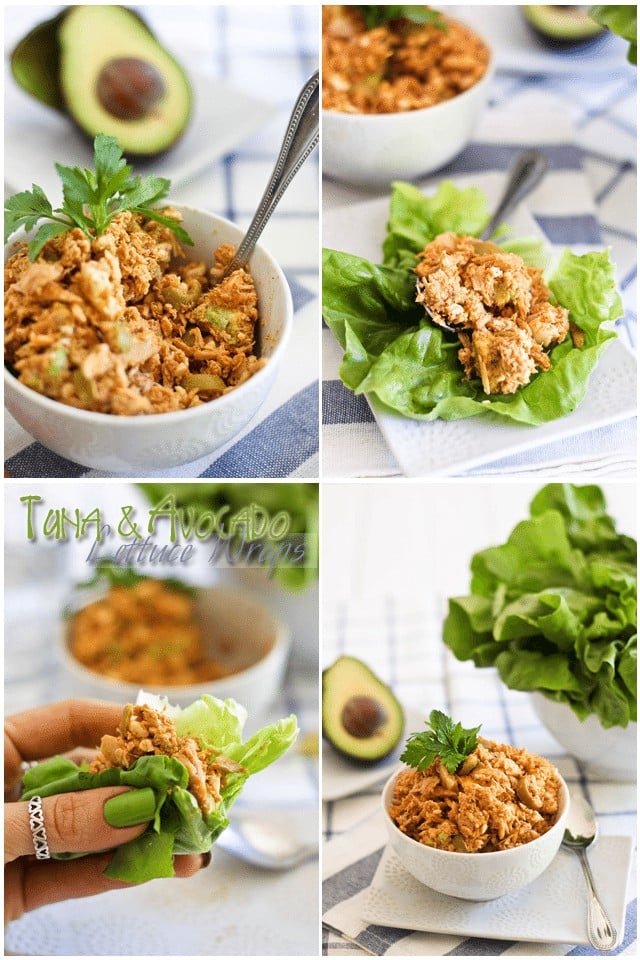 This is mainly comprised of mashed hard boiled eggs, avocado, canned tuna fish and green olives. Nothing fancy, but oh so yummy!
Hard boiled eggs, I pretty much always have in the refrigerator. They are such a great little life saver and make for an awesome quick and nutritious snack, plus they keep for a fairly long time. No reason not to have 'em handy…
Avocados? I can't be without them. I have this great rotation system where I always have at least 6-10 on hand:
one or two that are ripening on the counter;
some that have already ripened and have been returned to the fridge until I'm ready to eat them (which doesn't usually take too long);
a bunch that are totally rock hard and waiting for their turn to get all nice and warm and soft and creamy and ripe on the counter.
Canned tuna fish and sliced olives are also on my list of absolute essentials and I usually keep a fairly good reserve of both of these items in the cupboards.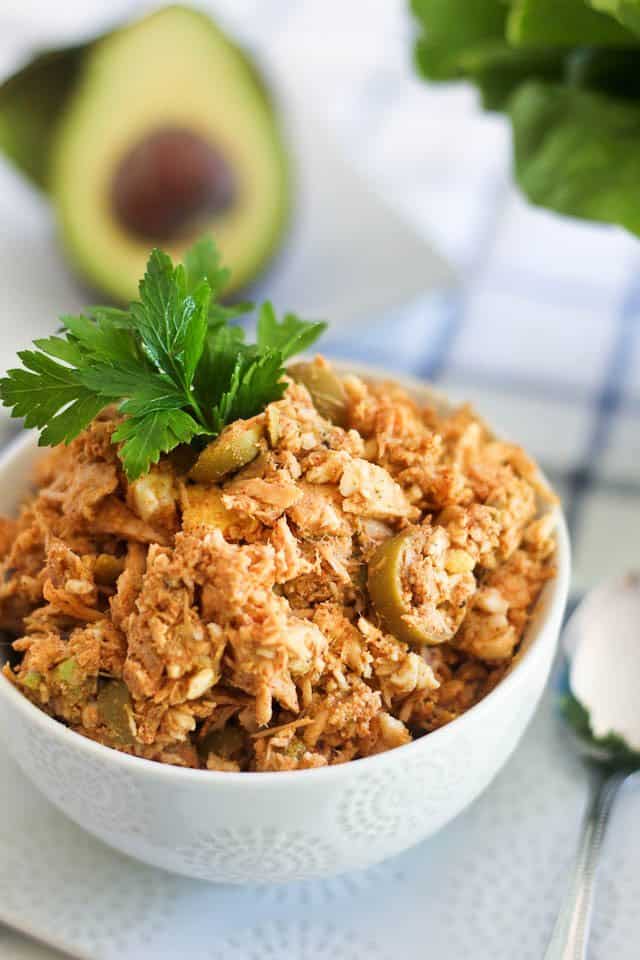 So when I'm caught totally unprepared, all I have to do is grab a couple of eggs, an avocado and a can of tuna fish, throw a couple of tablespoons of sliced olives along with a few pinches of spices in a little plastic container, put a few lettuce leaves in a little plastic bag (or plain grab the whole head) then shove all of that right into my purse.
The actual prep work, I do at the office during my lunch hour as it doesn't require any fancy tools, or even electricity for that matter! I'll often prep this right at my desk. Just one thing: if you're gonna do that, make sure that you have a can opener at work, as well as a bowl to mix everything up.
But if like me you happen to eat at work often, I'm guessing that you probably have a drawer or two there that is entirely dedicated to your little kitchen arsenal…
You know, this recipe is no exact science either, so you can really have fun and play with the ingredients if you want. For instance, you could use salmon or cooked chicken instead of tuna, and use more or less eggs or plain leave them out if you were so unlucky as to not have any on hand.
You could also add some crunchy celery, fresh parsley, grated carrots or chopped radishes; even diced apples are pretty good. Raisins work surprisingly well too, if you're in the mood for a little bit of a sweet touch!
Sometimes, I like to add a little bit (or a lot) of mayonnaise too, instead of the extra virgin olive oil.
But I save the fancy substitutions for when I'm at home and actually feel like eating this…
For those days when I'm in an pinch, without power or caught completely unprepared, I like to keep it real simple: eggs, tuna, avocado, olives, salt and pepper.
Sometimes, even the lettuce gets a leave of absence…
Trust me, this is just as good eaten by the spoonful!
Tuna Avocado Lettuce Wraps
Servings: 1
Ingredients
2 hard-boiled eggs, roughly mashed with a fork
1 can light tuna, drained (Wild Planet strongly recommended!)
½ ripe avocado, diced
¼ cup sliced green olives
1 tsp extra virgin olive oil
¼ tsp cumin
¼ tsp smoked paprika
¼ tsp garlic powder
Generous pinch cayenne pepper
Generous pinch white pepper
Salt and black pepper to taste
6-8 Boston lettuce leaves, washed and spun dry
Instructions
In a small mixing bowl, add all the ingredients except the lettuce leaves. Mix until well combined.

Transfer to a cute little serving bowl and serve with the fresh lettuce leaves.

Spoon a little bit of the tuna mixture onto a lettuce leaf, roll into something that looks like a wrap and eat up.

Repeat for as long as you have some of that tuna mixture left.

You're also allowed eating some, or even all of it, by the spoonful if you want. I swear, the lettuce wrap police ain't gonna visit you!
If you've tried this recipe, please take a minute to rate the recipe and let me know how things went for you in the comments below. It's always such a pleasure to hear from you!
You can also FOLLOW ME on PINTEREST, FACEBOOK, INSTAGRAM and TWITTER for more delicious, healthy recipes!