Paleo Paëlla
I woke up one morning with this super strange craving for something I hadn't had in years: Paëlla!
I can't even say that I have a very special affection for that particular dish, so I have no idea where the craving came from. Only, it's something that I used to eat in my past life and appreciated very much.
It was one of those meals that we would think of as a true feast, one that we would save for special occasions, you know, for it calls for so many different types of meats and seafood, I guess that in our mind's eye, we always thought of this one as a fairly pricey dish to make.
And also too, one that will require you to spend quite a bit of time in the kitchen in order to get it done.
Still. My brain had decided that it wanted Paëlla, and I was to give it Paëlla. That was non-negotiable and I knew it would never leave me alone. Hey, it didn't even fall for the "but we can't have rice" argument.
Pfft. 
There was only one thing left for me to do: give a fair attempt at making a Paleo version of Paëlla.
What a SPECTACULAR and GRAND DISH that one ended up being. No word of a lie, that Paleo Paëlla was even better than the original I remembered.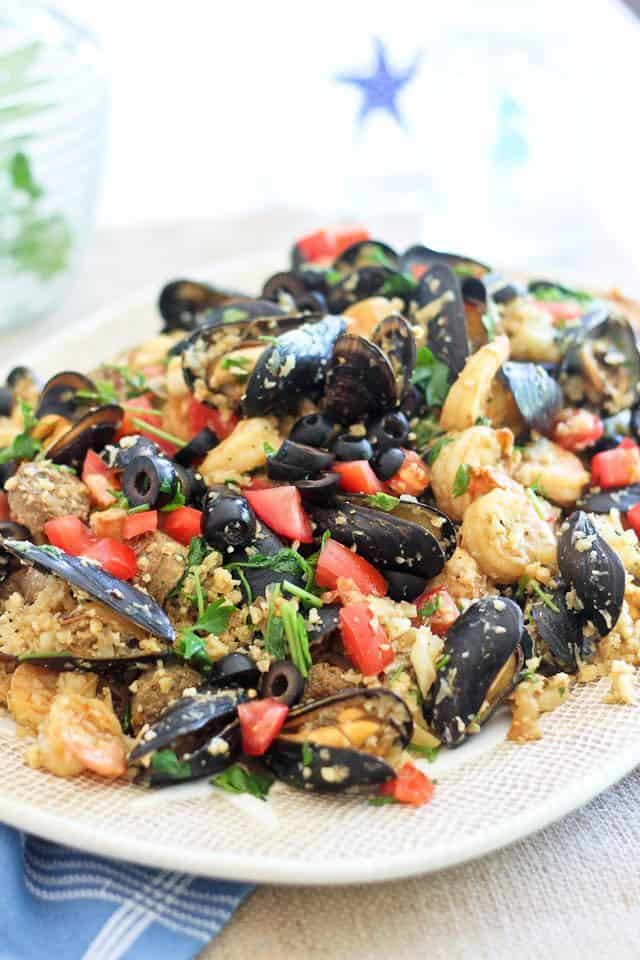 The results FAR exceeded my expectations, and that of my brains too!
Plus, it wasn't nearly as complicated, extensive OR pricey to make as I remembered it to be. In fact, the only real challenge with this recipe lies in the fact that you need to get your hands on a skillet large enough to accommodate all of them gorgeous ingredients.
Other than that… piece of cake!
Without so much effort on your part, you will end up with a spectacular looking and tasting dish that will no doubt impress the pickiest of guests.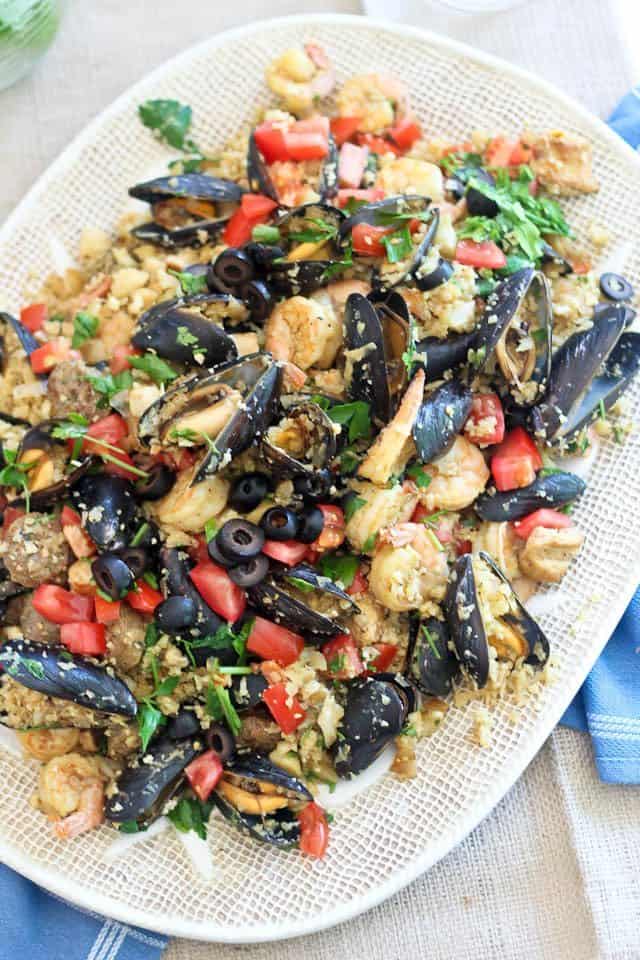 The only flaw, if there should be one, that I found with this recipe is that cauliflower doesn't do quite as good a job as rice at absorbing water.
Soooo, when you add the fresh mussels, they will open up as they cook and release all of the water they'd been holding up in their shells until now. As a result, you will end up with quite a bit more liquid than you might care for at the bottom of the pan.
Of course, you *could* let that evaporate, but that might result in your cauliflower getting way overcooked and mushy and your seafood getting way overcooked and rubbery.
Your other option would be to carefully drain the excess liquid, or serve your paëlla with a slotted spoon so the liquid stays in the pan.
Or, which is probably what I will do next time, you could steam the mussels for a minute or two before adding them to your paëlla. This way, the mussels would open up and release their liquid prior to getting mixed with the rest of the ingredients.
Voilà, problem solved!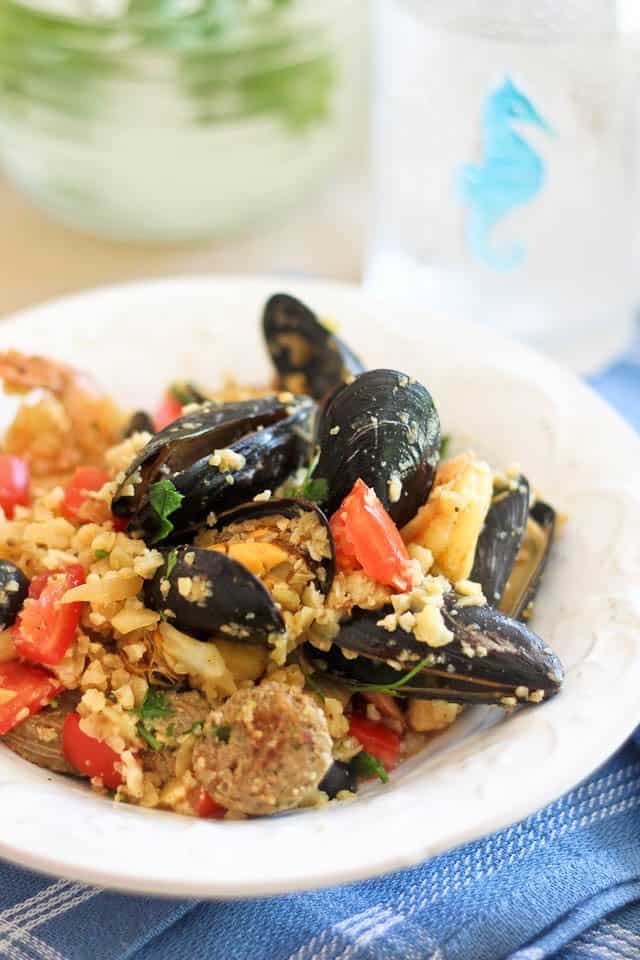 Or, hey, you could also leave the mussels out and use somethin' else instead.
After all, that IS what paëlla is all about: it's a free-style combination of meats and seafood, mixed with rice (in our case, cauliflower) and various vegetables.
I think only real key, or common ingredients would be rice, saffron and olive oil. That leaves you with quite a bit of room to play with!
So go ahead and do just that. Go wild. Use any combination of meat and seafood you may like.
Try adding cubed ham, big chunks of chorizo sausage, fresh clams, bite size pieces of firm white fish, calamari rings…
I'm thinking leftover pork roast must be grandiose in there.
So go, run with it. Make this recipe your own and impress your guests and family members!
Paleo Paëlla
Servings: 4
Ingredients
1 large head cauliflower
2 small onions, chopped
Generous sprinkle of salt and pepper
1 cup chicken stock
1 pinch saffron
2 tbsp Old Bay Seasoning
2 tsp Dijon mustard
2 Italian style sausages
2 lb fresh mussels, cleaned
1 large skinless, boneless chicken breast, cut into bite size chunks
150 g bay scallops, patted dry
1 lb raw shrimp, patted dry (I used size 26-30)
3 small tomatoes, diced
1 cup black olives, pitted and sliced
A large handful fresh parsley, chopped
Olive oil, to drizzle at the moment of serving
Instructions
Use a box grater or the grater disc of your food processor to grate the cauliflower. Set aside.

In a small saucepan, add the chicken stock and sausage and bring to a simmer. Cook the sausage for about 3-4 minutes then kill the heat, remove the sausage to a plate and set aside to cool.

Add the saffron to the chicken stock and set it aside to infuse for a few minutes.

Heat some coconut oil in a large skillet over medium high heat. Add the pieces of chicken, sprinkle with salt and pepper and cook until nice and golden brown on all sides. Add the onion and continue cooking until the onion softens and becomes translucent. Toss the chicken and onion to one side of the pan.

Slice the sausage into thick slices and add them to the skillet. Cook until a lovely brown crust forms on each side of the slices.

Mix the Dijon mustard and Old Bay spices into the saffron infused chicken stock. Pour that over the sausage chicken mixture and bring up to a simmer. Lower the heat and continue cooking until the liquid has reduced by half.

Add the cauliflower rice and cook for 2-3 minutes, then throw in shrimp, bay scallops and mussels. Cover and continue cooking over low heat for about 3-5 minutes, until the shrimp turns pink and the mussels open up*.

Kill the heat and let stand for about 5 minutes to allow flavors to mingle. Stir in fresh tomatoes, olives and parsley.

Drizzle liberally with olive oil at the moment of serving.
Notes
*The mussels will render quite a bit of liquid as they open up, which could make the Paëlla a bit more watery than you would care for. If you want to avoid having all that excess liquid in your paëlla, you could steam the mussels for a minute or two to get them to open up and release their liquid prior to adding them to the dish.
If you've tried this recipe, please take a minute to rate the recipe and let me know how things went for you in the comments below. It's always such a pleasure to hear from you!
You can also FOLLOW ME on PINTEREST, FACEBOOK, INSTAGRAM and TWITTER for more delicious, healthy recipes!