Plantain Chicken Experimental Dish
Not sure what to call this one… It's not a stew, it's not a curry… although it could be another curryless curry, maybe.
But that's not quite it.
Help me out here please? How do I call this? It's basically chicken, with plantain, raisins and coconut, in a creamy, yet light sauce, served over brown basmati rice.
Well, whatever its name may be, I guess in the end, all that really counts is that it was pretty good… especially since this was my first time experimenting with plantain.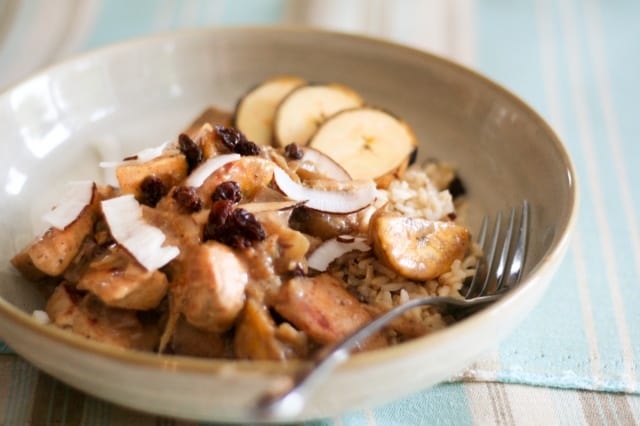 This is an ingredient that I'd been curious about for a little while now and had been wanting to try. Having never eaten plantain, I just had no idea what I was supposed to do with it. In fact, I didn't even know what it tasted like. I figured it had to be somewhat close to what a banana tastes like.
Well, that is only partially true. When they are really, really ripe, like when their skin is almost, if not entirely black, they do have a taste that is fairly sweet and close to that of a banana, only their texture is a tad firmer. But when they are still green, and even yellow, their flavor is pretty neutral, and their texture is a lot closer to that of a starchy potato.
I decided to buy 2 and use half of each. One was pretty ripe, as in yellow with a few black spots, and one that was just getting there as in just starting to turn yellow. I have to say that I preferred the riper fruit. I liked the fact that it added a little bit of sweet banana taste to the dish. Plus, I think the less ripe variety has to cook longer, too.
One more thing, plantain is very hard to peel when not ripe. It helps to cut the ends and score the peel with a knife along the lenght of the fruit before to remove it.
I really can't wait to experiment some more with this interesting fruit. All I need is an inspiration…
Got any ideas for me?
INGREDIENTS
(serves 2)
2 small chicken breasts (about 300g) cut into 1″ cubes
1 small onion, chopped
1 plantain, cut into 1″ chunks
2 tbsp fresh coconut shavings
3 tbsp raisins
Sauce
1 cup water
½ cup unsweetened soy milk
½ cup 0% fat Greek yogurt
1 tbsp corn starch
1 tbsp agave nectar (or honey)
Pinch cinnamon
INSTRUCTIONS
Coat a skillet with cooking spray and heat over medium high heat. Add pieces of chicken and cook until a nice golden brown crust forms, about 2-3 minutes. Flip the pieces over and again, cook until brown.
Add the onions and plantain and continue cooking until the onions become translucent and the plaintain becomes nice and brown, about 5 minutes.
Meanwhile, mix all the ingredients for the sauce in a small mixing bowl or food processor until smooth and well combined.
Add raisins, coconut and sauce to the chicken and onions and bring to a boil. Lower the heat and simmer until the sauce thickens, about 2-3 minutes.
Serve with brown rice.