My Favorite Recipe from Paleo Home Cooking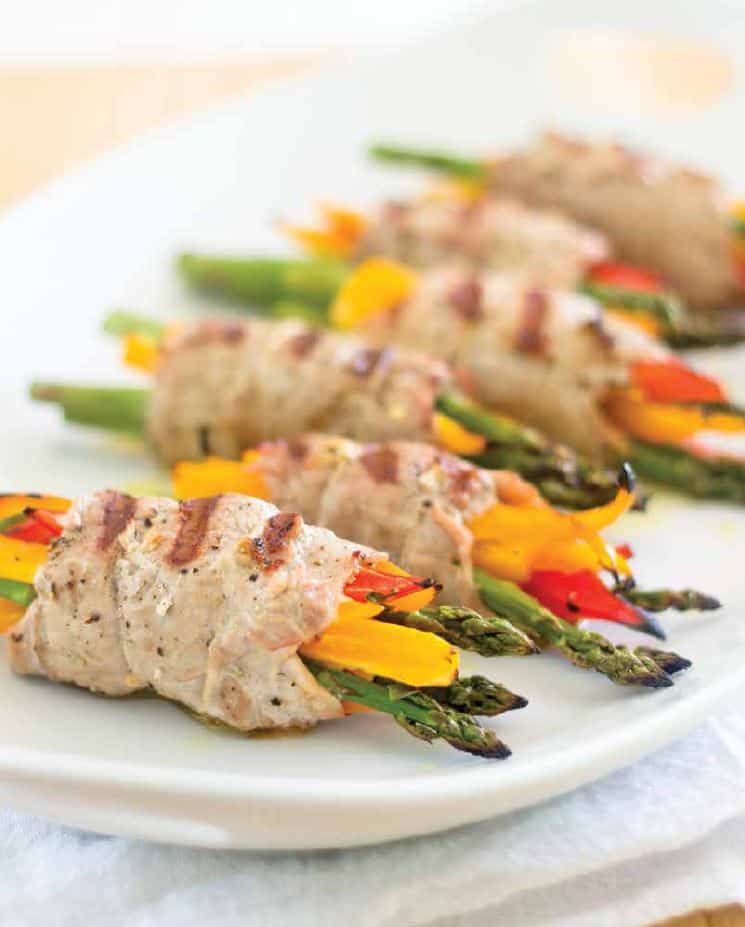 In case you missed my recent announcement, a few days ago I finally got to hold a copy of my new baby, Paleo Home Cooking, for the very first time.
When I initially opened the package, I didn't even want to touch it! You see, I didn't know for sure that it was my book in that thick, brown cardboard envelope that the UPS guy had just dropped at my door. I was so shocked when I saw what was in it; I just put my book down on the table and stared at it for a while, feeling absolutely powerless. My hands kinda wanted to reach for it and flip through the pages, but I was totally unable to do it. It all felt so surreal… I couldn't even believe that this book I was staring at was mine, mine, mine. I sort of felt like I had to wait for someone to give me permission to look inside.
Well let me tell you, when I finally snapped out of it and allowed my hands to flip that cover open and go through the pages, I got quite ecstatic: I was over the moon! I couldn't have been happier with the way my book turned out. I think it's gorgeous, and I really, truly hope that each and every single one of you who pre-ordered it and are waiting for their copy to come in the mail will love it just as much.
There isn't much longer to wait you guys… pre-ordered copies will start going out in just a little week from today!
And if you haven't pre-ordered your copy yet, it's not too late to get in on this! You can find all the details at the end of this post.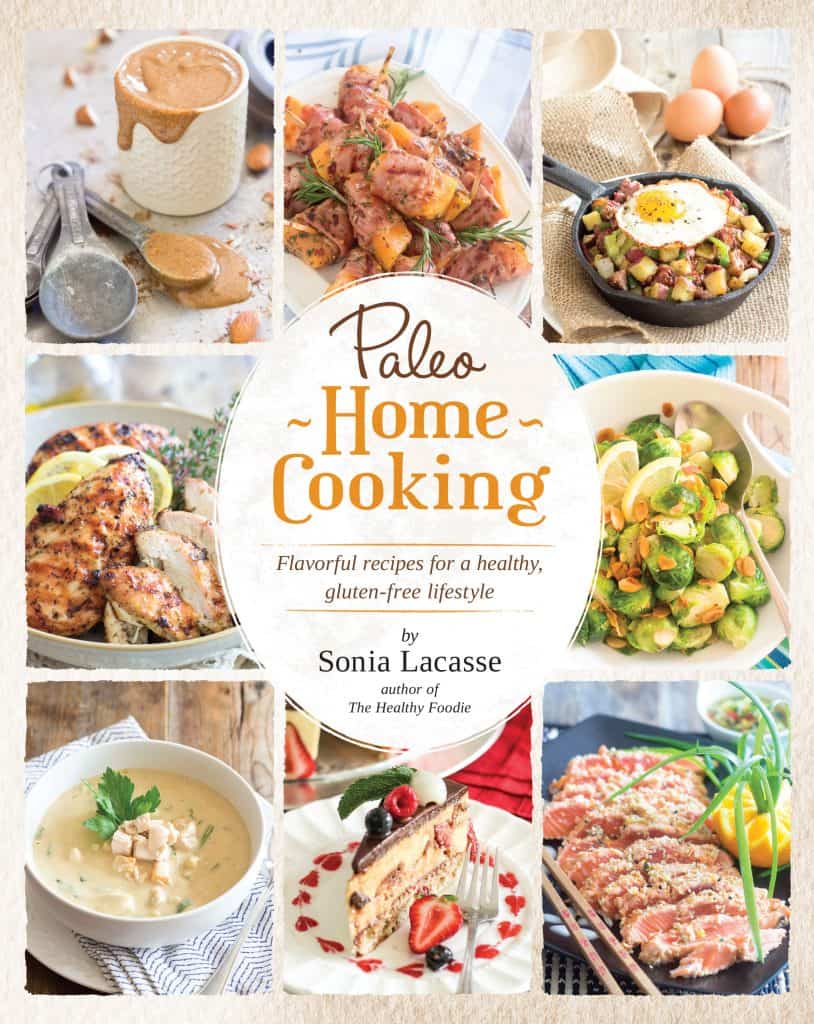 One question I got asked a lot since writing Paleo Home Cooking is "which is your favorite recipe out of the entire book?"
Yikes! Now that is one TOUGH question to answer…
If I really had to pick one, though, it would have to be these cute little Pork Scaloppine Roll-Ups.
Not that these guys will send you straight to seventh heaven as soon as you bite into one of 'em. Nope. It's not really that kind of recipe. In fact, this is a very simple. unpretentious recipe, but one that also happens to be highly adaptable, a dish that will never fail to shine no matter what you throw at it.
These little roll-ups are fairly quick and easy to make, can be prepared ahead of time, can be eaten warm or cold and are perfectly okay to eat with your fingers… which means you can serve them basically anytime, anywhere! Think finger food for picnics, parties and pot-lucks, think light lunch to take to the office with you, or cute little appetizers to serve to your guests; Think elegant dinner for two, or even quick-snack-while-standing-right-next-to-the-ice-box-with-the-door-still-wide-open… the possibilities are endless, and these guys can do it all!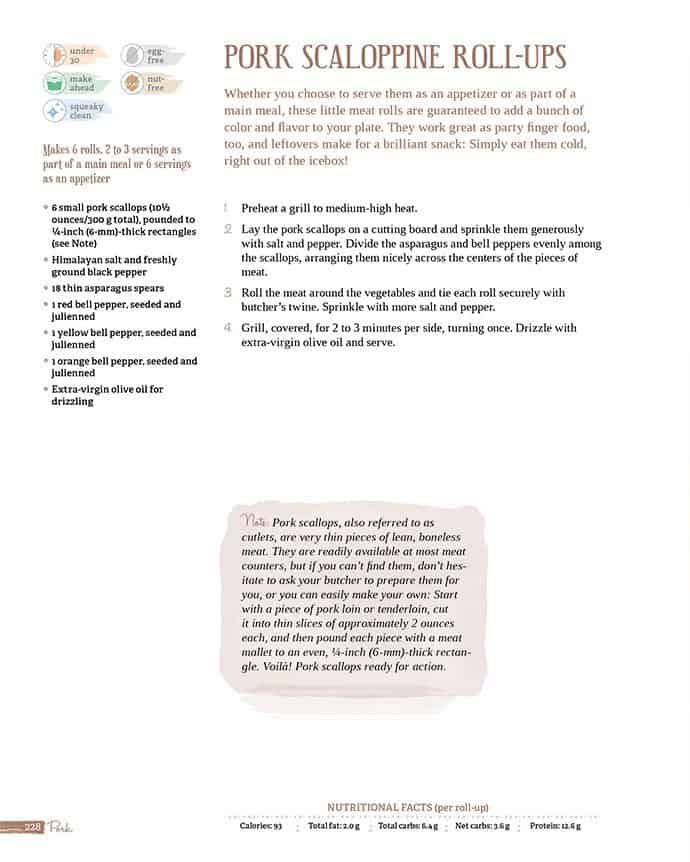 Not only that, but the ingredients can be swapped super easily, too; use carrot, zucchini or apple sticks instead of the bell peppers; green beans or snow peas instead of the asparagus, use chicken or beef instead of pork… add a drizzle of honey, a hint of mustard perhaps, some fresh herbs or a handful of chopped nuts, maybe? Let your imagination go wild, but also try and keep it simple, for this is one recipe where I find less is more…
Take it too far and it will lose that simple, unpretentious feel that I like so much about it… that, and well, it may get pompous and start making demands, like require that you use plates and utensils and such, you know… Nah, you don't want to take it there.
Oh, and I almost forgot… I think these little guys look just as good raw as they do after they've been cooked. Seriously, what's there not to like about them?
Take my word for it: try this recipe, own it, make it yours. I'm sure you'll be super glad to have it as part of your cooking repertoire… and you'll understand exactly why I chose to name it my favorite!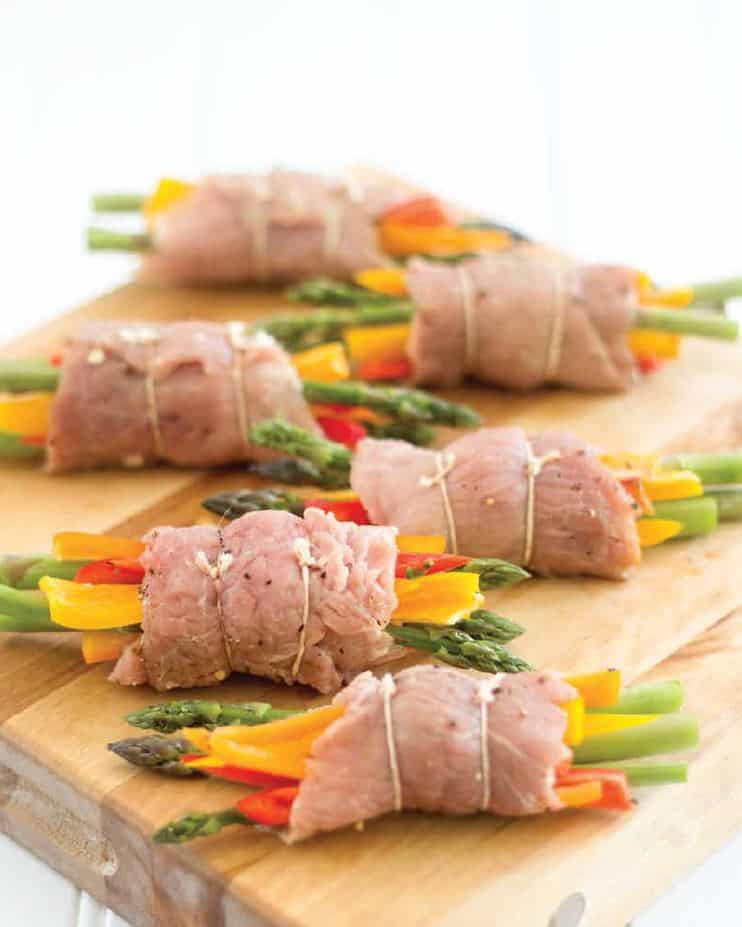 Pork Scaloppine Roll-ups
Pork Scaloppine Roll-Ups - My favorite recipe from Paleo Home Cooking. Simple to make and incredibly versatile, this is a must-have recipe for your repertoire!
Servings: 6 rolls
Ingredients
6 small pork scallops, 10½ ounces/300 g total, pounded to ¼-inch (6-mm)-thick rectangles*
Generous sprinkle of Himalayan salt
Generous sprinkle of freshly ground black pepper
18 thin asparagus spears
1 red bell pepper, seeded and julienned
1 yellow bell pepper, seeded and julienned
1 orange bell pepper, seeded and julienned
Instructions
Preheat a grill to medium-high.

Lay the scallops on a cutting board and sprinkle them generously with salt and pepper. Divide the vegetables evenly between the scallops, arranging them nicely across the center of the pieces of meat.

Roll the meat around the vegetables and tie each roll securely with

butcher's twine

. Sprinkle with more salt and pepper.

Grill, covered, for 2 to 3 minutes per side, turning once. Drizzle with extra-virgin olive oil and serve.
Notes
*Pork scallops, also sometimes referred to as cutlets, are very thin pieces of lean, boneless meat. They are readily available in most meat counters, but if you can't find them, don't hesitate to ask your butcher to prepare them for you or you can easily make your own: Start with a piece of pork loin or tenderloin, cut it into thin slices of approximately 2 ounces each, and then pound the pieces down with a meat mallet to even, ¼-inch (6-mm)-thick rectangles. Voilà! Pork scallops ready for action.
Nutrition
Calories: 91kcal, Carbohydrates: 6g, Protein: 13g, Fat: 2g, Saturated Fat: 1g, Cholesterol: 33mg, Sodium: 27mg, Potassium: 416mg, Fiber: 2g, Sugar: 3g, Vitamin A: 1645IU, Vitamin C: 90mg, Calcium: 16mg, Iron: 2mg
If you've tried this recipe, please take a minute to rate the recipe and let me know how things went for you in the comments below. It's always such a pleasure to hear from you!
You can also FOLLOW ME on PINTEREST, FACEBOOK, INSTAGRAM and TWITTER for more delicious, healthy recipes!
Visit the following sites to get your copy of Paleo Home Cooking:

Order via Amazon | Order via Barnes & Noble | Order via Books A Million | Order via Indie Bound | Order via Simon & Schuster

Canadian residents can order through Amazon Canada, Archambault, Renaud-Bray, Simon and Schuster Canada and Chapters Indigo

UK and International orders can be placed here: Amazon.co.uk | Book Depository