Waldorf Salad with Yogurt Dressing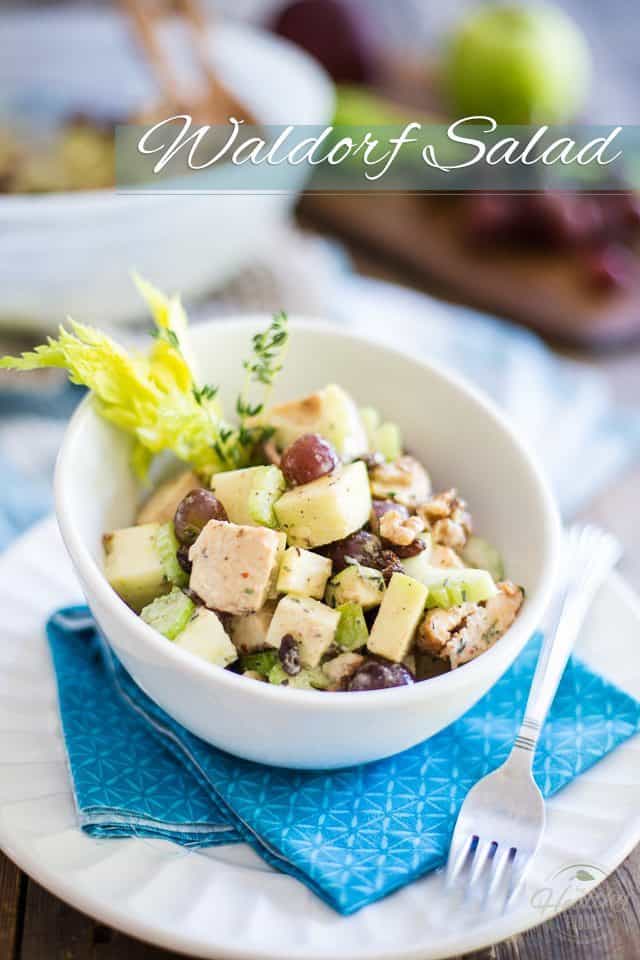 I recently got an email from someone who was sort of questioning my recent decision to start counting macros again: In their mind's eye, this behavior goes against the principles of the paleo lifestyle.
While I totally respect their views, I must say that I feel quite differently about this: I think that one can very well adhere to the general rules of the paleo diet and still choose to keep track of their macros and calorie intake, if only for a short while… For some of us, it's all too easy to lose track of how much food goes into our bodies, and sometimes it's good to get reacquainted with the notion.
Plus, we don't all have the same goals or standards, no two people are the same, and what works for me won't necessarily work for you. I know very well how my body is made. I also know that I like to eat, sometimes a bit too much, too! What? I don't call myself a foodie for nothing! And my body, well, it tends to store fat rather easily and seems to be quite comfortable being on the softer side. If I overdo the calorie thing for too long, even if the vast majority of them come from real, unprocessed foods, well, the pounds they tend to creep up on me, so I then need to eat at a deficit for a while, in order to get rid of those unwanted pounds.
In other words, I still feel the need to track calories and macros, from time to time, if only to stay on top of things, to get back on track so to speak. This is why I always calculate the nutritional value of the dishes that I create and post here and felt equally strongly about crunching the numbers for all the recipes that I included in my upcoming cookbook, Paleo Home Cooking.
Because sometimes, one needs to focus on food quality AS WELL as food quantity…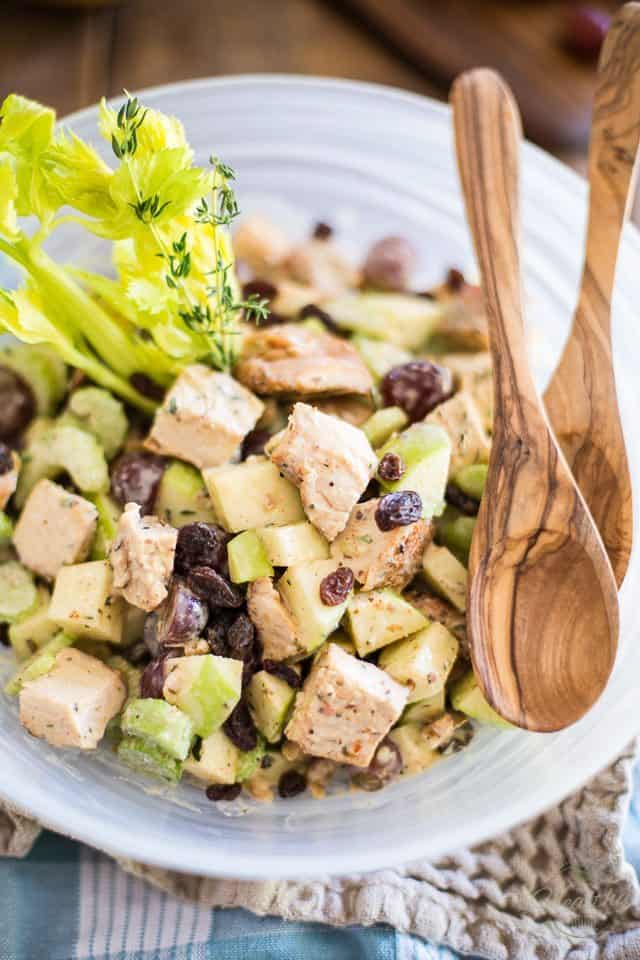 Also too, in an effort to meet my current macro requirements, I decided to reintroduce dairy products and whey protein powder to my regular diet, so you'll find that several of my recipes nowadays call for it. Fear not, though, as I fully intend to follow through with the basic principles of the paleo diet, which means that I'll still be feeding nothing but whole foods for the most part, on ingredients that have undergone as little processing as possible, just the way I like 'em. Even my dairy consumption will be limited to a select few, such as yogurt as well as a few variety of cheeses. And no, Velveeta will not be part of that lot.
If you can't tolerate dairy though, or if you're simply not a fan, you can very often leave it out or sub it, without compromising the recipe in the least.
Take this Waldorf Salad, for instance. Today, I chose to make it with Greek yogurt as a base for my dressing, because Greek yogurt is a very good source of protein, which I consume a lot of in a day, while being extremely low in fat, and therefore, fairly easy on my daily calorie allowance. A few months from today, though, when I'm not cutting anymore, I could very well decide to revisit that exact same recipe, but this time use Paleo mayo instead of the Greek yogurt, because well, I happen to LOVE mayo, so if I can afford the extra calories and opt for a bit more healthy fat instead of more protein, you can be certain that I'll go for it!
You see, I truly believe that paleo needs not be completely white or black… it doesn't have to be a set of hard rules. Hey, being on a first name basis with the local farmer and having a chicken coop in your backyard aren't absolute requirements in order to be part of the gang, you know! Use the diet as a guideline, feed on wholesome ingredients and keep it as real as possible, but don't be afraid to experiment. In the end, you need to find a template that works for you, a solution that you will find it easy to stick to in the long-run.
As Robb Wolf himself puts it:
If your shade of Paleo works for you, your health and your goals then it doesn't matter what the militant paleo says. Find the hue that's right for you — there's no one perfect formula for everyone — start with the basics and experiment until you find YOUR perfect shade. Your body and your sanity will thank you.
All I have to say is: Amen to that!
Alright, so what do you say we get busy cooking now? I don't know about you, but all this talk about food and macros made me super hungry…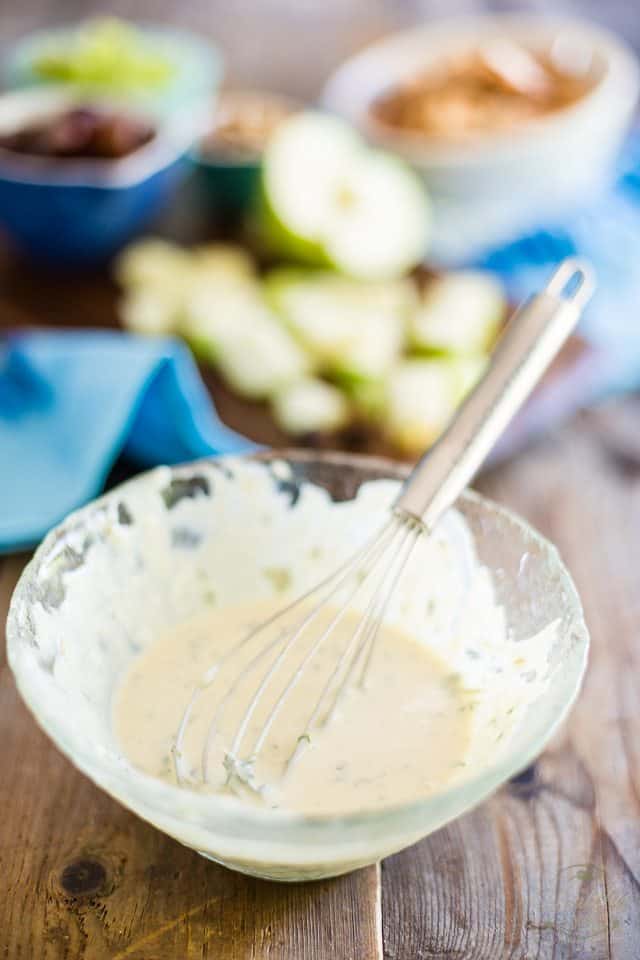 To make sure that your salad is as good as can be, I strongly suggest that you lightly toast your walnuts to start with.
Place them in a dry pan set over medium-low heat and cook them for about 5 minutes, tossing them around occasionally, until they become fragrant and slightly golden. Trust me, this little effort on your part will make a world of difference as far as the overall flavor of your salad is concerned. Every single time you bite into one of those nuts, you'll thank yourself for going the extra mile!
And while your nuts are toasting, you can make the dressing; simply place all the ingredients in a small mixing bowl and mix well with a flat whisk until well combined and creamy.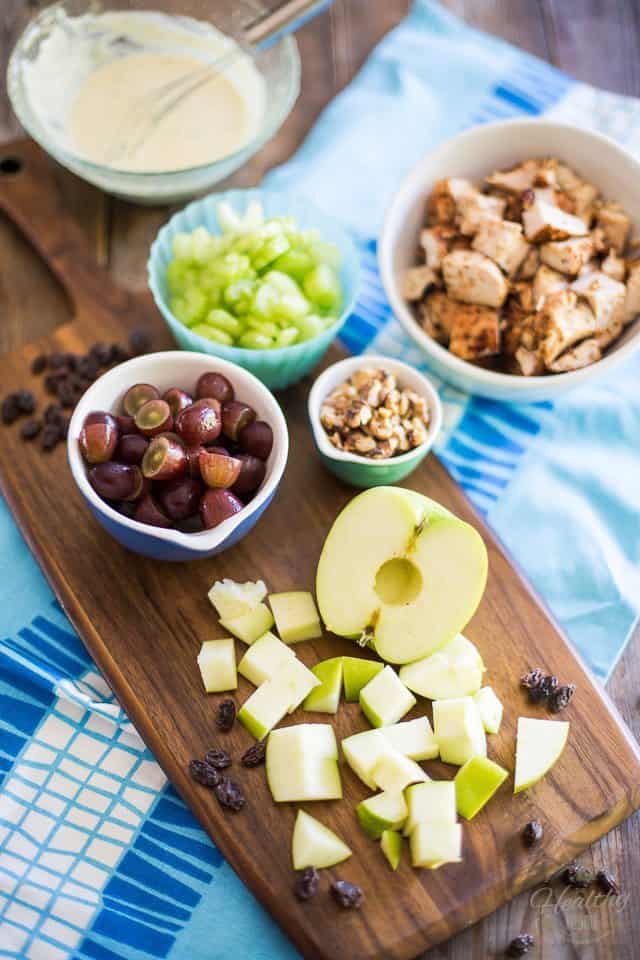 Then, prep all of your ingredients: cut the leftover cooked chicken breasts into bite size pieces, slice the celery ribs, cut the raisins in half, core and dice a Granny Smith apple and measure the raisins.
Feel free to swap the grapes and apple, if you want to, i.e. use a red apple and green grapes, instead of a green apple and red grapes!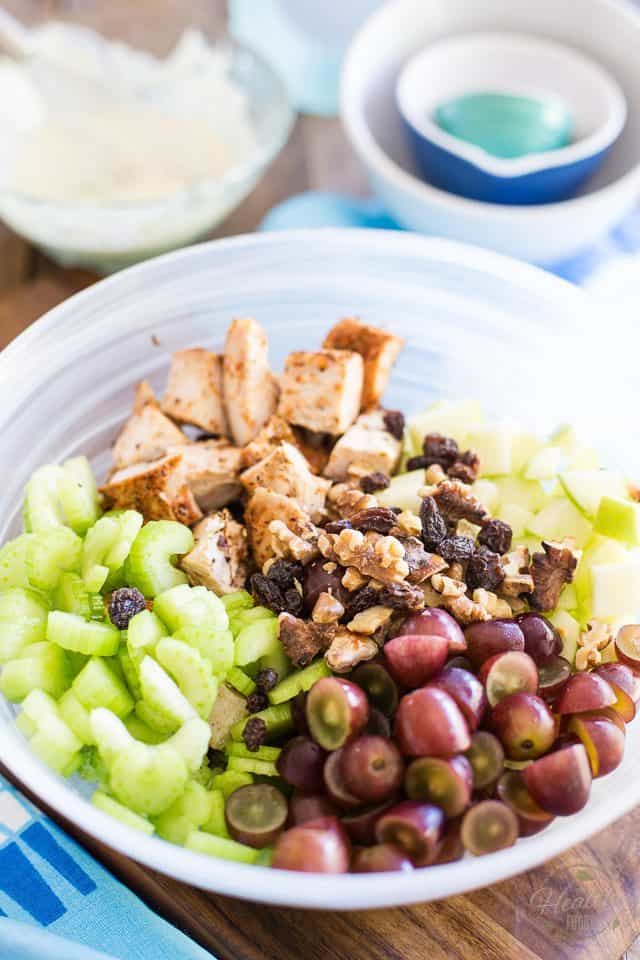 Now place everything in a large mixing bowl….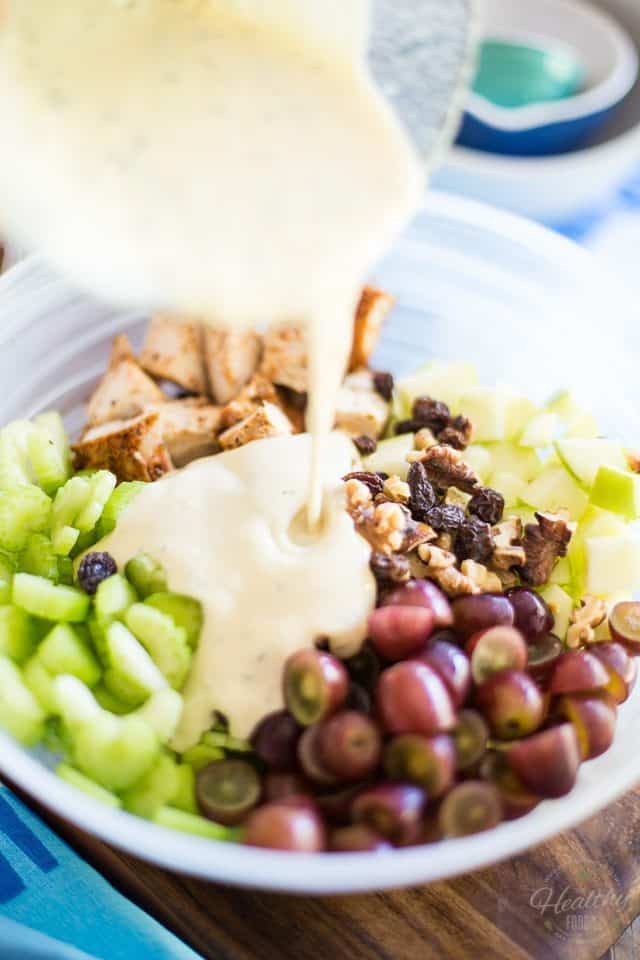 …add the dressing and toss delicately until all the elements are well coated.
Like I suggested earlier, if you don't tolerate dairy, or if you're not a fan and prefer to leave it out of your paleo palette, feel free to use Paleo Mayo instead of the Greek Yogurt. Or, if you don't mind dairy but would prefer a little bit more fat in your salad, use half yogurt and half mayo, or any other ratio that suits your liking.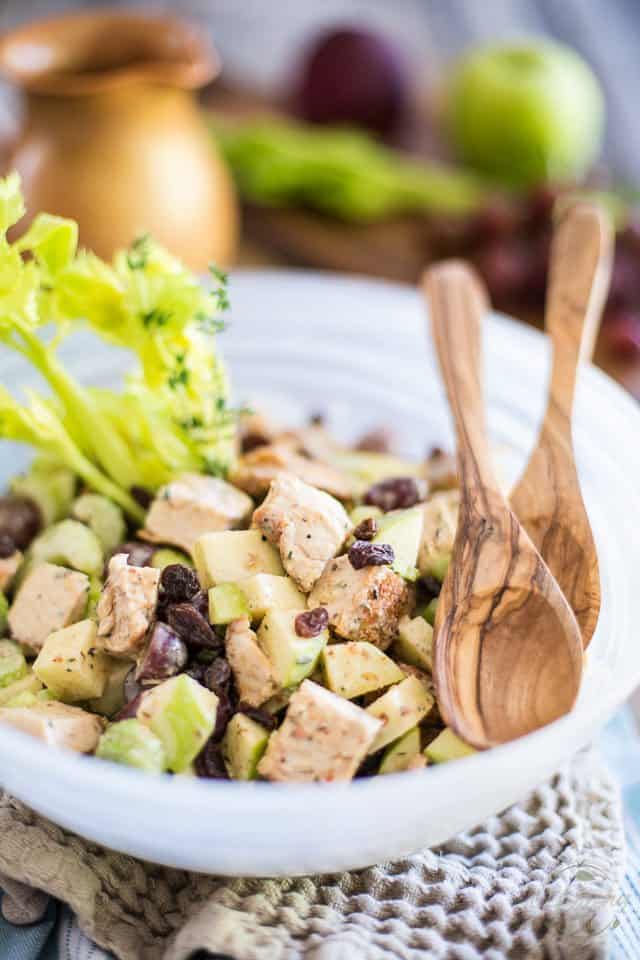 Preferably, you want to serve this salad immediately, just as is or over a bed of leafy greens or shredded lettuce. Your choice!
You can also keep your salad in the refrigerator for a few days, but if you choose to do that, be warned: the dressing will get much thinner after sitting for a little while.
It'll still be delicious, though. So you decide.
Hey, don't say I'm not giving you options!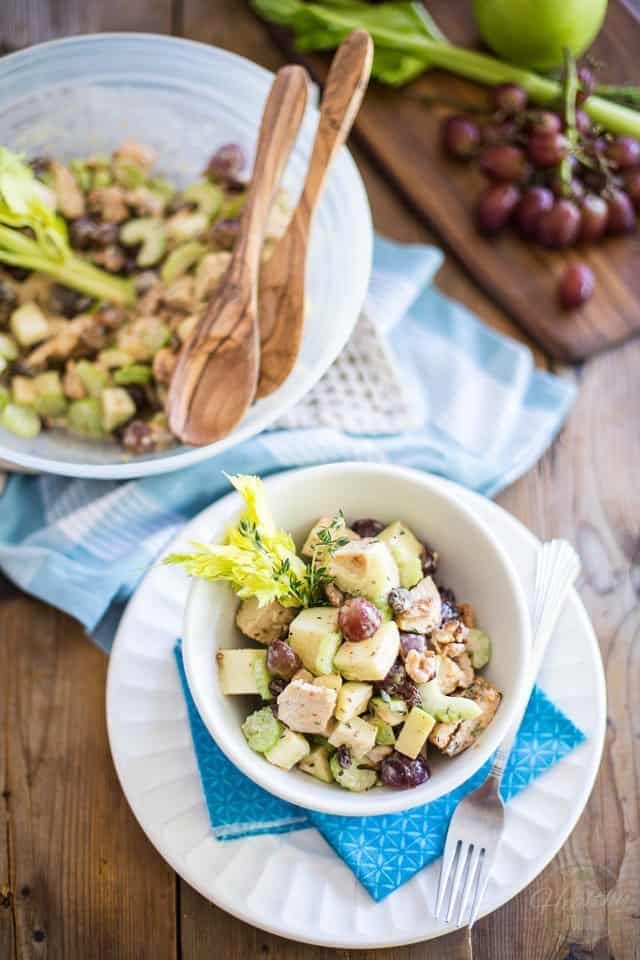 Waldorf Salad
Servings: 4
Ingredients
2 large cooked chicken breasts, cut into bite size chunks (about 250g|8oz each)
1 Granny Smith apple, cored and diced
2 celery ribs, sliced
1 cup red seedless grapes, cut in half
1/4 cup chopped raw walnuts
2 tbsp organic raisins
OPTIONAL
Leafy greens or shredded lettuce, to serve
Instructions
Toast the walnuts slightly by placing them in a dry pan set over medium-low heat. Cook for about 5 minutes, tossing them around occasionnally, until fragrant and slightly golden.

Make the dressing: place all the ingredients in a small mixing bowl and mix well with a

flat whisk

until well combined and creamy.

Prep the rest of the ingredients and place them all in a large mixing bowl. Add the dressing and toss delicately until all the elements are well coated.

Serve immediately, as is or over a bed of leafy greens or shredded lettuce.

This salad will keep well in the refrigerator for a few days, although the dressing will get much thinner.
If you've tried this recipe, please take a minute to rate the recipe and let me know how things went for you in the comments below. It's always such a pleasure to hear from you!
You can also FOLLOW ME on PINTEREST, FACEBOOK, INSTAGRAM and TWITTER for more delicious, healthy recipes!