Quick and Easy Loaded Olive Salad
Love olives? Then you will be absolutely all over this Loaded Olive Salad. So quick and easy to make, too! Open cans, chop a few veggies, mix and enjoy!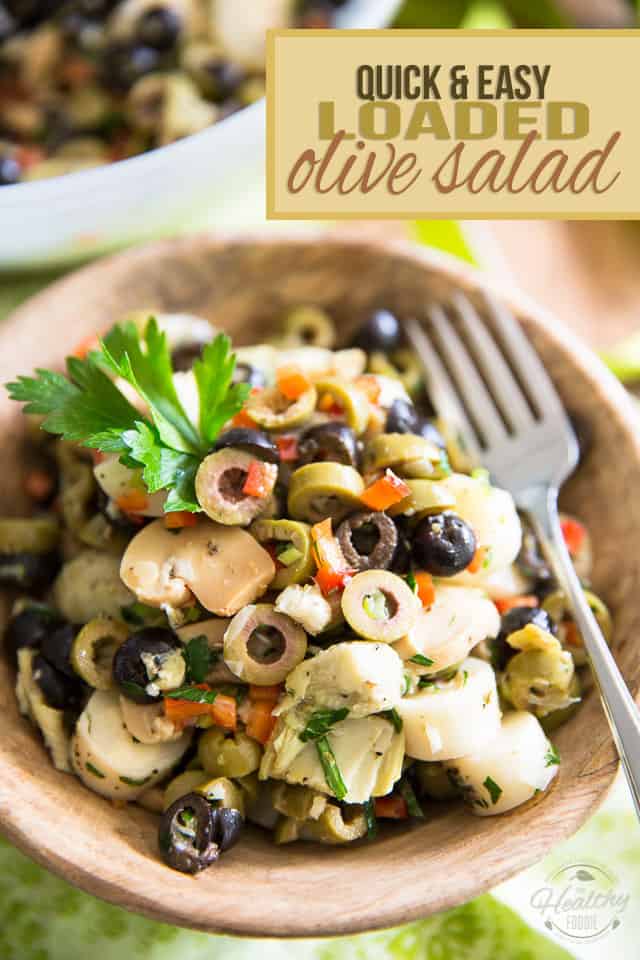 The inspiration for this delicious salad, I got when I last visited my favorite Lebanese food joint. They had this new olive salad in the salad bar and I just couldn't resist trying it. While it was absolutely delicious, their version was basically only black and green olives with a light garlic-y dressing and a few pieces of what I think were tomatoes, or maybe it was the pimento paste from the olives?
At any rate, I decided to kick it up an notch and to sort of combine this new salad with the lemony artichoke salad that they'd inspired me in the past.  OMG have we got ourselves a winner this time!
If you love olives, then you will be totally, absolutely all over this Loaded Olive Salad. Not only is it delicious, sturdy and super versatile, it's also crazy quick and easy to make, too! All you need to do is open up and drain the content of a few cans, chop a handful of veggies, mix and enjoy!
While I agree that canned ingredients probably aren't as healthy as fresh, sometimes they are your only option, and a very decent one at that. Plus, they can be awfully convenient, too!
If you want to pick and cure your own olives, prep and marinate your own artichokes and heart of palm (this could get pricey fast if you're going to hand pick them yourself, too!) then by all means, be my guest. I'm quite happy with using the canned variety in these cases, thank you very much! 😉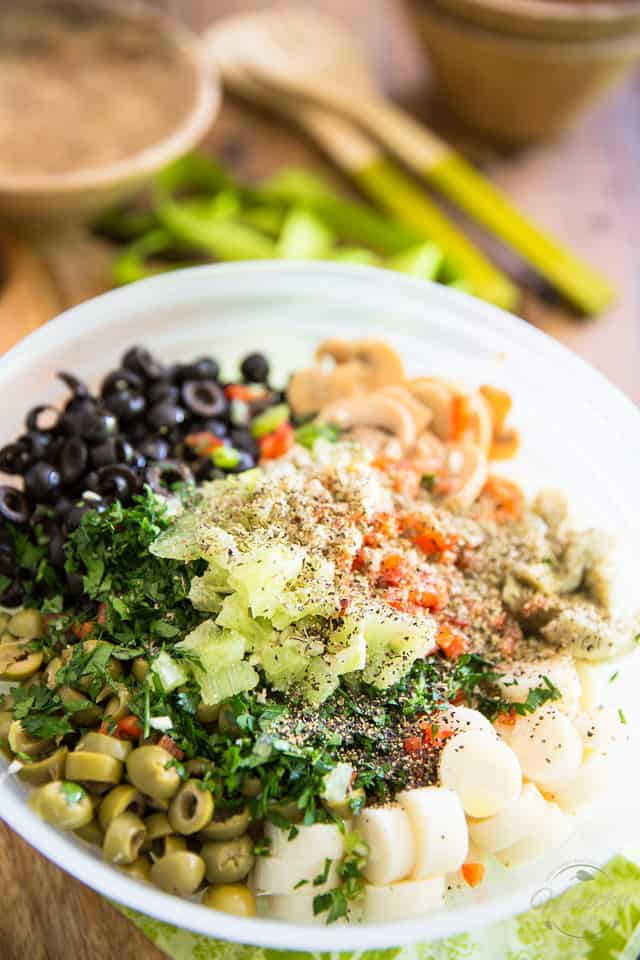 Now about those cans… If you could't find the 14oz cans of olives that my recipe calls for, don't worry about it:  there is absolutely no exact science whatsoever involved with the making of this particular salad. You can actually use as much or as little olives as you'd like. About one to one and a half cup of each, after draining, should do the trick. Same goes for the mushrooms, hearts of palms and artichokes.
I'm thinking that the can sizes that I used are a Canadian thing. They seem to be completely non-existent on Amazon.com. So say all you can find are 19oz cans, or 15.5oz cans, well by all means, use those. Like I said, no exact science here: there's LOTS of room for play and improvisation…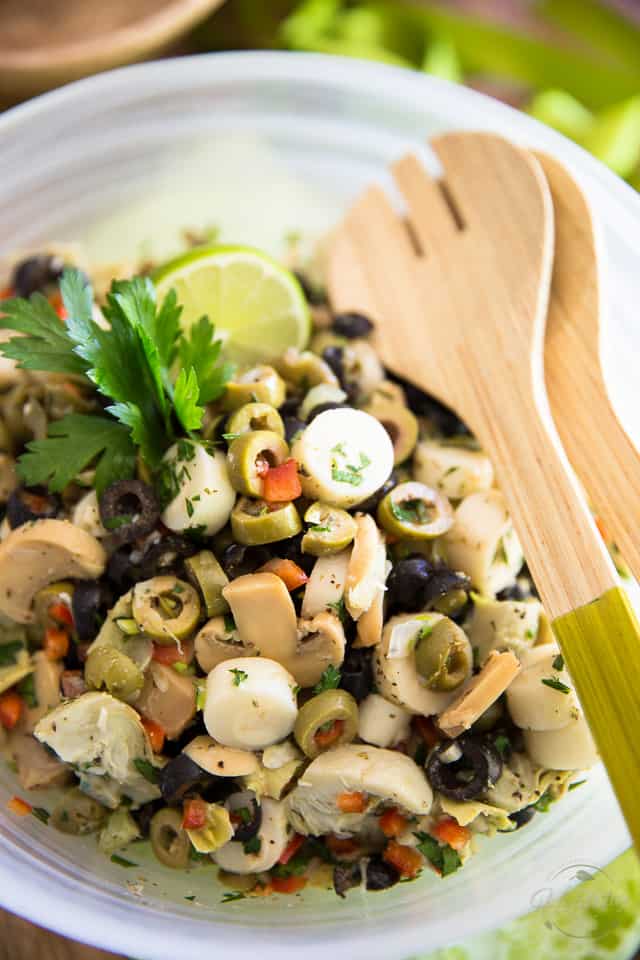 Making the salad couldn't be easier really. All you need to do is mix everything together in a single bowl.
If you're not too sure what I mean by "the flesh and juice of a lime", it's actually quite simple. All you need to do is remove the peel and pith of the lime with a knife and then extract the soft flesh known as supremes. Once you've got that out, squeeze whatever juice is left out of the membrane. If you need a little bit of visual help, check out this great video by Ming Tsai.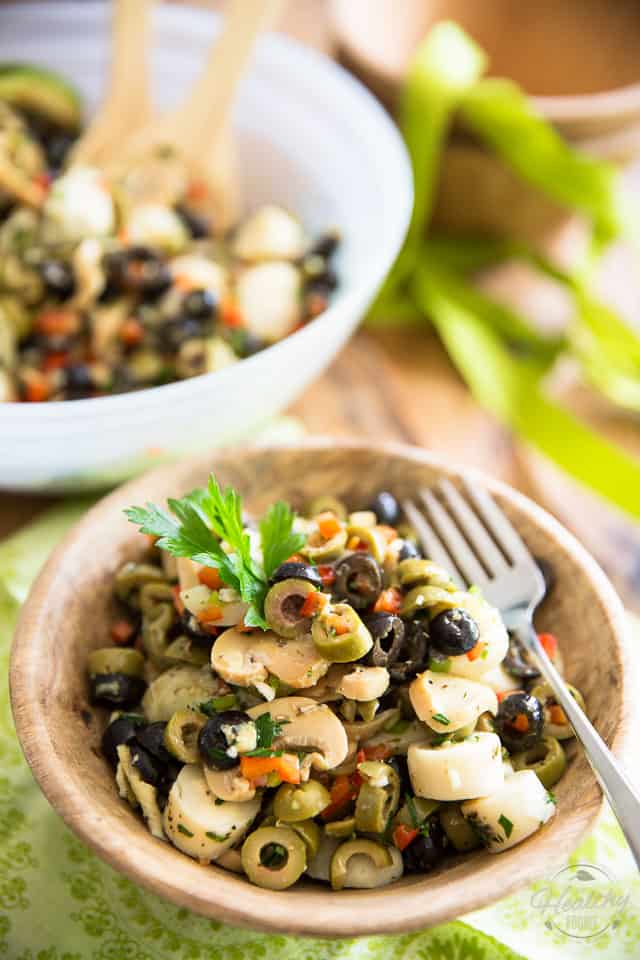 Technically, you can serve this salad as soon as all the ingredients have been mixed together, but it greatly benefits from sitting for a few hours, to let the flavors meld and develop.
Plus, it's so sturdy that you can make it days ahead of time… in fact, it'll only get better after it's had a chance to sit in the fridge for a few days.
Of course, this salad is fantastic served alongside grilled meat, but it would also be absolutely brilliant used to garnish a hamburger or sandwich. Another thing that came to mind every single time I had some of this salad would be to spread a little bit of tomato sauce over a flat bread bread like a naan for instance, then scatter a little bit of the salad on top, turning it into some kind of an instant cold pizza.
I get the feeling that I will be making this one tons of times over the course of the summer, and will find just as many ways to enjoy it! I hope you do just the same, and if you come up with something super cool, please feel free to share!
I sure would love to hear your ideas.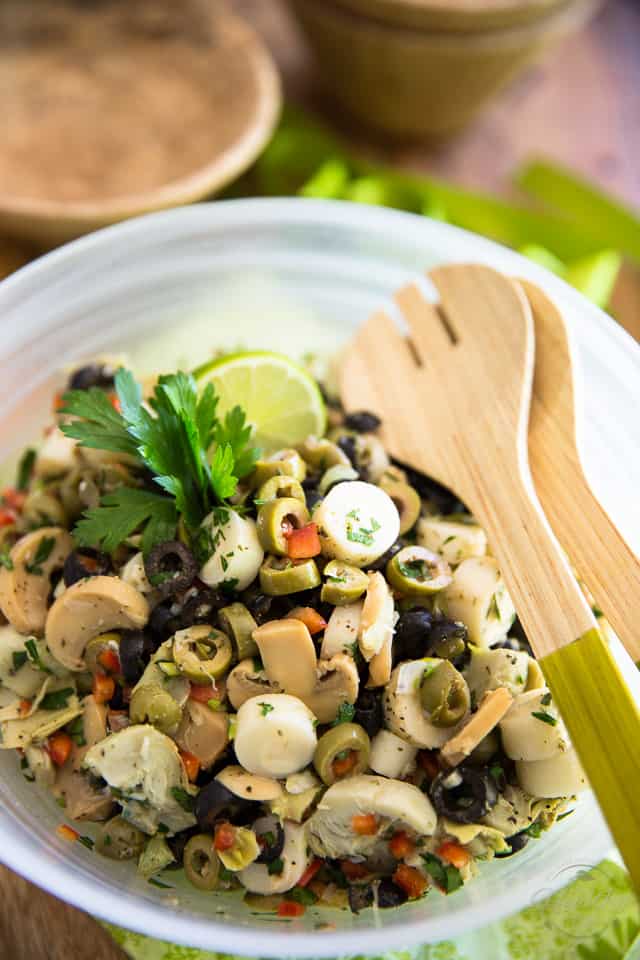 Quick and Easy Loaded Olive Salad
Love olives? Then you will be absolutely all over this Loaded Olive Salad. So quick and easy to make, too! Open cans, chop a few veggies, mix and enjoy!
Servings: 8
Instructions
Place all the ingredients in a large bowl and toss delicately until well combined.

Serve immediately or place in the fridge for about an hour to allow flavors to meld.

This salad will keep well for up to a week in the refrigerator.
Nutrition
Calories: 228kcal, Carbohydrates: 16g, Protein: 3g, Fat: 17g, Saturated Fat: 2g, Sodium: 1248mg, Potassium: 809mg, Fiber: 4g, Sugar: 8g, Vitamin A: 1350IU, Vitamin C: 33.2mg, Calcium: 58mg, Iron: 1.6mg
If you've tried this recipe, please take a minute to rate the recipe and let me know how things went for you in the comments below. It's always such a pleasure to hear from you!
You can also FOLLOW ME on PINTEREST, FACEBOOK, INSTAGRAM and TWITTER for more delicious, healthy recipes!