Quinoa Cakes and Poached Eggs
I think it's no secret to anyone by now that I am a breakfast junkie! At night, when I go to bed, I often dream about the breakfast that I will get to enjoy the next morning. I always really look forward to that moment. And when it finally gets here, I savor it almost as if it was for the last time.
I do tend, however, to eat mostly "sweet" breakfast: cold  cereal,  warm cereal, all sorts of different kinds of oatmeal, overnight oats, pancakes, stuffed french toasts, toasts with peanut butter and banana slices, toasted banana bread, buckwheat pancakes, basically all things that lean more towards the sweet side.
Once in a while, though, I do I like to go for something that's a little more on the salty side, namely, eggs! I can't say I'm an egg fanatic, but I'll never say no to a beautiful poached egg IF the yolk is runny. I don't know if it's more because I think they taste good or because I think they look good, though. I don't know why, there is something about a runny egg yolk that I find particularly attractive.
So when I saw that post over at Verses from my Kitchen, I just thought I HAD to try those. Look how beautiful that yolk is! All perfectly yellow and shiny, slowly going down that parsley and quinoa cake. YUM! Oh, and to place a poached egg on top of quinoa cakes to me was pure genius! Eggs benedict have absolutely nothing on those, if you ask me!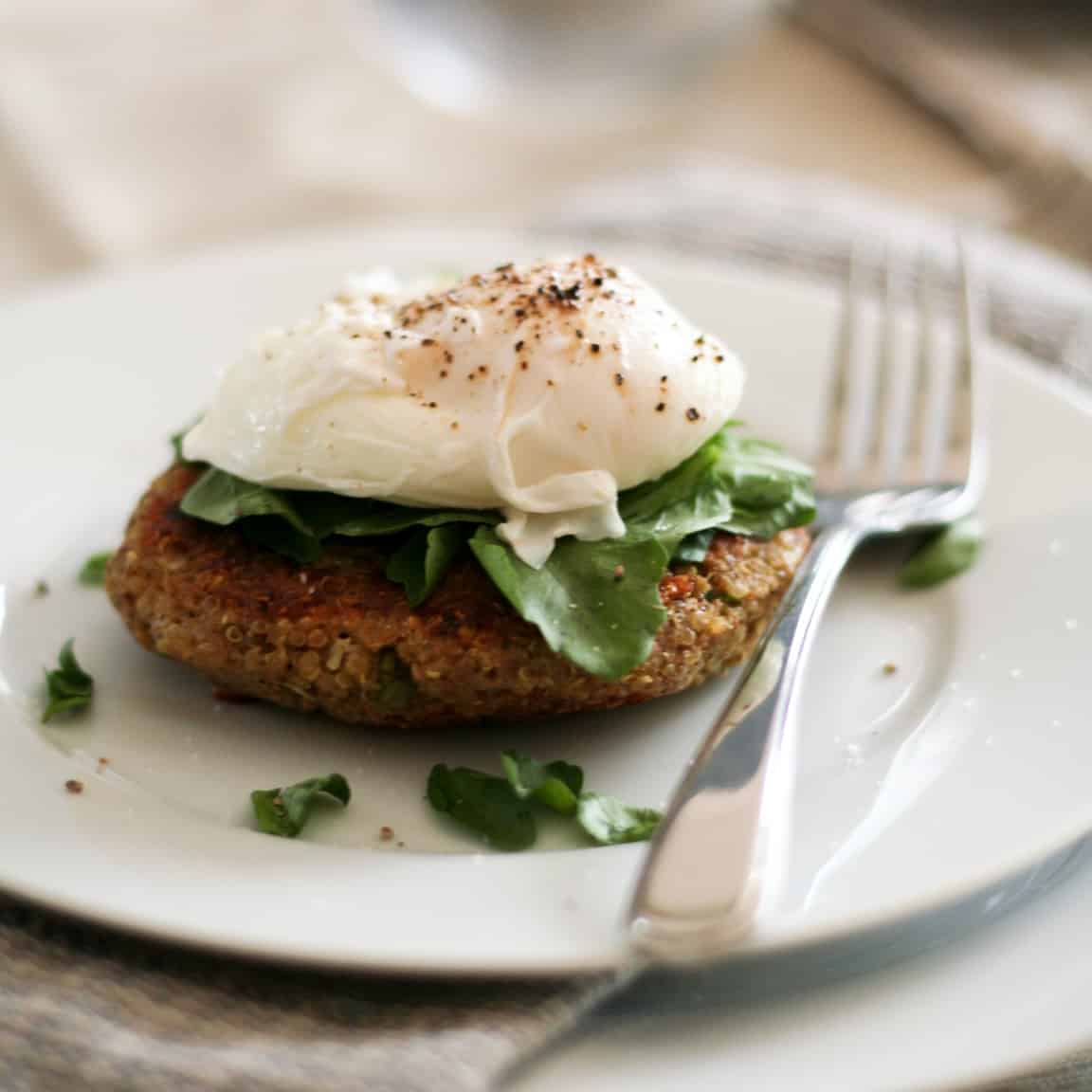 I have to say that I was a bit intimated, though. First, at the thought of making poached eggs. Second, at the thought of having to make my egg look as pretty as Mike's. Let's just say that he'd set the bar pretty high…
So poached eggs… I'd only attempted to make those once before in my life, and the experience hadn't been what I can call conclusive. In other words, it was a mess! I was determined to succeed this time, however, for if I was going to show you guys something, it had to be pretty>. So I turned once more to my ever faithful resource, the Internet, for guidance and tips. I found this great video and it helped tremendously! The only thing is I used lemon juice instead of white vinegar for I don't keep white vinegar around the house. I was also missing quite a few of the ingredients that the recipe called for, so I adapted it somewhat to fit the contents of my cupboard.
Frankly, this dish did not disappoint, and although it does take a long[er] time to make, which doesn't make it your breakfast of choice for mornings when you have to go to work,  I think that it's very well worth taking the time to make on a quiet week-end day…
You don't have time to make such extensive breakfasts? I'll let you in on a little secret. I actually had this one for dinner, not breakfast! Hey, there are no rules against that! 😉
Quinoa Cakes and Poached Eggs
Servings: 6
Ingredients
2½ cups cooked quinoa
1 cup bread crumbs
2 eggs
½ cup or 4 egg whites
2 green onions, finely chopped
45 g extra sharp cheddar cheese
½ tsp salt
¼ tsp black pepper
About ½ cup watercress leaves
6 poached eggs
Instructions
Combine the quinoa, eggs, egg whites, green onion, cheese, salt and pepper in a medium bowl. Add the bread crumbs, stir, and let sit for a few minutes so the crumbs can absorb some of the moisture. Form into six patties.

Heat a little bit of olive oil in a large, heavy skillet over medium-high heat. Add the patties, if they'll fit with some room between each and cook until the bottoms are deeply browned, about 7 to 10 minutes.

Carefully flip the patties with a spatula and cook the second sides for 7 minutes, or until golden.

Transfer to serving plate, top with a pinch of watercress leaves and a poached egg. Sprinkle with salt and pepper.

The quinoa mixture keeps nicely in the refrigerator for a few days; you can cook patties to order, if you prefer.
If you've tried this recipe, please take a minute to rate the recipe and let me know how things went for you in the comments below. It's always such a pleasure to hear from you!
You can also FOLLOW ME on PINTEREST, FACEBOOK, INSTAGRAM and TWITTER for more delicious, healthy recipes!