Raspberry Oatmeal Protein Pancakes
IT'S THE WEEKEND!!! 😀
Could you think of anything better than pancakes to eat on a lazy weekend morning?
Pancakes, to me, are like the ultimate decadent breakfast food. They are a treat that I used to indulge in only on very rare occasions, because, well, let's face it, pancakes, as we know them, have absolutely nothing healthy about them. They are, for the most part, made of white flour and most people tend to eat them literally drenched in syrup.
I recently discovered this recipe for pancakes that aren't just "less bad" or "better for you" than the standard version. Those pancakes are actually SUPER HEALTHY! For real! You could have them every single day of the week if you wanted to!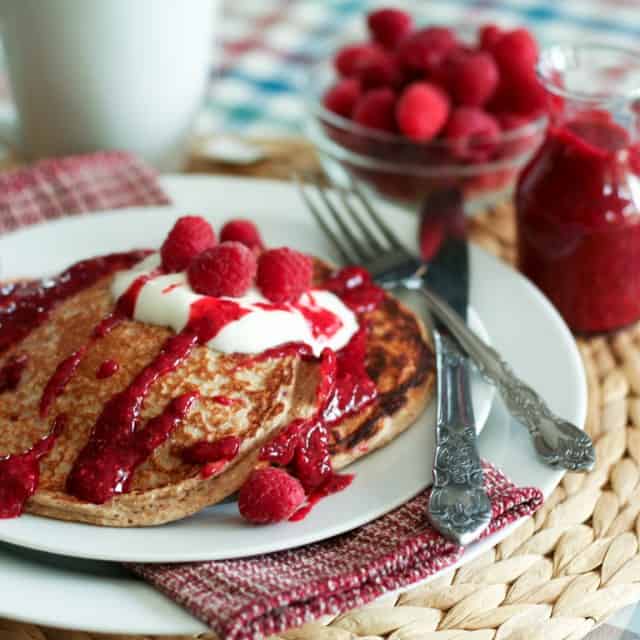 They are made with, believe it or not, nothing but rolled oats, egg whites and low fat cottage cheese! And the best part is, YES, they are incredibly good! Flavorwise as well as texturewise.
But you don't have to take my word for it, you can try them for yourself. You'll see, they are absolutely super easy and quick to prepare!
I'm pretty sure this one will become a favorite of yours, as it has for me!
I used raspberry here, but really, you could use whatever fruit you want… blueberries, strawberries, mango, pineapple, kiwi? why not! Let your imagination run wild, go nuts!
Oh, and ps… if you have some of that raspberry sauce leftover, it goes superbly well with the Pumpkin Raspberry Buckwheat Loaves
Raspberry Oatmeal Protein Pancakes
Servings: 1
Ingredients
For the pancakes
½ cup Rolled Oats
½ cup 1% Cottage Cheese
½ cup Egg Whites
¼ tsp Baking Powder
¼ tsp Cinnamon
¼ cup frozen, or fresh raspberries
For the Raspberry Sauce
¾ cup frozen, or fresh raspberries
1 tbsp unpasteurized liquid honey
1 tbsp chia seeds
¼ cup water
1 tsp lemon juice
Instructions
For the raspberry sauce: In a small saucepan, cook raspberries, water, lemon juice, chia seeds and agave nectar over low heat, stirring occasionally, until raspberries "melt" and sauce thickens, about 5 minutes. When sauce is ready, set aside to cool for about 5 minutes and puree in a food processor*.

For the pancakes: Simply mix all the ingredients, except raspberries, in a food processor* and blend until nice and smooth. Remove the blades and delicately fold in the raspberries.

Coat a non-stick pan with cooking spray and heat it over medium heat. When the pan is hot enough, cook your pancakes one at a time until set and golden, about 1-2 minutes per side. I like to divide my batter into 3 small pancakes, but you may choose to make one large, 2 medium or 3 small pancakes, whatever works for you.

Transfer pancakes to serving plate and garnish with a dollop of plain yogurt and fresh raspberries if desired.

Serve with raspberry sauce.
Notes
*Nutritional information includes full pancake recipe and half the raspberry sauce
If you've tried this recipe, please take a minute to rate the recipe and let me know how things went for you in the comments below. It's always such a pleasure to hear from you!
You can also FOLLOW ME on PINTEREST, FACEBOOK, INSTAGRAM and TWITTER for more delicious, healthy recipes!
* A Magic Bullet works wonders for this recipe…