It's called P90X, baby! (oh! and leftover spaghetti meatballs…)
It's absolutely insane, and I love it!
Problem is, now I don't want to run anymore… I just want to "Bring it"!
You see, I'd been wanting this training program for a long time now, but seeing that it costs $150, I sort of put it off for a while. And, since I am supposed to be training for a half-marathon this summer, I figured I wouldn't need to buy it until fall.
BUT, the wheather has been so crappy so far, it's just raining all the time, I decided to go ahead and get it now! I just don't feel like running in the rain. I can't say that I love running, really. I do it only because when it's nice out, I'd rather be exercising outdoors than in my basement, and since running doesn't cost much at all, it became the obvious choice.
Plus, I have to admit that I really like the idea of eventually running a full marathon. And looking at this picture from last year's half totally makes me want to go for it.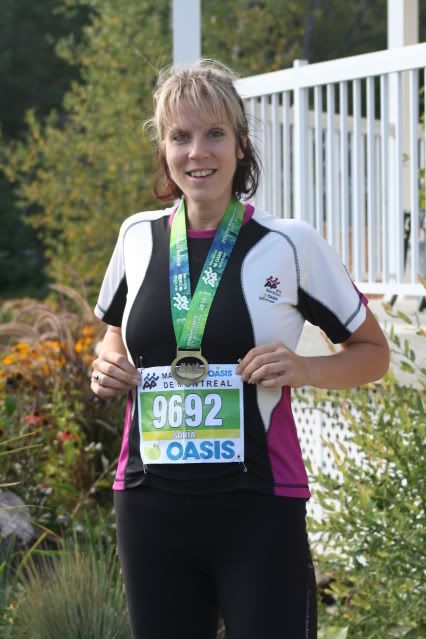 So now I don't know, I'm all confused. If I don't start running soon, I can kiss my half-marathon good bye for this year. I feel like I want to do it, but I lack the motivation to train for it. Maybe it's the thought of running alone again.
Whatever I do, I need to decide and quick, for I need new shoes. What's it gonna be? Shock absorbing or stability control?
Oh, right, I almost forgot… FOOD! Yes, I did eat today!
Tonight, I had leftovers. I had some Chicken Meatball Spaghetti Sauce left in the freezer.
Well, believe it or not, I took pictures of my leftovers! I'm a freak, I know!
Here goes! Not bad, for leftovers, isn't it?