Savory Broccoli and Spinach Cheesecake
WHOA! Hold the phone! What's that I read? CHEESECAKE?
Yeah, I know what you're thinking… "Sonia, didn't you just say you were going to keep your calorie intake in check and cook more light and low cal dishes for a while? And yet, here you are, making CHEESECAKE? Are you, like, out of your mind or something?"
Well, not exactly! 😉 While cheesecake isn't exactly you typical low cal dish, believe it or not, one serving of this baby will only set you back about 425 calories.
Not bad for such a rich and decadent dish. While eating it, you would never guess that it was so healthy and surprisingly light. It definitely feels super rich and creamy and oh so cheesy.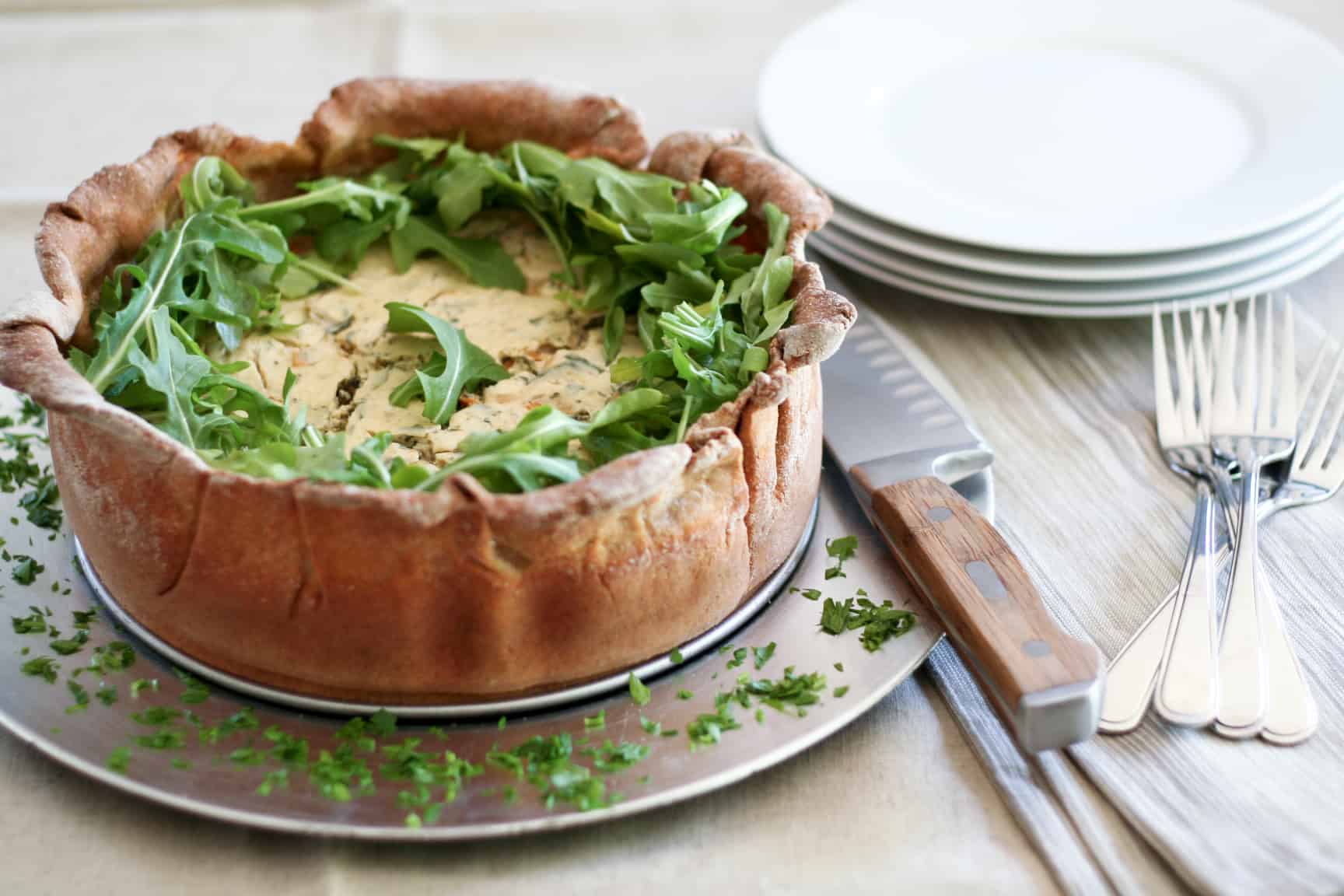 You see, I was initially planning on making a quiche, but I suddenly remembered that I had bought about a million packages of low fat cream cheese last time it came on sale (I know, I have to work on that…) and so my mind immediately went "SAVORY CHEESECAKE" and this huge grin came across my face.
Then I remembered: "-Low cal". D'OH!
I had to think of a way to make this happen. HAD TO!
And I did!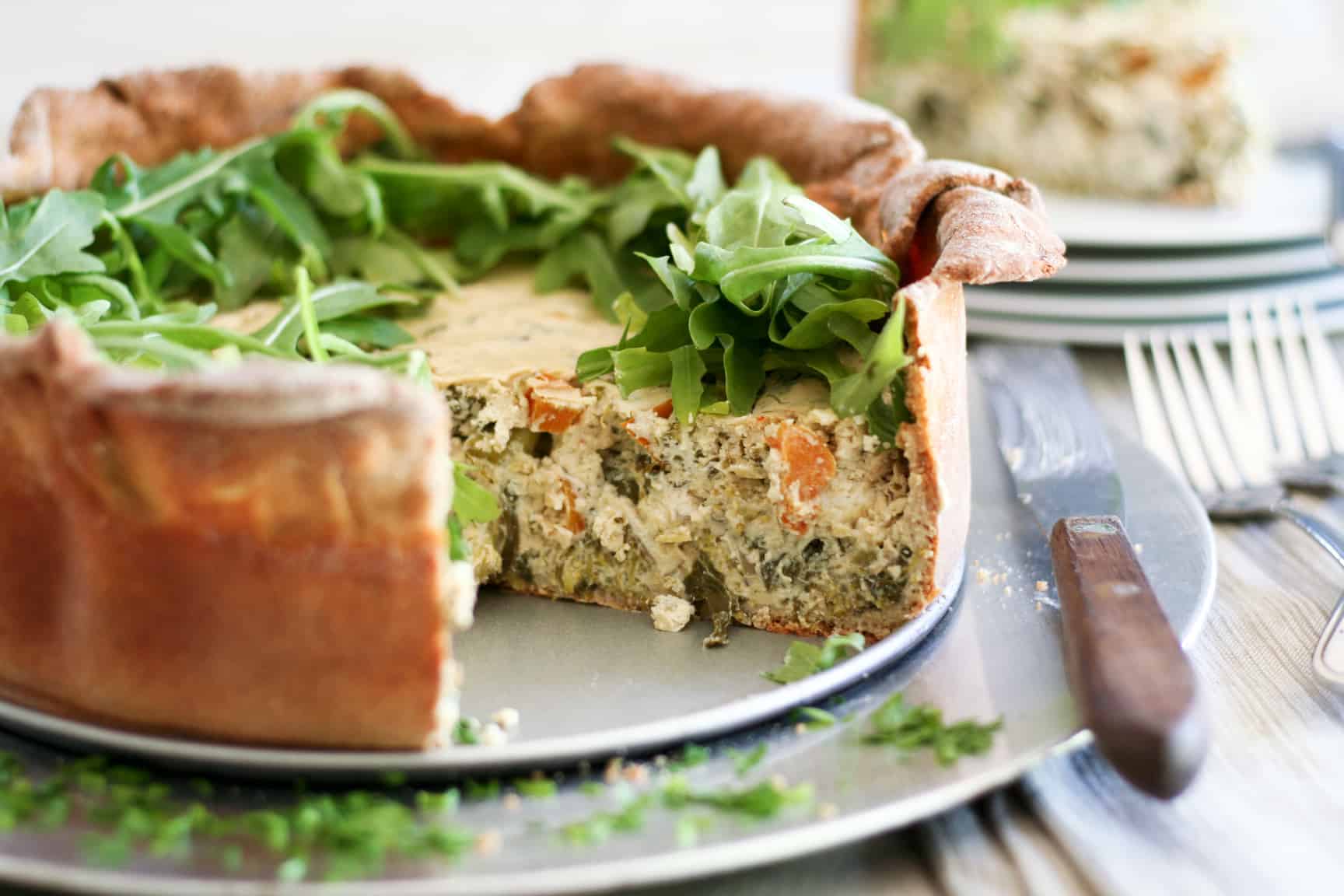 How? I remembered that one could also use cottage cheese to make cheesecakes! Bingo, problem solved. I used one package of low fat cream cheese, one container of 1% cottage cheese and a little bit of Feta cheese for added flavour and texture.
All in all, I am EXTREMELY happy with the results. The texture is rich and creamy with nice chunks of vegetables and the pie as a whole doesn't feel heavy at all despite being loaded with cheese. The taste? Hard to describe… but definitely YUMMY!
There's only one tiny little detail that didn't quite work out… the crust isn't of the cuddly kind and doesn't seem to want to cling to the cheese filling. That's why I decided to garnish with arugula leaves, to hide the gap that had formed between the crust and the filling. Problem solved? Not quite that easily…
The slices are a little tricky to cut, but if you make a small "starter" indentation in the crust, the rest goes pretty good. However, once a slice is cut, the "gap" transforms into a drawbridge, so you sort of have to hold it in place with a toothpick.
Not sure how to solve that problem… I will have to think of something… Edible superglue?
Anywho, that won't stop me from making this wonderful savory cheesecake again, or even from bringing it to an eventual party. I am truly happy with this experiment and the way it turned out.
And, now that I've got a good base, I can play with different flavour combinations!
Oh! food, how I love thee!
Savory Broccoli and Spinach Cheesecake
Servings: 6
Ingredients
Filling
1 medium onion, chopped
1 orange bell pepper, chopped
1 tsp salt
¼ tsp black pepper
1 tsp oregano
1 tsp organic no salt seasoning
4 cups broccoli florets, chopped
¼ cup water
1 tsp balsamic vinegar
140 g spinach, chopped
Freshly grated nutmeg, to taste
250 g low fat cream cheese
500 g 1% fat cottage cheese
the zest and juice of half a lemon
1 tsp Dijon mustard
3 whole eggs
¼ cup egg whites, equivalent to 2 egg whites
100 g Feta cheese, crumbled
Instructions
Crust
Whisk flours, baking powder and salt in a bowl. In a measuring cup, whisk oil, yogurt and egg; pour over flour.

Stir to form fairly smooth dough.

On floured surface, knead until smooth, 2 minutes.

Press into disc; wrap and refrigerate for at least 30 minutes.

On floured surface, roll out dough to form a 12-13 inch disc. Fit into 9 inch spring form pan, letting excess hang over edge. Set aside.
Filling
Preheat oven to 375F

In a skillet coated with cooking spray, cook onion, bell pepper and seasoning over medium heat, until fragrant and onion becomes translucent, about 2-3 minutes. Add broccoli and continue cooking for another minute or two.

Add water and balsamic vinegar. Cook until all water has evaporated. Turn off the heat and add chopped spinach and nutmeg. Stir until the spinach is wilted. Set aside to cool.

In a food processor, blend cream cheese and cottage cheese together until smooth. Scrape the sides once or twice during process to make sure all cheese is well incorporated.

Add lemon juice and lemon zest, Dijon mustard and give a quick stir.

Add eggs, one at a time, blending until smooth between each addition. Add the egg whites and take the mixture for a final spin.

Transfer cooked vegetables to a large mixing bowl. Add crumbled feta and creamy cheese mixture. Fold delicately until well combined.

Transfer this mixture into the reserved crust. Immediately put in the oven and lower temperature to 325F.

Cook for 55-60 minutes, until cake is set.

Allow cake to cool completely before unmolding.

Garnish with arugula leaves right before serving.
If you've tried this recipe, please take a minute to rate the recipe and let me know how things went for you in the comments below. It's always such a pleasure to hear from you!
You can also FOLLOW ME on PINTEREST, FACEBOOK, INSTAGRAM and TWITTER for more delicious, healthy recipes!