Sesame Salmon Balls and Ginger Tahini Dipping Sauce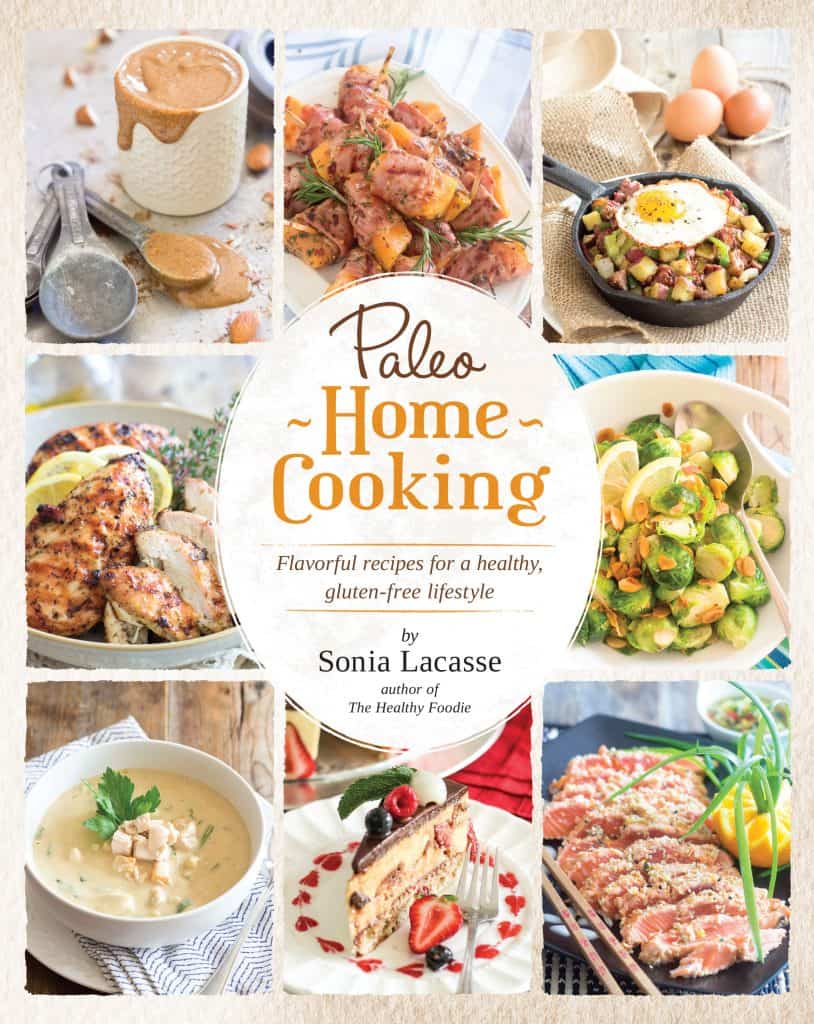 I can't believe it's already been close to a month since PALEO HOME COOKING was officially released into the world!
As a first time author, I've been extremely nervous these past few weeks: I didn't really know what to expect and wasn't quite sure what you guys were going to think of my work, you know. Part of me was a bit worried that I'd get thrown virtual rotten tomatoes or something…
But so far, and much to my relief might I add, I've gotten nothing but sensational feedback from each and everyone of you who manifested after getting a copy of my book. Frankly, I couldn't be happier! I mean, I put so much of my heart and soul into this book, as I wanted every little detail to be absolutely perfect, from cover to cover. I wanted to make sure that you, as a consumer, would be wholeheartedly satisfied with your purchase.
From what you've all been telling me so far, be it through comments that you left on the blog or on social media, personal emails that you sent to me, fe, that's mission accomplished!
Fingers crossed that it remains that way! Please, don't be shy and let me know what you think of Paleo Home Cooking because honestly, your feedback is the most beautiful present you could ever give to me now: without it, I'd be navigating in total darkness!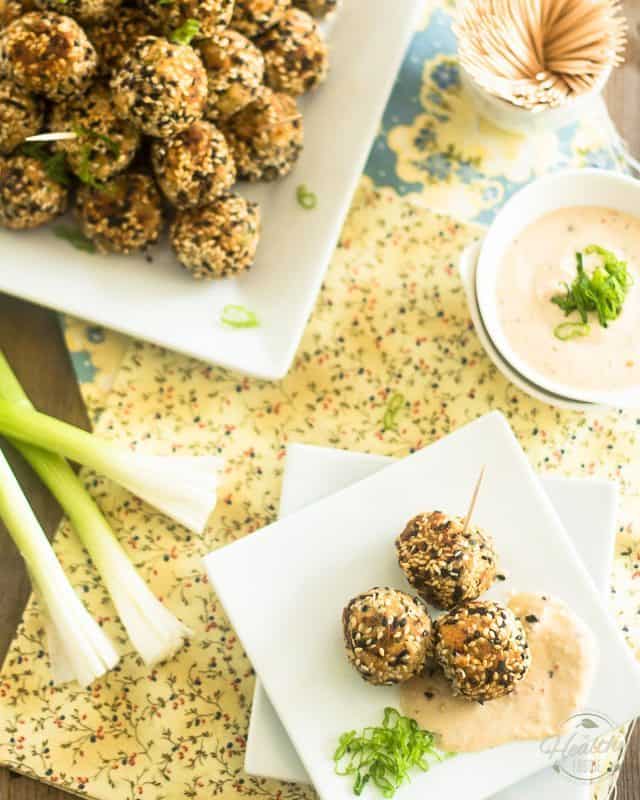 So anyway, today I've decided to share another sneak recipe from the book with you: Sesame Salmon Balls and Ginger Tahini Dipping Sauce.
I get the feeling that this one, you're gonna fall in love with, big time!
With Halloween, Thanksgiving and Christmas being just around the corner, party season is definitely upon us and very soon, if it hasn't started yet, you'll get invited to all kinds of parties, potlucks and family gatherings, or even host them yourself!
These kinds of parties always bring forth THE question: what am I gonna do for FOOD?
Well, look no further!
These cute little salmon balls are just the perfect finger food for such events where food has the place of honor. They are so delicious, no one will even care that they are actually good for them. Plus, you can make the mixture and form the balls in advance and cook them at the last minute, once your guests have arrived or once you get to the party.
They also reheat very well too, so you can make them in advance and heat them up at them at the last minute, or you could even eat them cold if you wanted to.
That's pretty convenient if you should be lucky enough to generate leftovers… but honestly, I doubt this will ever happen!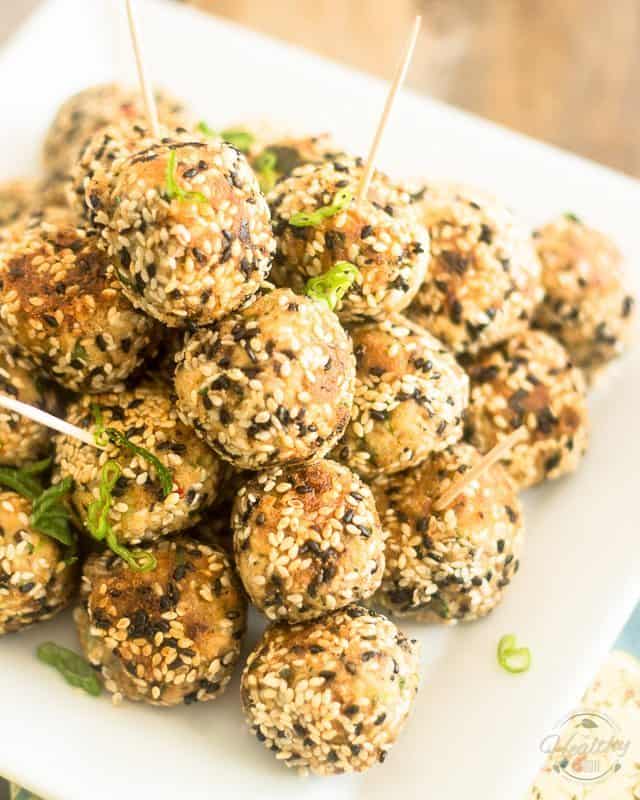 Another thing that I'm sure you'll absolutely adore about these Sesame Salmon Balls is that they also happen to be super easy to make: all you need to do is mix a bunch of ingredients in a single mixing bowl and then form that in to little balls.
Whats more, their accompanying sweet and tangy Ginger Tahini Dipping sauce is just as easy to make: you need only throw all the ingredients into a small food processor and then give them a good whirl. Easy as pie and you won't even dirty your kitchen! Or so very little…
As if that wasn't enough, you can make these with canned salmon, or with leftover cooked salmon. Talk about a PERFECT way to repurpose leftovers!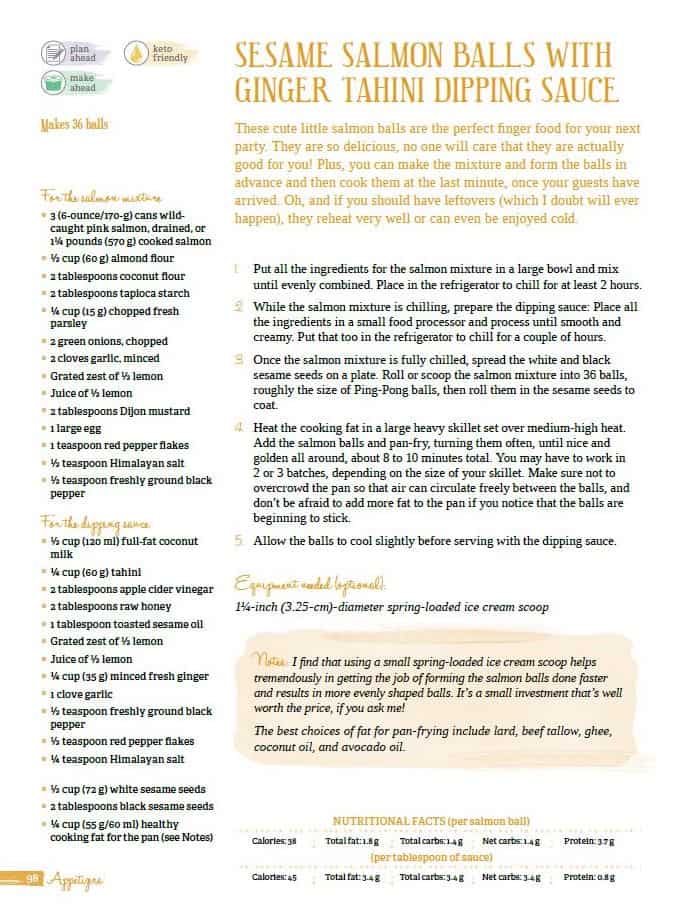 Finally, I once again chose to include a picture of the recipe, exactly as it appears in Paleo Home Cooking, so you can get an idea of what you can expect from the book (if you don't have your own copy yet, that is!). However, for the sake of convenience (in case you decided to try the salmon balls before the book even made it to your door) I've also copied the entire recipe in the handy little printer-friendly widget at the end of the post.
Only the nutrition data has been left out this time, but as you can see, that information can be found in the book!
I wouldn't dream of letting you (or your guests) down…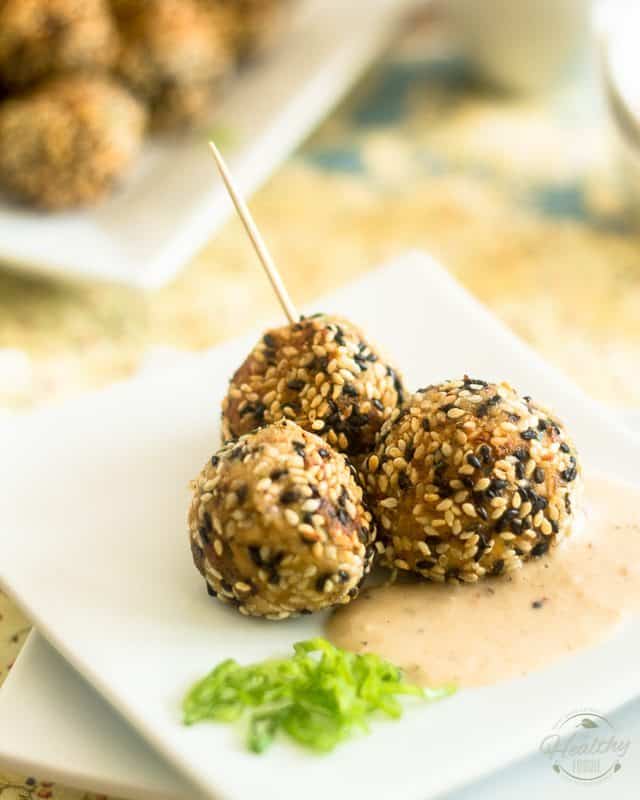 Sesame Salmon Balls and Ginger Tahini Dipping Sauce
These cute little Sesame Salmon Balls are just the perfect finger food for your next party. They are so delicious, no one will even care that they are actually good for them. Oh, and if you should have leftovers, which I doubt will ever happen, know that they reheat very well and can even be enjoyed cold.
Servings: 36 balls
Ingredients
----
1/2 cup white sesame seeds
2 tbsp black sesame seeds
4 tbsp healthy cooking fat or oil for pan-frying _, best choices include lard, beef tallow, ghee, coconut or avocado oil_
Instructions
Put all the ingredients for the salmon mixture in a large mixing bowl and mix until evenly combined; Place that in the refrigerator to chill for at least 2 hours.

While the salmon mixture is busy getting cold, prepare the dipping sauce by placing all the ingredients to a

small food processor

and processing until smooth and creamy. Now place that too in the refrigerator to chill for a couple of hours.

Disperse the white and black sesame seeds on a plate.

Once the salmon mixture is fully chilled, roll it or scoop it into 36 balls*, roughly the size of a Ping-Pong ball, then roll them into the sesame seeds to coat.

Heat the cooking fat in a

large heavy skillet

set over medium-high heat and cook the salmon balls, turning them often, until nice and golden all around, which should take about 8 to 10 minutes total. You might have to work in 2 or 3 batches, depending on the size of your skillet.

Make sure not to overcrowd the pan so that air gets to circulate freely between each ball.

Allow the balls to cool slightly before serving with the dipping sauce.
Notes
*I find that using a small spring-loaded ice cream scoop helps tremendously in getting the job done faster and results in more evenly shaped balls. A small investment that's very well worth the price, if you ask me!
Nutrition
Calories: 54kcal, Carbohydrates: 3g, Protein: 3g, Fat: 4g, Saturated Fat: 1g, Cholesterol: 5mg, Sodium: 64mg, Potassium: 37mg, Fiber: 1g, Sugar: 1g, Vitamin A: 73IU, Vitamin C: 1mg, Calcium: 34mg, Iron: 1mg
If you've tried this recipe, please take a minute to rate the recipe and let me know how things went for you in the comments below. It's always such a pleasure to hear from you!
You can also FOLLOW ME on PINTEREST, FACEBOOK, INSTAGRAM and TWITTER for more delicious, healthy recipes!
Visit the following sites to get your copy of Paleo Home Cooking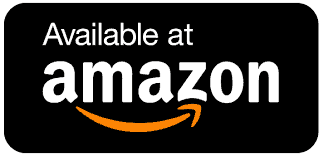 ♦
Canadian residents can order through:
♦
Overseas and International orders can be placed here: