Simple Tuna Rotini Salad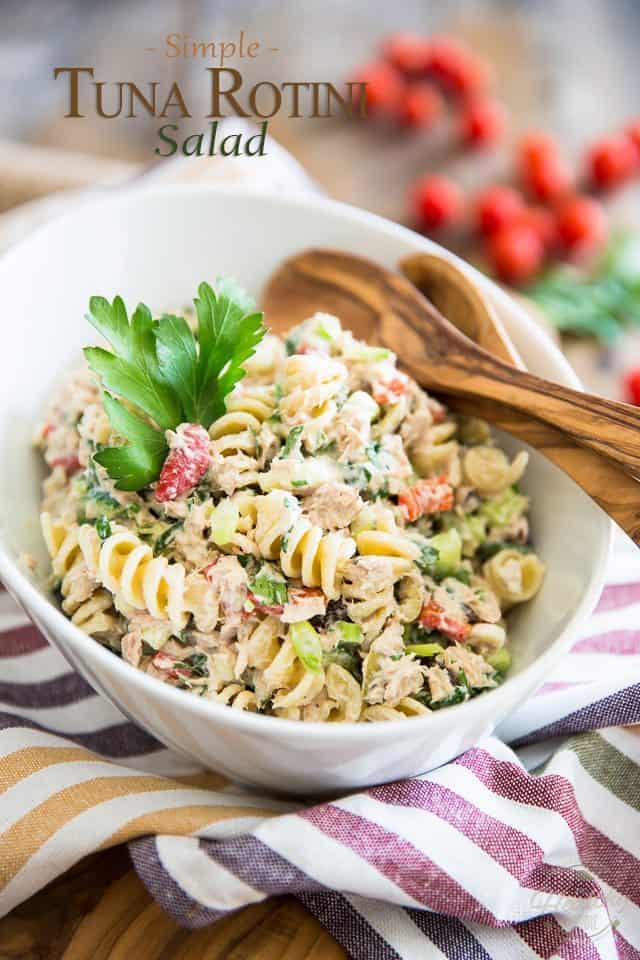 My baby grand-daughter, she LOVES pasta. Recently, she sort of went through a phase where she would pretty much refuse to eat anything but that.
I can't really blame her though, as she comes from a family of big time pasta lovers. My dad used to eat pasta EVERY SINGLE DAY without fail, and for the longest time, I would've been more than happy to do just the same, had every member of the family been on board with me (big chief, aka my ex, wasn't all that big on pasta).
But then my eating habits changed quite a bit and, while I still enjoy eating pasta from time to time, I now treat it more as an accent as opposed to making it the true star of a dish.
So anyway, for a bit there, the little one pretty much refused to eat anything that wasn't pasta. If you gave her something like say, this Warm Chicken Broccoli Penne Salad for instance ('cuz yeah, I'd sort of made that salad with her in mind), she'd pick out all of the pasta and throw everything else straight to the floor. Not a single morsel that wasn't a noodle would get eaten.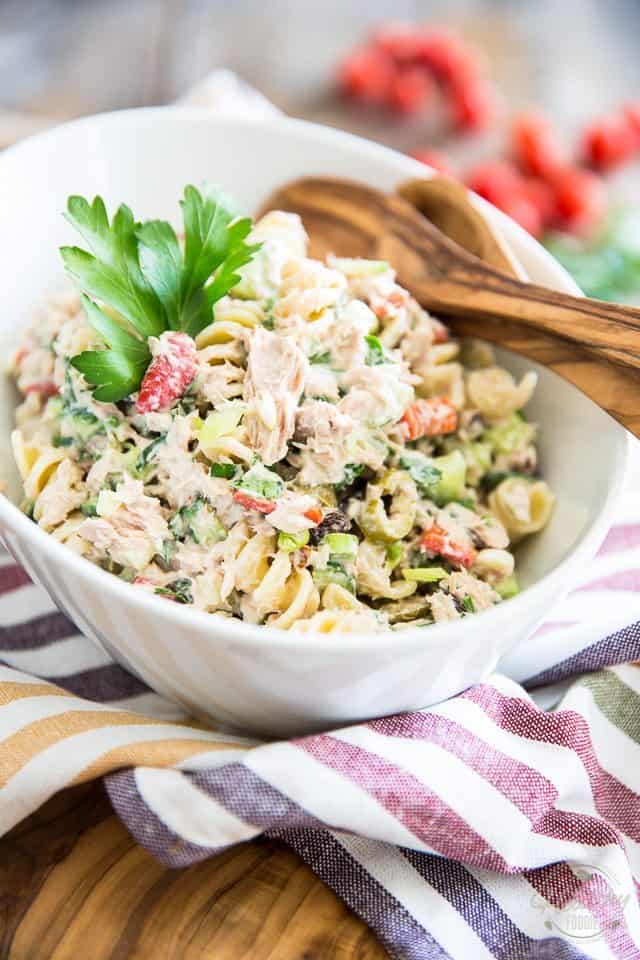 When she next came to spend a few days at grandma's, I thought I would play a little trick on her and whipped up this simple Tuna Rotini Salad… Indeed, with this salad, all the good stuff tends to get trapped in the great big grooves of the springy noodles, so she if she wanted to eat the pasta, then she had no choice but to also ingest some of the other, more nutritious ingredients.
Plus, I figured it would be a good way to get her to eat tuna, too… canned tuna isn't the most palatable food there is out there, but in this salad? It becomes quite the treat. And the babe, she seemed to think so, too!
My trick totally worked: she ate practically everything, except strangely for the olives. Apparently, the little one doesn't really care for them. That must've been a mistake though… surely she didn't get a real good taste of 'em. Maybe she just needs a little more time to realize that olives are SO MUCH better than pasta! (for yeah… this family loves their olives even more than it does pasta)
But hey, she got to eat the tuna and the cucumbers and the celery and the yogurt, the nuts and raisins… so much good things. I'm real happy with that!
I get the feeling I'll be making this one often; because grandma, she inherited the leftovers and thoroughly enjoyed them, too!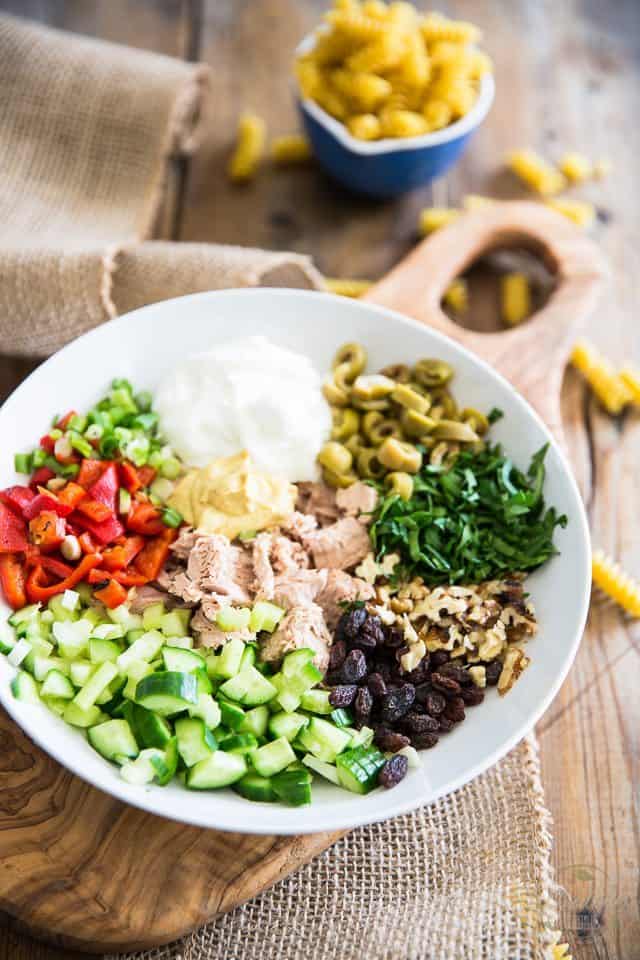 This also happens to be a terrific salad for summer, as it comes together in just about the same time that it takes to cook pasta, gets eaten cold, keeps for a few days in the fridge and is also highly portable!
To make it, you basically prep all your ingredients while your pasta is cooking…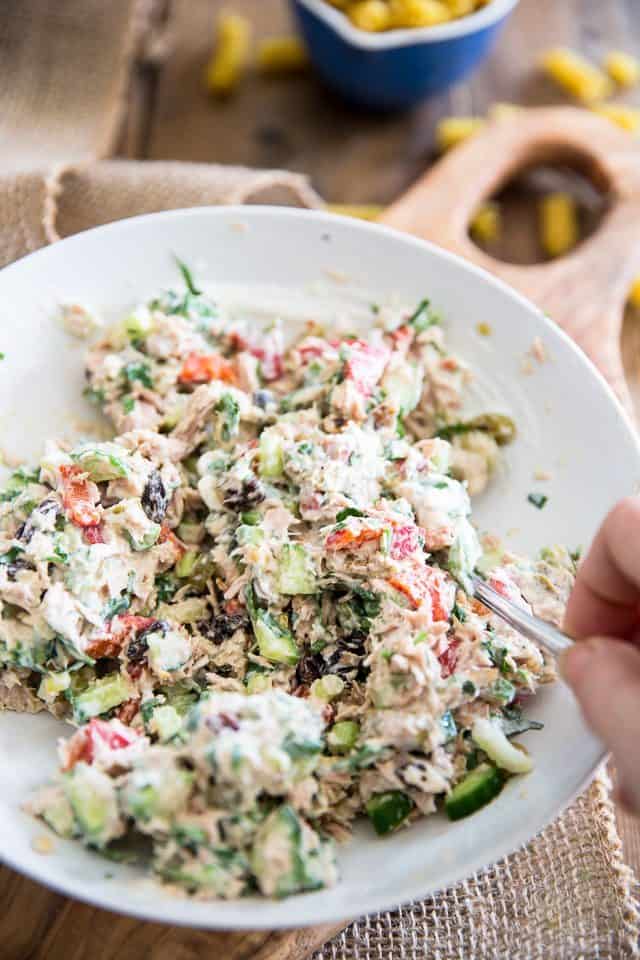 And you don't even have to be fancy about it either. Simply throw everything in a shallow bowl or plate and stir well.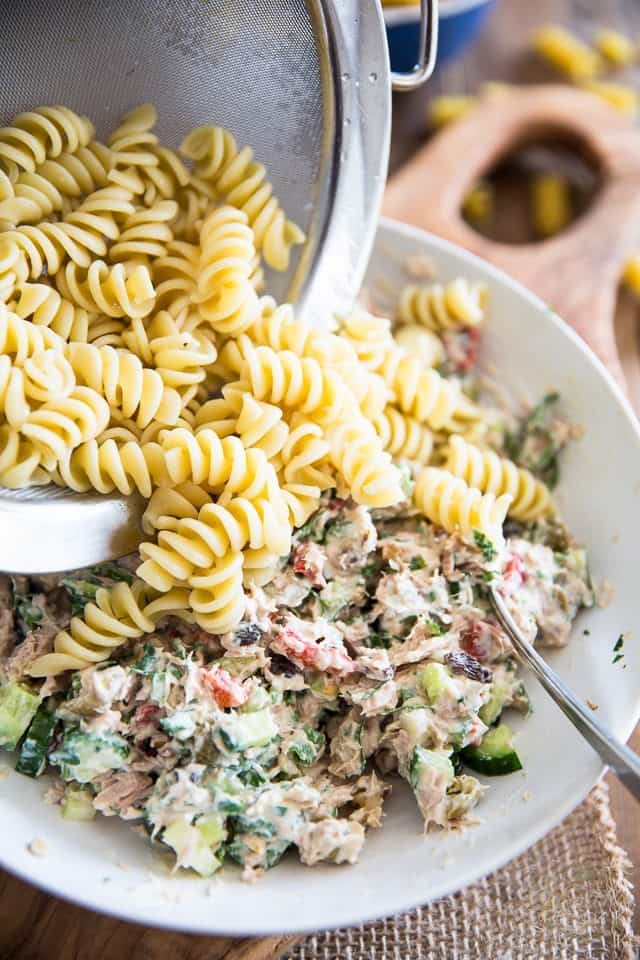 Then, as soon as your pasta is cooked, you want to drain it and rinse it briefly under cold running water. Add that cold pasta to the rest of the ingredients and toss to combine.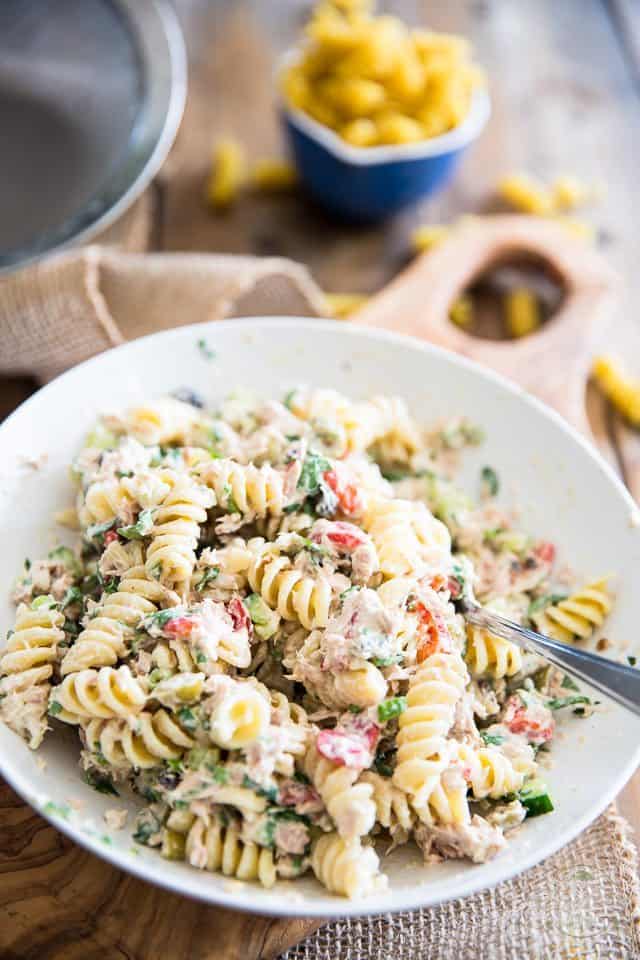 You are now ready to serve your salad, but I find that it greatly benefits from spending a couple of hours in the fridge, so all the flavors have a chance to meld and fully develop.
In fact, I think it tastes even better the next day. How perfect is that? Means you can make it ahead of time and take it to a picnic, potluck dinner, or have a serving tonight and take the leftovers for lunch the next day…
And since it will keep for up to a couple of days in the refrigerator, it's also perfect to have around if you're gonna have your sweet little baby girl spend a couple of days at your place!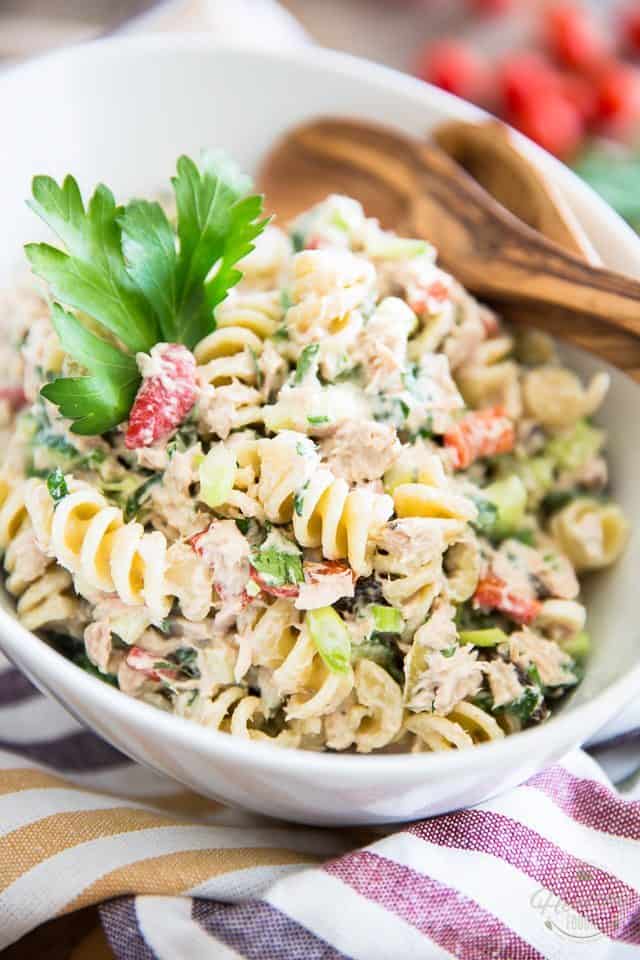 Simple Tuna Rotini Salad
Perfect for your next picnic or to bring to work for lunch, this Tuna Rotini Salad turns boring canned tuna into a very palatable and nutritious experience!
Servings: 2
Instructions
Cook the pasta in salted boiling water, according to the instructions on package.

While the pasta is cooking, combine the rest of the ingredients in a large bowl; toss to combine.

Drain the cooked pasta and rinse it under cold running water. Add the cold pasta to the rest of the ingredients and toss to combine.

Serve immediately or place in the fridge for about an hour to allow flavors to meld.

This salad will keep for up to a couple of days in the refrigerator.
Nutrition
Calories: 379kcal, Carbohydrates: 60g, Protein: 15g, Fat: 10g, Saturated Fat: 1g, Cholesterol: 3mg, Sodium: 614mg, Potassium: 791mg, Fiber: 6g, Sugar: 9g, Vitamin A: 2597IU, Vitamin C: 89mg, Calcium: 126mg, Iron: 2mg
If you've tried this recipe, please take a minute to rate the recipe and let me know how things went for you in the comments below. It's always such a pleasure to hear from you!
You can also FOLLOW ME on PINTEREST, FACEBOOK, INSTAGRAM and TWITTER for more delicious, healthy recipes!