Quite Possibly the Strangest Salad Ever (but it works!)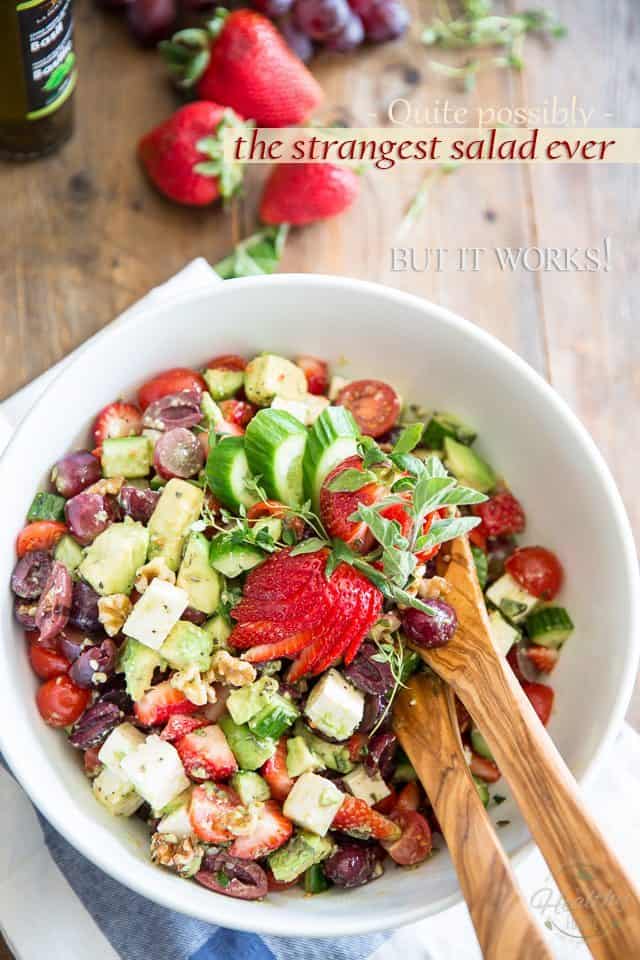 Trust me, when I say that this is quite possibly the strangest salad ever, I really mean that this IS quite possibly the strangest salad ever.
Just a quick glance at the above picture will probably have you furrow your brow… Oh, at first it looks like a fresh, delicious and perfectly normal salad, but the more you look, the more confusing it kinda gets, and it won't take too long before you start noticing the true strangeness of it all. Strawberries, cucumbers, avocado, tomatoes, (WAIT, STRAWBERRIES?!?) kalamata olives, red grapes, feta cheese, walnuts (hold on, were those really red grapes I saw?) all combined in a great big bowl to form a single dish.
Hey, I told you it was strange. But I also told you that oddly, it totally works!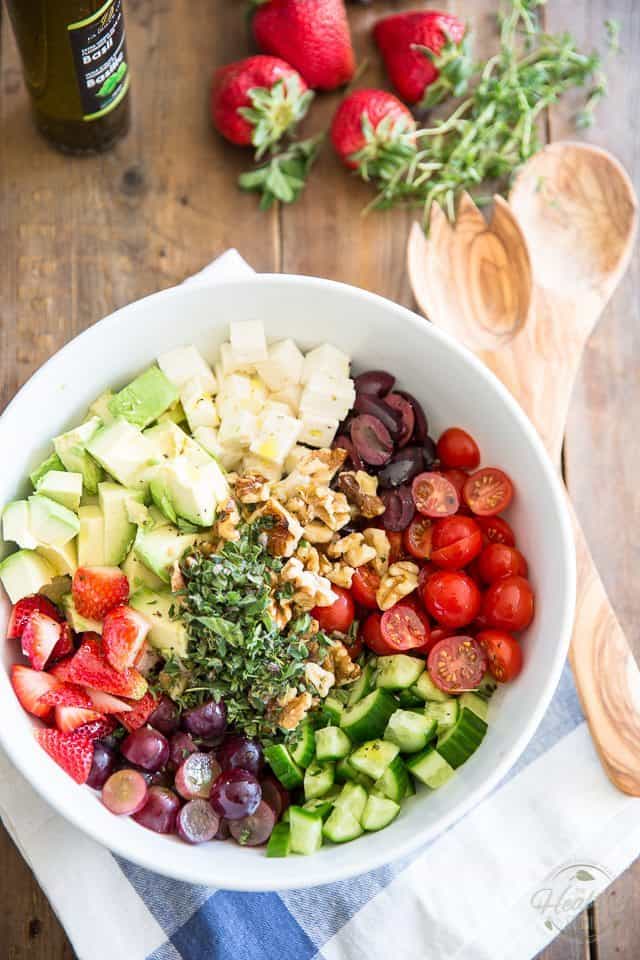 All the contrasts in tastes and textures, they feel like some kind of summer carnival, complete with rides, games and fireworks, is happening right inside your mouth. With every single bite, you get to enjoy crunchy, soft and creamy elements, all simultaneously. And the flavor department is just as enticing: the sweetness of the fruits perfectly balances out the tanginess and saltiness of the cheese and olives, while the freshness of the cucumbers, tomatoes and avocados sort of bind everything together.
I'm telling you, this is an astounding salad that you simply need to experience at least once in your life.
Me? I get the feeling that I will be having this salad VERY often in over the course of the summer (if summer ever makes it here, that is). In fact, it'll probably become my go-to summer salad recipe.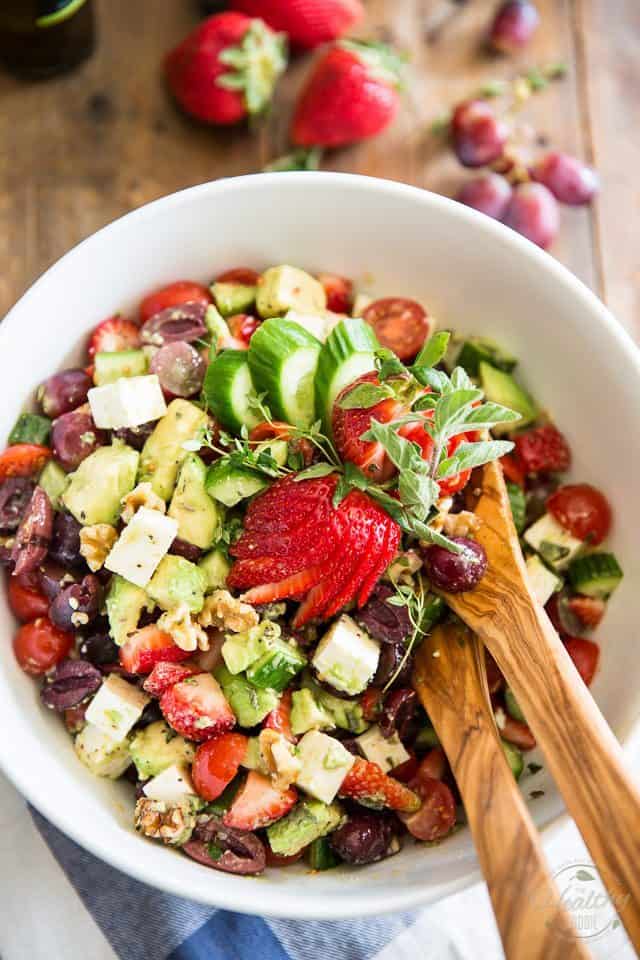 Making it couldn't be easier: simply combine all the ingredients in a large mixing bowl, toss delicately and serve.
You could, if you wanted to, cover it with a piece of plastic film and send it for a little trip to the refrigerator, so that all the flavors would have a chance to meld. Don't overdo it, though, because this salad is on the delicate side and is much better consumed within a few hours.
That is especially due to the presence of avocado, which, as we all know, tends to discolor and turn a not very appetizing shade of brown when exposed to air for a prolonged period of time. But also too, the strawberries, cucumbers and tomatoes will sort of wilt a little and become slightly soggy after sitting for a full day in the fridge. Oh, the salad will still be very edible, only it will not look as pretty or be as crunchy.
Perhaps not ideal if you'll be serving it to guests, but if you'll be making it just for yourself, then it really shouldn't bother you too much…
At least, it doesn't bother me!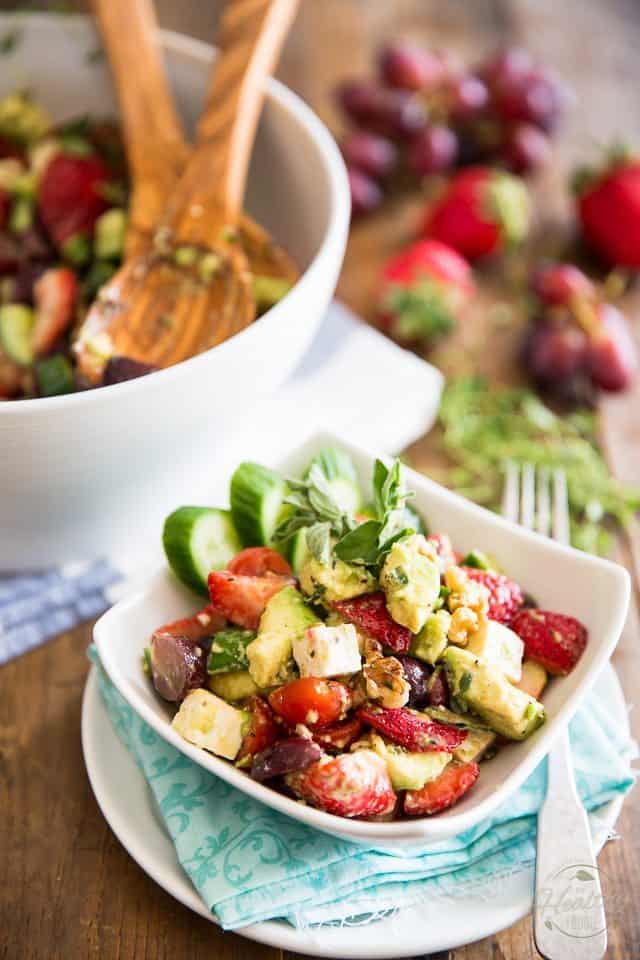 Quite Possibly the Strangest Salad Ever (but it works!)
When I say that this is quite possibly the strangest salad ever, I really mean it... but oddly though, it also is quite possibly the tastiest salad ever!
Servings: 4
Ingredients
1 large hass avocado, diced
3 Lebanese cucumbers, diced
2 cups grape tomatoes,, cut in half
1 cup chopped strawberries, chopped
1 cup red grapes, cut in half
1 cup pitted kalamata olives, cut in half
1 cup feta cheese, , cubed
1/2 cup chopped walnuts
the juice of 1 lime
2 tbsp extra-virgin olive oil
1 tsp finely chopped fresh thyme leaves
1 tsp finely chopped fresh oregano leaves
3/4 tsp salt, (I use Himalayan salt)
1/2 tsp ground black pepper
Instructions
Combine all the ingredients in a large mixing bowl, toss delicately until evenly distributed.

Serve immediately or cover with plastic film and refrigerate for about an hour to allow flavors to meld.

This salad is fairly delicate, so it is best consumed on the same day, but it will remain edible for a few days.
Nutrition
Calories: 463kcal, Carbohydrates: 31g, Protein: 11g, Fat: 36g, Saturated Fat: 9g, Cholesterol: 33mg, Sodium: 1413mg, Potassium: 996mg, Fiber: 9g, Sugar: 17g, Vitamin A: 1309IU, Vitamin C: 46mg, Calcium: 276mg, Iron: 2mg
If you've tried this recipe, please take a minute to rate the recipe and let me know how things went for you in the comments below. It's always such a pleasure to hear from you!
You can also FOLLOW ME on PINTEREST, FACEBOOK, INSTAGRAM and TWITTER for more delicious, healthy recipes!