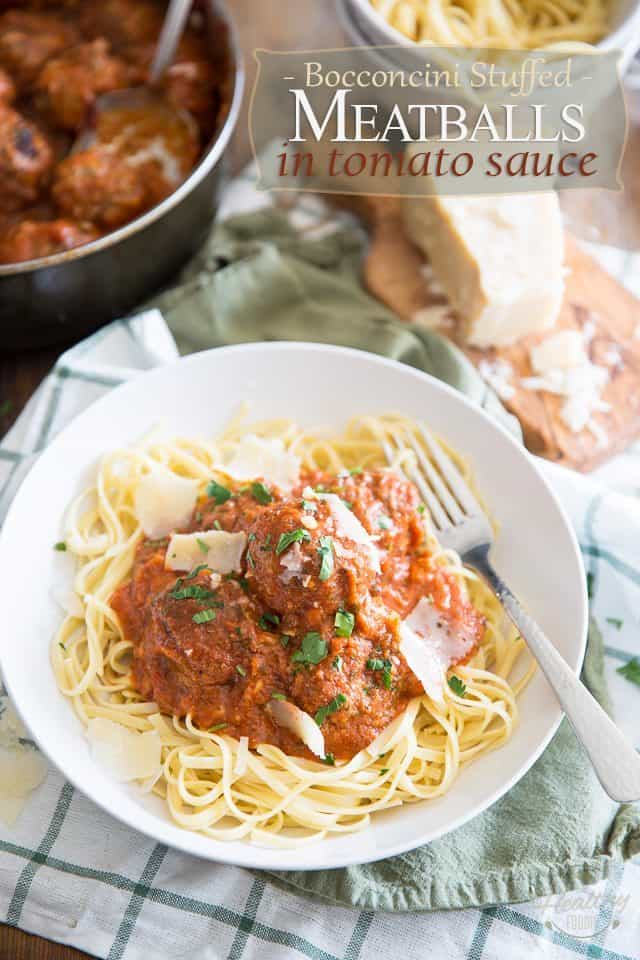 When I first starting getting visions of this cheesy meatballs in tomato sauce dish, I thought for sure that it would end up being a project for My Evil Twin's Kitchen…
In my mind, I would picture huge, juicy meatballs oozing with loads of melted cheese when cut open with a fork, coming down like a river of delicious hot white lava and diving into a sea of rich, creamy tomato sauce … But then something strange happened: the more I thought about the dish, the healthier my visions became. After all, cheese doesn't have to be systematically synonym with unhealthy, and meat most definitely is good for you! Surely there was a way to make the truly decadent dish that my tummy demanded, while keeping it on the healthy side.
Plus, that Evil Twin of mine has been getting a little bit too much air time in the kitchen, lately. I think she's been kinda stretching the "once or twice a week" that we'd initially agreed upon. But I guess that's kind of understandable, seeing as how "her" blog is so new, and if you're hoping to drive traffic to a brand new blog, well you have to keep things moving and post to it regularly. And how is she going to do that if she doesn't get to cook, right? Still… she's been making so many decadent treats lately, I've found myself forced to distribute all sorts of evil foods to all the people around me, and even had to place an "ad" on my personal Facebook wall once, in hopes to find adoptive families for some of those treats that she'd made…
But I digress…
Let's get back to the healthy stuff and discuss what we should really be discussing: these Bocconcini Stuffed Meatballs!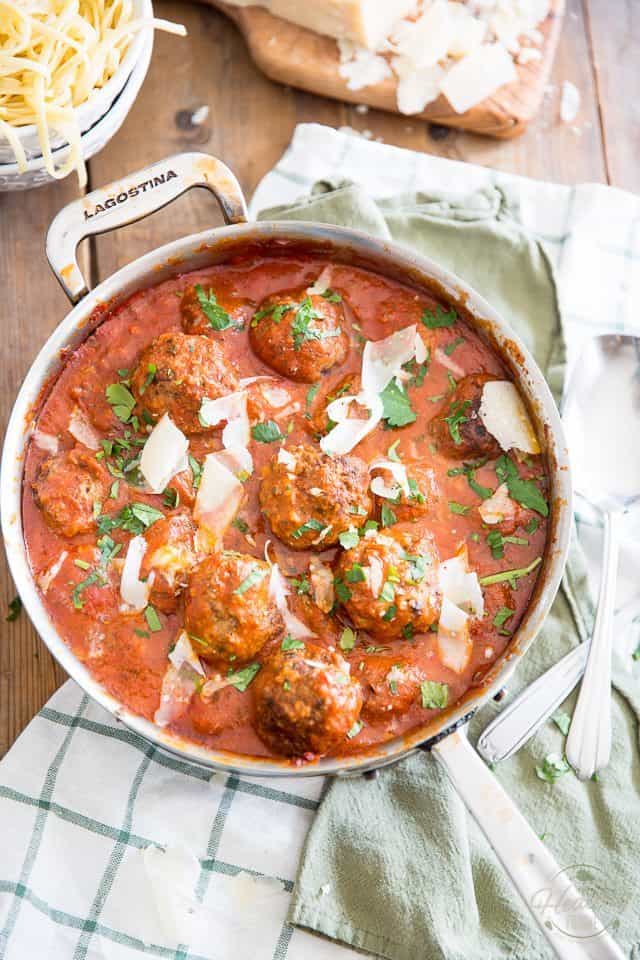 So like I was saying, I began to think that surely, there was a way to make a decadent dish of meatballs, stuffed with delicious melted cheese, while keeping it healthy and nutritious.
And so I did!
For starters, I used mini bocconcinis to stuff the meatballs. I think bocconcinis are a very good option as far as cheese is concerned: they're super light, fresh, and not overly processed.
Then, for my binding agent in the meatballs, I chose to use rolled oats, which I ground coarsely in a coffee grinder before to add them to the meat. The goal was to make them a little less "in your face" noticeable, you know. I didn't want those meatballs to be pointing the finger, going: "haha, you're eating oatmeal".
I think that worked perfectly! Not only did the oats confer a very robust, earthy texture to the meatballs, but it also made them SUPER filling. I'm telling you, 3 of these bad boys and your tummy will be very comfortably replete. Especially if you're gonna serve these meatballs over a bed of pasta!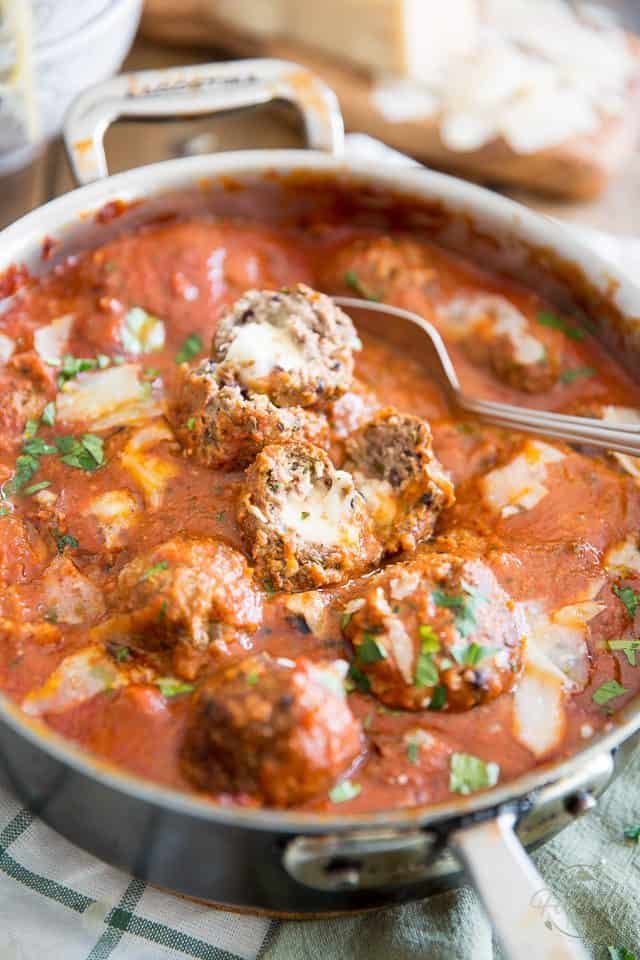 To be entirely honest with you, though, I used linguini in my pictures, because I thought they looked real pretty, but it's my kids who ended up eating that. Me? I had mine with a decent serving of the Garlic Sesame Green Beans that I'd just made. I know it sounds weird, but it totally worked, I swear!
So you see, if pasta is not your thing, you can totally work around that: I get the feeling that zoodles would work fantastically well, too, as would steamed broccoli, or even sauteed cabbage… Or just about any vegetable, for that matter!
But first, you gotta start by making the meatballs…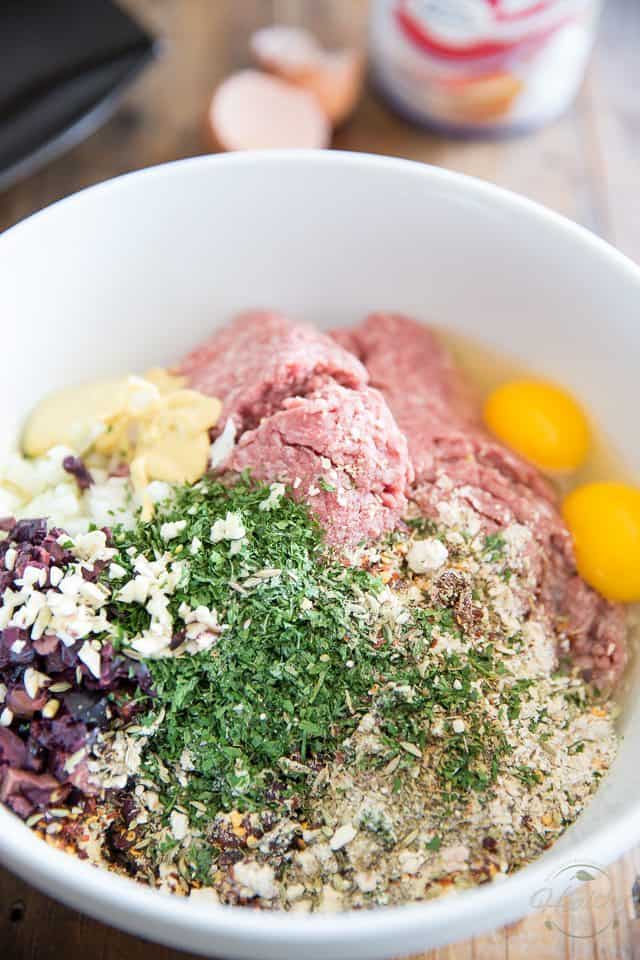 In a large mixing bowl, combine all the ingredients for the meatballs, except for the mini bocconcinis;
Kead well with clean hands until fully combined.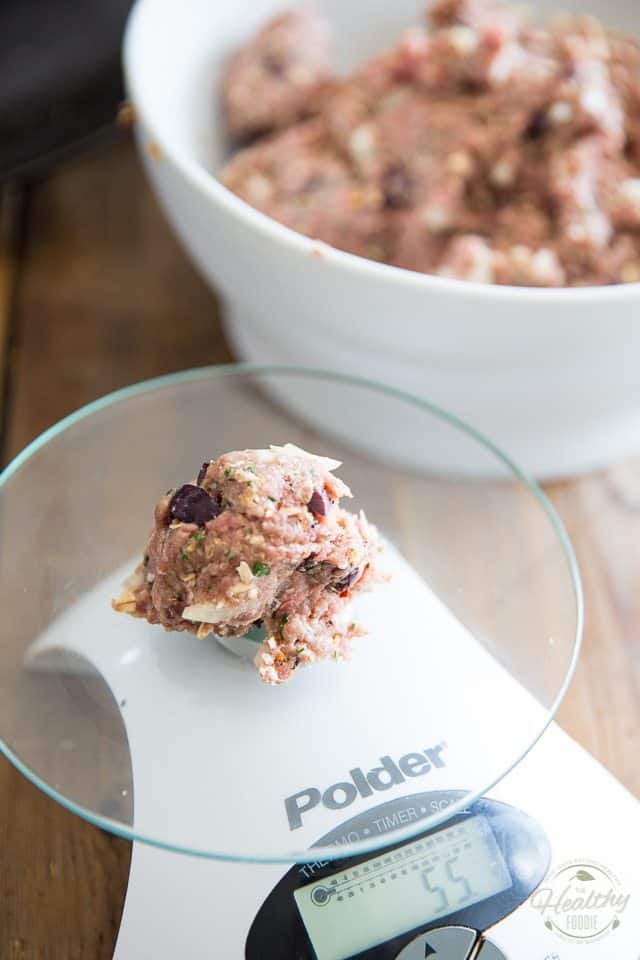 Now you want to make sure that your meatballs are all the same size, and the best way to do that is by weighing them. Theoretically, if you used all the ingredients listed in the recipe, your meatballs should be roughly the same weight as mine, which is 55g (2oz).
However, if you made some changes to the recipe and want to know the exact weight you should be using per meatball, simply weigh your meat mixture and then divide its total weight by 24.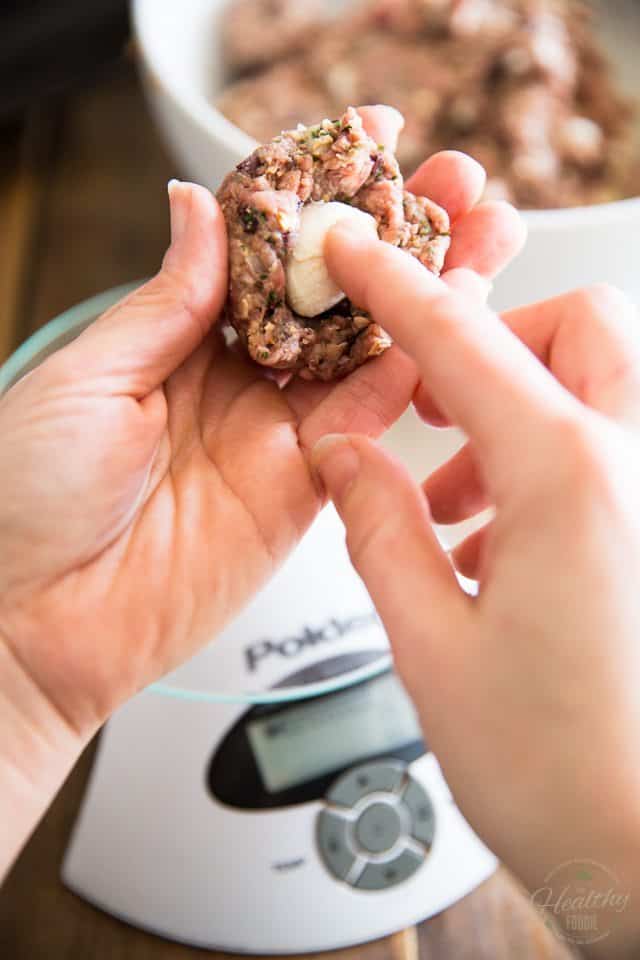 Hold a piece of meat in one of your hands and then press a mini bocconicini right in the center of it.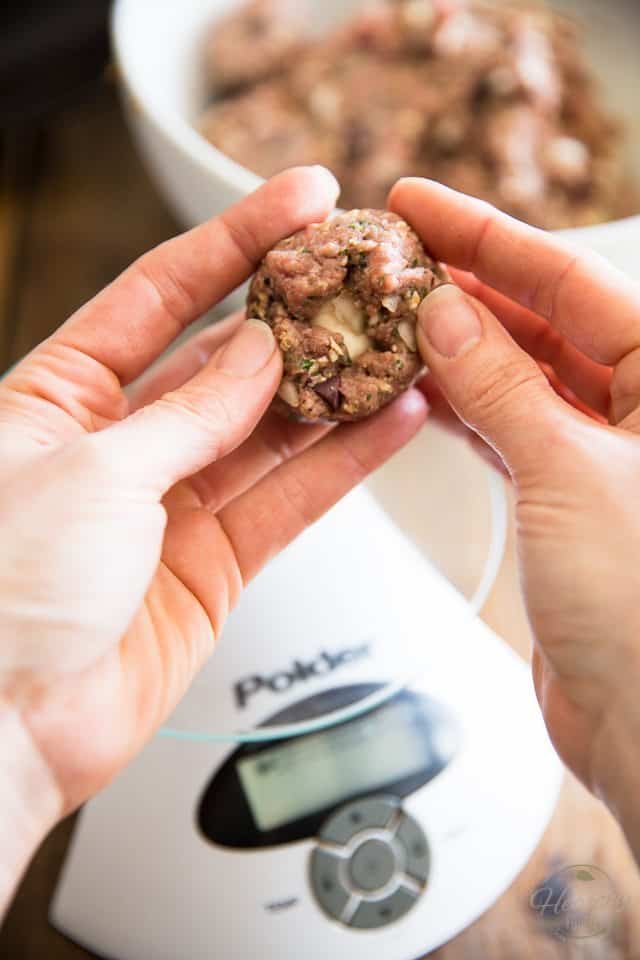 Gently work the meat back over the cheese with your fingers…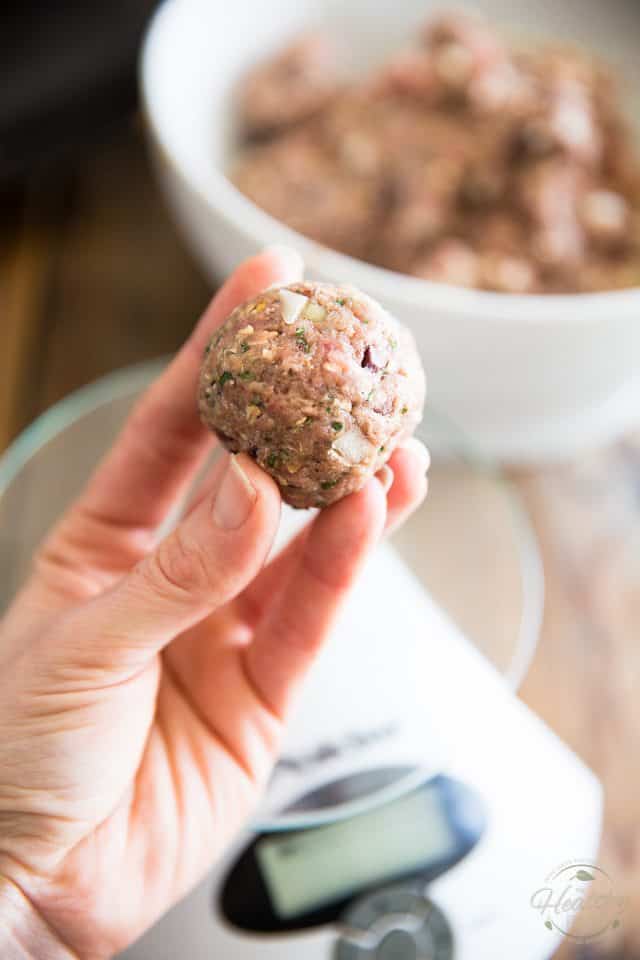 …and finally, seal the cheese in by rolling the meat into a perfect meatball between the palms of your hands.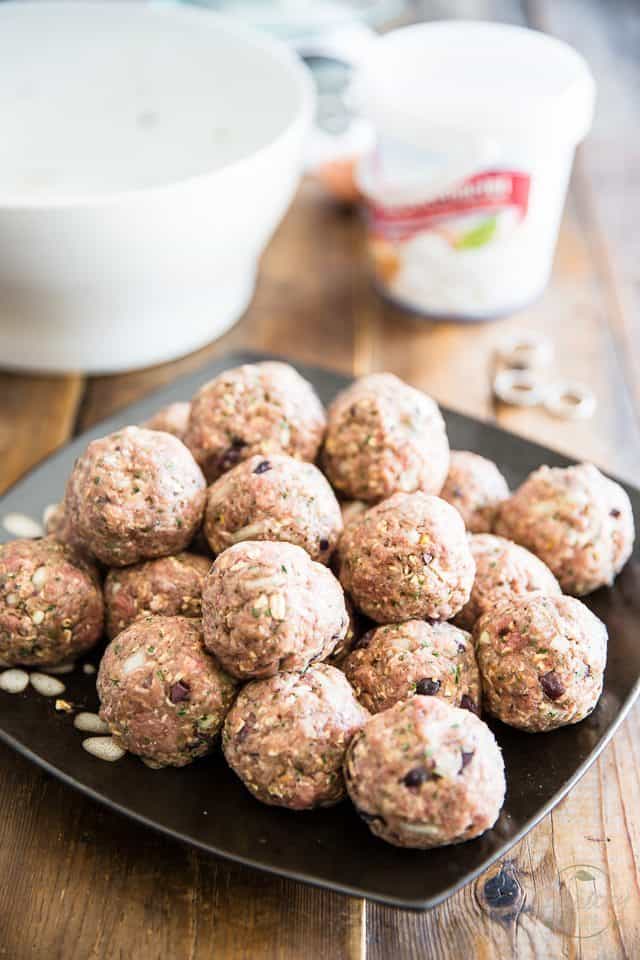 Set aside and repeat with the rest of the meat and bocconcinis.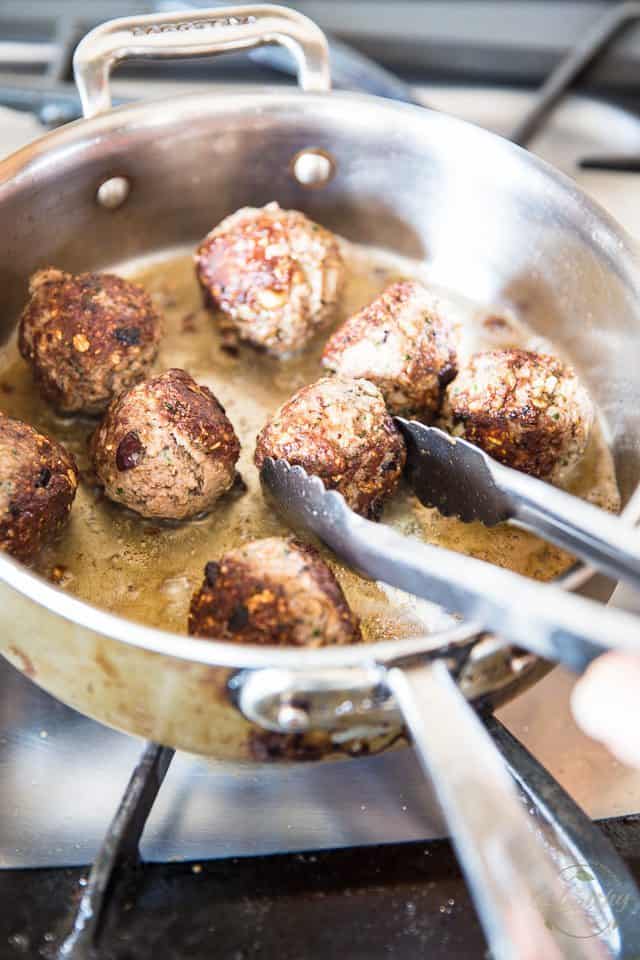 Place a large saute pan over medium high heat and add a few tablespoons of your favorite cooking oil to it (personally, I'm a big fan of avocado oil).
Once the pan is hot enough, sear the meatballs, about 8 at a time, until they get nice and browned all around, which should take no more than 2 minutes total.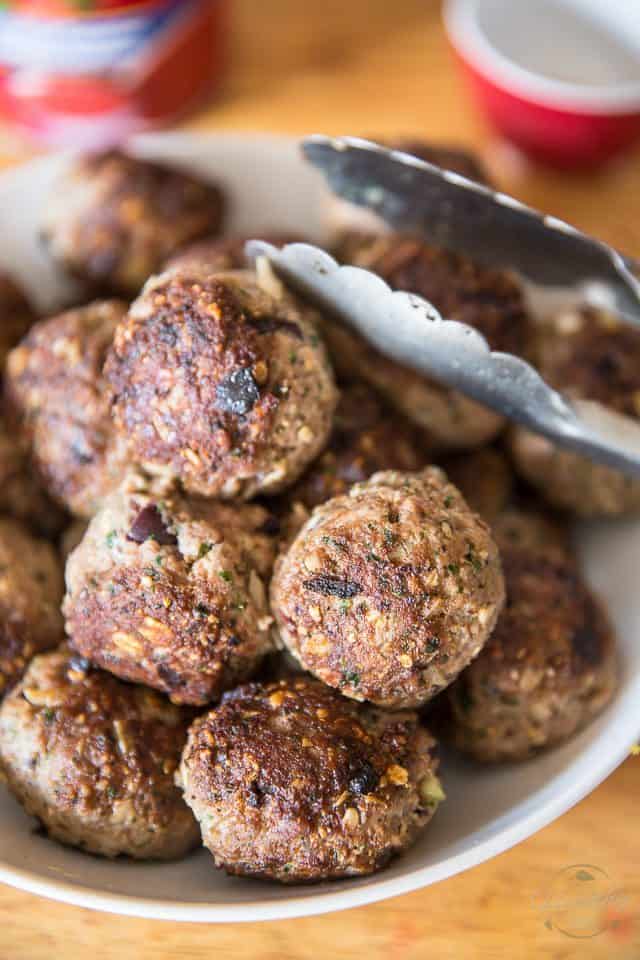 Transfer the par-cooked meatballs to a plate and repeat with the rest of the meatballs.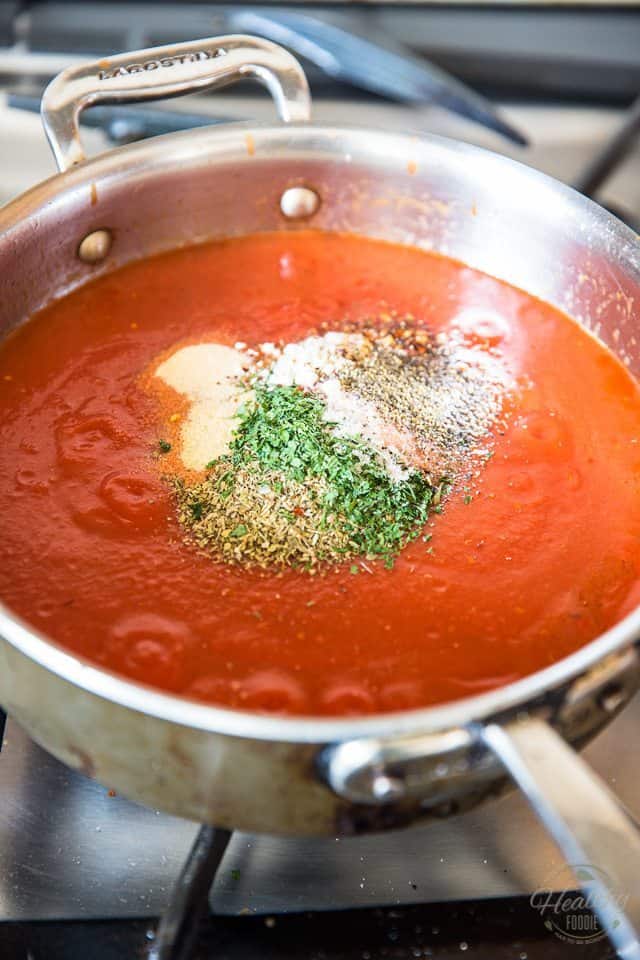 Once all the meatballs have been seared, drain any excess fat from the pan and return it to the heat source. Add the crushed tomatoes, water and spices to the pan, then mix well and bring to a simmer.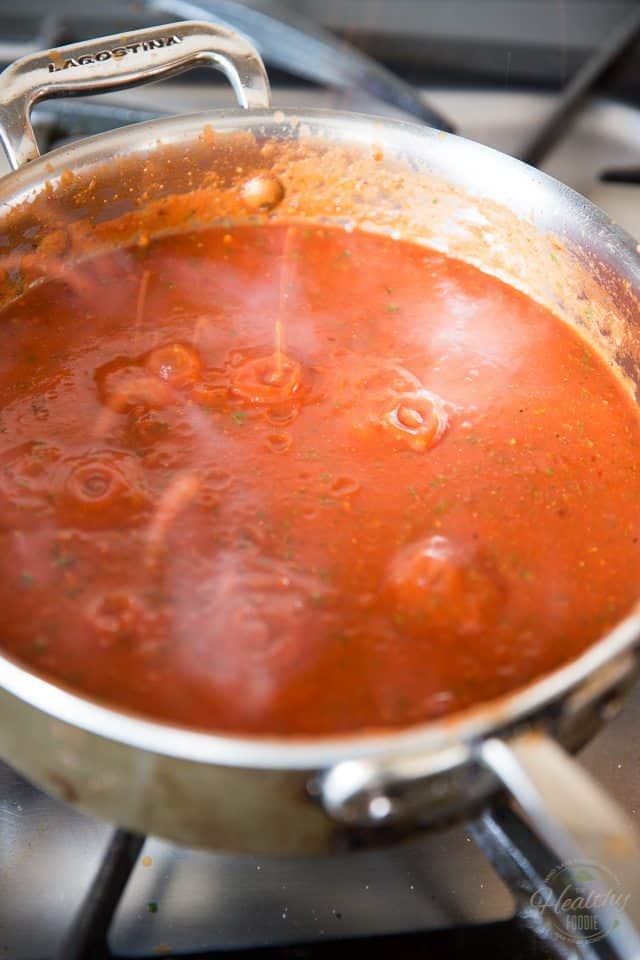 You might want to put a lid on it, though: this thing splatters something fierce!
So cover the sauce and let it simmer for about 5 minutes.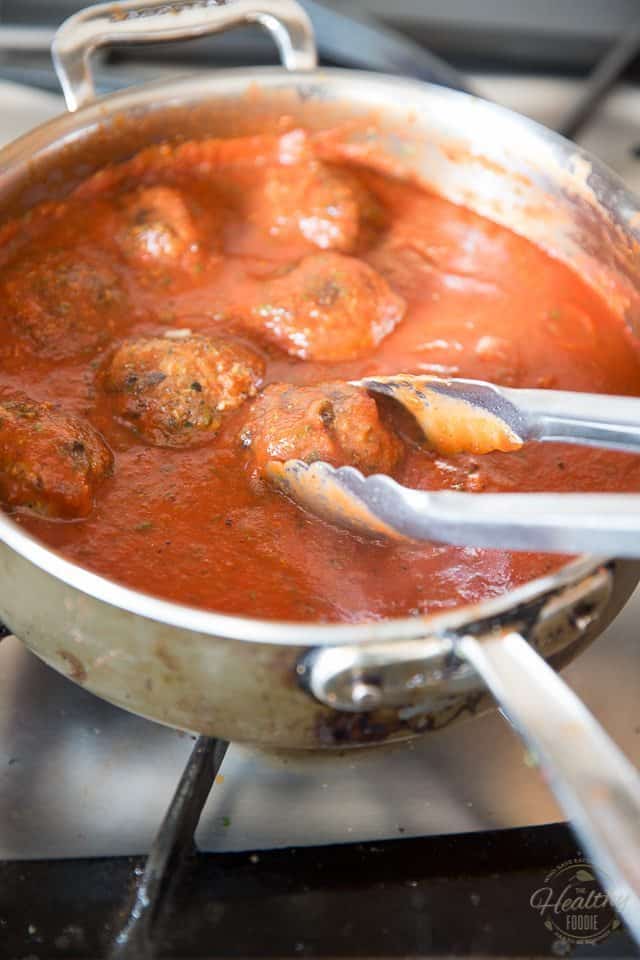 Then, you'll want to return meatballs to the pan, taking care to bury them under the sauce as you go.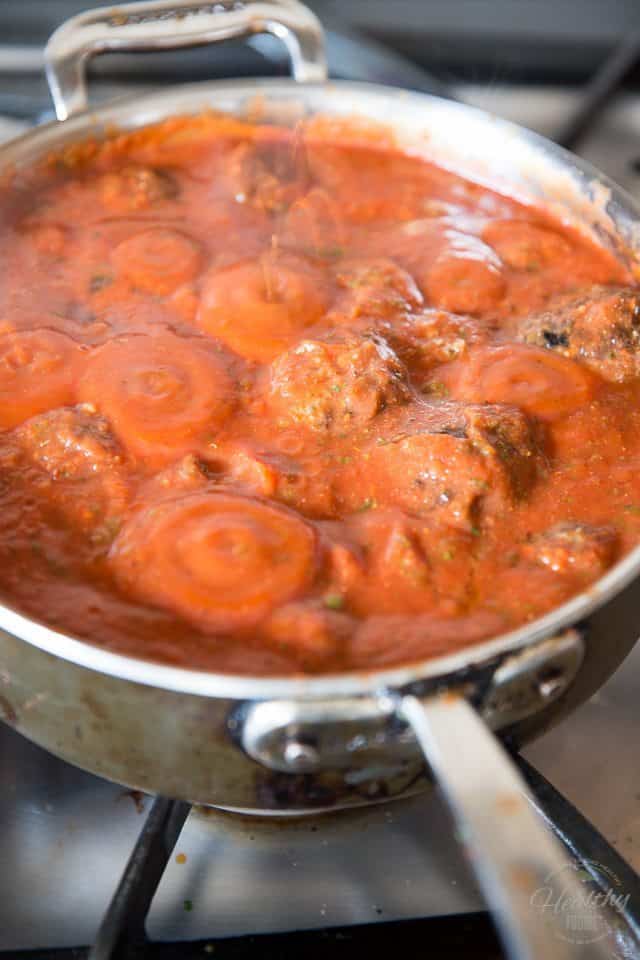 And erm… you may want to kill the heat or turn it way down while you do that, because as you can see, this sauce is worse than an angry volcano at the peak of a furious and relentless eruption : it STILL splatters all over the place!!!
Reduce the heat to minimum, put the lid back on and let the meatballs cook for about 30 minutes on a slow simmer.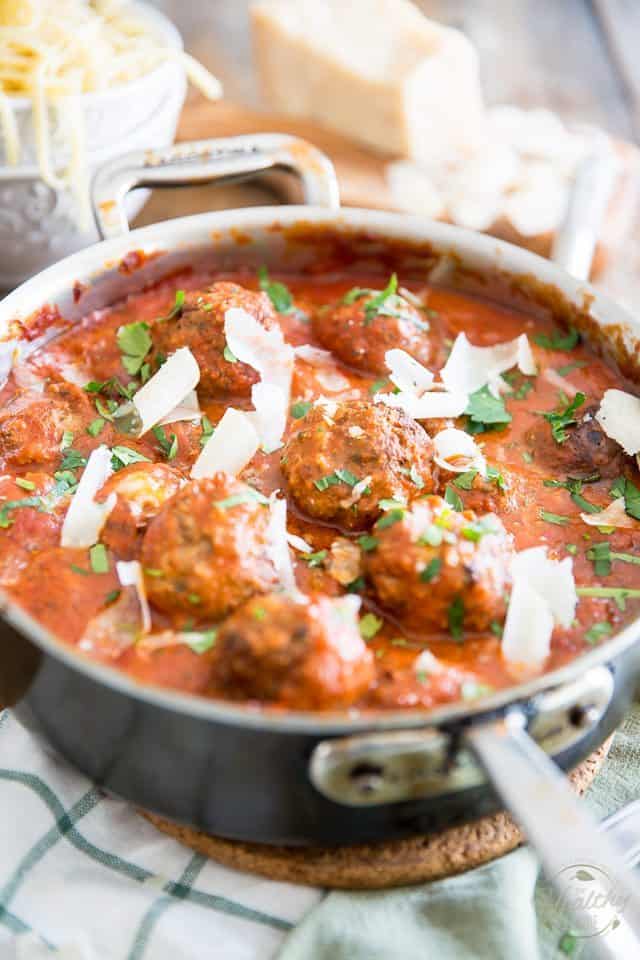 Kill the heat and let the dish rest for 5 to 10 minutes, firstly because it's way too hot to eat right away, and secondly, to give the sauce a chance to settle and thicken some.
When ready to serve, garnish with a handful of freshly chopped parsley and Parmesan shavings.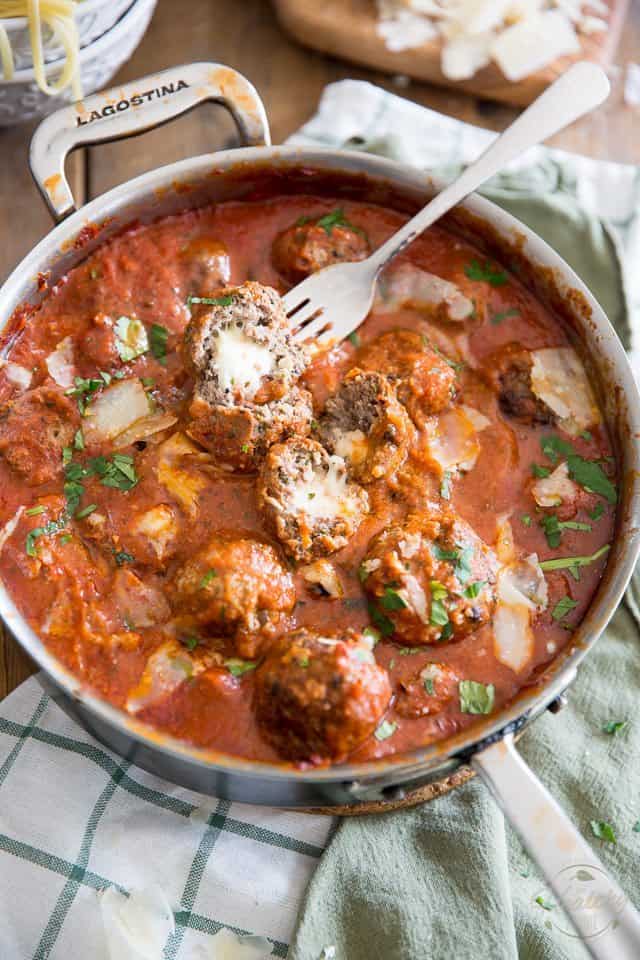 And now, you are ready to serve your meatballs, with a side of your choice.
What's it gonna be for you? Pasta? Zoodles? Or veggies?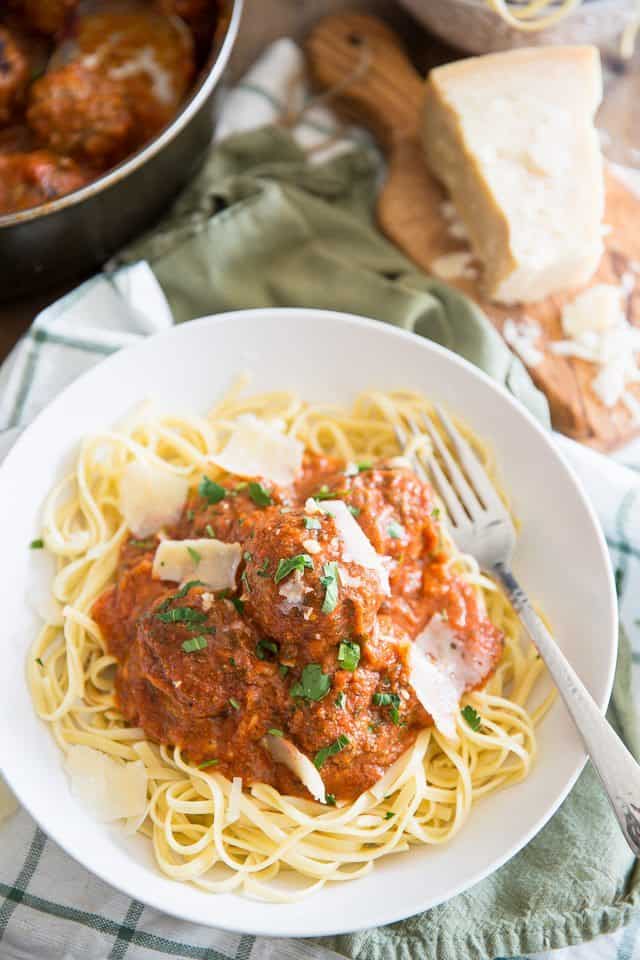 Bocconcini Stuffed Meatballs in Tomato Sauce
Ingredients
FOR THE MEATBALLS
FOR THE TOMATO SAUCE
Instructions
In a large mixing bowl, combine all the ingredients for the meatballs, except the mini bocconcini. Knead well with clean hands until fully combined.
Place a piece of meat of roughly 55g (2oz) in the palm of your hand (if you want to know the exact weight you should get per meatball, weigh your meat mixture and then divide its total weight by 24) and press a mini bocconicini right in the center of the meat. Then, gently fold the meat back over the cheese with your fingers and finally, seal the cheese in by rolling the meat into a perfect meatball between the palms of your hands; set aside and repeat with the rest of the meat and bocconcinis.
Place a large saute pan over medium high heat and add a few tablespoons of your favorite cooking oil to it (I'm a big fan of avocado oil). Once the pan is hot enough, sear the meatballs, about 8 at a time, until they get nice and browned all around, about 2 minutes total; transfer to a plate and repeat with the rest of the meatballs.
Once all the meatballs have been seared, drain any excess fat from the pan and return it to the heat source. Add crushed tomatoes, water and spices to the pan, mix well and bring to a simmer. Cover and simmer for about 5 minutes, then return meatballs to the pan, making sure to burry them under the sauce.
Reduce the heat to minimum, cover and cook the meatballs for about 30 minutes on a slow simmer. Kill the heat and let the dish rest for 5 to 10 minutes then serve over your favorite pasta (zoodles would be fantastic, too!) or with a side of steamed green vegetables (broccoli or green beans come to mind)

Nutrition Information
Serving size:
NF based on 1 of 8 servings