Spicy Mango and Coconut Chicken
I recently realized that, ever since Lent has been over, I hadn't been adding much protein in the form of meat to my regular diet. Not that I tend to have lots of meat anyway, but I usually do chicken at least once or twice a week.
Or try to.
But lately, I've been relying more on fish, seafood, nuts, dairy and whey for my protein intake.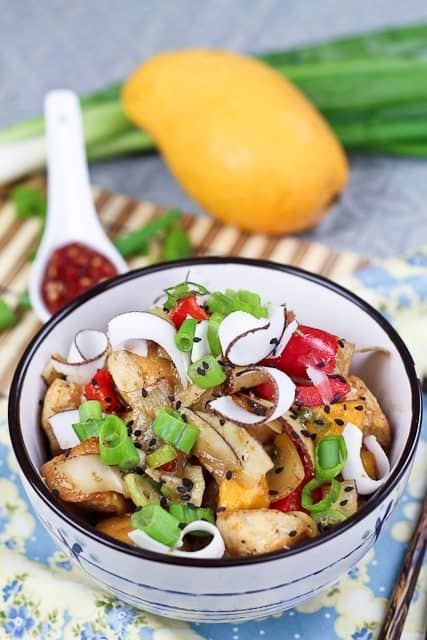 I think I need to reinstate chicken.
Plus, I'm starting to think that I may want to do lean beef once in a while, too. Like once or twice a month. Not quite sure as to why, but I've been having major cravings for the stuff lately, and I'm right about to give in.
The thing is, though, you see, I have moral issues with eating meat. It's like I feel I have to eat some, because I know, or think, that my body needs the protein, but I hate doing it because one, animals have to die in order for me to do that, and two, said animals are, more often than not, treated poorly and fed all sorts of nasties…
So what I really need to do is find a good farm in my area where I can buy good quality meat on a regular basis. I shall investigate that over the summer.
But in the meantime, I'll stick to chicken once or twice a week and lean beef once or twice a month.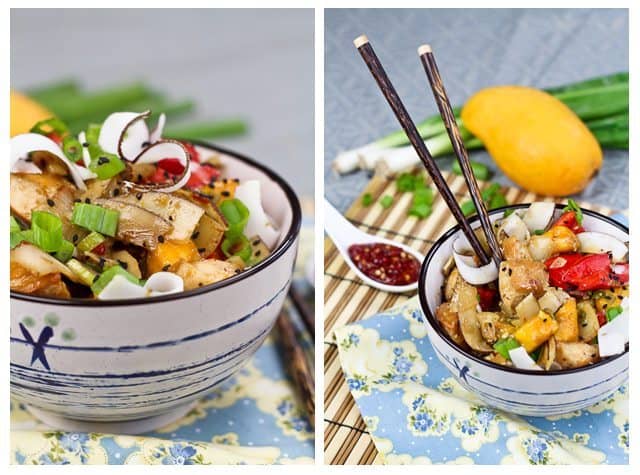 Let me tell you though, if chicken is always going to be as good as it was in this last dish, I might be tempted to have it more often than that!
Not only was this dish super tasty AND super healthy, it also came together in no time at all. Makes it really ideal when cooking for one… but really, would be just as easy to make for the entire family.
Now, I have to admit that this is the kind of dish that I "normally" would have served with a side of rice, so it felt kind of weird having it on its own, but to be honest, I can't say I missed the rice at all.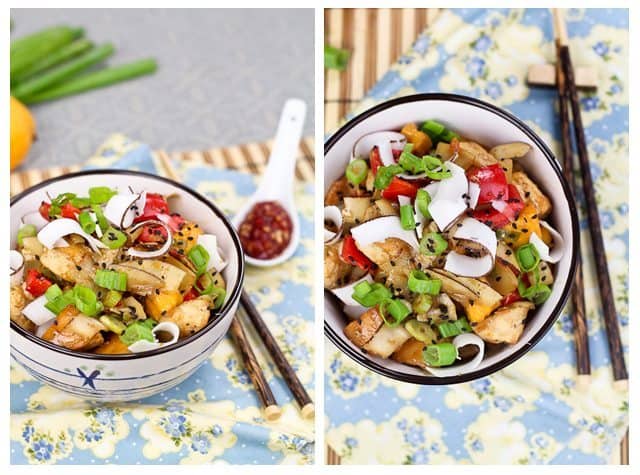 Looks like I'm really getting used to this "easing up on grains" thing… It's turning out to be much easier than I thought it was gonna be.
However, if you want to serve this with rice, just go ahead and do that. It will be plain glorious! I would opt for brown basmati, if it was me. Be warned though… if you choose to do the rice, you will have more than enough chicken for two people…
Especially it was a very generous serving to start with.
Spicy Mango and Coconut Chicken
Servings: 1
Ingredients
1 boneless skinless chicken breast, cut into 1" cubes
1 small onion, chopped
1 small yellow mango, peeled and cut into 1" cubes
½ red bell pepper, cut into large chunks
40 g fresh coconut shavings, save a few to garnish
2 tbsp full fat coconut milk
½ cup young coconut water
2 tbsp white wine vinegar
½ tsp salt
½ tsp black pepper
½ tsp unpasteurized liquid honey
½ tsp sambal oelek
1 green onion, chopped (save a few pieces to garnish)
Instructions
Coat a skillet with cooking spray and heat over medium-high heat. When pan is hot, add chicken, sprinkle with salt and pepper and cook for about 5 minutes, then turn each piece to cook the other side until nice and golden brown. Add onion and red pepper, stir and cook for 2-3 minutes.

Throw in the rest of the ingredients, stir and continue cooking for a minute or two.

Transfer to a serving bowl and garnish with green onions, coconut shavings and black sesame seeds, if desired.
Nutrition
Calories: 606kcal, Carbohydrates: 61g, Protein: 39g, Fat: 25g, Saturated Fat: 19g, Cholesterol: 96mg, Sodium: 1489mg, Potassium: 1697mg, Fiber: 12g, Sugar: 44g, Vitamin A: 4222IU, Vitamin C: 168mg, Calcium: 77mg, Iron: 4mg
If you've tried this recipe, please take a minute to rate the recipe and let me know how things went for you in the comments below. It's always such a pleasure to hear from you!
You can also FOLLOW ME on PINTEREST, FACEBOOK, INSTAGRAM and TWITTER for more delicious, healthy recipes!
Oh, and you have to admit that it's just soooo pretty.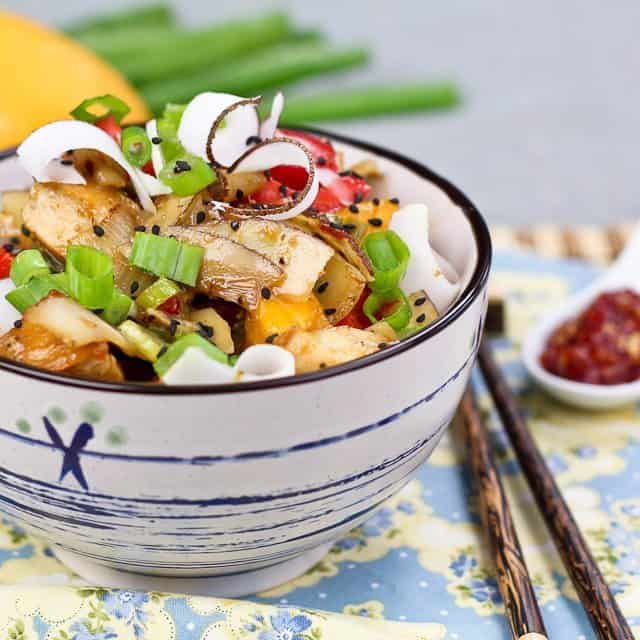 I almost didn't want to dig in…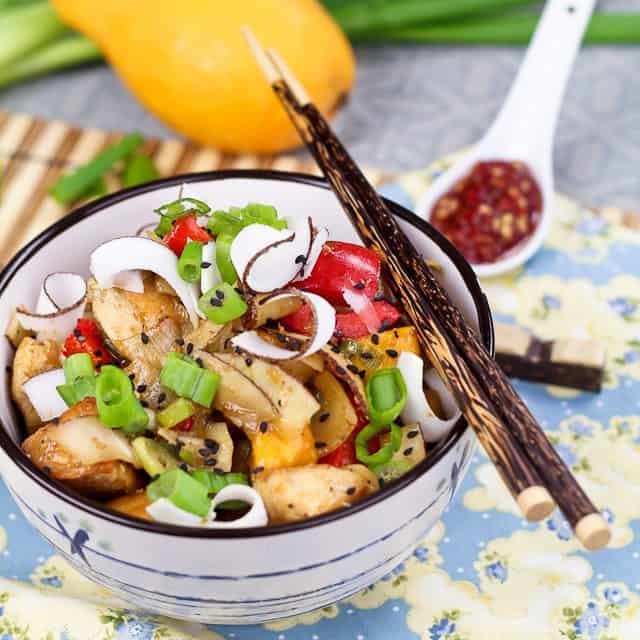 Hey, almost, I said…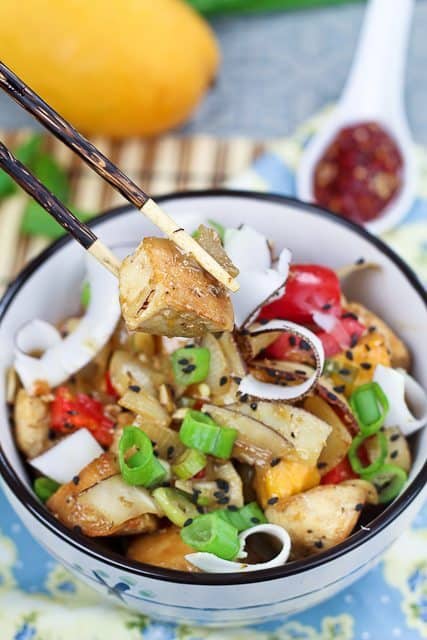 And I just couldn't stop snapping!