Spinach, Sun Dried Tomatoes and Feta Frittata Bites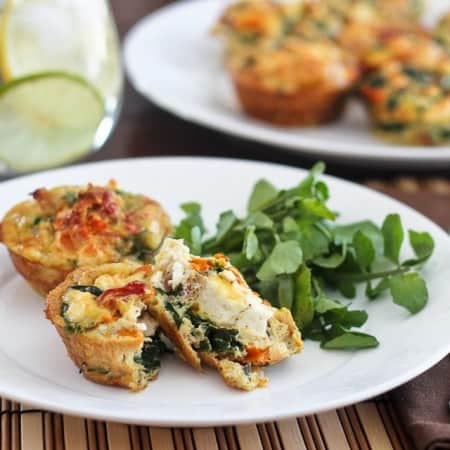 When I saw these cute little Frittata cups on The Kitchn, the first thought that came to mind was "OMG, how come I never thought of that?" This is simply genius! So convenient! And not to mention cute!
Seriously… what a brilliant way to make a slightly worn out and boring old classic come back to life! I bet kids would go absolutely crazy for these. I know I would've, as a kid! And you can make so many different flavor combinations, too!
But, really, you want to know what my favorite part about them is?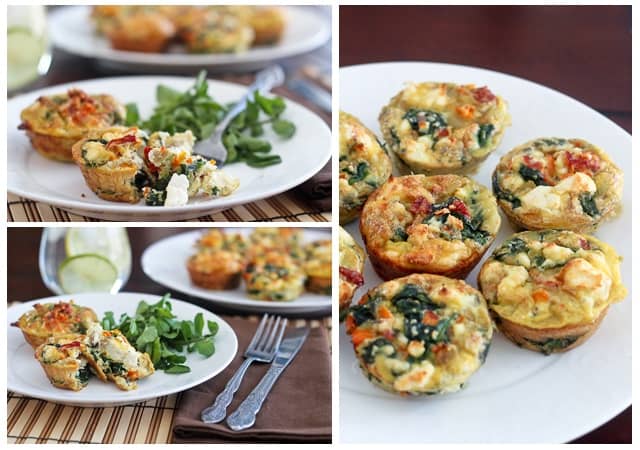 They are just as delicious right out of the fridge as they are right out of the oven. Which means I can make a whole batch on Sunday and enjoy them for lunch at work all week, without even having to reheat them.
'Cos of course, they are highly portable, too! And another bonus point!
Seriously… these little cuties are just plain FANTASTIC! Think picnic, think pot luck, think brunch, lunch, quick snack, think breakfast on the go. Have you ever seen a meal that's so versatile? Oh, and just imagine turning them into the cutest little mini sandwiches.
I'm dying here. Really, guys, I'm just super excited.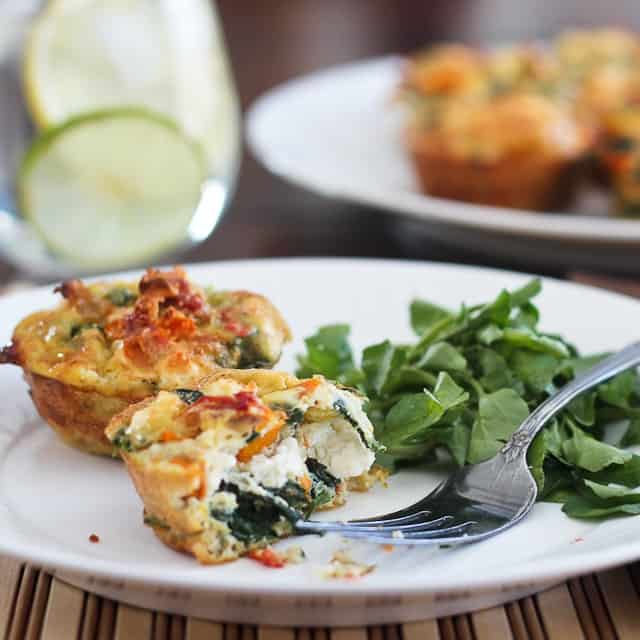 Can you feel it? Oh, the possibilities! I think I want to eat these every day now for the rest of my life.
But I don't think that you'd appreciate if I did that… And my brain probably would rebel! I'm warning you, though. I might come up with a few variations on the subject.
Just a few... 😉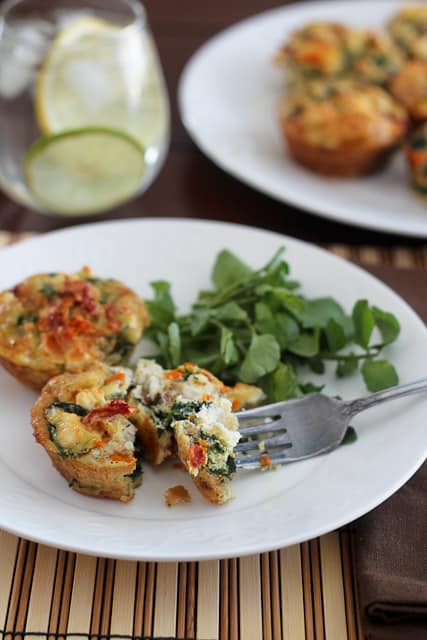 Spinach, Sundried Tomatoes and Feta Frittata Bites
Servings: 12 large "cups"
Ingredients
1 tablespoon olive oil
4 cups baby spinach leaves, chopped
1 small onion, finely chopped
1 garlic clove, minced
½ bell pepper, finely diced (I used orange)
½ tsp salt
¼ tsp black pepper
8 whole eggs
½ cup egg whites
100 g Feta cheese, crumbled
50 g sun dried tomatoes, finely chopped
1 tsp fresh thyme
grating fresh nutmeg
Instructions
Preheat oven to 350°F and coat a 12- large cup muffin pan with cooking spray or brush lightly with olive oil.

Drizzle large skillet with olive oil, and heat over medium heat. Add the onions and cook, stirring occasionally, until translucent and tender, about 4-5 minutes. Add salt, pepper, garlic and bell pepper and continue cooking for about a minute, until fragrant.

Throw in spinach leaves and toss gently until completely wilted, about one minute. Remove from heat and set aside.

In a large mixing bowl, add whole eggs, egg whites, fresh thyme and nutmeg. Beat the eggs until fully incorporated and slightly frothy. Add spinach mixture, sun dried tomatoes and Feta cheese.

Spoon into prepared muffin tin. Do not fill the cups more than ¾ of the way to avoid spillage.

Cook for 22-25 minutes, until eggs are set and top starts to color.

Allow to cool on a cooling rack for at least 10 minutes before removing frittata from cups.

Can be served immediately, but is equally good served cold, with a nice green salad.
Nutrition
Serving: 1frittata, Calories: 98kcal, Carbohydrates: 5g, Protein: 7g, Fat: 6g, Saturated Fat: 2g, Cholesterol: 117mg, Sodium: 267mg, Potassium: 285mg, Fiber: 1g, Sugar: 3g, Vitamin A: 1331IU, Vitamin C: 12mg, Calcium: 74mg, Iron: 1mg
If you've tried this recipe, please take a minute to rate the recipe and let me know how things went for you in the comments below. It's always such a pleasure to hear from you!
You can also FOLLOW ME on PINTEREST, FACEBOOK, INSTAGRAM and TWITTER for more delicious, healthy recipes!