Caramelized Pear, Chocolate and… Goat Cheese Smoothie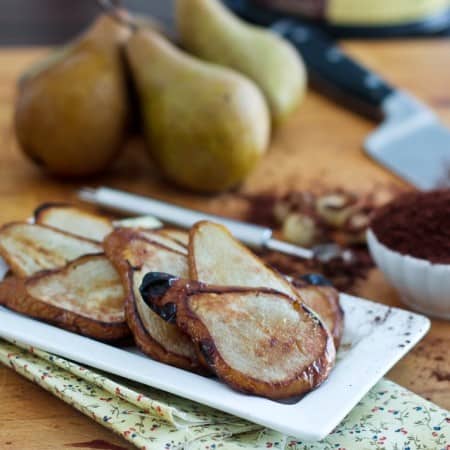 No… I did not!
I didn't dare… did I? 
Oh yes, I did! 😀
I added goat cheese to a smoothie. A luscious, sweet, chocolaty smoothie.
With creamy goat cheese, and caramelized pears.
Oh, the decadence!
The idea came to me while discussing with Joann and Nora after I posted this Creamy Chicken, Avocado and Goat Cheese Salad recipe. I just got the sudden inspiration to use avocado and goat cheese together in a smoothie.
For some reason, I often get inspirations like that when answering comments… Not a bad thing I guess, so keep 'em comments coming guys, they seem to make my brain come up with super bright ideas.
Anyway, I LOVED the idea of using goat cheese in a smoothie so much that I HAD to try it, and the sooner the better.
I just thought that its tangy bite, its subtle saltiness, and delicious creaminess, would add so much to a nice thick, sweet and creamy smoothie.
It would definitely make for the most interesting sweet and savory experience, and you all know just how big a fan of that concept I happen to be!
I have to tell you that I was absolutely right! The combination is just straight out extraordinary. This tastes like heaven in a glass.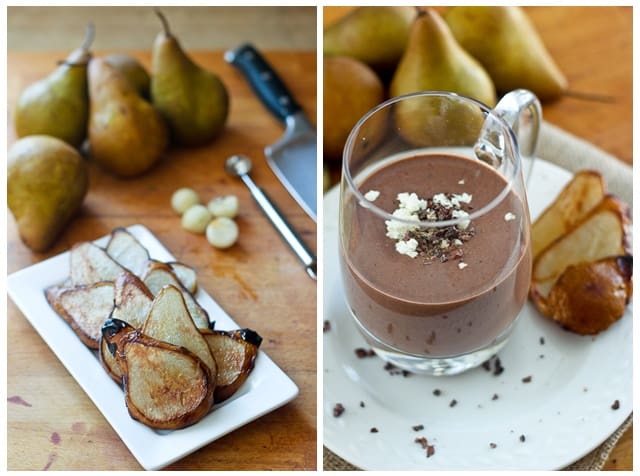 As much as I can't wait to try the avocado / goat cheese combo, I opted to leave it out that time because I wanted the caramelized pear to really shine. And I just HAD to have the caramelized pear in there.
Hey, we all have to make decisions, sometimes. Some tougher than others.
This one was a no brainer, but fear not, though… I've got plenty of avocados in the fridge.
You know what that means…
Oh yeah! It will happen. Soon. 
CARAMELIZED PEAR, CHOCOLATE AND GOAT CHEESE SMOOTHIE
INGREDIENTS
(Serves 1) 
1 bosc pear
1 tbsp extra dark cocoa powder
¼ cup fat free plain Greek yogurt
1 cup almond milk (or milk of your choice)
1 scoop unflavored whey protein powder
1 tbsp flaxseed meal
2 tbsp soft goat cheese
1 tbsp cacao nibs
¼ tsp extra virgin olive oil
pinch ground cardamom
DIRECTIONS 
Set your oven to broil.
Cut your pear in half, remove the core and cut each half into 3-4 slices. Lay the slices in a single layer on a baking sheet. Drizzle with olive oil and dust very lightly with ground cardamom.
Place your sliced pears in the oven under the broiler, and cook until they turn nice and golden brown and start to bubble at the surface, about 3-5 minutes, depending on rack position. Flip pear slices and cook until other side is golden. Make sure to keep a close eye on your pears so they don't burn. Remove from oven and set aside to cool.
You can make the pears in advance and keep them in the fridge in an airtight container until ready to use (of course, you can do more than one at a time!)
When pears are cold enough, add all the ingredients to a mini blender or food processor and process until smooth.
Transfer to serving glass and garnish with crumbled goat cheese and a few cacao nibs if desired.