Sweet Potatoes and Brussel Sprouts Skillet Hash
I got the inspiration for this dish from Nora, over at Natural Noshing.
She posted this absolutely gorgeous Butternut Squash Skillet Hash a little while ago and as soon as I caught a glimpse of it, I  knew I HAD to make it.
Her delicious, mouth watering pictures gave me needs… I just got this insant, irresistible craving, and I knew this one was NOT going to subside, so no use fighting it.
This is just soooooo my kind of dish. I could very easily eat this every day for an entire week, and I would still want more!
In fact, just looking at my own pictures now, I feel another craving coming…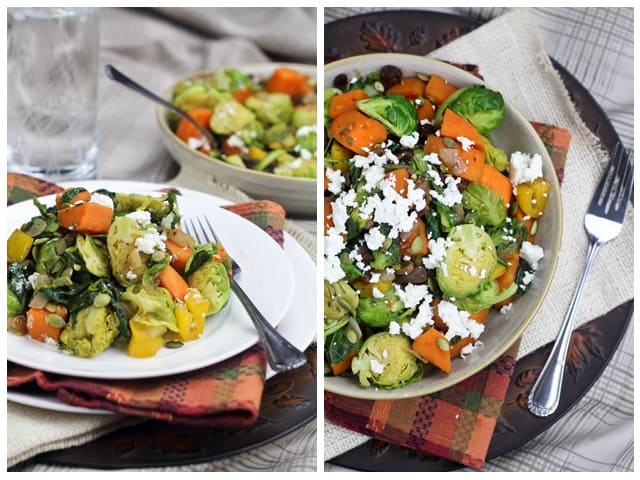 A quick glance at Nora's list of ingredients allowed me to confirm that the only thing I needed to buy was a butternut squash.
HA! Easy as pie, I thought to myself. Alas, it appears as though, at this time of year, butternut squash is nowhere to be found in my part of the world. I really tried to find one, to no avail.
Oh well, no biggie… I figured I would just use a sweet potato instead. Besides, I remembered Nora suggesting this very substitution in her recipe.
Unfortunately, when I finally got to actually making the recipe, I didn't have access to it: No Internet! Hmpft… gotta love technology!
I was left with no other choice but to play it by ear and called my memory to the rescue. I tried and remember the pictures and used those mental images as a gauge to recreate a very similar dish, at the very least.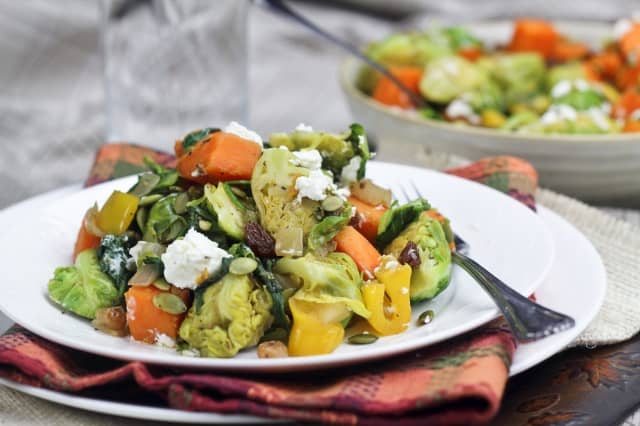 Well, I think my memory was a LITTLE off... just a tiny bit. 😉
BUT! At least, I remembered the raisins. And the goat cheese. Had it not been for Nora, I would've NEVER thought of adding raisins to this. Along with the pumpkin seeds and goat cheese, they make for a definite winning combination!
Oh, and when all was said and done, I drizzled a little bit of white balsamic vinegar over the whole thing… wow did that ever take the dish to the next level.
AH-MA-ZING!
Alright… gotta end this post here, otherwise, I'll be having this baby for breakfast tomorrow…
Or maybe even as a midnight snack!
SWEET POTATOES AND BRUSSEL SPROUTS SKILLET HASH
(Inspired by Natural Noshings)

INGREDIENTS
(Serves 2-3)
1 small onion, chopped
200g button mushrooms, sliced
½ yellow red bell pepper, cut into roughly 1″ pieces
1 large sweet potato, cut into 1″ cubes
2 dozen fresh brussel sprouts, cut in half
2 cups fresh baby spinach, coarsely chopped
½ tsp salt
¼ tsp black pepper
1 tbsp fresh rosemary, chopped
¼ cup raisins
¼ cup pumpkin seeds
Garnish
2 tbsp raisins
2 tbsp pumpkin seeds
40g – 50g goat cheese, crumbled
White Balsamic Vinegar, to taste
DIRECTIONS
Coat a large skillet with cooking spray, or drizzle with olive oil, and, over medium heat sauté the mushrooms, stirring occasionally, until they are nice and golden, about 5-7 minutes. Remove from pan and set aside.
Add the onions to the pan and cook, stirring occasionally, until translucent and tender, about 4-5 minutes.
Add sweet potaoes, brussel sprouts, bell peppers, salt, pepper and rosemary. Cook for a few minutes to develop fragrance, then add 2-3 tablespoons of water and cover loosely.
Lower heat and cook for 8-10 minutes, until vegetables are fork tender but still have a nice crunch to them.
Throw in spinach, raisins and pumpkin seeds. Stir delicately, cover and remove from heat. Let stand for a few minutes, or until spinach is wilted.
Transfer to serving dishes and garnigh with goat cheese and additional raisins and pumpkin seeds.
Drizzle about a tablespoon of white baslamic over the entire dish (of course, this is entirely optional, but I highly recommend it!)