Stripetti Squash "Au Gratin"
I was at the grocery store the other day and I came across these cute little, almost miniature, stripetti squash…
They were so cute, so adorable that I had to get some, even though they were not on my list and I had no plan to use them that week. Hey, squash do keep for a while and surely, stripetti squash could be no exception. They would have to wait for the next week. Or the one after.
And they did!
Now, I can already hear some of you questionning: "You say what squash? Surely you mean spaghetti squash!"
No, seriously, I really mean Stripetti Squash. It's not very common, but it sure is beautiful!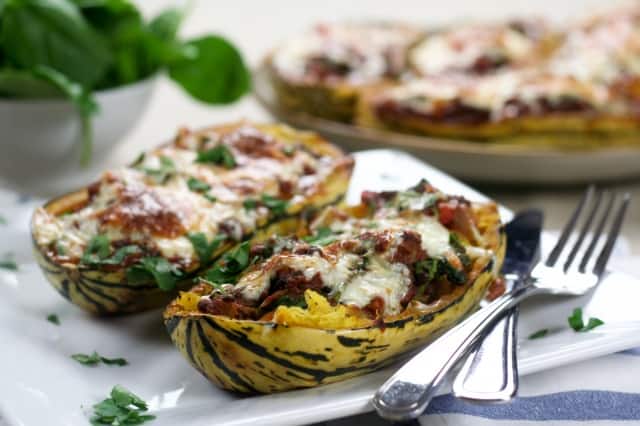 It's actually a cross between the Delicata and Spaghetti Squash varieties. I had tried it once before, in the bigger, more mature form, and had found it to be extremely similar to spaghetti squash, except it was so much prettier and its flesh  was maybe a tad sweeter…
I figured I was going to prepare the young guys pretty much like I would the bigger, more mature family members: cut them in half, remove the seeds, bake them in oven face down, shred that gorgesous flesh into strands with a fork, cover with tomato sauce and sprinkle with goat cheese and parsley or something like that.
Except that, since they were so cute and tiny, I thought I'd serve that flesh right into the empty shells.
However, I was in for a surprise, well, in fact, two surprises and had to sort of change plans at the last minute.
Surprise number one: The squash were so young that their flesh refused to be shredded to form the usual strands. You could see that it sort of wanted to, but was way too creamy for that to happen.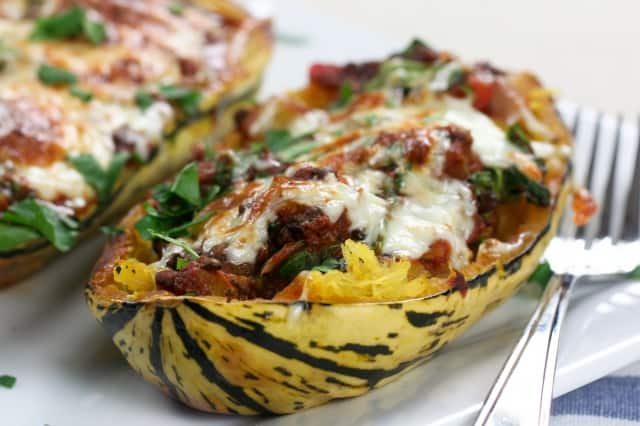 Surprise number 2: The skin was extremely delicate and fragile. So much so that the whole squash could be eaten, skin and all!
Oh well! I decided to just fill the cavity with the tomato, lentil and spinach sauce that I had made, top that with mozzarrella cheese and pop them in the oven to melt the cheese.
Not quite what I had in mind, but not a bad alternative at all!
I certainly hope that I can get my hands on young Stripetti Squash again in the future!
And if you are lucky enough to come across it, get it! You'll thank me for it. 🙂
OVEN BAKED STRIPETTI SQUASH WITH LENTIL AND SPINACH SAUCE
INGREDIENTS
4 small stripetti squash (use spaghetti if you can't find stripetti)
1 onion, chopped
2 celery stalks, chopped
½ red bell pepper, chopped
2 garlic cloves, crushed
1 tsp salt
½ tsp black pepper
1 tbsp dried oregano
2 tbsp dried parsley
1 tbsp italian seasoning
2 bay leaves
½ cup green Du Puy lentils
1-28oz can crushed tomatoes
1 cup water
150g spinach
INSTRUCTIONS
Preheat oven to 375F
Cut stripetti (or spaghetti) squash in half and remove the seeds. Sprinkle each half with a bit of salt and pepper and lay them face down in a shallow baking dish. Add about ¼ inch of water in the bottom of the pan, cover loosely with foil and cook for approximately 25-30 minutes, until tender.
Meanwhile, in a large saucepan, cook onions, celery, garlic and bell peppers over medium heat until fragrant and the onions become translucent, about 5 minutes.
Add seasonings and lentils and continue cooking for 2-3 minutes. Add tomatoes and water, bring to the boil then lower heat and simmer, partly covered, for about 25 minutes, or until lentils are tender.
Remove from heat and stir in spinach leaves. The heat of the sauce will cook them as you stir.
Spoon sauce into each squash half, then sprinkle mozzarella cheese.
Bake in oven for 15-20 minutes, until cheese is melted and starts to color slightly.
Set to broil for a few minutes if cheese hasn't taken quite enough color.