Healthy Carrot Cake and Cream Cheese Mousse
I'll be honest, this one here is a case of total flop that miraculously turned out right at the very end.
You have no idea how close I came to not even bother with taking pictures.
THAT close. Really! This one was an ugly, ugly duck.
Think of anything that could go wrong when baking a cake and… it happened!
For starters, I'd been meaning to make a gorgeous, creamy and fluffy, yet tight, cream cheese "buttercream". THAT certainly did NOT happen… I ended up with a super soft "buttercream" and there was no way in hell I could've piped it, not in a million years.
The taste, however, was simply extraordinary. I probably could've used it as a soft icing, but that's not the look that I was going for, so I decided to try and turn it into a mousse instead.
Great move! That mousse turned out HEAVENLY. So much so I'm thinking I'll have to try and come up with a decadent dessert using that mousse as the main focal point.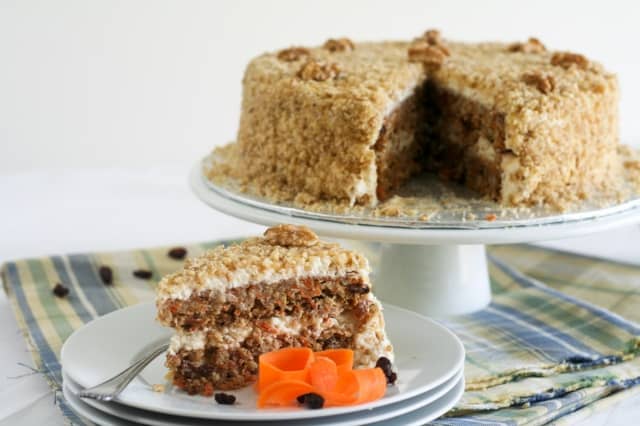 Now, for the cake…
While it really is super moist… is also turned out SUPER dense. It is a carrot cake, after all, so one can't really expect all light and fluffy, but this one, I have to warn you, is particularly dense. Not tough, not hard, but dense. Chewy dense. Heavy dense. You can actually feel the carrots as you chew, as well as the chunks of fruits and the texture of the oats.
Oh, but it's sooooo incredibly tasty!!! So sweet and fruity and deliciously spicy. Major yum!
The last thing to have gone wrong, but not the least, was the way the cake looked when I lifted the ring. NOT PRETTY! That mousse is so light, it's full of tiny little holes everywhere. That did NOT look good at all.
I didn't know how to save this poor thing. It looked like a complete disaster. In a desperate attempt to save the fruit of all my efforts, I decided to completely cover it in crushed walnuts.
EUREKA!
Ugly duck turned into gracious swan, right before my eyes! That cake went from disaster to elegant and classy with very minimal time and effort.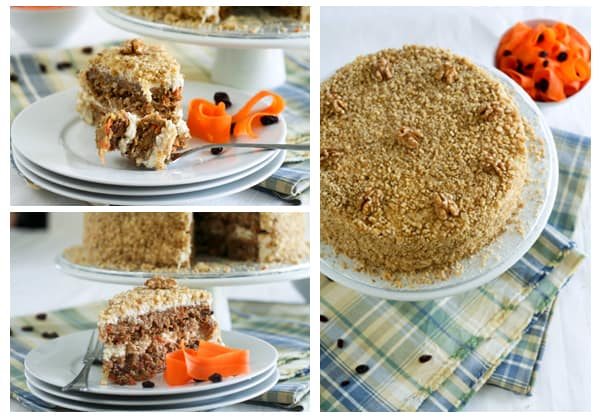 And you know what? In the end, I really enjoyed the contrast between the dense, sweet and spicy cake and the light, fluffy, sweet and tangy cheese mousse. As for the crushed walnuts, they did just as much for the flavor and texture as they did for the looks.
It turned out to be a true winner solution.
It saddens me to think that I might never get to make this particular cake again, because I want to work on so many different variations on this fascinating combination that is carrot cake and cream cheese.
Still, there might come a day when I get a real bad craving for this exact same cake.
And when that day comes, I'll know where to find the recipe!
Healthy Carrot Cake and Cream Cheese Mousse
Servings: 12
Ingredients
Cheese Mousse Icing
8 egg whites
1 teaspoon lemon juice
1 cup maple syrup
250 g low fat cream cheese, at room temperature
250 g 0% fat Greek yogurt, strained overnight and at room temperature
150 g soft tofu, strained overnight and at room temperature
5 gelatin sheets
Garnish
175 g crushed walnuts
8-12 walnut halves
Instructions
For the cake
The previous day, add yogurt and tofu to a fine mesh sieve. Put that over a medium mixing bowl and leave to drain in the fridge overnight, or at least 8 hours. Take out of the fridge at least 2 hours prior to making cream cheese mousse.

Preheat your oven to 375F and coat two 9" round cake pans with cooking spray.

In a large bowl combine dry ingredients and whisk until well incorporated. Set aside.

In a separate bowl, add wet ingredients and mix until well blended. Pour into dry ingredients and stir with a wooden spoon or spatula until well combined.

Divide mixture equally between prepared pans.

Bake for 30-35 minutes or until a toothpick inserted in the center comes out clean.

Cool for 5 minutes, remove from pans and allow to cool completely on a cooling rack.
For the cheese mousse
In a large, heavy saucepan, bring the maple syrup to the boil and continue cooking without stirring until it reaches 245F – 250F on a candy thermometer.

In the bowl of an electric stand mixer, whip the eggs whites on low speed until foamy. Add lemon juice, increase the speed to medium and beat until soft peaks form.

With the mixer running, pour the hot maple syrup in a thin stream over fluffed egg whites. Beat until the egg whites are stiff and glossy, about 12-15 minutes. Transfer to large mixing bowl and reserve.

Add cream cheese to the bowl of your electric mixer and beat until soft and creamy. Add drained tofu and yogurt and whisk until well incorporated and fluffy. Set aside.

Soften gelatin sheets in cold water for about 5 minutes, then squeeze to remove excess water and melt over a double boiler.
Assembly
Delicately fold cream cheese mixture into meringue until well blended. Add gelatin and quickly but gently fold it into the cheese mousse.

Place a 10"

cake ring

over a cake plate or carton and place a cake right in the middle. Pour a little less than half of the cheese mousse over the cake and spread evenly. Make sure it goes all the way down to the bottom and around the cake and that your cake is completely covered.

Top with a second cake and repeat above process. Even out the top and put cake in the refrigerator to chill overnight, or at least 6 hours.

Remove the ring from the cake (the easiest way to do this is to slightly heat the ring with a propane torch, or by running a flat icing spatula all the way around the cake) and cover the cake entirely with crushed walnuts.

Garnish with walnut halves.
If you've tried this recipe, please take a minute to rate the recipe and let me know how things went for you in the comments below. It's always such a pleasure to hear from you!
You can also FOLLOW ME on PINTEREST, FACEBOOK, INSTAGRAM and TWITTER for more delicious, healthy recipes!