Super Quick and Easy Cold Shrimp Salad
In this household, this would be the ultimate "there's-nothing-left-in-the-fridge-let's-whip-up-something-quick" salad. The base ingredients are pretty much always the same: cooked shrimp, canned hearts of palm and canned baby corns. Then I explore the contents of the fridge and cupboards to find a few more layers of flavors and textures I want to add… or rather, can afford to add!
You see, one thing I ALWAYS have in my freezer is shrimp. One bag of large cooked shrimp, and one bag of large, raw shrimp.  As soon as a bag gets emptied, I buy another one. Serioulsy, I can't think of an ingredient that's more handy to have around. They thaw in no time (just throw them in cold water for a few minutes) and they are so incredibly versatile.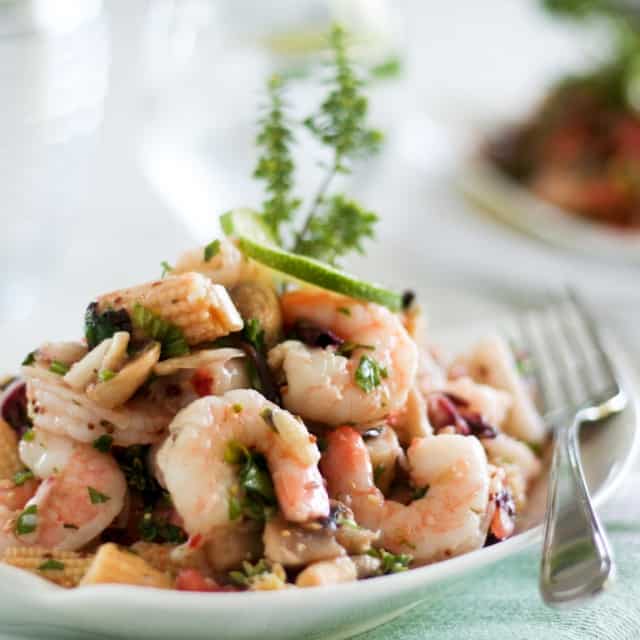 You can do so many different kinds of dishes with these tiny little buggers. You could throw them in pasta, in rice, eggs, or salads. You can eat them hot, or you could eat them cold, which makes them a perfect choice for any time of the year.
Of course, you could choose to turn them into something sinfully rich by adding them to a creamy, boozy and / or cheezy sauce, or, you could  just as well decide to make them into a super light dish, like this very salad…
Also, while I am not a huge fan of canned goods, if you went through my cupboards at any given time, you could be sure to find the following items:
Hearts of palm;
Artichoke hearts;
Baby corn;
Black olives;
Water chestnuts
Coconut milk;
Tomatoes and tomato paste;
Enoki mushrooms (I'm a fan, what can I say?)
A few kinds of beans, such as chick peas or kidney beans, or cannellini, and a bean medley.
Agreed, some of these might not be SUPER healthy, but they can sometimes mean the difference between a healthy enough home cooked meal and a take out order from the local food joint… In short, they are a good life saver.
This salad comes together in no time at all, and it's a no brainer, really. All you need to do is take the shrimp out of the freezer, put them in cold water to thaw, and while that's happening, prep your vegetables. By the time you are done with that, all you need to do is throw everything in a bowl, add the shrimp (peel them first if they are peel-on!), give everything a quick stir and voilà, you're done!
Also, you could add just about any vegetable you like, canned or fresh! 😉 You don't have to stick to the selection that is suggested here. For instance, in the past I've used olives, cucumbers, tomatoes, leftover cooked broccoli, celery, artichokes, water chestnuts, leftover cooked green beans, chopped carrots, bell peppers, and even zucchinis.
Trust me, there's not much to it… Just let your imagination be your guide!
INGREDIENTS
(Serves 2-3)
450g cooked shrimp (size 31-40)
1 can hearts of palm, sliced
1 can baby corns, in chunks
1 tomato, diced
100g fresh mushrooms, sliced
½ cup fresh parsley, chopped
½ radicchio, shredded
Juice of half a lime
1 tsp salted herbs (use salt if you don't have salted herbs)
1 tbsp whole grain mustard
½ tsp black pepper
1 tsp dried basil
1 tbsp fresh lemon thyme
1 tsp Sambal Oelek (or other hot chili sauce)
1½ tsp Chili Flakes
DIRECTIONS
Simply mix all the ingredients together in a large bowl and toss gently to combine.
Serve immediately, or chill for 2-3 hours to let the flavours develop.