Oven Baked Acorn Squash Gratin
To think that I came THAT close to not even taking pictures of this magnificent dish…
As I was making it, I thought this was the biggest fail of all times. It looked nothing like what I'd envisioned! Nothing, I tell you. I'd been dreaming of a dish that resembled a stew, with big chunks of squash and gorgeous vegetables in a beautiful, velvety sauce.
What lay before me in the skillet had nothing to do with that vision, let me tell you. It looked more like a big pile of mush… That's right, a mountain of mushy squash with all sorts of bits and pieces of vegetables in it.
And, to be honest, I thought the taste was pretty ordinary too…
Still, I thought since I had gone this far, I might as well finish the dish! So I transferred the mushy mixture to the lovely round dishes that I had chosen, sprinkled them with Swiss cheese and in the oven they went.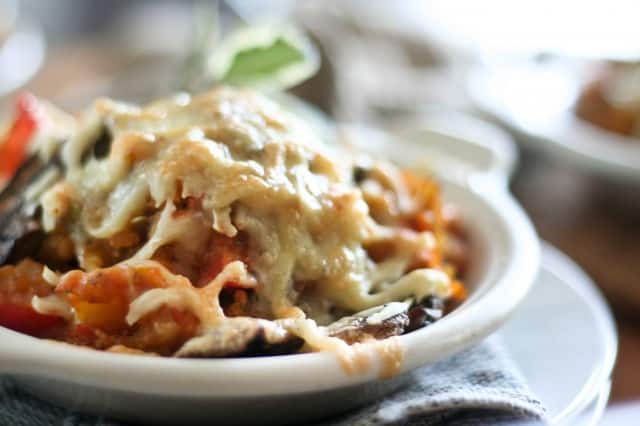 Well, much to my dismay, even the cheese refused to cooperate. I hadn't used enough, apparently, and it decided to let me know that I was being cheap by not melting and spreading nicely.
FINE. Got the message!
I took out more cheese, sharp cheddar this time, because I was all out of Swiss, grated it and added it to the existing half melted Swiss. That worked beautifully! Cheese was real happy with his newfound friend! So much so that when the dishes came out of the oven, they looked very picture worthy. But the thing is, I hadn't thought of a set-up, because I had already decided that it was going to be a fail!
For a second, there, I considered eating without taking a single picture. But then I changed my mind. I couldn't do it. I thought the dish had turned out too pretty, after all. What if it had turned out equally good? It would be too late for pictures after it was all in my belly.
So I quickly grabbed my cutting board, threw my dish towel across it, arranged the dishes in a triangle and started snapping away. Good thing I did, because really, that was some  pretty yummy courge gratin, and I will definitely be wanting to make this again.
The cheese really brought this dish to the next level, and the little time it spent in the oven just tied everything together, turning the mixture into a wonderful and delicate puree, with the occasional chunk of soft and creamy squash. Each bite tickles your taste buds with the sweet nutty taste of the squash, the meaty taste and chewy texture of the mushrooms and a nice crunch from the pumpkin seeds.
It might look like it's pretty extensive to make, because you have to bake the squash for about an hour, but since you have to cook it in advance, you can just bake it the night before, and then the rest of the recipe comes together fairly quickly and easily.
And it's a great and comforting way to satisfy a squash craving…
1 acorn squash, oven baked and cooled
150g mushrooms, sliced
1 celery rib, chopped
½ red bell pepper, chopped
½ yellow bell pepper, chopped
1 small white turnip, cut into small cubes
1 tomato, diced
1 tsp sea salt
½ tsp black pepper
1 tsp paprika
½ tsp Sambal Oelek
1 tbsp dried oregano
1 tbsp fresh sage, chopped
¼ cup pumpkin seeds
¼ cup + ½ cup water
½ cup 0% fat Greek yogurt
60g swiss cheese
60g sharp cheddar
INSTRUCTIONS
The previous day, or at least 4 hours prior to making this dish, bake your acorn squash. First, preheat your oven to 375F. Then cut the squash in half, remove the seeds, sprinkle the interior with salt and pepper and lay the squash face down in a shallow baking dish or cookie sheet. Add about a cup of water in the bottom of the pan and bake for approximately 45 minutes to an hour, until the squash is tender. Allow to cool completely.
When squash is cold, scoop the flesh out with a large spoon, trying to get as much as possible in one go, then scrape the skin to get the rest of the flesh. Cut that into big chunks and set aside.
Set oven to 375F.
Coat a large skillet with cooking spray and heat over medium high heat. Cook the mushrooms until they are nice and golden brown.
Add celery, bell peppers, white turnip, salt, pepper and dried oregano. Cook until the vegetables start to wilt, about 3-4 minutes.
Add ¼ cup of water, Sambal Oelek, fresh sage and tomato. Cook for a minute or two, until water is evaporated.
Meanwhile, mix ½ cup of water and yogurt together in a small mixing bowl.
Add squash, pumpkin seeds and yogurt to the rest of the vegetables. Remove from heat and stir delicately to combine, no more.
Transfer to oven safe individual baking dishes and sprinkle cheeses overtop.
Place in the oven and cook for 10-12 minutes, until the cheese is melted and the mixture starts to bubble.
Set your oven to broil and leave for another 2-3 minutes, until the cheese is nice and golden.