Honeydew Cucumber Soup
While summer is now officially behind us (such a sad thing to write!) melon season is still not over and I couldn't pass up on the opportunity to try this last cold soup before it's too late. Soon, too soon, we'll be passing the microphone over to rich, velvety, piping hot squash and other similar creamy soups.
So please, bear with me while I desperately hang on to the last few days of warmish weather and give this soup a little fighting chance. After all, it's not its fault if I've come up with it a little late in the season. It still deserves to get a little bit of your attention, trust me. If you're not going to try it now, keep it in mind for next summer.
Of all the melon soups I've been making this summer, this one is my favorite so far. I got the inspiration while making 3rd batch of cantaloupe soup. I figured melon and cucumber are such a classic combination, there was no reason why their union shouldn't be as succesful in a cold soup.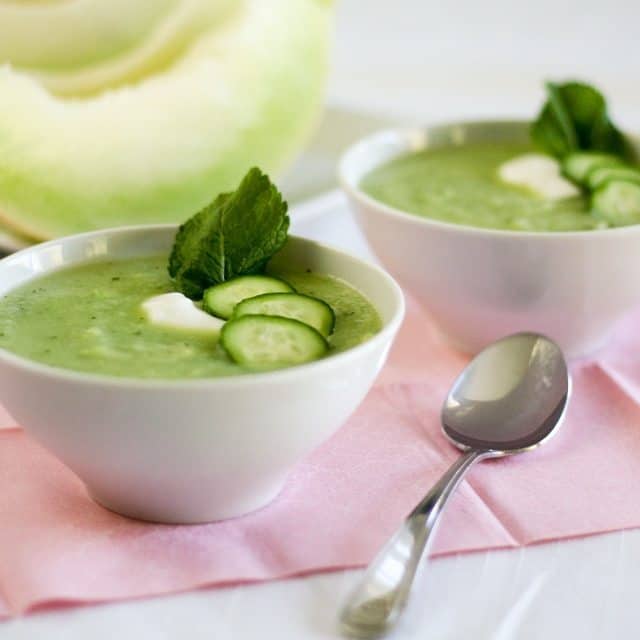 I had thought exactly right! This one, as you could very well imagine, is extremely fresh and crisp. It's sweet, but not overly so. It's really sitting on the fence between sweet and savory… your taste buds never quite know what they are getting.
With each bite, you get the smooth sweetness of the honeydew melon followed by the super crisp freshness of the cucumber, with a hint of peppery mint and tangy yogurt to balance it all out.
The texture came out nice and thick, and the myriad of tiny little pieces of cucumber really did a lot for the crunch factor.
Oh, it's just gorgeous. I can tell you one thing that's definitely changed about me over the summer. Never again will I say that I don't care much for cold soups…
Cold soups are just plain AWESOME!
Now I can't wait for next summer so I can come up with new ideas…
Honeydew Cucumber Soup
Servings: 4
Ingredients
Half a large Honeydew melon
3 Lebanese cucumbers
½ cup 0% fat plain Greek yogurt
½ tsp fresh ginger, grated
Generous pinch of sea salt
2 tbsp mint leaves, chopped
Garnish ideas
Dollop of plain yogurt
Cucumber slices
Lemon balls
Fresh mint leaves
Instructions
Peel all 3 cucumbers and cut 2 of them in large chunks. Chop the 3rd one finely and set that one aside.

Scoop the flesh from the melon with a large spoon.

Add all the ingredients to blender or food processor, except for finely chopped cucumber, and blend until smooth and well combined, about 1 minute.

Add the reserved cucumber pieces and pulse 2 or 3 times, just to incorporate them.

Refrigerate until well chilled, preferably overnight.

Garnish as desired
If you've tried this recipe, please take a minute to rate the recipe and let me know how things went for you in the comments below. It's always such a pleasure to hear from you!
You can also FOLLOW ME on PINTEREST, FACEBOOK, INSTAGRAM and TWITTER for more delicious, healthy recipes!