Tangy Cashew Sesame Bean Sprout Salad
Side dishes make for boring posts, don't they?
Okay, maybe not boring, but not the most exciting, let's say.
Mind you, I edited the pictures for tonight's post to the sound of Christmas tunes, and not just any Christmas tunes might I add: I whipped up Disney Jingle Bell Fun (ahem, much to my son's dismay, as you can very well imagine…) so that made things so much livelier for me!
And no, in case you're wondering, I'm not crazy. Well, maybe a little, but we won't go there. I only happen to really like Christmas AND Christmas music and this particular album has got to be one of the joyfullest (if that wasn't a real word, it is now!) album there is out there. It's in my top 5 that's for certain!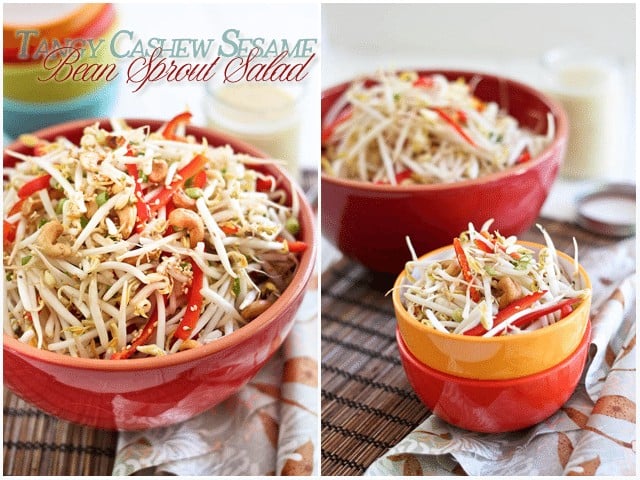 But hey, Christmas isn't for another 6 months, so let's get back on track here, shall we?
Apparently, bean sprouts are okay to eat when you're following the paleo lifestyle. How relieved was I to read that, even though it feels kind of strange and unnatural to me. I mean, bean sprouts are sprouted soy beans, are they not? And soy is a big no no under the paleo rules.
But, according to the research that I did before I went ahead and indulged in one of my top favorite sprouts, the theory wants that, once sprouted, the bean becomes a plant and therefore, is no longer considered a seed, which makes all sprouts safe to eat.
Even bean sprouts.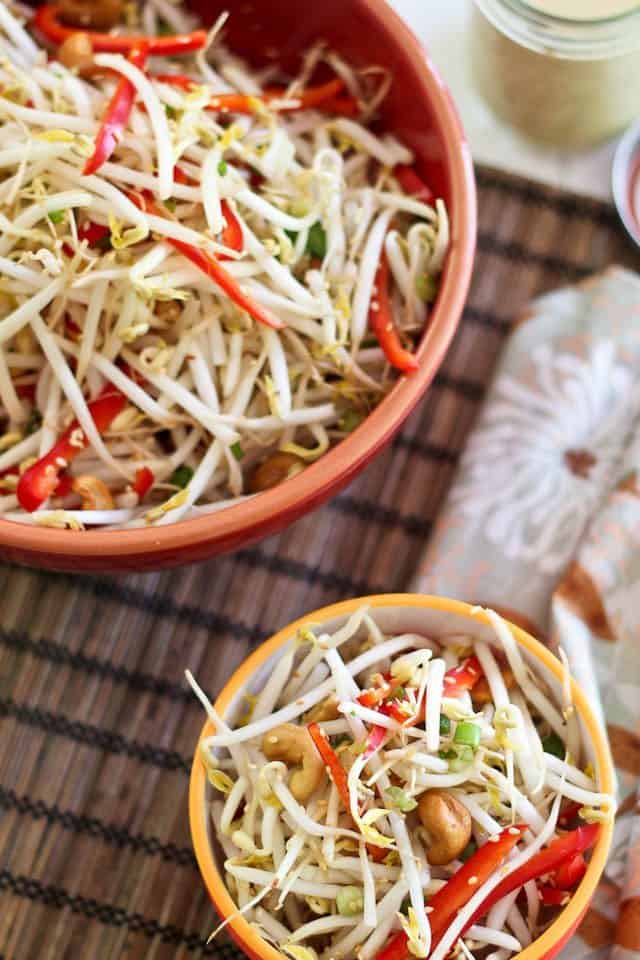 YAY? YAY!
Because bean sprouts are GOOD! I could easily sit myself down with a package and wolf the whole down thing in one single sitting.
Add some roasted cashews and toasted sesame seeds, as well as a tangy pineapple dressing to the equation, and I find myself in bean sprout heaven!
Speaking of roasted cashews, I've been trying to get my hands on some that had been roasted in "safe" oil, with no luck. Typically, all roasted cashews list canola, peanut or sunflower as part of their ingredients.
So I decided to make my own at home.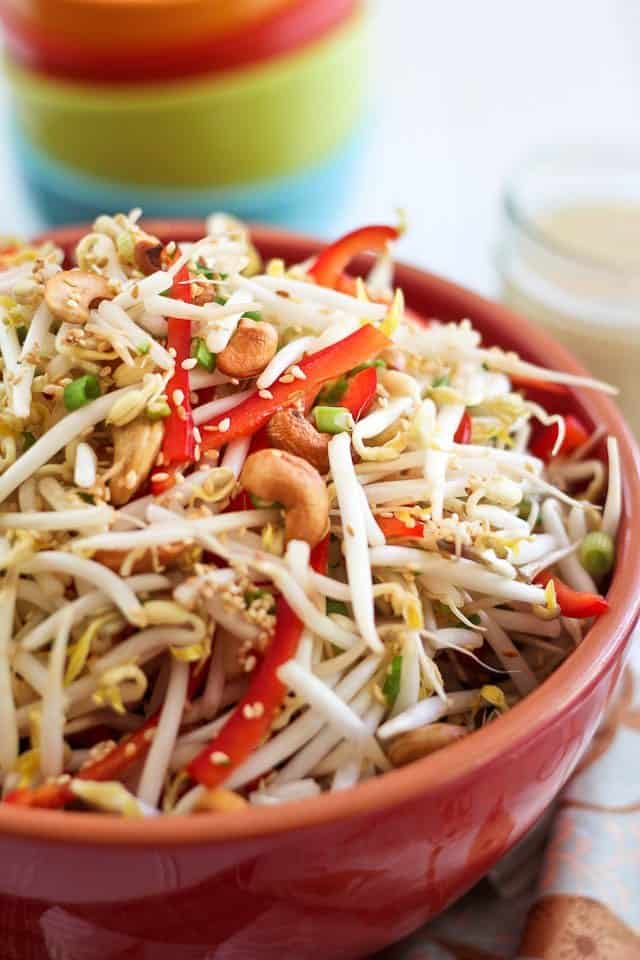 Cashews are one of those nuts that doesn't dry roast too well. You need to roast in in some kind of hot fat to insure uniform coloring. What better than beautiful, magical coconut oil to get the job done? It works magnificently well and even confers a little bit of a rich, creamy coconuty taste to the already super delicious nuts.
And you don't need much either. Just make sure you keep moving the nuts around until they get the coloration that you want, then remove them and place them on a paper towel to drain. Oh, and sprinkle them with a little bit of sea salt at this point, too!
Then try not to eat them all while you're working at the rest of the salad.
In fact, I think that if you're gonna have some left to put in the salad, it might be a good idea to make some extras…
Just sayin', you know!
Tangy Cashew Sesame Bean Sprout Salad
Light and refreshing, this tangy bean sprout salad would make a magnificent side to just about any grilled meat dish... perfect for picnics or barbecues!
Servings: 4
Ingredients
For the vinaigrette
The juice and zest of ½ orange
The juice and zest of ½ lime
1.75 oz fresh pineapple
1 tbsp rice wine vinegar
½ tsp coconut aminos
¼ tsp salt
pinch crushed chili peppers
1 clove garlic, chopped
½ tsp sesame oil
¼ tsp black pepper
¼ cup canned coconut milk
1 tbsp fresh ginger, grated
pinch guar gum to thicken, optional
For the salad
1.25 lb fresh bean sprouts
1 red bell pepper, cut into thin match sticks
2 green onions, chopped
3.5 oz raw cashews
1 tbsp coconut oil - to toast cashews
2 tbsp sesame seeds
Instructions
Add sprouts, bell pepper sticks and green onion to a large mixing bowl.

Heat a small pan over medium high heat and toast the sesame seeds until fragrant and slightly brown in color. Add to reserved salad.

Place the pan back over the heat and add the coconut oil. When oil is hot enough, add cashews and toss them around until nicely and evenly roasted on all sides.

Set aside on a paper towel to cool and absorb excess oil. Sprinkle with a dash of salt if desired.

Meanwhile, add all the ingredients of the vinaigrette in the bowl of your food processor and process until smooth.

When ready to serve, add cashews and vinaigrette to salad and stir until well combined.

You can also serve the vinaigrette on the side, if you prefer.

Nutrition
Calories: 277kcal, Carbohydrates: 25g, Protein: 11g, Fat: 18g, Saturated Fat: 6g, Sodium: 177mg, Potassium: 558mg, Fiber: 6g, Sugar: 12g, Vitamin A: 1058IU, Vitamin C: 76mg, Calcium: 85mg, Iron: 4mg
If you've tried this recipe, please take a minute to rate the recipe and let me know how things went for you in the comments below. It's always such a pleasure to hear from you!
You can also FOLLOW ME on PINTEREST, FACEBOOK, INSTAGRAM and TWITTER for more delicious, healthy recipes!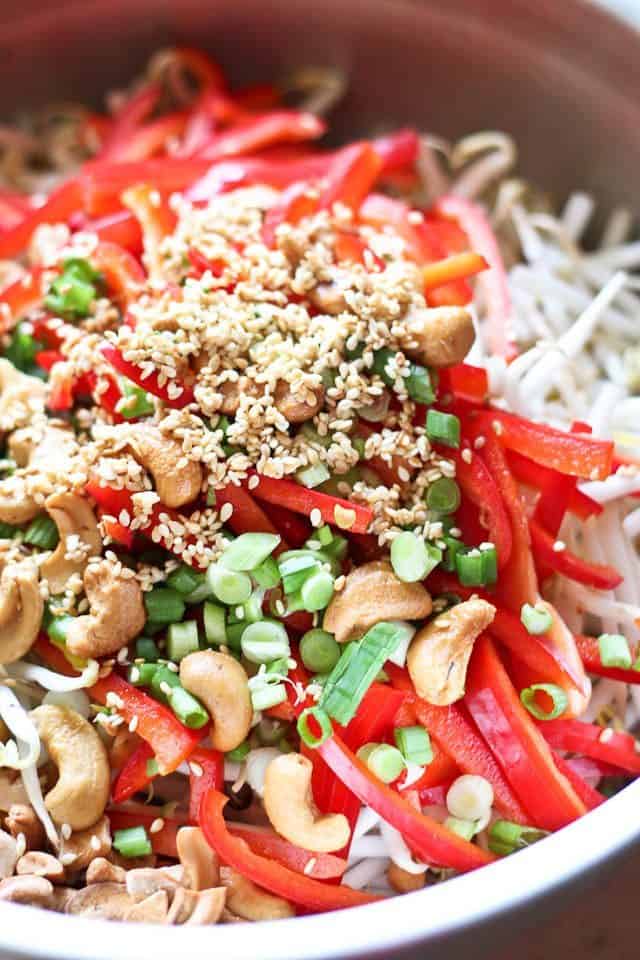 In the mixing bowl, waiting for the toss…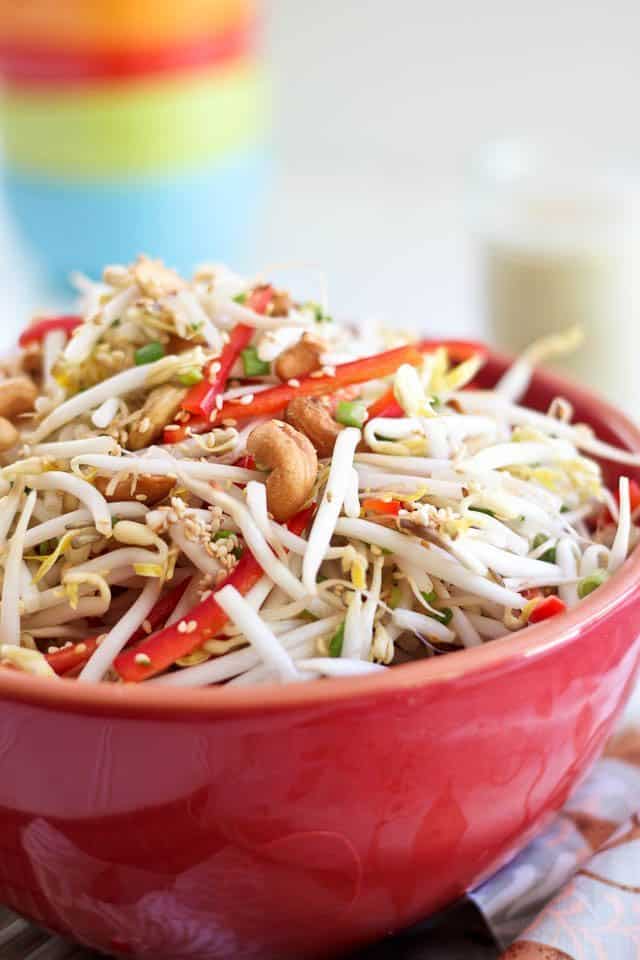 In the service bowl, waiting for the guests…
Oh, does that look good or what? Do you like bean sprouts as much as I do?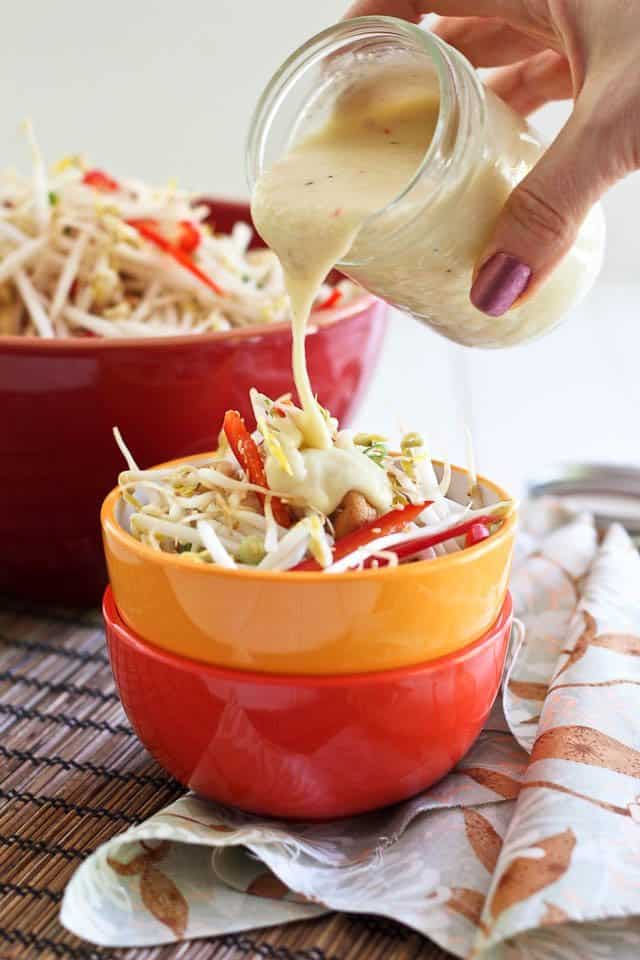 And how creamy is that dressing… seriously?
Fork please!!