Grilled Pineapple and Lobster Salad
It's lobster season here in Quebec.
Once again this year, I couldn't resist going out and bringing a few back home with me.
Then, as is always the case after I'm done eating it, I regretted having bought it in the first place.
Not that I don't like lobster, no, that's not it. It's just that I find it's a tad overrated.
Sure, it's really tasty and its flesh has the most interesting texture to it. Especially the tail…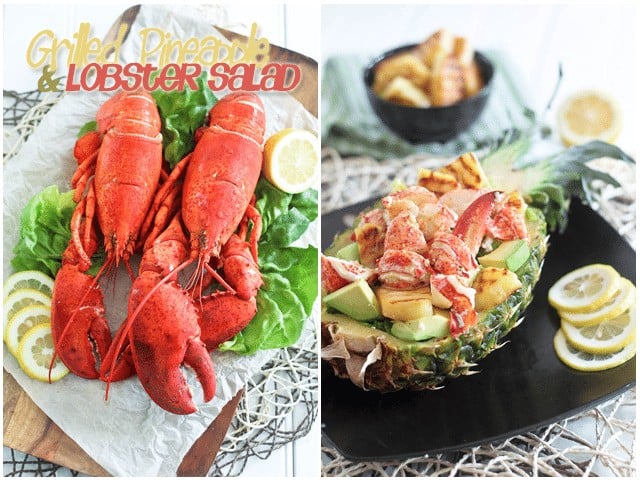 BUT! The thing is you have to work extremely hard and risk suffering multiple finger injuries (at least when you're me) to actually get to that flesh. For me, that fact alone puts a serious damper on the whole tasting experience.
Unfortunately, my gripe against lobster doesn't quite end here.
Every single time I clean them, I end up dirtying up the entire kitchen. It seems like every inch of every surface, including but not limited to the kitchen counter, cupboards and kitchen floor, get completely covered in lobster goo.
And did I mention it really stinks up the house?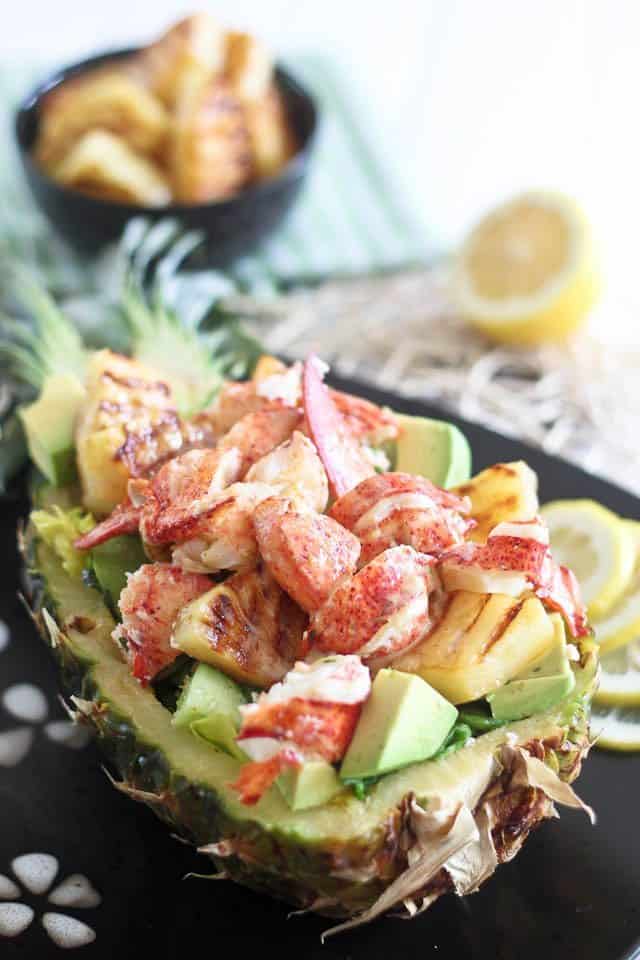 If that alone wasn't enough, I find lobster to be ridiculously expensive. Even when you buy them in the prime of their season and that the critters go for absolutely crazy low prices, it's still way, way pricey for the ridiculously small amount of meat that you get out of them when all is said and done.
But hey, you can't say that the little buggers aren't super cool to look at… and at least this time, I managed to get a good portrait!
And also too, well, I have to admit that they ARE super delicious.
That would probably be the reason why I keep going back for more. Year, after year, after year. And sometimes, more than once per season, too!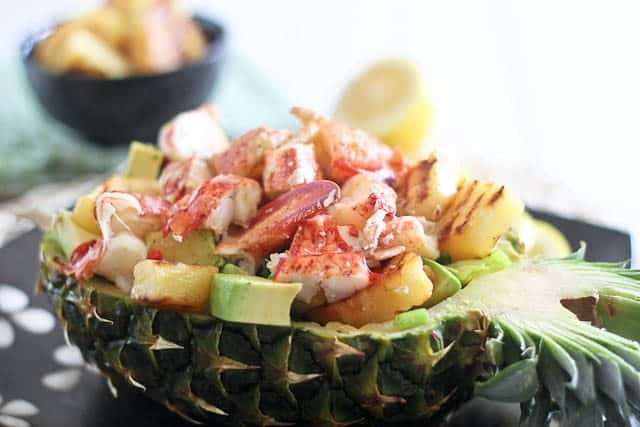 Of course, I always buy more than I need so I can have some leftover meat (and curse a little bit more while cleaning the couple extra beasts) and create some sort of a lobster dish.
This year, I opted for a salad, complete with beautiful grilled pineapple, chunks of creamy avocado, crunchy cucumber and loads of crisp, fresh lettuce. While I must admit that it was absolutely fantastic, I'm sure that it would be just as delicious with shrimp. Or crab. Or even fresh tuna, for that matter.
So if you're not a fan of lobster, or can't be bothered cleaning it, by all means, go ahead and switch things up a bit. But if you're a big lobster fan, go ahead and throw it in, for the combination of flavor between lobster and grilled pineapple is just plain extraordinary.
In fact, I wish I hadn't tasted it… it's only giving me one more reason to buy lobster again next time it's in season.
Oh, wait! It's STILL in season.
Darn. I wish I hadn't realized that.
Or that I have a pineapple sitting on the kitchen counter as I type.
Uh oh! I smell… trouble! (or make that lobster…)
Grilled Pineapple Lobster Salad
Servings: 2
Ingredients
Salad
Half a medium pineapple, skin removed, cored & cut into 1-inch thick slices
1 ripe avocado, sliced
350 g cooked lobster meat, cut into chunks (that's the meat of about 2 lobsters)
2 Lebanese cucumber, peeled and sliced
2 green onions, chopped
2 cups Boston lettuce, torn into pieces
2-3 tbsp each chopped fresh herbs: basil, mint and parsley
Instructions
In the bowl of a small food processor, combine all the ingredients for the dressing and process until smooth. Set aside.

Preheat your outdoor grill to medium-high (or set a cast iron grill pan over med-high heat). Grill pineapple slices on both sides to get nice grill marks on them. Let pineapple cool slightly and cut into chunks.

In large mixing bowl, combine the cucumber, green onions, lettuce and fresh herbs. Pour in half the dressing and mix until well combined.

Transfer the salad to a serving plate (I emptied out the other half of the pineapple and used it as a serving bowl), arrange lobster, avocado and pineapple slices on top and drizzle with the rest of the vinaigrette.

Serve immediately.
If you've tried this recipe, please take a minute to rate the recipe and let me know how things went for you in the comments below. It's always such a pleasure to hear from you!
You can also FOLLOW ME on PINTEREST, FACEBOOK, INSTAGRAM and TWITTER for more delicious, healthy recipes!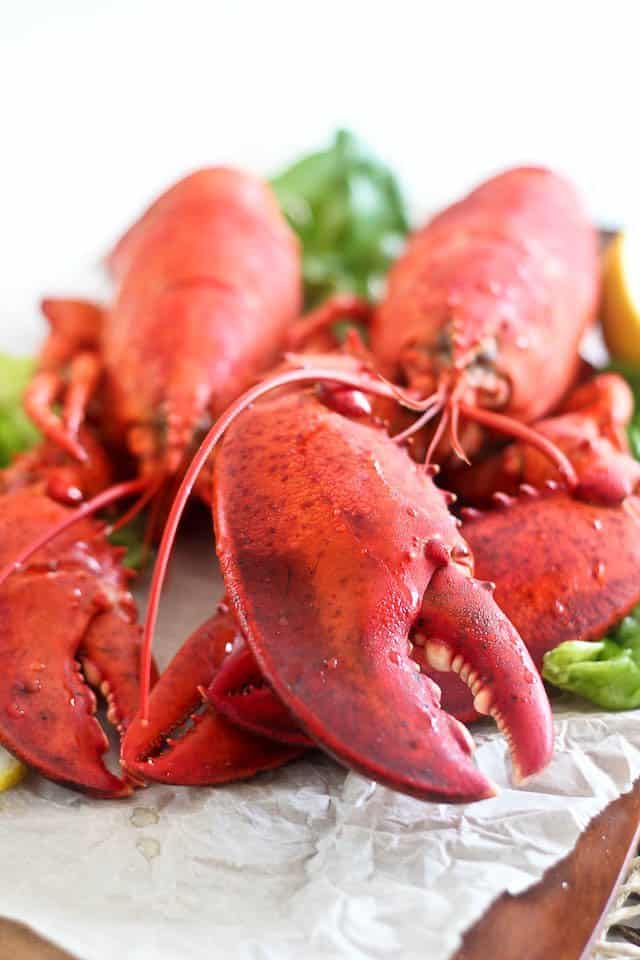 Look at the size of that claw!!!
I wouldn't want this guy to grab a hold of my finger…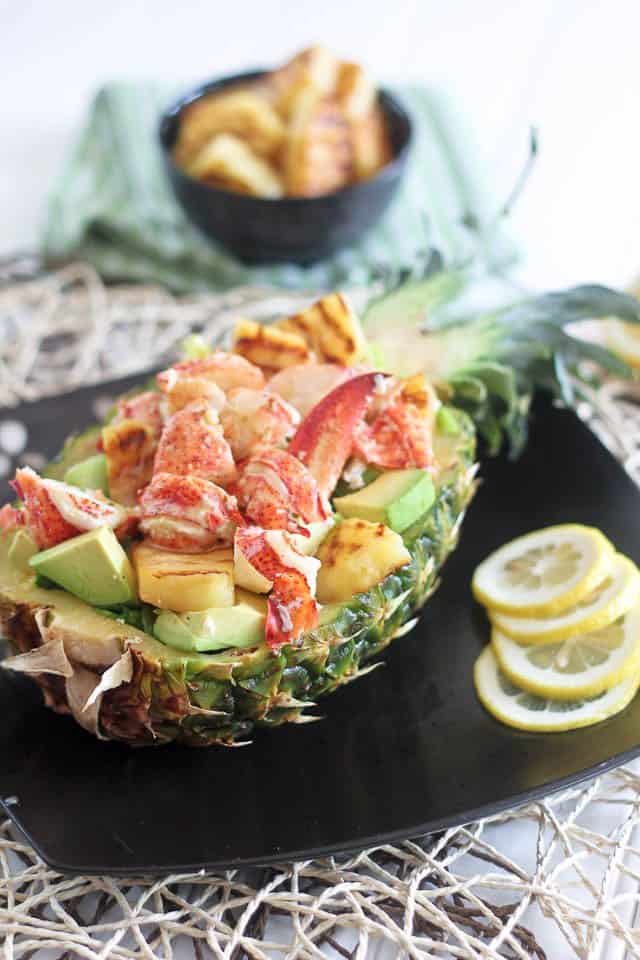 I must admit that this salad is quite elegant…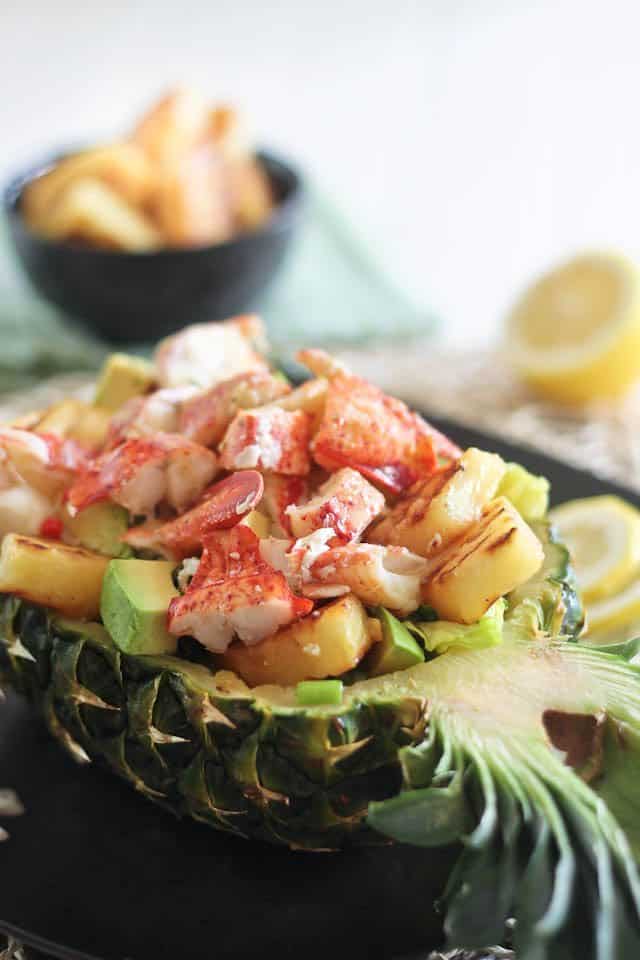 And so tasty, it kind of makes you forget all the hard work you went through to get to that flesh…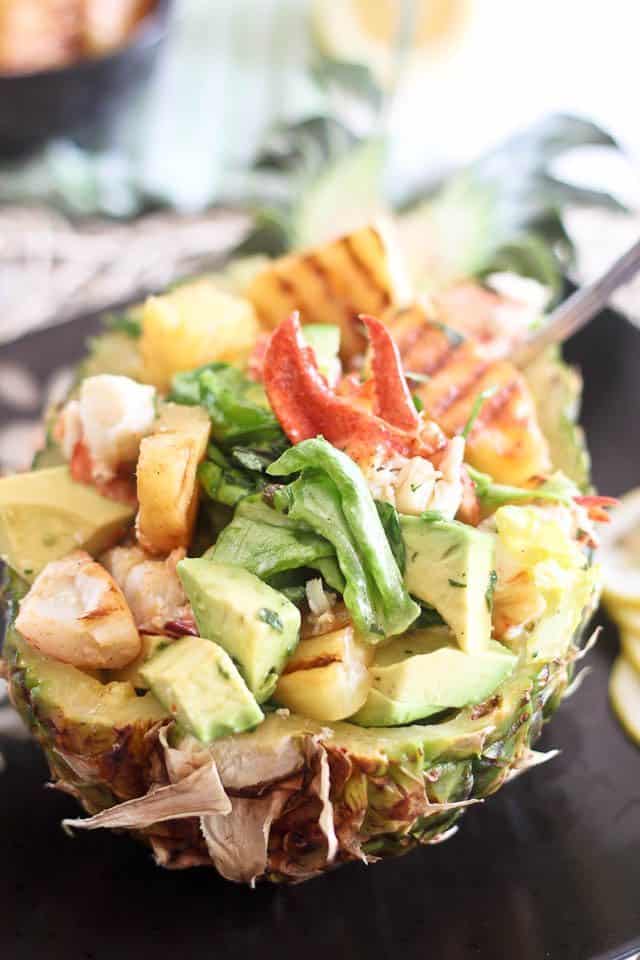 Join me for dinner?