Turkey Soba Noodle Soup
I can't believe it's already gotten so cold out that my brain would be signaling me and very strongly suggesting that I make soup.
Piping hot soup, I mean…
It seems like only yesterday I was craving all sorts of icy cold soups and refreshing salads.
But lately, it feels like my tummy is demanding to be fed nothing but warm and comforting food, such as chicken noodle soup!
Or, well, turkey noodle soup! With TONS of chunky pieces of turkey, beautiful slices of bright orange carrots and loads of long, chewy noodles.
Can you think of anything more comforting?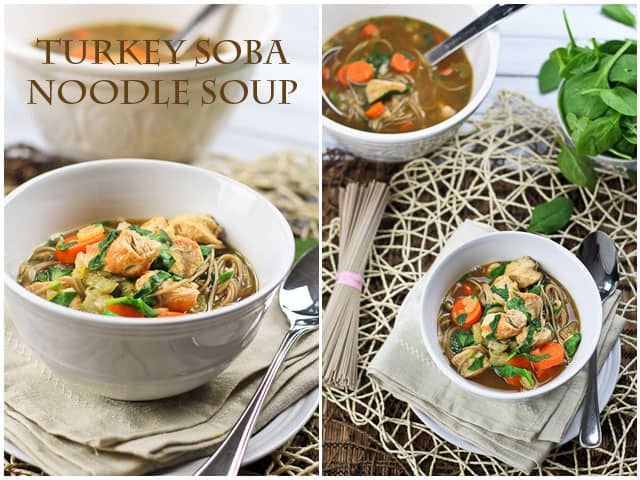 Honestly, I think it had been years since I'd last enjoyed a nice, steaming hot bowl of this classic heartwarming concoction.
I remember a time when I'd pretty much make at least one large batch per month.
Back when I was a family, you know…
But now that I'm mostly just me and cooking for one, I'm rarely ever tempted to make a huge batch of soup, knowing full well that I would then have to eat nothing but that for the rest of the week.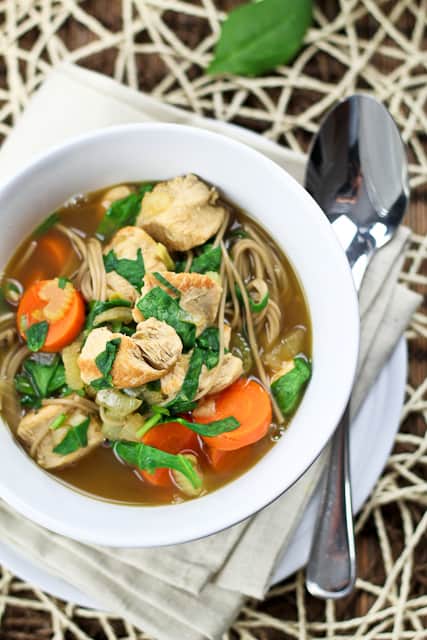 I'd seriously been craving a bowl though, so I decided to make a tiny little batch, one that would last me only a couple of days and that would be ready in just a few minutes.
Once I had the stock ready, that is.
Let's be honest, good stock requires time to make. The trick is to make larger batches and freeze it in small "individual" portions.
I like to ladle mine straight into Ziploc freezer bags, about one or two cups per bag, and lay the bags flat in the freezer until frozen solid. (You might want to double bag or place the bags in a baking sheet until the stock is completely frozen to avoid possible "accidents").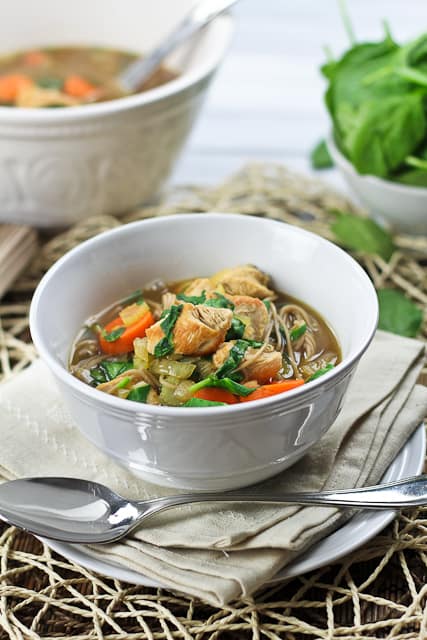 Freezing the stock into thin, flat squares makes it real easy and convenient to use afterwards. You can then cut out little chunks as needed, or, say you wanted to make a soup and needed to use a whole bag or two, having it all nice and flat like that will help it thaw much quicker.
So anyway, once you have the stock on hand, making this gorgeous, hearty chicken soup will be a piece of cake.
And while it will be ready in just minutes, it will taste just as good as if you'd spent the entire day slaving at the stove…
Turkey Soba Noodle Soup
Servings: 2
Ingredients
300 g turkey breast meat, cut into bite size cubes
1 small onion, chopped
1 celery stalk, sliced
2 carrots, peeled and sliced
1 garlic clove, crushed
¼ tsp Himalayan or fine sea salt
¼ tsp freshly cracked black pepper
4 cups home made, low fat turkey stock*
1 bundle, 80g soba noodles
2 cups baby spinach leaves, coarsely chopped
Instructions
Coat a large stockpot with a little bit of olive oil and heat over medium-high heat.

When pot is hot enough, add the turkey in a single layer and cook over medium high heat until the pieces are nice and golden brown on all sides.

Add the onions, garlic, celery, carrots, salt and pepper and cook until fragrant and onions start to take a slight brown coloration, about 2-3 minutes.

Add turkey stock and bring the the boil. Lower heat to medium and continue cooking until the carrots are almost done but still slightly undercooked.

Bring the heat back up and when the soup starts to boil vigorously, throw in the soba noodles and cook until noodles have reached the desired level of doneness.

Remove from heat and add spinach leaves. They will wilt almost instantly.

Give the soup a quick and final stir and serve.
Notes
*Mayo Clinic has an excellent recipe for low fat chicken stock. Use the same method to make turkey stock using a turkey carcass instead of chicken bones.
If you've tried this recipe, please take a minute to rate the recipe and let me know how things went for you in the comments below. It's always such a pleasure to hear from you!
You can also FOLLOW ME on PINTEREST, FACEBOOK, INSTAGRAM and TWITTER for more delicious, healthy recipes!