It's a Blogiversary! Let's celebrate with some Chocolate Chip Cookie Dough Cheesecake Bars
Today marks the 2nd year of my great blogging adventure.
Although technically, I wouldn't really call what I was initially doing "blogging"…
The story is more that, 2 years ago today was the first time I ever posted a picture of some food that I had made on a Tumblr site that I had set up just for fun, not even thinking that I would ever use it.
Its sole purpose was for me to be able to follow people on there and like THEIR stuff. NOT for me to actually ADD stuff to it.
But my daughter was really coaxing me to do it, so I eventually gave in and published the pictures. Little did I know that there would be many, many more to come! 😉
What was it that I posted, you ask? Well, simply one of the most decadent desserts I'd ever eaten: Chocolate Chip Cookie Dough Cheesecake Bars. That's what.
Not exactly what we would call healthy, now, would it?
Looking back makes me realize just how much I've changed since that day.
Sooooo…
For my 2nd Blogiversary, I thought I would throw a real big challenge at myself. A super crazy challenge.
Yep, you guessed it. I took it upon me to recreate this decadent dessert, in a super healthy version of course. One that would be healthy enough to be eaten for breakfast.
'Cuz you all know how I like to have my dessert for breakfast, don't you?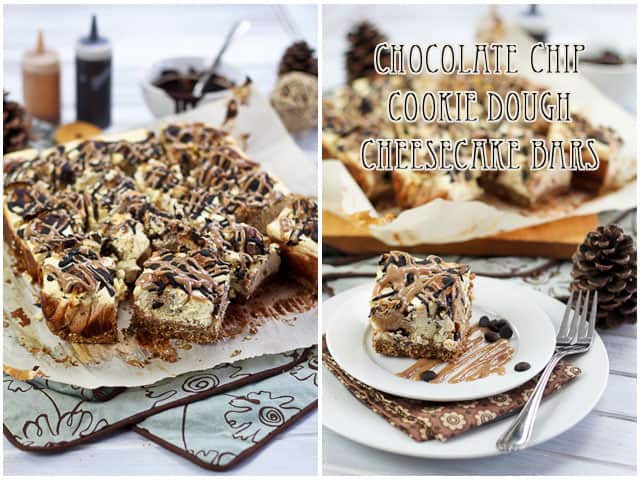 Of course, sacrificing taste was not an option. Such an amazing dessert HAD to remain every bit as delicious and spectacular as the original version.
I must admit that I thought I was crazy myself when I accepted my own challenge and almost backed off at least a dozen times.
But in the end, I'm really happy I didn't.
When I initially made these, I had stated that they were part of my top 5 favorite desserts ever. Well, I can proudly say that their healthy counterpart is now in my top 5 favorite healthy creations ever!
I had this for breakfast 6 days in a row and wouldn't have minded having them for another 6 weeks.
But unfortunately, I couldn't do that because I sort of ran out… I put some in the freezer to see how they will behave when thawed and also gave some to my daughter so she could taste them and give me her honest opinion.
Her verdict?
She loved them! (insert sigh of relief right here) Even though she doesn't care much for carob, she thought they were fantastic! And she is real hard to please when it comes to healthy desserts, trust me.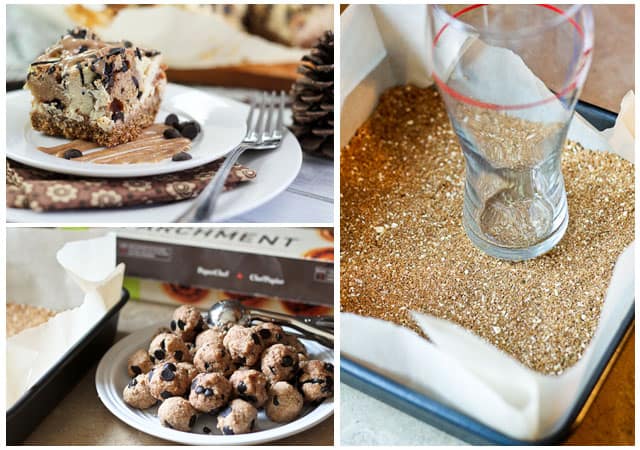 Seriously, I find that these babies don't even taste healthy at all! The only giveaway might be the "graham" crust, for it isn't quite as sweet as the stuff we are so used to eating. Don't get me wrong, though, it's still EXTREMELY yummy, and it's so thick too!! I've always LOVED graham crust, so I tend to make it real thick. In all honesty though, I think that you could probably cut that crust recipe by half IF you prefer a thinner crust.
That's a big IF, you know… 😉
The cheese filling is just crazy creamy dreamy and tangy and sweet and oh! so delicious. Worthy of the best cheesecakes I've had in my life.
And the cookie dough balls?  They're so chewy and dense and sweet and yum! so good… You're not even going to believe that they're good for you! The best part if you don't even have to cook them, so if you do end up with a couple extras, just keep them to snack on later in the day (if you can resist that long, that is!)
As I mentioned earlier, I chose to use unsweetened carob and felt it was sweet enough for my taste. However, if you don't care much for carob, feel free to use real good quality dark chocolate chips. I can't say I have found one brand yet that I truly like, so that's probably why I tend to fall back on carob.
Maybe it's time I started making my own chocolate chips?
I thought it would be fun to do a little comparison between the original bars and this new healthified version. The difference is simply astonishing. Just look at those numbers! I don't think that it calls for much commenting either! The numbers just speak for themselves!
My serving is bigger, yet it has so much less calories and fat. And look at the protein content!
I say that with an A- for a grade, this truly passes the test and I can safely say that it qualifies as a healthy breakfast.
Wouldn't you agree?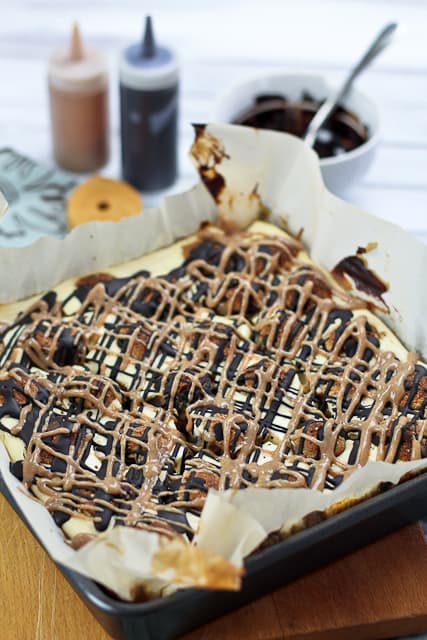 Now, before I go, I really want to take this opportunity to reach out and let you guys know just how grateful I am to have you here with me on a daily basis.
And I can't believe how, thanks to all of you, this place has grown so much in the last year. Unreal!
So this year again…
To each and every one of you, I WANT TO SAY A GAZILLION THANK YOUS!!!
This place My life just wouldn't be the same without you all. I just can't imagine going a day without thinking of a new recipe that I want to share with you guys, or an inspirational quote to post on my Facebook page.
Living a healthy lifestyle, eating clean and staying physically active isn't always easy. There are days when I just feel like giving it all up, but knowing that you are all here to share this adventure with me, to support me through your kind comments and heartwarming emails, to have you share your thoughts, concerns and ideas, to have you send challenges my way, that's what keeps me going.
YOU are what keeps me going.
I wouldn't be where, or who I am today, without you guys.
I started this blog hoping to inspire people but I realize that, in the end, it's been the other way around: it's each and every one of you who inspire me.
And I want to thank you for this, from the bottom of my heart.
THANK YOU!
Chocolate Chip Cookie Dough Cheesecake Bars
Servings: 16
Ingredients
"Dulce de Leche"
1½ cups evaporated milk
1 cup date paste
2 scoops vanilla flavored whey protein powder
Cream Cheese Filling
250 g reduced fat cream cheese
500 g 1% fat cottage cheese
2 large eggs
¼ cup unpasteurized liquid honey
The juice of half a lemon
1 tsp pure vanilla extract
Topping
¼ cup unsweetened carob chips
¼ cup reserved "Dulche de Leche"
Instructions
Crust
Preheat oven to 325F. Spray a 9" square baking pan with cooking spray and line pan with parchment paper, leaving enough extra to extend over the sides.

Combine all the ingredients for the crust in the bowl of your food processor and process until well combined. The mixture should hold together when squeezed firmly.

If you feel a little bit more moisture is needed, add a little bit more applesauce, one tablespoon at a time, until desired texture is achieved.

Transfer to reserved baking pan and press firmly to the bottom to form a crust.

Bake for 6 minutes and set pan on wire rack to cool.
"Dulce de Leche"
In a heavy bottom saucepan, whisk together evaporated milk and date paste until smooth and well combined.

Bring to a boil over medium-high heat then simmer over low heat until you are left with a thick and creamy caramel-like mixture, about 10 minutes. Make sure you stir often so the mixture doesn't attach to the bottom of the pan.

Let caramel cool for at least 30 minutes and whisk in protein powder, stirring delicately until smooth and creamy. Set aside.
Cookie Dough
In the bowl of your food processor (no need to wash it at this point), add date paste, coconut oil and vanilla extract and process until well incorporated.

Add spelt flour, almond meal, baking powder and protein powder. Mix until just incorporated then pulse in carob chips.

Roll cookie dough into 30 little balls and set aside.
Cream Cheese Filling
In the bowl of your food processor (this time you do want to wash it) add cream cheese and cottage cheese and process until smooth. Add eggs, honey, lemon juice and vanilla extract. Resume processing until well blended.
Assembly
Save about ¼ cup Dulce de Leche and pour the rest all over the reserved crust. Delicately pour the cheese filling right over the caramel. It might help to pour the cheese mixture over a large spoon to sort of "break its fall" and prevent the caramel from rising to the top.

Spread the cheese mixture evenly and delicately place the reserved cookie dough balls on top of it.

Place in the preheated oven and bake for about 35 minutes, or until set. Shut the oven down, crack the door open and leave the bars in until they are cool enough to be handled with your bare hands. Set them on a wire rack until they reach room temperature then transfer to the fridge until completely cool.
Topping
Melt the carob chips in a double boiler or in the microwave (use very low power). Add about ½ tsp of coconut oil if necessary to make chocolate smooth and "drizzlable".

Drizzle over top of bars then drizzle reserved "Dulce de Leche". The easiest way to do this is to use a small squeeze bottle, but you can also use a pastry bag or a Ziploc type bag (pierce a little hole in one of the corners and use pretty much as you would a pastry bag)

Using the edges of the parchment paper, remove bars from pan. Cut into 16 individual bars and resist the urge to eat them all...

These bars will keep in the refrigerator in an airtight container for up to a week.
If you've tried this recipe, please take a minute to rate the recipe and let me know how things went for you in the comments below. It's always such a pleasure to hear from you!
You can also FOLLOW ME on PINTEREST, FACEBOOK, INSTAGRAM and TWITTER for more delicious, healthy recipes!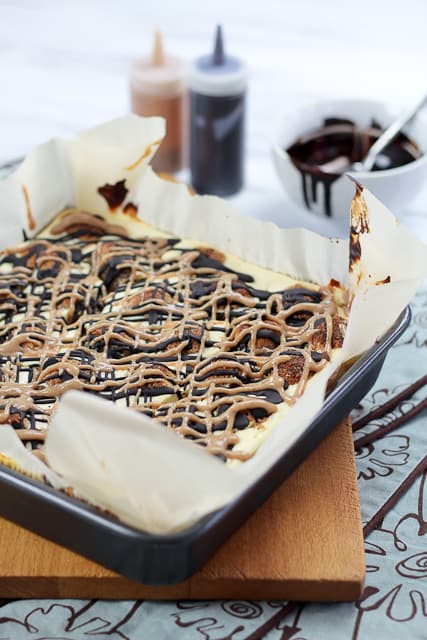 Drizzle chocolate and caramel overtop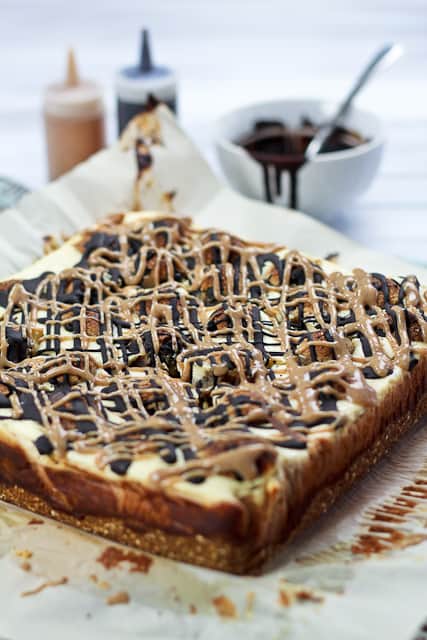 Remove from pan
Cut into individual pieces (this can get messy…)
See how smooth and creamy that cheese filling? 
And how thick that crust is? Oh, I love me a thick crust!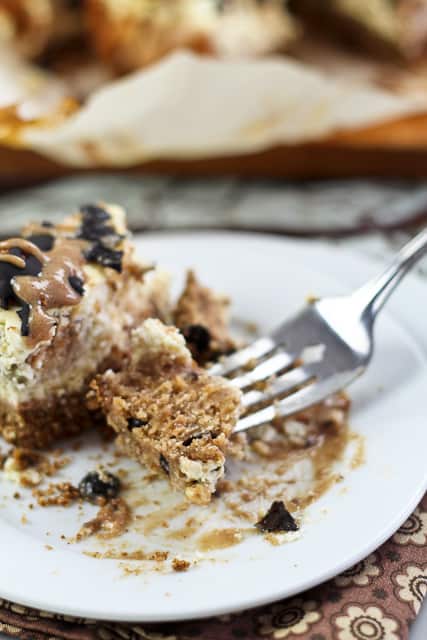 And just take a look at that chewy cookie dough.
Yummers!