Chocolate Chip Cookie Dough Cheesecake Bars
For well over a month now, I have been reading
Bake or Break
, drooling over all the pictures, checking out the recipes, trying to decide which one I would choose as my monthly decadence.
I finally decided on these bars.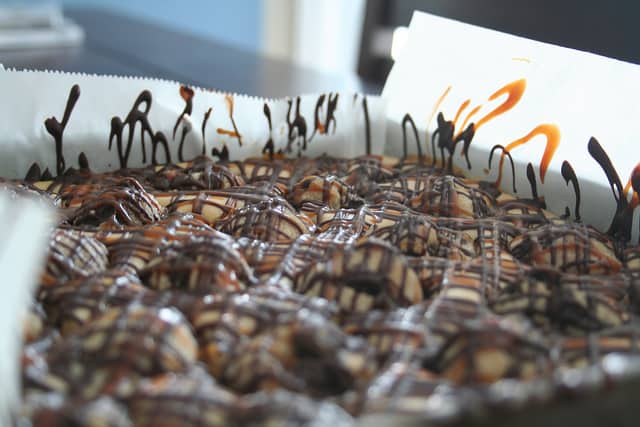 What a good choice I made. They are truly, absolutely decadent. Although I made mine even more decadent by adding a good layer of Dulce de Leche between the graham crust and the cheesecake filling, and I slightly upped the quantity of filling, using 2 entire packages of cream cheese instead of the 10 ounces that the recipe calls for. Of course, I adjusted eggs and sugar quantities accordingly.
Just look at the gooeyness of the added caramel. To die for!

Wow those are GOOD. Worth every single calorie, let me tell you.
Made my top 5 best desserts ever.
Recipe from The Essential Chocolate Chip Cookbook
Adapted from Bake or Break
CRUST
1½ cups graham cracker crumbs
5 tbsp unsalted butter, melted
2/3 cup miniature semisweet chocolate chips
Instructions
Preheat oven to 325F. Butter a 9″square baking pan. Line pan with parchment paper, leaving enough to extend over the sides. Butter the parchment paper.
Combine graham cracker crumbs and butter until crumbs are moistened. Stir in chocolate chips.
Press crust mixture into bottom of pan and 1" up sides. Bake for 6 minutes. Set pan on wire rack to cool.
COOKIE DOUGH
5 tbsp unsalted butter, at room temperature
1/3 cup packed light brown sugar
3 tbsp granulated sugar
1/8 teaspoon salt
1 tsp vanilla extract
3/4 cup all-purpose flour
1 cup semisweet chocolate chips
Instructions
Using an electric mixer, mix butter, brown sugar, sugar, salt, and vanilla extract at medium speed until smooth.
Decrease mixer speed to low and add flour. Mix just until incorporated.
Stir in chocolate chips.
Roll cookie dough into 21 little balls. Set aside.
FILLING
16 ounces cream cheese, at room temperature
1/3 cup granulated sugar
2 large eggs, at room temperature
1 teaspoon vanilla extract
2 cups Dulce de Leche (not to be mixed in)
Instructions
Using an electric mixer, beat cream cheese and sugar just until smooth. Add egg and vanilla extract, beating just until blended.
Spread Dulce de Leche onto baked crust then pour batter right on top.
Place your cookie dough balls over the top of the filling.
Bake about 30 minutes, or until set. Place on wire rack to cool.
TOPPING
1/3 cup semisweet chocolate
3 tbsp caramel
Instructions
Melth the chocolate chips in a double boiler or in the microwave. Add about ½ tsp of butter if necessary to make chocolate smooth.
Drizzle over top of bars, then drizzle caramel. Cool bars in pan completely, about an hour. Do not refrigerate at this point or the cookie dough will be very hard to cut through.
Using the edges of the parchment paper, remove bars from pan. Cut into bars and serve.