Butternut Squash & Apple Salad with Creamy Blue Cheese Dressing
So last week, I had a flash of genius.
Scratch that…
I actually had a flash of PURE GENIUS, I tell you.
I seriously have no idea why I hadn't thought about this before!!!
You know how strongly I feel about incorporating a decent amount of lean protein to my daily diet and how I try to incorporate at least some protein to each of my 5-6 daily meals, but for many a reason, I try to keep my meat consumption to a minimum.
I have to say that eating as much as 150g of protein per day without consuming much meat isn't all that easy.
I guess that's why whey protein powder has become such a good friend of mine!
I put that *@&% in everything!
Well, almost everything…
Up until now, I had never thought of adding it to my salad dressing.
And I can't even begin to understand why it took me so long to think of this.
I mean, I do eat salad EVERY day, and more often than not, I'll only drizzle a little bit of balsamic vinegar or lemon juice on it, just to give it a little bit of zing, you know.
Or, I'll simply eat it plain.
I find most dressings add very little nutritional value to my salads, unless I make them at home, and even then… I tend to come up with great dressings for my more elaborate dinner salads, but not for the everyday plain good 'ole mix of lettuce, cucumber, tomatoes, mushrooms, radishes… you know the one I'm talking about: the boring HOUSE salad.
Well, now I can make all sorts of CREAMY salad dressings, the kind that you'd normally want to stay away from because they are so loaded with fat, well, I can make a whole bunch of different kinds and make them a NUTRITIOUS and important part of my salads.
I am soooo crazy excited about that!
Now my first version wasn't necessarily the healthiest, for it contains blue cheese, but still, if you compare that to all the store bought stuff, it'll beat any of them hands down.
Granted, you're looking at around 285 calories for the dressing alone BUT, that will also supply your body with 45 grams of protein for 7 grams of carbs and just a little under 10 grams of fat.
For close to a half a cup of creamy, dreamy salad dressing, I say that ain't bad at all!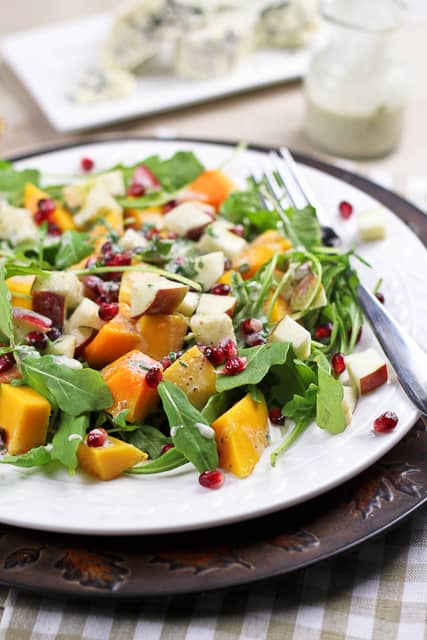 And of course, you could always lose the blue cheese and replace it with more yogurt or cottage cheese and add different herbs and spices. That would bring the fat content way down.
BUT, the blue cheese went so, so well with this particular salad I just couldn't leave it out. It was the perfect marriage.
All in all, the ingredients that went into this dish are incredibly simple but once they're united, you get this super delicious, highly nutritious and crazy tasty salad.
This is just the perfect way to use up leftover squash if you ask me…
And if you're anything like me, your fridge is just about filled with leftover squash at the moment…
Butternut Squash & Apple Salad with Creamy Blue Cheese Dressing
Servings: 1
Ingredients
For the Salad
2 cups arugula
200 g steamed butternut squash, cooled*
½ spartan apple, diced
The seeds from ¼ pomegranate, check out this brilliant site for clear instructions on how to seed a pomegranate
For the Dressing
30 g Danish blue cheese
1 tbsp Meaux mustard, you could also use Dijon
1 clove garlic, coarsely chopped
¼ cup fat free plain Greek yogurt
¼ tsp freshly cracked black pepper
1 tsp fresh parsley, chopped
1 scoop plain whey protein powder
1-3 tbsp water, add more of less depending on how thick you want your vinaigrette to be
Instructions
Start by making the vinaigrette by placing all the required ingredients to your small blender or food processor. Process until smooth and creamy. Set aside.

Arrange the arugula, squash, apple and pomegranate seeds nicely on a serving plate.

Drizzle vinaigrette on top of the salad at the moment of serving.
Notes
*To steam butternut squash, simply peel it and cut it into bite size pieces, then place it in a steaming basket over simmering water, cover and cook until fork tender but still retains a little bit of a crunch, about 8-10 minutes. Depending on the size of your cubes. Allow to cool completely before adding to this salad, preferably overnight.
If you've tried this recipe, please take a minute to rate the recipe and let me know how things went for you in the comments below. It's always such a pleasure to hear from you!
You can also FOLLOW ME on PINTEREST, FACEBOOK, INSTAGRAM and TWITTER for more delicious, healthy recipes!
Isn't that beautiful? It sure pleases my eye!
And look at ALL that dressing!
Yes, you can really use THAT much and not feel bad about it in the least!