Turkey Stuffed Carnival Squash
Squash season is here. Hurray for squash season! 😀
I don't know if you're like me, but it seems like every single time a new produce comes in season, I get super excited, eat nothing but that and wish that their time would never have to come to an end.
I always find that it doesn't last long enough and end up eating TONS of that particular produce as if they were going to completely vanish from the surface of the earth as soon as their season is gone.
And when that happens, it never fails to make me a little sad…
But then a new produce comes in season and I just as soon cling to the new guy like a magnet and forget all about the previous one that I'd been totally infatuated with mere moments before.
*Sigh*… I'm incorrigible!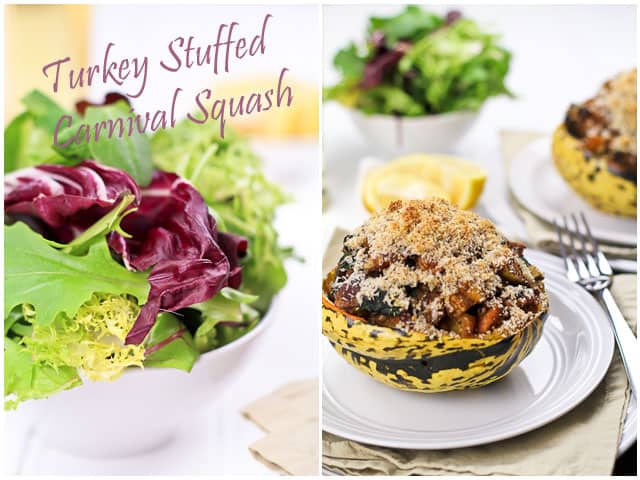 Guess what I'm trying to say here is you can expect to see a few whole bunch of squash recipes on this very site over the next couple of weeks. I get the feeling I will be having LOTS this year too. I just seem to love the stuff more and more and discover new varieties every year.
Like this amazingly gorgeous one right here. It's called "carnival". Suits her like a glove, if you ask me!
Aaaah… I guess seasons are a good thing after all. They make us appreciate the good things in life even more.
And I intend to take full advantage of squash season this year.
Ever had a squash smoothie?
Squash cake?
Squash crumble? 😉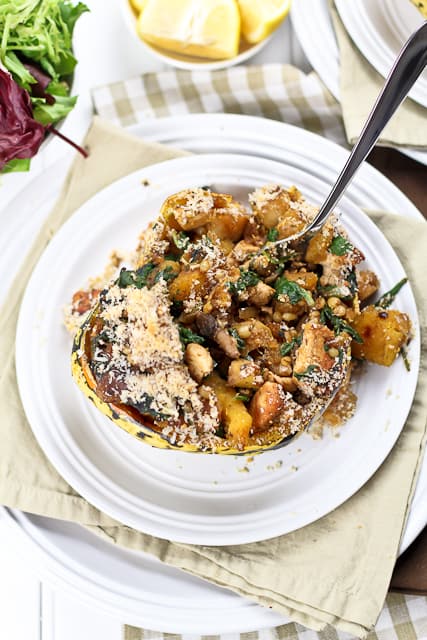 Alright, let's be serious for a moment, shall we?
This would be another recipe that was inspired to me by this recent challenge that was thrown my way to come up with virtually fat free dishes.
As luck would have it, it was Canadian Thanksgiving recently. Of course, that means turkey was on sale and could be found just about everywhere. I think they even carried the birds at certain gas stations and what not… 😉
I took advantage of this and bought a whole bird. I let my son have the legs and I kept the breasts!
Turkey breast meat is so incredibly lean, it was the perfect addition to this dish. It added a very healthy dose of protein while not really impacting fat content. In fact, I think that the Parmesan cheese that I chose to add to the bread crumbs topping added more fat than the turkey did.
Of course, one can easily omit the cheese if they wanted to keep that fat content way down.
But that's the only substitution I will allow. The rest of the ingredients all NEED to go in.
Especially the apple! That was a last minute addition that I felt really made the dish. It just bonded all the flavors together.
Alright, I'll allow another one. If you don't have wheat berries on hand, I guess you could always use bulgur, or brown rice. Or even buckwheat, why not?
But that's it. That's where it ends. 😉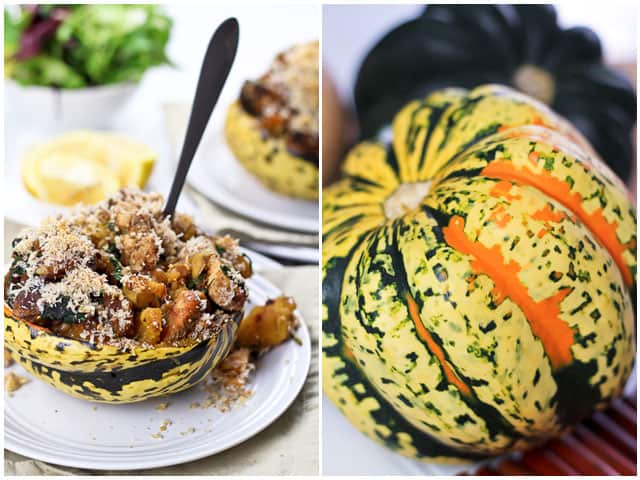 Seriously, isn't that squash just super pretty?
With looks this good, no way this one will stay on the shelf for too long…
Now I'm thinking I should've bought more.
Time for me to reload!
So tell me… what shall I make next that calls for squash?
Turkey Stuffed Carnival Squash
Servings: 2
Ingredients
1 carnival squash, or other variety of similar shape
300 g turkey breast meat, cut into ½ inch cubes
10 button mushrooms, sliced
1 small onion, chopped
1 celery stalk, chopped
¼ tsp himalayan or fine sea salt
¼ tsp freshly cracked black pepper
¼ tsp freshly grated nutmeg
¼ tsp cinnamon
¼ tsp cumin
1 apple, peel on, cut into ½ inch cubes
3 cups spinach leaves, coarsely chopped
½ cup cooked wheat berries
2 tbsp whole wheat bread crumbs
15 g freshly grated parmesan cheese *, see notes
Instructions
Preheat the oven to 375F

Cut the squash in half and scoop the seeds out with a spoon. Sprinkle a tiny little bit of salt and pepper over the open side of the squash and place the halves face down in a baking dish. Add about ¼ cup of water.

Bake uncovered for about 20-25 minutes, until fork tender and the flesh that's in contact with the dish starts to take a nice golden coloration.

Remove squash from oven and let it cool until cold enough to handle. (You could also cook the squash ahead of time and keep it in the refrigerator until ready to use. Just don't forget to preheat your oven if you choose to do that!)

With the aid of a spoon, very carefully scoop out the flesh of the squash (be careful not to break the skin since you will be using the empty shells to put the mixture in) and set aside. Break the larger pieces with your spoon if necessary.

In a large non stick pan coated with cooking spray, cook the turkey over medium high heat until nice and golden brown on all sides. Set aside while you do the same thing with the mushrooms.

When your mushrooms are nice and brown, add the onions, celery, salt, pepper, nutmeg cinnamon and cumin and cook until fragrant and onions start to take a slight brown coloration, about 2-3 minutes.

Add the apples, spinach, wheat berries and reserved turkey and continue cooking for a minute or so, until the spinach starts to wilt.

Kill the heat, add the squash and mix delicately until all the ingredients are well combined.

Place the empty squash shells into a small baking dish and divide the stuffing between them.

Mix bread crumbs and Parmesan cheese together and sprinkle over the stuffed squash.

Put this back in the oven and cook for about 20 minutes, until the top turns golden brown.
Notes
*reduce fat content by another 2 full grams per serving by replacing Parmesan cheese with an extra tablespoon of bread crumbs Low in saturated fat - High in manganese - Very high in vitamin A - High in vitamin C
If you've tried this recipe, please take a minute to rate the recipe and let me know how things went for you in the comments below. It's always such a pleasure to hear from you!
You can also FOLLOW ME on PINTEREST, FACEBOOK, INSTAGRAM and TWITTER for more delicious, healthy recipes!