Ground Cherries and Wheat Berries Overnight Chia Seeds Pudding
Remember how, when I made this amazing Sugar Free Gooseberry Refrigerator Jam, (I later learned that gooseberries are also called Ground Cherries, which is a name that I much prefer and decided to officially adopt it…) I told you I had used some of it to make a new and improved version of my previous Mango Blueberry Overnight Chia Seed Pudding
Remember how I also said that it was so good that it deserved its very own entry?
Well… I wasn't lying.
Here it is!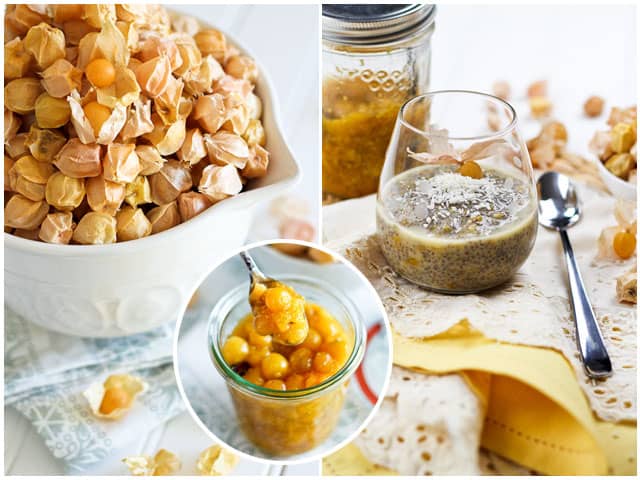 No word of a lie, I must have made this version at least 8 times now.
Almost in a row.
I am telling you, this one is 10 times better than its predecessor and it's so much easier to make, too… Well, providing that you have some cooked wheat berries in the fridge. And that you made the refrigerator jam.
Which, if you haven't, you should be making anyway.
Trust me on this one: the match between the crunchy and slightly slimy chia seeds and the super chewy wheat berries is one that you absolutely must sample.
It's like the two of them were simply meant to be together. Like their union had been blessed by higher authorities…
In fact, the whole texture and flavor combination of this breakfast pudding has something grandiose about it. It just makes you wish your breakfast would never end.
So while it might look like a lot of work at first glance, because well… you need to make the jam and cook the wheat berries, when you have all the ingredients ready, it becomes a cinch to make.
Still, I bet you're gonna want to make a double or even a triple batch, because you are going to want to eat that yummy breakfast several days in a row… maybe even several times a day.
And if you really can't make the jam because you can't get your hands on the ground cherries, you could always use a few pieces of mango instead, as well as a finely chopped dried apricot, with just a tiny little hint of freshly grated ginger and a splash of vanilla.
As for the wheat berries? By all means, don't leave them out. Take the time to cook a batch, it's very well worth it.
And I bet that when you have them in the fridge, ready to use, you'll love adding a tablespoon or two to many of your dishes.
Ever tried them in smoothies?
They're BRILLIANT!
If you have had them before, you know exactly where I'm coming from.
And if you haven't, I strongly recommend that you change fix that… now!
You'll thank me for it!
Ground Cherries and Wheat Berries Overnight Chia Seeds Pudding
Servings: 1
Ingredients
2 tbsp chia seeds
2 tbsp cooked wheat berries
1 scoop vanilla flavored whey protein powder
½ cup coconut milk
¼ cup gooseberry refrigerator jam
Instructions
Add chia seeds, cooked wheat berries and protein powder to a glass jar with fitting lid.

Close the lid and shake vigorously.

Add coconut milk and gooseberry jam and again, close lid and give the jar a good shake.

Alternatively, you can stir with a spoon until very well combined.

Place in the refrigerator and leave to rest overnight or at least 6 hours.

Transfer to serving bowl when ready to eat and garnish with a pinch of unsweetened shredded coconut and fresh ground cherries, if desired.

This can sit for several days in the refrigerator, so feel free to make a double or even a triple batch!
If you've tried this recipe, please take a minute to rate the recipe and let me know how things went for you in the comments below. It's always such a pleasure to hear from you!
You can also FOLLOW ME on PINTEREST, FACEBOOK, INSTAGRAM and TWITTER for more delicious, healthy recipes!