Almost Fat Free Brown & Wild Rice Dish with Butternut Squash, Spinach and Figs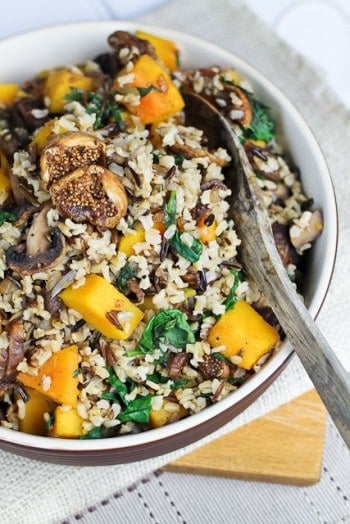 Professional athletes sometimes have to adhere to pretty specific, rigid and intense diets when they enter competition mode. They go to extreme numbers and have to cycle their fat, protein and carb intakes at regular intervals.
I don't claim to know anything about this for it is not a part of my reality.
However, I was recently challenged by someone whose lifestyle fits the above description to come up with recipe ideas for main course dishes that would be entirely fat free and fairly low in sugar while still being very nutritious, super tasty and fun to eat.
Yikes! Tough one, to say the least. At least, carbs weren't included in the equation. They could go as high as was necessary.
Still…
Using no fat whatsoever is soooo restrictive. So many yummy ingredients are off limits and it becomes especially hard to incorporate a decent amount of protein.
Any kind of meat is pretty much a big no no. Save for MAYBE turkey breast if a tiny little amount of fat is allowed.
Eggs, of course, are way off limits. Save for the whites…
Nuts? No can't do! Not ONE of them.
Even legumes don't fit the bill. Though almost, they still contain a tiny amount of fat .
Seriously, I felt like whey protein, egg whites and fat free Greek yogurt were my only options!
Of course, I could have come up with half a million egg white omelet combinations, or at least twenty six thousand different smoothie recipes…
But I wanted to make something a bit more creative… something that had a bit more of a "normal" feel to it.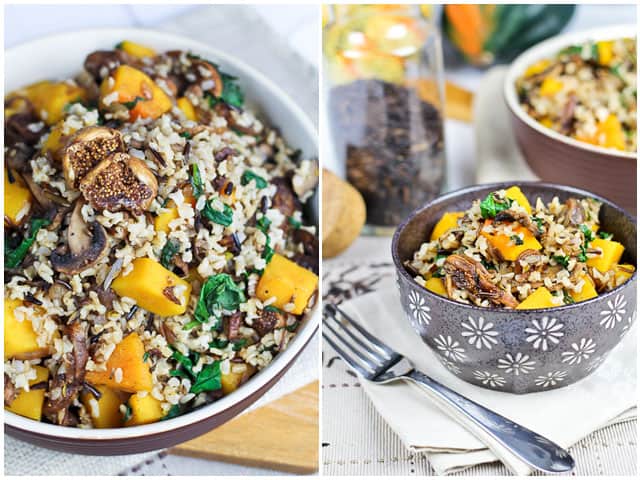 This rice dish was my first inspiration. It's not EXACTLY there yet, for it's not ENTIRELY fat free and the sugar content is a bit on the high side. (we're talking the equivalent of a large apple for every serving, so it's not exactly super high either…)
But I feel it's a start.
I'm still racking my brains to come up with a few super healthy and delicious recipes that would be entirely fat free as well as low in sugar.
Don't get me wrong though. I'm not saying that I believe a fat free diet to be beneficial for anyone. Healthy fat is an important part of one's diet and should be consumed daily, in moderate amounts.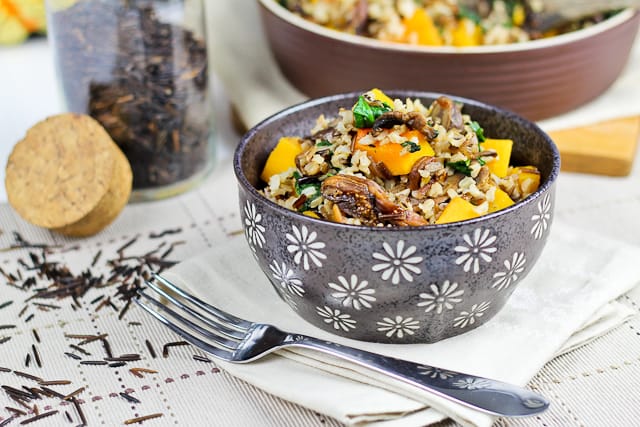 But sometimes, it is desirable to "cycle" our macros and reduce our fat intake for a day or two.
Some athletes HAVE to do that. And well, when you have to do it, it's nice to have options, isn't it?
And let's face it, we all need a dish that's low in fat from time to time to compensate for the ones that are maybe a tad too generous in that department! 😉
What's that you're asking? How WAS the dish?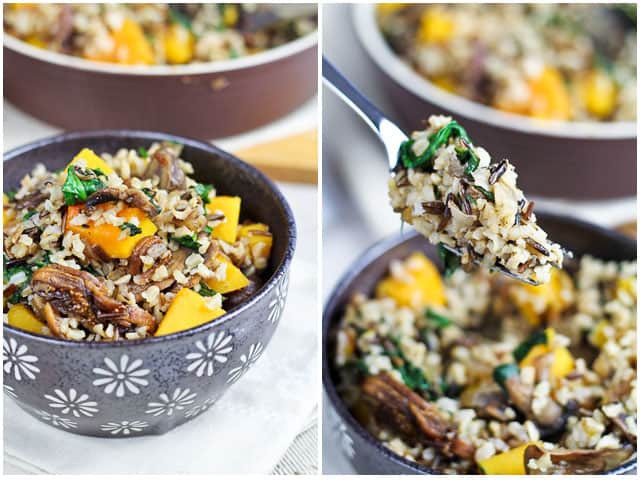 Right… I forgot to tell you about it. It was FANTASTIC! To be honest, I ate that 4 days in a row, and I wouldn't have minded having it for another 2 or 3.
I feel the longer it stayed in the fridge, the better it got. Sooooo tasty, it's simply bursting with flavors. It does taste fairly sweet and the textures are just all over the place. I especially liked the crunchiness of the tiny little fig seeds. Paired with the creaminess of the butternut squash and chestnuts as well as the chewiness of the rice, it was a definite winning combination.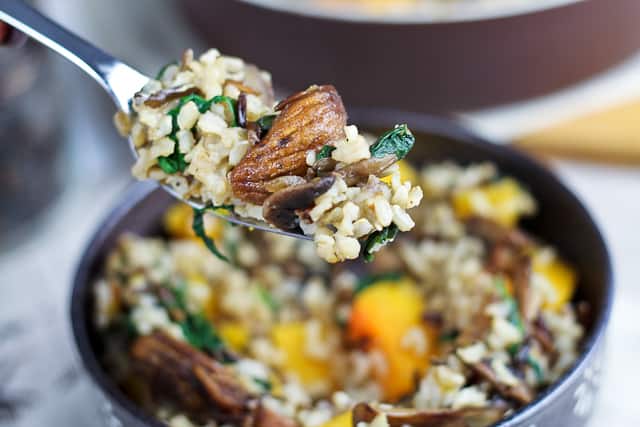 If I kept a list of absolute keeper recipes, that one would definitely be on it.
You can be sure that there are going to be repeats!
I can't wait for that to happen…
And neither can my taste buds!
Brown & Wild Rice Dish with Butternut Squash, Spinach and Figs
Servings: 4
Ingredients
1 cup brown rice
1/3 cup wild rice
3½ cups water
½ tsp Himalayan or fine sea salt
450 g butternut squash, cut into 1" cubes.
1 large onion, finely chopped
227 g mushrooms, sliced
3 cups spinach, coarsely chopped
100 g 1 package whole chestnuts, roasted and peeled, coarsely chopped
120 g dried figs, coarsely chopped
½ tsp Himalayan or fine sea salt
¼ tsp freshly cracked black pepper
¼ tsp freshly grated nutmeg
½ tsp whole fennel seeds
Instructions
Bring water and salt to a boil in a large saucepan over high heat. Add wild rice and brown rice and bring back to the boil. (For best results with the wild rice, soak it overnight in a cup or so of fresh cold water.)

Lower heat, cover and cook for about 25-30 minutes, until rice is tender and all the water is absorbed. Set aside, uncovered.

While the rice is cooking, place butternut squash in a steaming basket and steam over simmering water until fork tender but still retains a little bit of a crunch. (Tip: if your steaming basket fits over the saucepan you're cooking the rice in, just set it over your rice for the last 10 minutes of cooking.)

In a large non stick pan coated with cooking spray or olive oil, cook the mushrooms over medium high heat until nice and golden brown on both sides.

Add onions, salt, pepper, nutmeg and fennel seeds and cook until fragrant and onion starts to color, 2-3 minutes.

Add the spinach, chestnuts and figs and continue cooking for a minute, until the spinach is somewhat wilted and you have enough room to throw in the rice.

Add rice and steamed butternut squash and mix until all the ingredients are well combined.

Serve immediately.
Notes
Very low in saturated fat - No cholesterol - High in dietary fiber - High in magnesium - Very high in vitamin A - High in vitamin C
If you've tried this recipe, please take a minute to rate the recipe and let me know how things went for you in the comments below. It's always such a pleasure to hear from you!
You can also FOLLOW ME on PINTEREST, FACEBOOK, INSTAGRAM and TWITTER for more delicious, healthy recipes!