Goat Brie Cheese, Apple and Pomegranate Crostinis
Life doesn't get any simpler than this…
Simpler or tastier!
Seriously, this was one of my mostest bestest favoritest snacks ever. Unfortunately, it was not THE healthiest, but it still beats a lot of other "so called" healthy snacks that are out there…
I do have 2 snacks every day, you see, only I don't often share them with you guys for they are usually, well… pretty straight forward. One doesn't need a recipe to peel an orange, cut it into chunks, throw it in a bowl, cover it with cottage cheese and sprinkle a little bit hefty dose of cinnamon.
Or, slice an apple into wedges, arrange it on a plate, flank it with a spoonful of  beautiful home made nut butter and sprinkle with, again, cinnamon…
Mind you, this one here is also so simple that it doesn't really require a recipe either.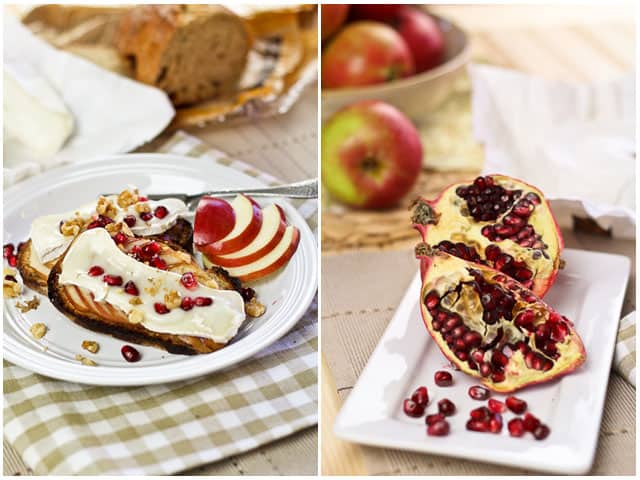 All you need are a few simple ingredients:
a nice loaf of crusty, rustic, robust whole grain bread;
a fresh, crisp apple of your choice;
a beautiful wheel of goat brie cheese. (Make sure it's a light variety. Triple cream wouldn't be the ultimate choice here!);
one juicy pomegranate;
and finally, a handful of chopped walnuts. A very small handful.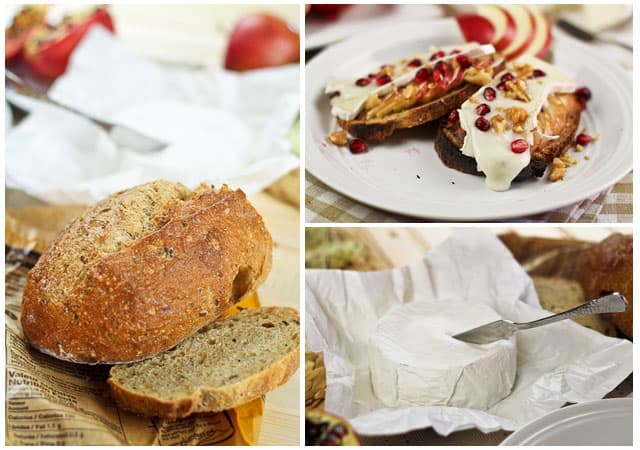 And there you have it. All you need to do is gather all of the ingredients and get them into a neat little pile.
Oh, and hit them with a tiny little bit of heat, too…
This dish comes together in no time and is no more complicated to make than an order of toasts, but it makes for such a luxurious snack! You will feel like a millionaire each time you sink your teeth into the sweet and tangy and soft yet crispy little crostinis.
In fact, this dish is so good that I would proudly serve it to my guests as an appetizer for a somewhat fancy dinner. I say somewhat fancy because nothing ever really gets fancy with this foodie… 😉
Although in that case, I might push the envelope a little and make the crostinis a tad bit fancier by drizzling a little bit of my Pomegranate Agrodolce on top of them…
Oh yum, the decadence! Who needs dinner after that? Never mind dinner, I'll stick to the appetizer!
And you know what?
I think they would even make for a glorious breakfast, too!
Oh, how I wish I could have them every day!
Goat Brie Cheese, Apple and Pomegranate Crostinis
Servings: 1
Ingredients
2 thin slices of crusty whole grain bread
½ apple, I used a Spartan
30 g Goat Brie Cheese, That's 2 thin slices
The seeds from ¼ pomegranate, check out this brilliant site for clear instructions on how to seed a pomegranate
10 g chopped walnuts
Instructions
Set the oven on broil.

Cut the apple in half and remove the core with a melon baller. Lay it flesh side down on the cutting board and slice it as thinly as you can.

Place your thin slices of bread in a small baking sheet and arrange half the apple slices neatly over each of them.

Put that in the oven to broil for a couple of minutes, until the bread starts to toast and the apples take a slight golden coloration.

Lay thin slices of brie on top of the apples as soon as your crostinis are out of the oven so that the heat of the apples slightly melts the cheese.

Sprinkle with pomegranate seeds and chopped walnuts and serve immediately, while warm and gooey.
If you've tried this recipe, please take a minute to rate the recipe and let me know how things went for you in the comments below. It's always such a pleasure to hear from you!
You can also FOLLOW ME on PINTEREST, FACEBOOK, INSTAGRAM and TWITTER for more delicious, healthy recipes!