Homemade, Entirely Sugar Free Dried Cranberries
I'm just gonna give it straight to you guys…
When I made these, I thought NEVER AGAIN!
In fact, I wasn't even done making them that already I was thinking NEVER AGAIN!
I was so disappointed. I thought that making my own dried cranberries would be such a revelation.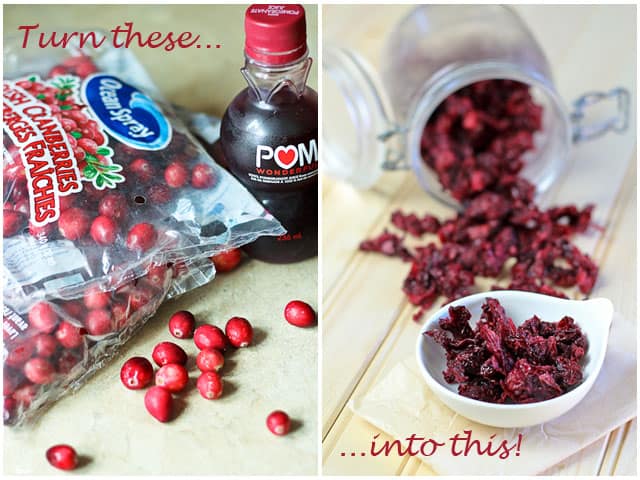 You see, I simply adore dried cranberries, but the naturally sweetened ones are very hard to come across, and when you do find them, well, they always contain *some* kind of oil, to prevent the fruits from desperately clinging to one another.
I'm not crazy about that.
Personally, I'd prefer to do without, even if it means that I would get little clusters of fruits instead of neatly separated and individualized fruits.
Also, I was recently told by a "producer" that even the ones that are naturally sweetened with apple juice also have *some* other form of sugar added, otherwise they would go bad in no time…
Hmpft… not sure I like the sound of that!
Last but not least, I figured that by making my own dried fruits, I would save tons of money because, let's face it, dried cranberries tend to be on the expensive side and the organic, unsweetened variety will generally cost you an arm and a leg.
Now I know why!
And you're about to, too!
First off, you need to buy fresh cranberries. They don't always come cheap…
Lucky for me, they were on sale that week, going for 2 bucks a bag, so I grabbed a whole bunch of 'em.
I used two for this recipe.
Also, that very same week, my favorite grocery store was giving away small bottles of pure pomegranate juice with every purchase of $70 worth of groceries.
That juice has a retail value of $4.
So we're at $8 now, right? Right!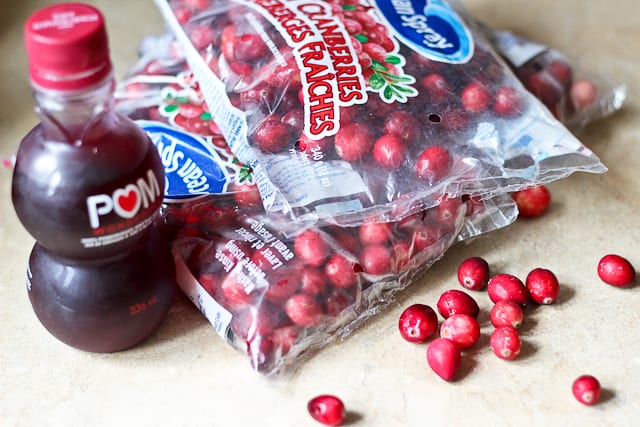 Alright, we have all our ingredients, so let's get started.
First off, you want to cook your cranberries very slightly in the pomegranate juice.
So throw the fruits as well as the juice in a large heavy bottomed pan.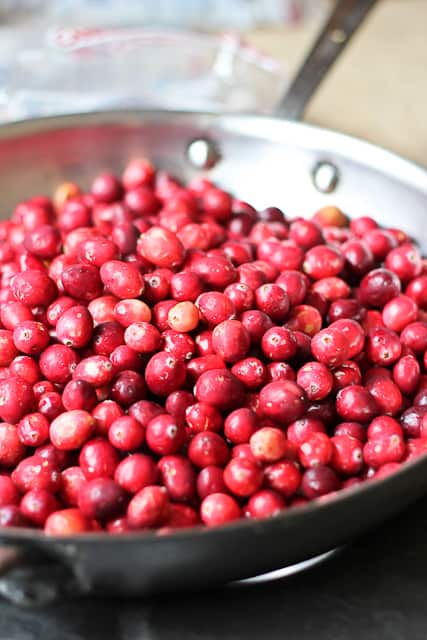 That's two 340g bags of cranberries and one 236ml bottle of pure, unsweetened pomegranate juice.
Bring that to a boil over high heat and cook until your cranberries start to pop. You will hear them, kind of like popcorn.
At this point, you want to kill the heat and press on them with the back of a large cooking spoon to help them all pop. DO NOT let your cranberries cook for too long. One or two minutes is all it takes.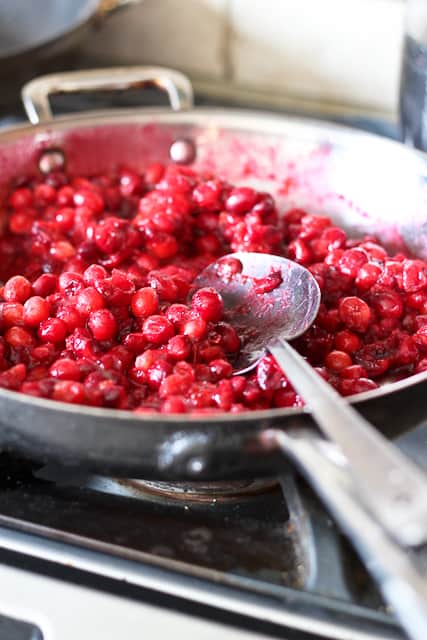 Let the fruits rest for 5 to 10 minutes.
Meanwhile, you want to line a baking sheet with paper towels. 3 layers of them.
Oh, and start the oven at the lowest possible setting you can get it at.
Mine doesn't go any lower than 170F.
If you can do 150F, that's even better…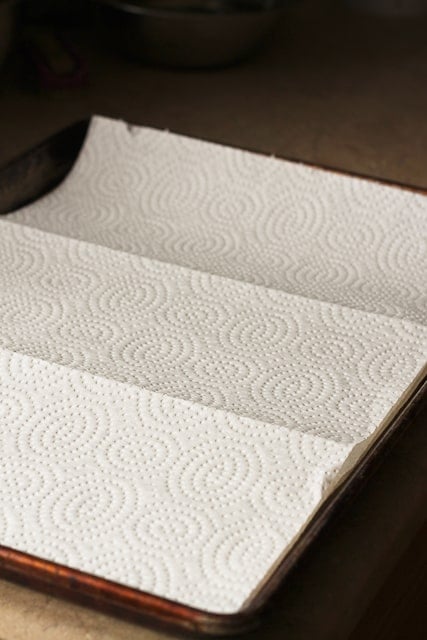 Add a layer of parchment paper on top of the 3 layers of paper towels.
When your cranberries are cool enough, transfer them to the prepared baking sheet and squeeze them some more (there oughta be a few ones that didn't get squeeshed, I'm sure!)
Yep, there are…
See that one right there, in the middle? And there's another one right beside. And I see a few in the corner, too…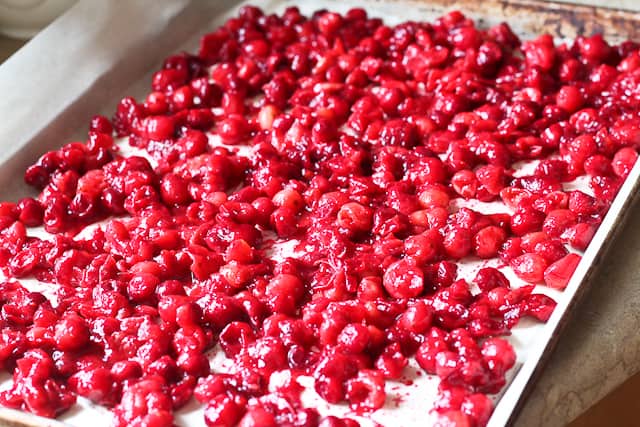 So squeesh and squoosh some more.
Then place the baking sheet in the oven, but by all means, find something else to do. Don't just stand there and wait for your cranberries to be ready, 'cuz it'll be a veeery long day if you do!
You're gonna have to leave them in there for AT LEAST 5 hours, probably even more.
Of course, it depends on how dry you want them. But figure at least 5 hours.
Wait! Where do you think you're going?
I know, I said 5 hours… but you can't leave the house!
Why?
'Cuz you're gonna have to take these babies out every 3o minutes to an hour and separate them, peel them off from the paper, move them around a bit, maybe even squoosh and squeesh some more.
Until you are left with something that looks like this:
WHAT?
This can't be it! Is that it?
"fraid so… That IS it!
Took mine 7 hours to get there, plus one entire night drying in the oven after I turned it off.
That's not even 3 cups. Perhaps not even 2.
To be honest, I was so disappointed that I didn't even weigh or measure them.
In fact, I was so convinced that I was never going to make them ever again that I just threw them there on the corner of the table and snatched a couple of quick shots, without even putting my heart into it.
I figured I would at least log them, that I owed that much to all the people out there who would be tempted to also give the experience a try.
So there you have it…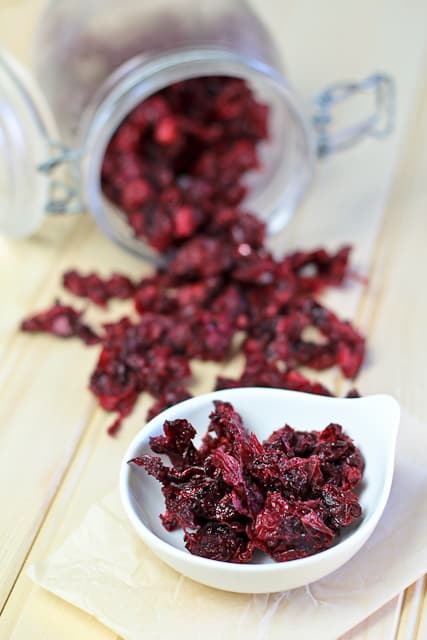 Homemade, Unsweetened Dried Cranberries…
Messy, lengthy, expensive… not worth it.
– NEXT!
But wait…
Then something happened.
The darn things were in the fridge, you know…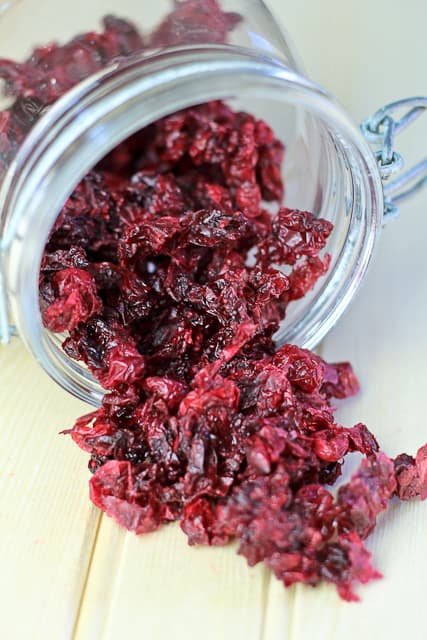 So I had a handful here…
And a handful there…
Well, lo and behold, they grew on me!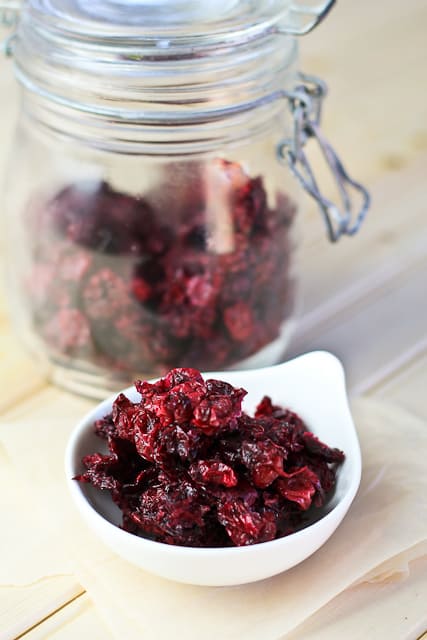 Now I find I am LOVING them…
They're so tart, so tangy, so… moreish!
Hmpft! This can only mean one thing.
I will HAVE to make them again.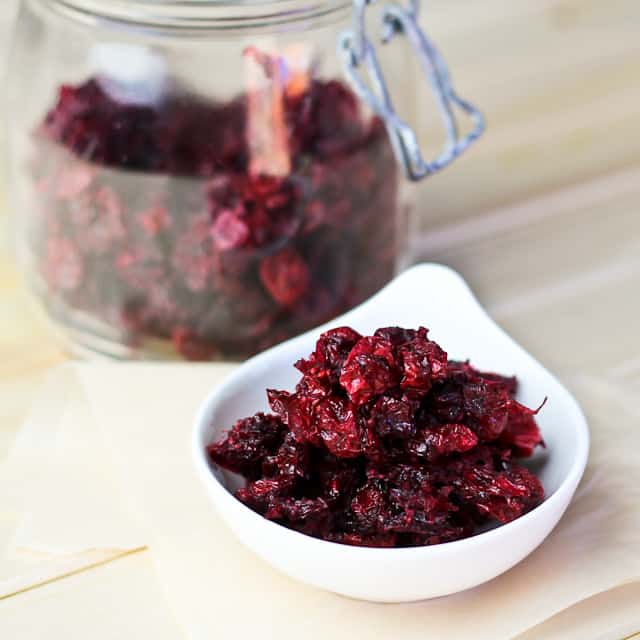 If you want to give them a try, be my guest. Don't say you haven't been warned, though.
You might very well get hooked, too!