Despite being made with whole wheat flour and containing no added sugar or animal products whatsoever, this Vegan Banana Bread is so moist, so soft, so sweet, so rich and buttery and so deliciously yummy, it'll have everyone completely, positively bamboozled!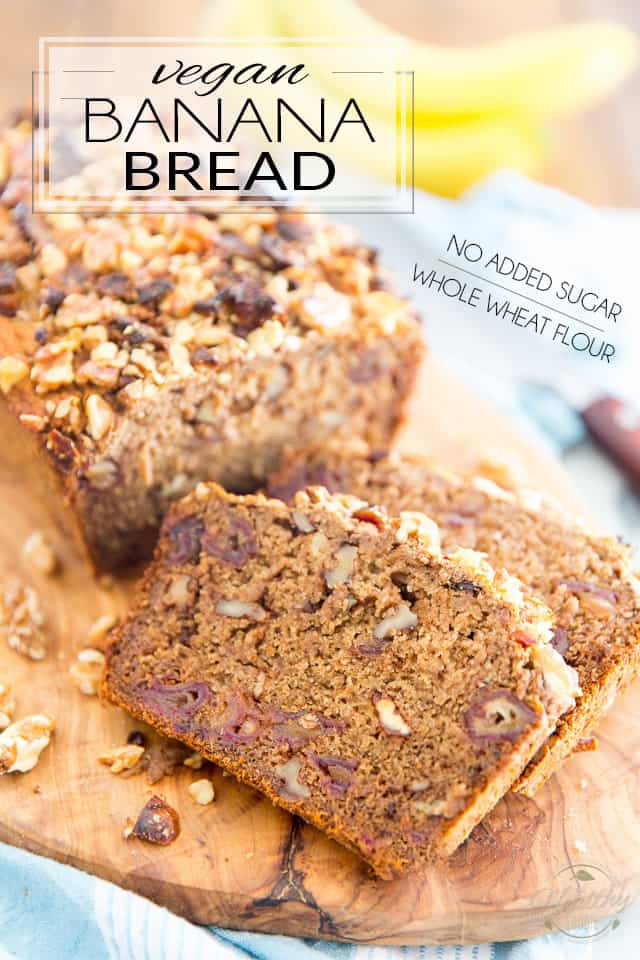 I'm getting more and more comfortable with this vegan / plant based thing… it's been 3 full months now and I'm really starting to get the hang of it. I no longer have panic attacks at the idea of not eating meat ever again and find it easier by the day to cook "normally" using unfamiliar ingredients, such as tempeh, tofu and the likes… I'm getting more and more inspired to come up with new recipes for this place, too.
But for now, the easiest way for me to acclimate to this new lifestyle is by "veganising" some of my regulars. Banana bread would definitely be on top of that list! I probably make a loaf every week, and if not, at least every other week. Funny fact of my life is I don't even like bananas; You'll never catch me eating one unless it's fluorescent yellow going on green. Yet I buy bananas almost every time I hit the grocery store, just so I can eventually make banana bread. Cuz I simply can't imagine life without banana bread!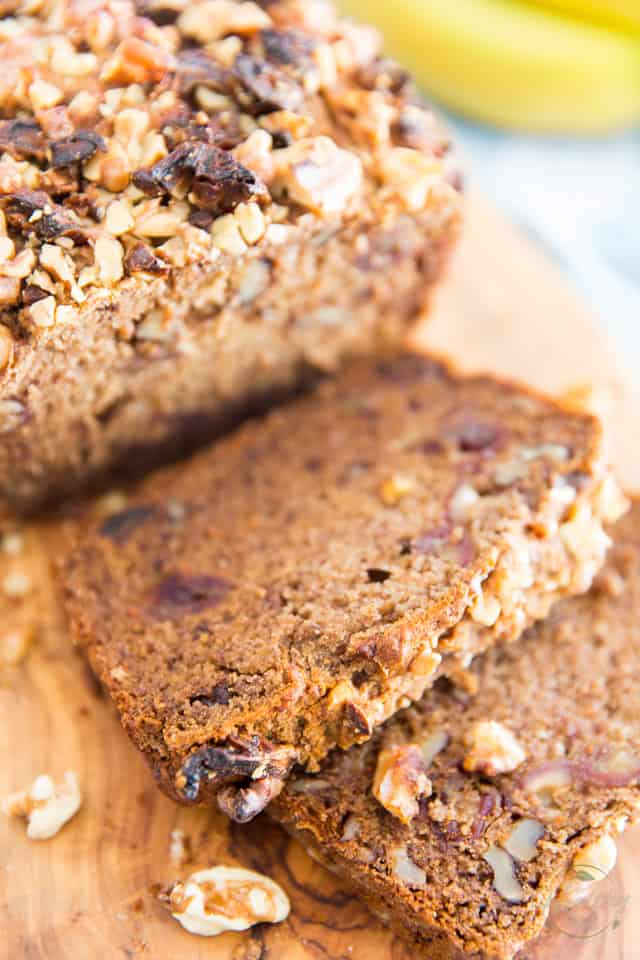 Of course, it was one of the first recipes for which I started working on a vegan version. I initially tried just using my previous go-to recipe and swapping the eggs for flax eggs, but it didn't quite yield the results I was hoping for. Since then, I must have made close to a dozen different loaves, tweaking the ingredients a little bit each time, and finally, I have my keeper!
This banana bread is crazy moist, soft, rich and buttery. Despite not containing any added sugar, other than the date paste, dates and bananas, it still tastes surprisingly sweet. The secret to that resides in using bananas that are really, really ripe. Read: totally, completely over-ripe.
I usually make it a business not to show you my bananas before I peel them and put them in a bowl, because well, to be honest, they're not the prettiest things to look at… but this time I felt I had to.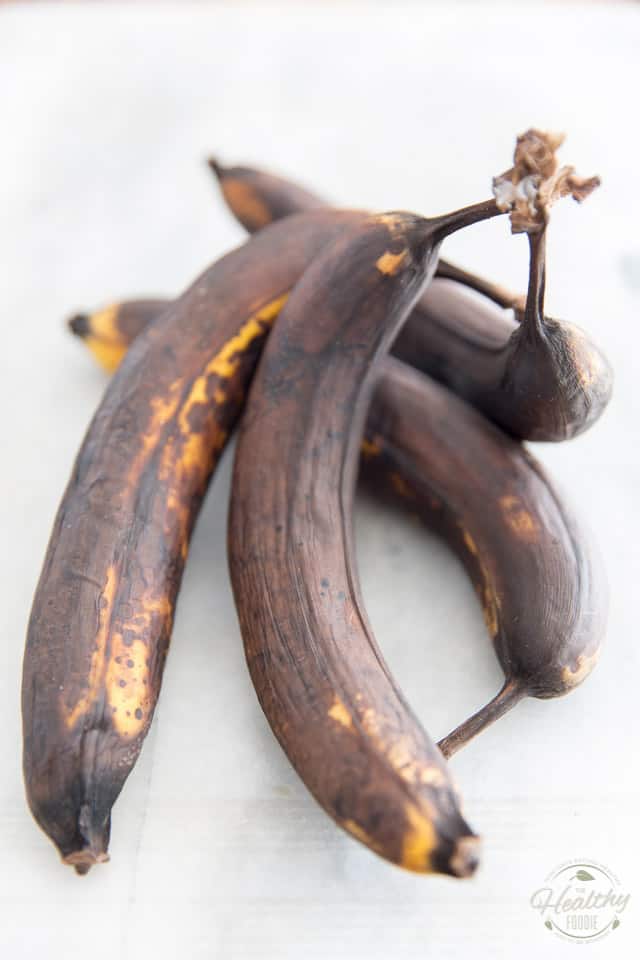 You see, THIS, is what my bananas look like when I finally deem them good and ready to use for banana bread. My boyfriend keeps teasing me and telling me that he swears he can hear them darn bananas talking at night while we're asleep and that they're going to grow legs and start walking if I don't use them anytime soon!
But seriously, as I keep telling him, the riper the banana, the sweeter it gets. And the sweeter it is, the better it is to make banana bread. Especially if you're not going to add any sugar to said banana bread.
So really, when you start to think that your bananas are probably good to go, chances are you can still give them another day, or two… or four, or five! Don't be afraid to let them turn almost entirely black.
When you are ready to make that banana bread, go ahead and preheat your oven to 350°F; then, grease and flour a one pound loaf pan. If you want to keep things vegan, coconut oil would be an excellent choice to grease that pan!
Next, in a large mixing bowl, combine your crazy ripe bananas, almond milk (or other favorite non-dairy milk), melted coconut oil, date paste and vanilla extract.
Mash/mix your ingredients well with the help of a large whisk (you could start with a potato masher if that made you feel more comfortable) until everything is smooth and well combined; don't go driving yourself nuts with the smoothness thing, though: a few small lumps of bananas in the mixture is totally acceptable and even desirable.
In a separate bowl, combine the whole wheat flour, ground flaxseed, cinnamon, baking powder, baking soda and salt and mix well with a whisk until fully combined; add this to the wet ingredients.
Stir with a spatula until just combined, no more.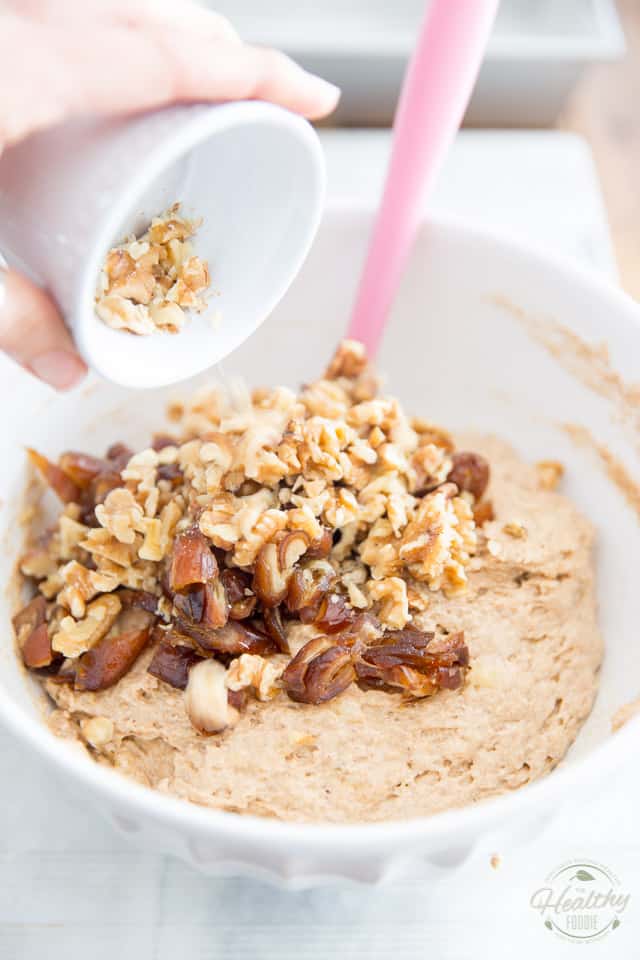 Stir in the chopped dates and walnuts, then transfer the batter to your prepared loaf pan.
Spread the batter all the way to the edge with a rubber spatula…
If you want to make your banana bread extra pretty, garnish the top with a handful of chopped walnuts and dates.
Bake the loaf in the preheated oven for 65-70 minutes, or until a toothpick inserted in the center of the cake comes out practically clean.
Remove the cake from the oven and let it cool in the pan for about 30 minutes, or at least until the pan and cake can be safely handled with your bare hands.
Remove the banana bread from the pan, then slice and enjoy!
If you've tried this recipe, or any other recipe on the blog, please take a minute to rate the recipe and let me know how things went for you in the comments below. It's always such a pleasure to hear from you! You can also FOLLOW ME on PINTEREST, FACEBOOK, INSTAGRAM and TWITTER for more delicious, healthy recipes!
Vegan Banana Bread
Despite being made with whole wheat flour and containing no added sugar or animal products whatsoever, this Vegan Banana Bread is so moist, so soft, so sweet, so rich and buttery and so deliciously yummy, it'll have everyone completely, positively bamboozled!
Cook Time
1
hour
10
minutes
Total Time
1
hour
20
minutes
Ingredients
Nutrition Facts
Vegan Banana Bread
Amount Per Serving
Calories 355
Calories from Fat 162
% Daily Value*
Total Fat 18g 28%
Sodium 273mg 11%
Potassium 568mg 16%
Total Carbohydrates 47g 16%
Protein 5g 10%
* Percent Daily Values are based on a 2000 calorie diet.